Betaine Chloride-Betaine Tetrachloridoferrate(III)—An Ionic Liquid Related Crystal Structure Governed by the Pearson Concept
Fakultät für Chemie und Biochemie, Ruhr-Universität, Universitätsstraße 150, D-44780 Bochum, Germany
*
Author to whom correspondence should be addressed.
Received: 16 January 2012 / Revised: 1 February 2012 / Accepted: 3 February 2012 / Published: 12 March 2012
Abstract
The first betaine chloride tetrachloroidoferrate(III) double salt, (Hbet)
2
Cl[FeCl
4
] = (Hbet)Cl·(Hbet)[FeCl
4
], was obtained from a solution of betaine hydrochloride (HbetCl) and FeCl
3
∙6 H
2
O in water. The crystal structure (orthorhombic,
Pbcm
,
a
= 6.2717(13),
b
= 12.841(3),
c
= 25.693(5) Å,
Z
= 4) is characterized by layers of tetrachloridoferrate(III) anions separated by chloride-bridged, H-bond mediated cationic (Hbet) dimers. The hydrogen bonding network in the crystal structure follows the Pearson HSAB (hard acid-soft base) concept: According to the Pearson concept, the chloride anions show high affinity to the carboxyl group (hard acid and base), and the tetrachloroidoferrate(III) anion preferentially interacts with the activated methyl donors (soft acid and base). These interactions between the COOH group, as hard H-bond donor, and chloride as hard acceptor besides those between the soft, activated methyl groups and the soft tetrachloridoferrate(III) anions are the major structure-directing forces in the crystal structure of (Hbet)
2
Cl[FeCl
4
].
View Full-Text
►

▼

Figures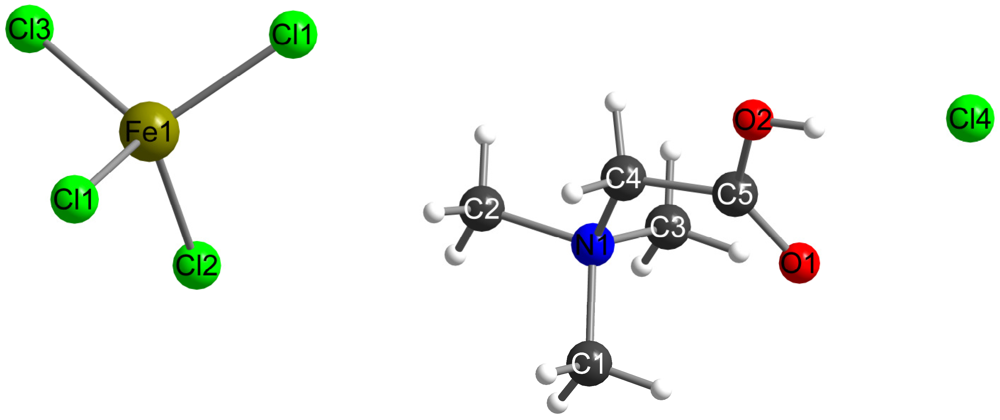 Figure 1
Share & Cite This Article
MDPI and ACS Style
Bäcker, T.; Mudring, A.-V. Betaine Chloride-Betaine Tetrachloridoferrate(III)—An Ionic Liquid Related Crystal Structure Governed by the Pearson Concept. Crystals 2012, 2, 110-117.
Related Articles
Comments
[Return to top]