Open Access This article is
freely available
re-usable
Article
The Role of Non-Framework Lewis Acidic Al Species of Alkali-Treated HZSM-5 in Methanol Aromatization
1
Department of Chemical Engineering, National Cheng Kung University, Tainan 70101, Taiwan
2
Division of Chemical Engineering, Material and Chemical Research Laboratories, Industrial Technology Research Institute, Hsinchu 30011, Taiwan
*
Author to whom correspondence should be addressed.
Received: 5 August 2017 / Accepted: 23 August 2017 / Published: 1 September 2017
Abstract
:
Mesoporous HZSM-5 prepared by alkaline treatment (also termed desilication) has drawn significant attention due to its potential in large-scale production and in versatile applications, such as separation and catalysis. Alkali-treated HZSM-5 contains considerable amounts of non-framework (amorphous) Lewis acidic Al species on the external surface, and is deemed to be essential in affecting its catalytic performances. This study intends to clarify the catalytic nature of amorphous Al species of alkali-treated HZSM-5 in methanol aromatization. Physicochemical characterizations, including N2 adsorption, scanning electron microscopy (SEM), X-ray diffraction (XRD), magic-angle-spinning nuclear magnetic resonance (MAS NMR), inductively coupled plasma (ICP) analysis, NH3 temperature-programmed desorption (TPD), and methanol-TPD, were performed. The outcomes showed that non-framework Al promotes the hydride transfer in mesoporous HZSM-5, thereby facilitating the aromatization reaction. Among aromatic products, durene can be promoted by non-framework Al through methylation/transalkylation of other aromatics, particularly xylenes, instead of being promoted by reduced space confinement in mesoporous HZSM-5.
Keywords:
aluminum; alkaline treatment; Lewis acid; HZSM-5; methanol
1. Introduction
Designing and utilizing hierarchically-structured (or mesoporous) HZSM-5 zeolites is burgeoning. According to the Web of Science database using "hierarchical", "HZSM-5", and "zeolites" as keywords, the number of relevant papers published per year increased approximately threefold from 2012 (40 papers) to 2016 (121 papers). This increase can be attributed to the great potential of hybrid meso-/microporous HZSM-5 in industrial applications, such as separation/adsorption, ion exchange, and heterogeneous catalysis [
1
]. The success of the applications of multilevel porous HZSM-5 is mainly caused by the auxiliary mesoporosity, which can enhance the accessibility of the inner space in micropores [
2
]. Viewpoints on, and assessments of, fabrication, characterization, and the engineering of mesoporous HZSM-5 have already been documented in excellent reviews [
3
,
4
,
5
,
6
,
7
,
8
,
9
].
Hierarchical ZSM-5 can be synthesized through a bottom-up (constructive) or a top-down (destructive) method: the former is to impede the crystal growth or to introduce a mesoporous template in the preparation; the latter is to extract/rearrange atoms of Si and Al (demetallation) from the framework [
10
,
11
]. By comparison, the destructive method using alkaline treatment (desilication) is more applicable, reliable, and cost-effective (e.g., this method does not use any expensive template as the bottom-up method does [
10
]) in large-scale production. Pilot-scale production (35 kg per batch in a 1.5 m
3
reactor) of desilicated HZSM-5 catalysts in practicable granular forms has been successfully demonstrated by Pérez-Ramírez and his coworkers [
8
,
12
].
Alkali-treated HZSM-5 possesses enhanced strength, density, distribution of acid sites, and improved reactant/product diffusivities in its mesoporous network compared to pristine HZSM-5. Two types of Al sites, i.e., tetrahedrally-coordinated AlO
4
−
and octahedral Al species, are coexistent in alkali-treated HZSM-5. Tetrahedral AlO
4
−
sites are located mostly in the framework of microporous cavities in HZSM-5. Lately, the location of framework Al has been reported to affect the distribution of products significantly in methanol conversion: AlO
4
−
located in channel intersections promotes the formation of aromatics; AlO
4
−
located in the sinusoidal and straight channels advances the formation of alkenes [
13
]. Octahedral Lewis acidic Al can be deposited on the external surface of HZSM-5 in a basic medium [
14
,
15
]. Many groups have observed the advantages of non-framework (amorphous) Al species of desilicated HZSM-5 in conversions of methanol [
14
], butane [
16
], and hexane [
17
], and have reported the higher aromatics yield and the longer catalyst lifespan of alkaline-treated HZSM-5 than those of the parent HZSM-5. Nevertheless, there is still limited information about the physicochemical nature of amorphous Al species deposited on the external surface of alkali-treated HZSM-5, especially the species' catalytic properties [
14
,
16
].
This study aims to explore the influences of non-framework Lewis acidic Al species of alkali-treated HZSM-5 in methanol to aromatics (MTA). A head-to-head comparison of commercial HZSM-5 (Si/Al = 40), alkali-treated HZSM-5, and HZSM-5 treated first by alkali, and then by acid, were conducted, and their behavior was evaluated in MTA. The results showed that aromatics yield can be improved by the reduced transport resistance of the mesoporous structure, and by non-framework Lewis acidic Al species as well.
2. Results and Discussion
In sum, amorphous Lewis acidic Al species of alkali-treated HZSM-5 were essential in enhancing aromatics yields in MTA. The increase of aromatics depends not only on the improved diffusivity caused by the mesopores generated through alkaline treatments, but also on the non-framework Al deposited on the external surface. The improved hydride transfer and methylation/transalkylation activities were discovered on alkali-treated HZSM-5, whereas such an enhancement was absent in its amorphous Al-extracted counterpart.
3. Materials and Methods
3.1. Chemicals
ZSM-5 in NH
4
+
form (CBV 8014, Si/Al = 40) was purchased from Zeolyst International (Conshohocken, PA, USA). Prior to any treatment, the ZSM-5 sample was calcined in static air at 550 °C for 6 h. Standard alkaline treatment (0.2 M NaOH, 65 °C, 30 min, and zeolite-to-liquid ratio = 33 g/L) suitable for MFI zeolites with a Si/Al range of 25 to 50 was employed to prepare mesoporous ZSM-5 [
22
]. In order to extract non-framework Al, alkali-treated ZSM-5 was subjected to an acid treatment with 0.1 M aqueous HCl at 65 °C for 6 h [
22
]. All catalysts were subsequently transformed into H
+
form via the ion exchange method [
28
] before any test. HZSM-5, alkali-treated HZSM-5, and alkali-treated HZSM-5 with subsequent acid treatment were denoted as HZ, HZ-D, and HZ-DA, respectively.
3.2. Catalyst Characterization
The N
2
adsorption isotherm was measured using a ASAP 2020 Plus (Micromeritics Instruments, Norcross, GA, USA) at −196 °C. The sample was degassed at 300 °C for more than 24 h until a pressure of 10
−3
Pa was reached before the test. The Brunauer-Emmett-Teller (BET) method was used in the relative pressure range of 0.01 to 0.1 to estimate the total surface area (S
BET
), and the
t-plot
method was applied to evaluate microporosity. Pore size distribution (PSD) of micropores was estimated by the desorption branch of the nitrogen isotherm using non-local density functional theory (NLDFT). Scanning electron microscopy (SEM) observations were performed using a Hitachi SU8010 microscope (Tokyo, Japan). X-ray diffraction (XRD) profiles were acquired using a Rigaku D/Max-IIB diffractometer (Tokyo, Japan) operated at 40 kV and 40 mA with Cu Kα radiation. Inductively coupled plasma-atomic emission spectrometry (ICP-AES, Kontron S-35, Augsburg, Germany) was employed to quantify the elemental compositions of Al and Si. The
27
Al and
29
Si magic-angle-spinning nuclear magnetic resonance (MAS NMR, Bruker Avance 400, Billerica, MA, USA) spectra were obtained at spinning speeds of 10 kHz and 8 kHz in the magnetic field of 9.4 T. The
27
Al spectra were recorded using a 3-μs pulse time with a 4 s delay. As for the
29
Si spectra, a 3-μs pulse time and a 60 s delay were used. Chemical shifts of
27
Al and
29
Si were calibrated using 1 M of [Al(H
2
O)
6
]
3+
(prepared from aluminum sulfate) and tetramethylsilane as reference. Temperature-programmed desorption (TPD) of ammonia was performed on a chemisorption analyzer (Micromeritics Instruments, AutoChem II) equipped with a thermal conductivity detector (TCD). TPD of methanol was also conducted on the AutoChem II, but was recorded using a quadrupole mass gas analysis system (ThermoStar GSD 320 T, Pfeiffer Vacuum, Aßlar, Germany). Detailed pretreatment and operating conditions of temperature-programmed analyses can be found in recent studies [
19
,
20
].
3.3. Reactivity Evaluation
MTA was performed in a continuous fixed-bed system under ambient pressure at 400 °C. Methanol was introduced into an upstream vaporizer at 150 °C via a PU2080 HPLC pump (Jasco Corporation, Tokyo, Japan) with a feeding rate of 0.01 mL/min after achieving a stable feeding rate (mostly after more than 3 h of bypassing). N
2
was set to a flow rate of 60 mL/min as the carrier gas; it could also be used as the internal standard. Approximately 0.07, 0.1, or 0.2 g of a catalyst was consumed per trial, corresponding to the periods of methanol contact time (W/F) of 0.17, 0.24, or 0.49 min * kg
cat
/mol (the particle sizes range from 177 to 400 μm). Each sample was treated in an air stream (50 mL/min) for 1 h at 500 °C before the test. The exhaust-gas was analyzed by an on-line parallel-dual-column gas chromatograph (GC, SRI Instruments 8610C, Torrance, CA, USA) with a 60 m MXT-1 capillary column and a HeyeSep D packed column. All tubing was kept at 200 °C to avoid condensation. Methanol and dimethyl ether (DME), the dehydrated product of two methanol molecules, were considered as reactants. The reported activity was the averaged results of three data points within the first two hours. Each datum has a carbon mass balance closure higher than 95%. The conversion, yield, and aromatic selectivity were calculated as below:
4. Conclusions
HZ, HZ-D, and HZ-DA were prepared, characterized, and tested in MTA. HZ-D possesses significant amounts of non-framework Lewis acidic Al species and improved reactant/product diffusivities, both of which are important in elevating aromatics selectivity. The non-framework Al species is discovered to be the key to the enhancement of hydride mobility, which is closely related to aromatics yields in MTA. In addition, concerning distribution of aromatics, the increase in durene and the consumption of xylenes were discovered from the reaction results of HZ-D, but not from those of HZ-DA. This difference emphasized that non-framework Al can boost xylene's methylation/transalkylation to further produce durene with little influence of diffusion limitation.
Supplementary Materials
The following are available online at
www.mdpi.com/2073-4344/7/9/259/s1
, Table S1. Detailed product distribution of tested catalysts at 400 °C with different contact times. Figure S1. Fractional changes of porosity of HZ-D and HZ-DA, using HZ as the reference. Figure S2. Micropore PSD estimated by NLDFT of tested catalysts.
Acknowledgments
This study was supported by Taiwan's Ministry of Science and Technology (projects 105-2221-E-006-229, 106-2221-E-006-188-MY3, and 106-2218-E-155-005), the Ministry of Economic Affairs under grant G354DP1120, and Government Policy Allocation Plan for the Technology Development for Deep Decarbonization (project 106-0210-02-11-05).
Author Contributions
Y.-C.L. conceived and designed the experiments, and wrote the paper; P.-C.L., C.-Y.H., and C.-H.C. performed the experiments and analyzed the data.
Conflicts of Interest
The authors declare no conflict of interest.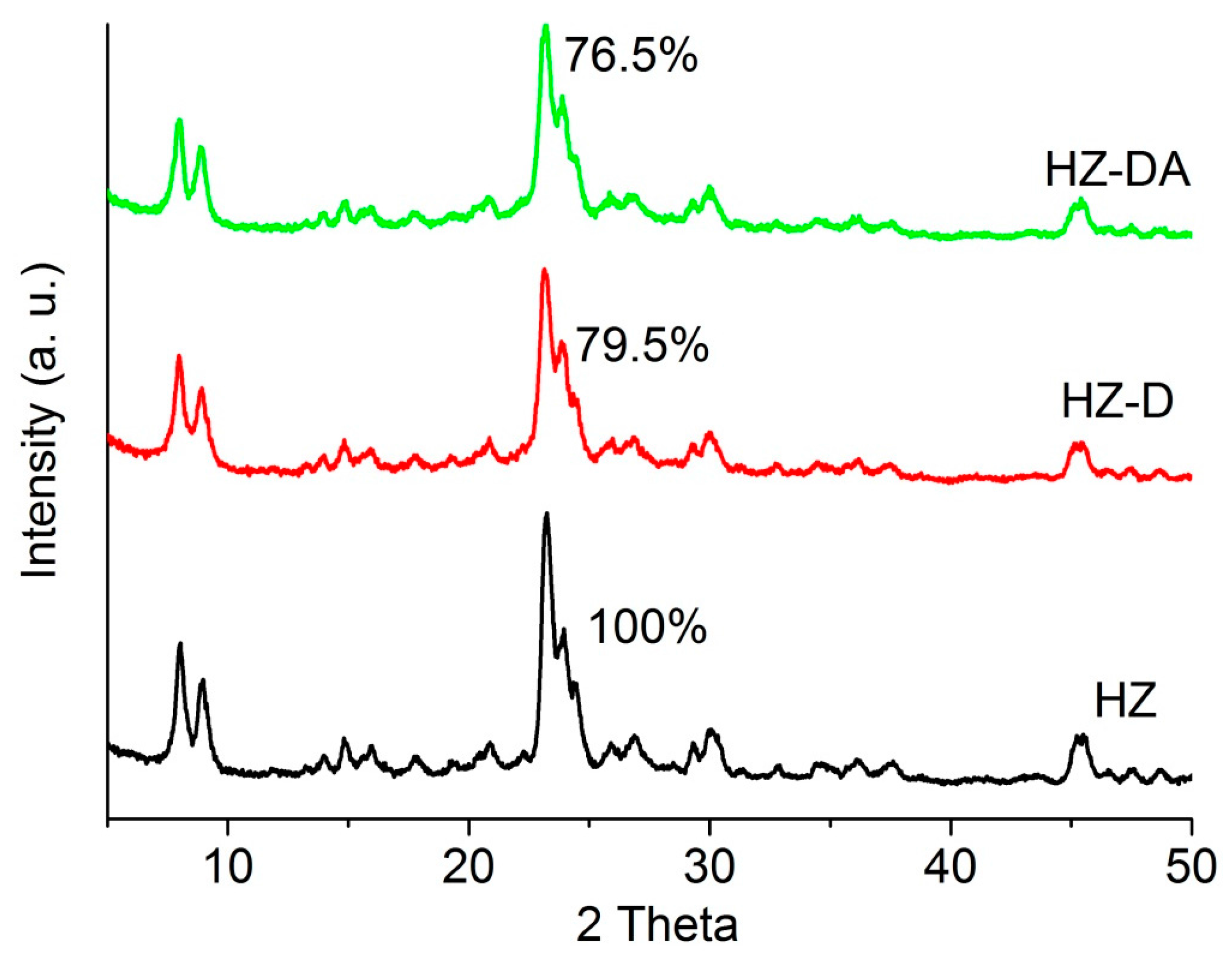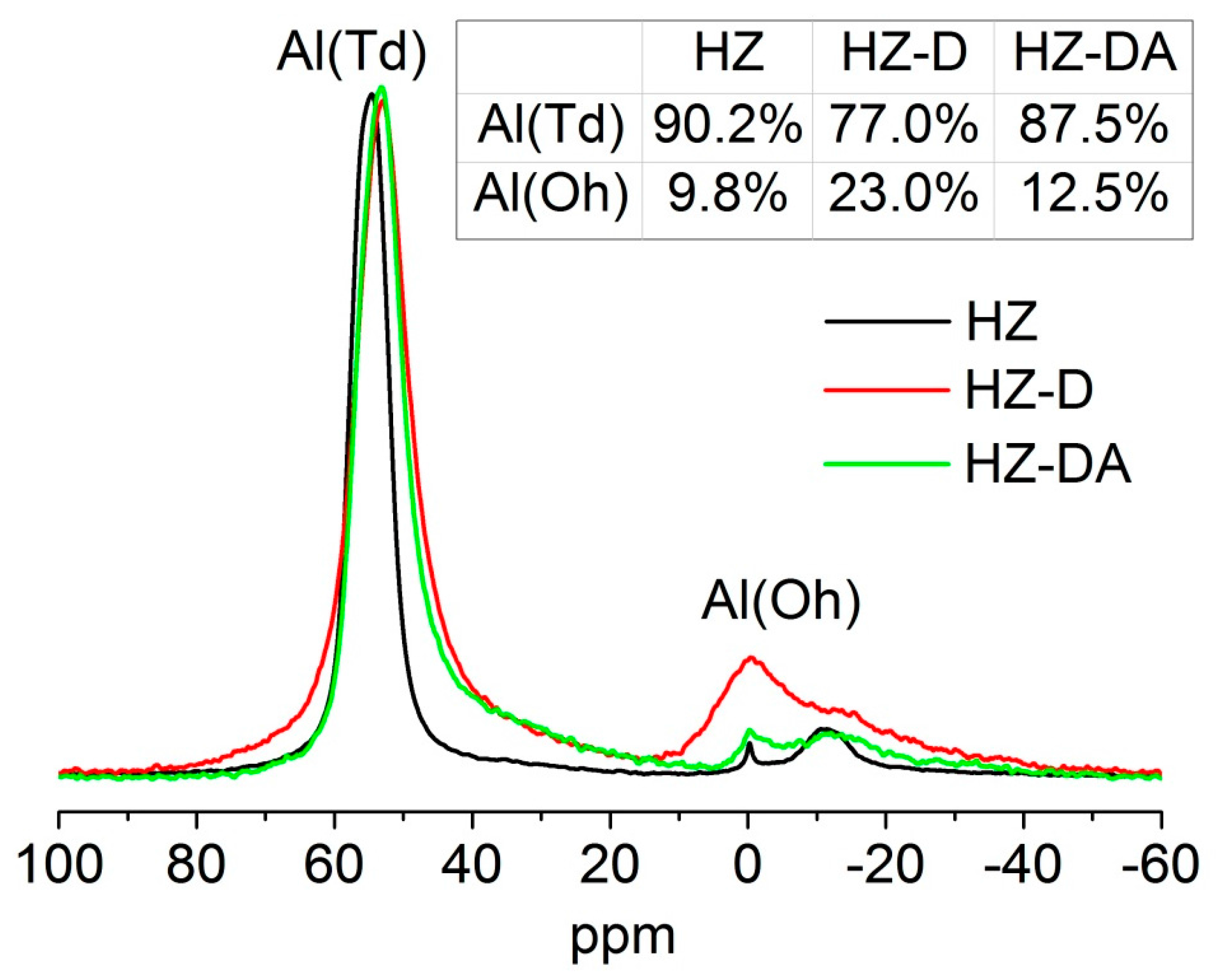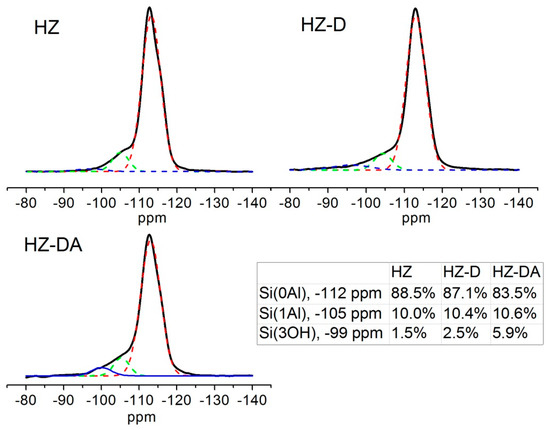 Figure 5. 29Si NMR spectra of tested catalysts. The broken lines are the deconvolution based on a Gaussian function. The relative compositions of Si(0Al), Si(1Al), and Si(3OH) are presented.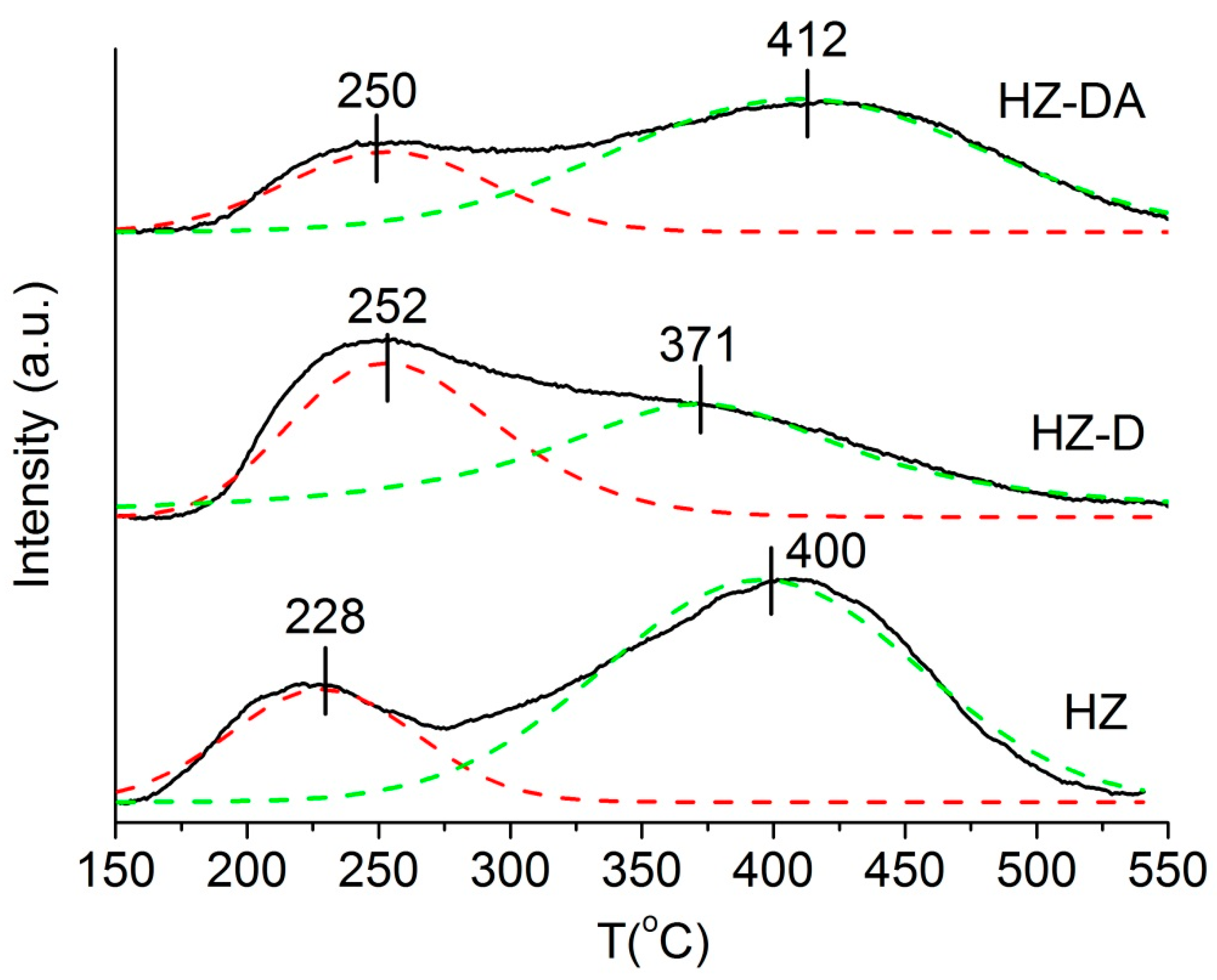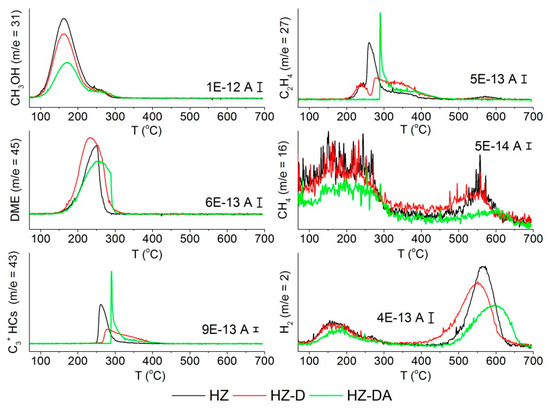 Figure 7. MS spectra of methanol, dimethyl ether, C3+ hydrocarbons, ethylene, methane, and hydrogen of TPD of methanol. Reaction conditions: The He stream of 50 mL/min and the heating rate of 20 °C/min.
Table 1. Porosities of tested catalysts.
Catalyst
SBET
(m2/g)
Smicro 1
(m2/g)
Smeso 2
(m2/g)
Vtotal 3
(cm3/g)
Vmicro 1
(cm3/g)
Vmeso 4
(cm3/g)
HZ
519.4
296.3
223.2
0.299
0.123
0.176
HZ-D
502.2
252.2
250.0
0.610
0.105
0.505
HZ-DA
493.4
241.5
251.9
0.769
0.103
0.666
1 Estimated through the

t-plot

method. 2 Calculated from SBET-Smicro. 3 Volume adsorbed at

p

/

p

0 = 0.9. 4 Calculated from Vtotal-Vmicro.
Table 2. Compositions and acid concentrations of Lewis and Brønsted acid sites.

| Catalyst | (Si/Al)F 1 | (Si/Al)B 2 | Lewis (mmol/g) | Brønsted (mmol/g) |
| --- | --- | --- | --- | --- |
| HZ | 41 | 39 | 0.08 | 0.26 |
| HZ-D | 39 | 24 | 0.10 | 0.14 |
| HZ-DA | 38 | 37 | 0.05 | 0.15 |
1 Framework Si/Al ratio calculated in ref [27]. 2 Bulk Si/Al ratio estimated by an ICP-AES.
Table 3. Initial conversion and distribution of products at 400 °C with different contact times.
Catalyst
HZ
HZ-D
HZ-DA
W/F (kgcat * min/mol)
0.24
0.49
0.24
0.49
0.17
0.49
Conversion (%)
99
100
99
100
99
100
C yield (%)
C2=
5
6
3
3
4
4
C3=
21
24
13
12
14
14
C4–C7
32
38
31
29
36
33
ABs
40
31
52
55
45
48
Others
2
1
1
1
1
1
Table 4. Initial aromatic selectivity at 400 °C with different contact times.
Catalyst
HZ
HZ-D
HZ-DA
W/F (kgcat * min/mol)
0.24
0.49
0.24
0.49
0.17
0.49
Conversion (%)
99
100
99
100
99
100
Aromatic sel. (%)
Benzene
2
3
0
2
2
2
Toluene
2
3
2
2
4
4

p-

+

m

-xylenes
17
19
12
13
17
18

o

-xylene
7
6
4
5
7
6
C9 aromatics
61
56
60
54
59
53
Durene
11
13
22
24
11
17
© 2017 by the authors. Licensee MDPI, Basel, Switzerland. This article is an open access article distributed under the terms and conditions of the Creative Commons Attribution (CC BY) license (http://creativecommons.org/licenses/by/4.0/).