Membrane Drug Transporters and Chemoresistance in Human Pancreatic Carcinoma
1
Clinical Cooperation Unit of Molecular Gastroenterology, DKFZ, Im Neuenheimer Feld 280, D-69120 Heidelberg, Germany
2
Functional Proteome Analysis, DKFZ, Im Neuenheimer Feld 280, D-69120 Heidelberg, Germany
3
Department of Surgical Gastroenterology, CLINTEC, K53, Karolinska Institute, SE-14186 Stockholm, Sweden
4
Department of Medicine II, Medical Faculty of Mannheim, University of Heidelberg, Theodor-Kutzer-Ufer 1-3, D-68167 Mannheim, Germany
*
Author to whom correspondence should be addressed.
Received: 1 December 2010 / Revised: 10 December 2010 / Accepted: 24 December 2010 / Published: 30 December 2010
Abstract
Pancreatic cancer ranks among the tumors most resistant to chemotherapy. Such chemoresistance of tumors can be mediated by various cellular mechanisms including dysregulated apoptosis or ineffective drug concentration at the intracellular target sites. In this review, we highlight recent advances in experimental chemotherapy underlining the role of cellular transporters in drug resistance. Such contribution to the chemoresistant phenotype of tumor cells or tissues can be conferred both by uptake and export transporters, as demonstrated by
in vivo
and
in vitro
data. Our studies used human pancreatic carcinoma cells, cells stably transfected with human transporter cDNAs, or cells in which a specific transporter was knocked down by RNA interference. We have previously shown that 5-fluorouracil treatment affects the expression profile of relevant cellular transporters including multidrug resistance proteins (MRPs), and that MRP5 (ABCC5) influences chemoresistance of these tumor cells. Similarly, cell treatment with the nucleoside drug gemcitabine or a combination of chemotherapeutic drugs can variably influence the expression pattern and relative amount of uptake and export transporters in pancreatic carcinoma cells or select for pre-existing subpopulations. In addition, cytotoxicity studies with MRP5-overexpressing or MRP5-silenced cells demonstrate a contribution of MRP5 also to gemcitabine resistance. These data may lead to improved strategies of future chemotherapy regimens using gemcitabine and/or 5-fluorouracil.
View Full-Text
►

▼

Figures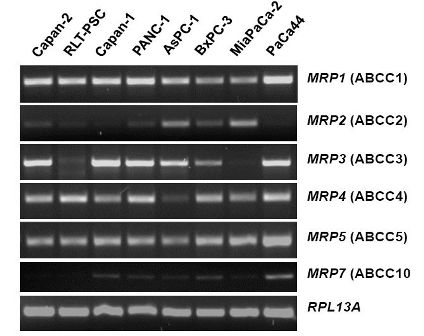 Share & Cite This Article
MDPI and ACS Style
Hagmann, W.; Faissner, R.; Schnölzer, M.; Löhr, M.; Jesnowski, R. Membrane Drug Transporters and Chemoresistance in Human Pancreatic Carcinoma. Cancers 2011, 3, 106-125.
Related Articles
Comments
[Return to top]