Open Access This article is
freely available
re-usable
Article
Assessing Re-Composition of Xing'an Larch in Boreal Forests after the 1987 Fire, Northeast China
1
Key Laboratory of Remote Sensing Monitoring of Geographic Environment, College of Geography Sciences, Harbin Normal University, Harbin 150025, China
2
College of Mining Engineering, Heilongjiang University of Science and Technology, Harbin 150027, China
3
Department of Geography, University of South Carolina, Columbia, SC 29208, USA
*
Correspondence: Tel.: +1-803-777-5867
Academic Editors: Ioannis Gitas and Prasad S. Thenkabail
Received: 20 March 2017 / Accepted: 16 May 2017 / Published: 19 May 2017
Abstract
:
Xing'an larch, a deciduous coniferous species, is the zonal tree of the Greater Xing'an Mountains in Northeast China. In May 1987, a catastrophic fire broke out in the mountains and burned 1.3 million hectares of forests in 26 days. While studies have shown that forest greenness has come back to normal in certain years, the re-composition of this zonal species has not been studied after the 1987 fire. With a series of Landsat 8 OLI images acquired in 2013–2015, this study builds the Normalized Difference Vegetation Index (NDVI) and Green Vegetation Index (GVI) time series in a complete growing cycle. A decision tree is developed to classify tree species with an overall accuracy of 86.16% and Kappa coefficient of 0.80. The re-composition of Xing'an larch after the 1987 fire is extracted, and its variations in areas under different fire intensities are statistically analyzed. Results show that Xing'an larch comprises 17.52%, 26.20% and 33.19% of forests in burned areas with high, medium and low fire intensities, respectively. Even around 30 years after the 1987 fire, the composition of this zonal species in boreal forest has not been fully recovered in the Greater Xing'an Mountains. The Xing'an larch map extracted in this study could serve as base information for ecological and environmental studies in this south end of the boreal Eurasia.
Keywords:
forest fire; Xing'an larch; post-fire recovery; satellite time series
1. Introduction
Based on the 1987 fire event in the Greater Xing'an Mountains, this study aims to examine the tree species re-composition using satellite time series collected in one growing cycle. Distributions of Xing'an larch extracted in this study provide the first spatial layer of this unique boreal tree species after the 1987 fire, which may serve as base information for studies of ecological habits and functions responding to frequent fire disturbances in boreal forests.
2. Materials and Methods
2.1. Study Area
The Greater Xing'an Mountains forest lies between the Inner Mongolia Plateau and the Northeast Plain in northern China. It has an annual average temperature of −3.9 °C and annual cumulative precipitation of 400 mm, more than 60% of which occurs between June and August.
This study takes one of the four forest subdivisions in the Greater Xing'an Mountains, the Tuqiang Forest in Heilongjiang Province, as our study area (the inset of
Figure 1
). It is located in 122°18′28″–123°28′10″E and 52°15′35″–53°33′42″N, covering an area of 0.5 million ha that is dominated with forests. Located in the south end of the boreal Eurasia, tree species in the study area are mostly Xing'an larch, white birch and Mongolian pine (
Pinus sylvestris
var.
mongolica
). Other deciduous species such as aspen and willow and coniferous species such as spruce only grow in less than 10% of the region [
9
]. As Xing'an larch is the primary concern of this study, these tree species are not examined to avoid unnecessary classification uncertainties. Alerted by the 1987 fire, China enhanced its control of forest fire by enhancing regular fire airplane cruise and increasing ground personnel [
20
]. According to local station of Forest Fire Prevention, there were no large-sized (>100 ha) fires bursting in the study area after 1987 (Mr. Huadong Wu, Vice Director, Fire Prevention Office, Tuqiang Forest Bureau, personal communication, 5 June 2015). Therefore, the study area provides a perfect test site for post-fire species re-composition analysis after this catastrophic fire.
2.3. Approaches
With the OLI time series, full trajectories of spectral indices in a growing cycle were extracted at each pixel. Based on phenological differences of the three tree species, a decision tree approach was developed to delineate Xing'an larch from Mongolian pine and white birch, as well as non-forest covers. The re-composition of Xing'an larch was then statistically examined under different fire intensities.
2.3.1. Time-Series Spectral Indices
Two greenness-related spectral indices were analyzed. The commonly-applied NDVI effectively represents vegetation greenness using red and near-infrared (NIR) bands. The Green Vegetation Index (GVI) takes full consideration of all spectral bands and is the greenness component of the tasseled cap transformation (TCT) [
22
]. The two indices are calculated as:
NDVI = (
ρ
nir
−
ρ
red
)/(
ρ
nir
+
ρ
red
)
GVI = −0.2941
ρ
blue
− 0.243
ρ
green
− 0.5424
ρ
red
+ 0.7276
ρ
nir
+ 0.0713
ρ
swir1
− 0.1608
ρ
swir2
where
ρ
is surface reflectance of blue, green, red, NIR and two shortwave infrared (SWIR) bands. The coefficients of the TCT transformation are adopted from [
22
], which reports that these newly-derived coefficient sets for OLI are in continuation of its TM predecessors.
Spectral indices extracted from the 9 OLI images are assigned N1–N9 for NDVI and G1–G1 for GVI in
Table 1
. Upon the training sample points, trajectories in
Figure 3
reflect spectral dynamics in a complete growing cycle. For each tree species, the trajectory reveals its biophysical development from leafing at the start of season to senescence at the end of season. Influenced by a boreal climate in the north and continental temperate climate in the south, the three tree species in the study area have unique timing sequences. Mongolian pine belongs to evergreen conifer. For both spectral indices, it has much higher values than other two species in the early (February, N1 and G1) and late (October, N9 and G9) growing stages. Xing'an larch is a deciduous conifer species and has similar trajectories as white birch. Their NDVI trajectories are almost the same (
Figure 3
a), but the GVI values of Xing'an larch are recognizably lower than those of white birch in the peak season (G5–G7, June–August) in
Figure 3
b. It should be noted, however, error bars (±standard error of the mean) of these three tree species turned out to overlay even in these optimal stages, which causes uncertainties in tree species classification. Grasses have similar growth cycles as tree species, but their values in peak stages are remarkably lower in both figures. These unique trajectory features allow us to delineate tree species from satellite time series, especially Xing'an larch in this study.
The non-vegetation covers (developed lands and water bodies) do not have clear growing cycles and, therefore, are not displayed in
Figure 3
. From the validation samples, developed lands had slightly higher values than water for both indices. Water turned out to have negative values in the trajectory, with an NDVI range of [−0.417, 0.025] and a GVI range of [−0.245, −0.007], except for the 6th image on 12 June 2015, in which the water samples were affected by isolated cloud covers (as shown in
Figure 1
b). These characteristics made the non-forest covers easily delineated from tree species in an unsupervised classification as described below.
2.3.2. Hierarchical Image Classification
Since Xing'an larch was our primary concern, non-forest classes were considered noises in image classification. Here, a two-step classification process was proposed. First, a regular unsupervised clustering analysis was performed. All forest pixels were grouped into forest and all non-forest pixels into non-forest. With the resulted non-forest mask, a forest-only image set was thus extracted from the NDVI and GVI time series.
Using the large amount of training samples of tree species, a classification and regression tree (CART) decision tree was developed in the Salford Predictive Modeler (SPM) v7.0 [
23
] by taking advantage of NDVI and GVI trajectories.
Figure 4
displays the first 5 nodes of the decision tree, including G1 (February), N5 (June), G7 and N7 (August), and N9 (October). Data in early (G1) and late (N9) growing stages identified Mongolian pine because of its higher off-season greenness as an evergreen tree species. Peak-season greenness (G7) better separated larch and white birch. Early greenness in June (N5) and highest greenness in peak season (N7) maximally delineated white birch from Mongolian pine.
Four classes were extracted in this hierarchical classification: Xing'an larch, Mongolian pine, white birch and non-forest. Using the validation points described in
Section 2.2
, accuracy assessment was performed with the commonly-applied confusion matrix approach. The overall accuracy, Kappa coefficient and producers' and user's accuracies of each class were calculated. The uncertainties of Xing'an larch were thoroughly discussed.
2.3.3. Fire Intensity Mapping and Larch Re-Composition Analysis
3. Results and Discussion
3.1. Tree Species Classification
3.2. The NBR Fire Intensity Map and Xing'an Larch Re-Composition
4. Conclusions
This study collected satellite time series of two spectral indices in a complete growing cycle in 2013–2015 and developed a decision tree approach to classifying tree species in the Greater Xing'an Mountains. A sequence of fire intensities (high to low) was mapped with the NBR index from a TM image acquired one month after the 1987 fire. With the "space for time" substitution, their post-fire tree species compositions were examined against the unburned forests. The overall accuracy reached 86.16% in the study area. Accuracies of Xing'an larch were around 70% given the mixed growth of the three tree species and their spectral confusion in the nine-point trajectories. Results showed that, even 30 years after the catastrophic fire, Xing'an larch composition had not been fully recovered, although its distribution was higher in areas with lower burning intensities. More importantly, this study extracted the first spatial layer of this important zonal species of deciduous conifers, which may provide base information for studying its ecological functions and adaptations from natural/anthropogenic disturbances under the pressure of global warming.
Acknowledgment
This study was financially supported by the National Natural Science Foundation of China (No. 41371397).
Author Contributions
Junjie Wang and Cuizhen Wang designed the experiment and wrote the paper; Junjie Wang conducted the experiment and data analysis. Shunying Zang guided the field experimental design and paper revision.
Conflicts of Interest
The authors declare no conflict of interest.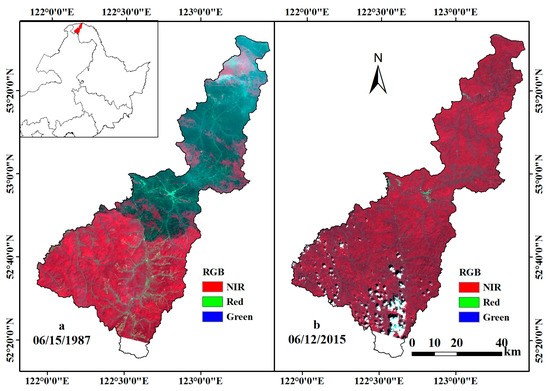 Figure 1. The study area and two example images in standard false color: Landsat 5 TM image in 1987 (a) and Landsat 8 OLI image in 2015 (b).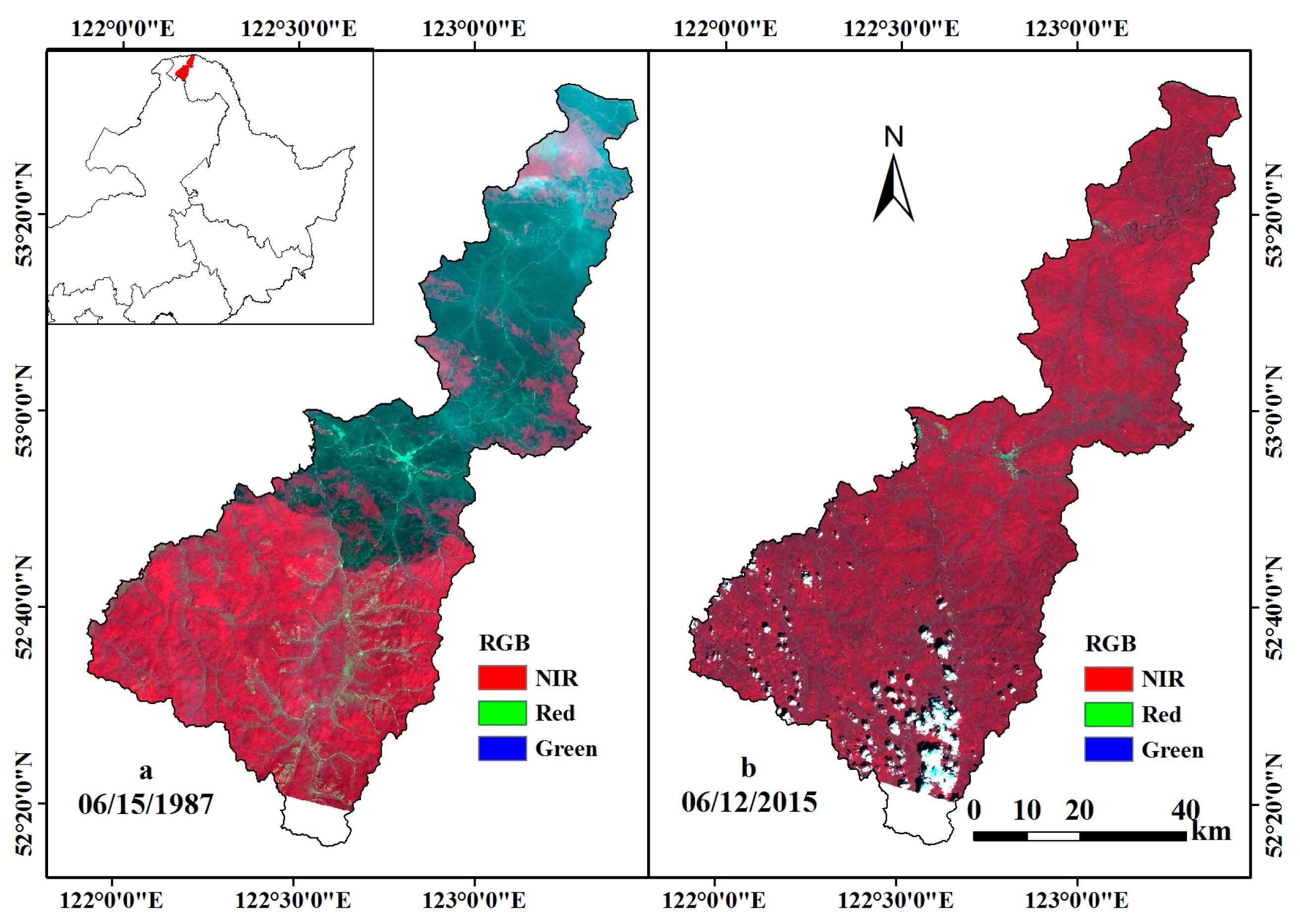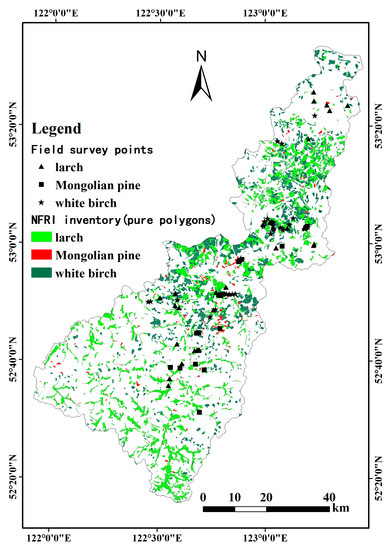 Figure 2. The NFRI unit polygons with pure stands and field survey points for the three tree species in the study area. Boundaries of unit polygons are also displayed.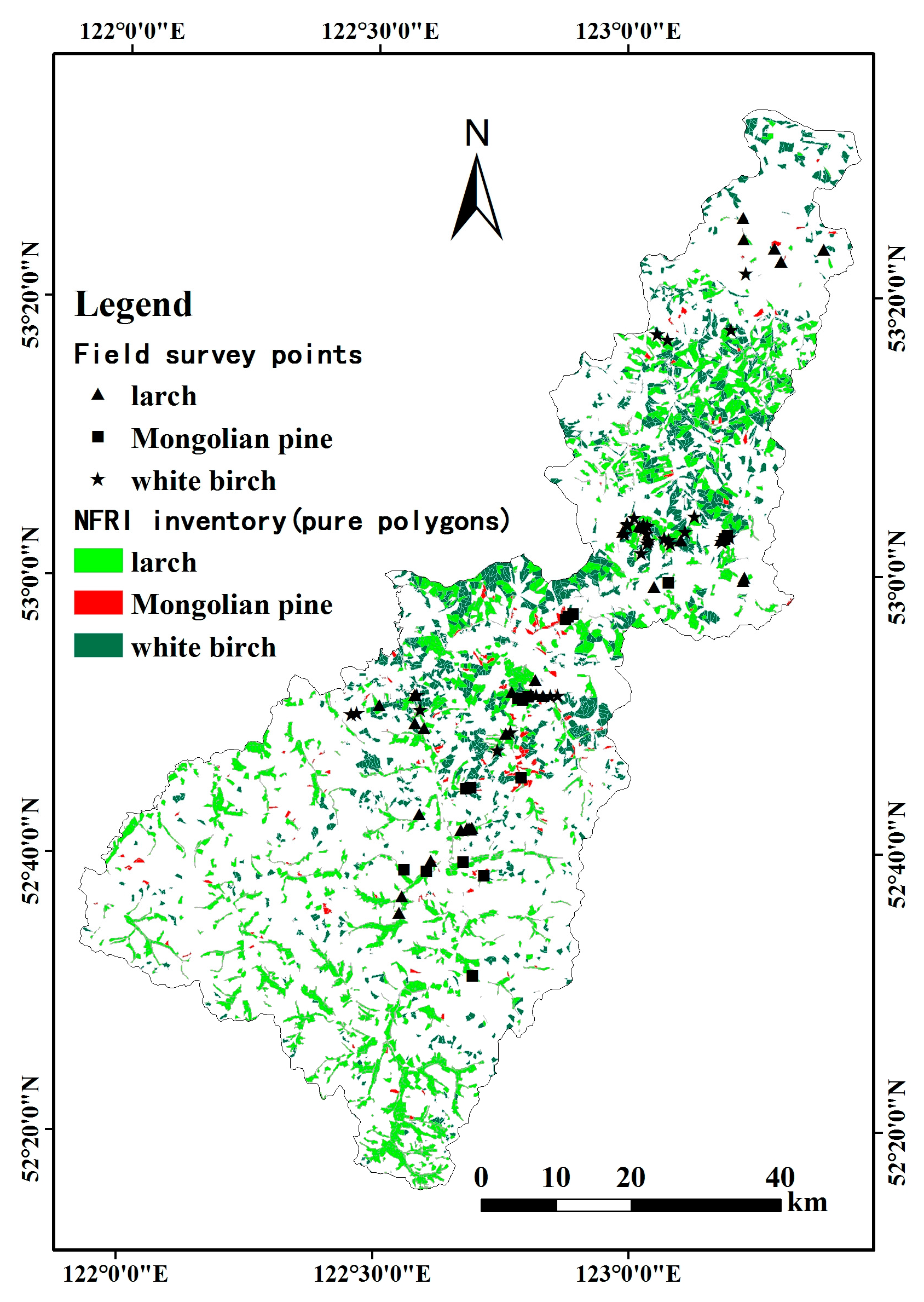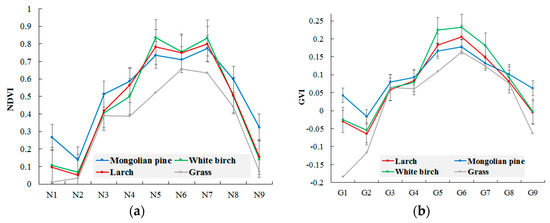 Figure 3. Trajectories of tree species and non-forest covers for NDVI (a) and GVI (b). Error bars are marked as ± standard error at each point.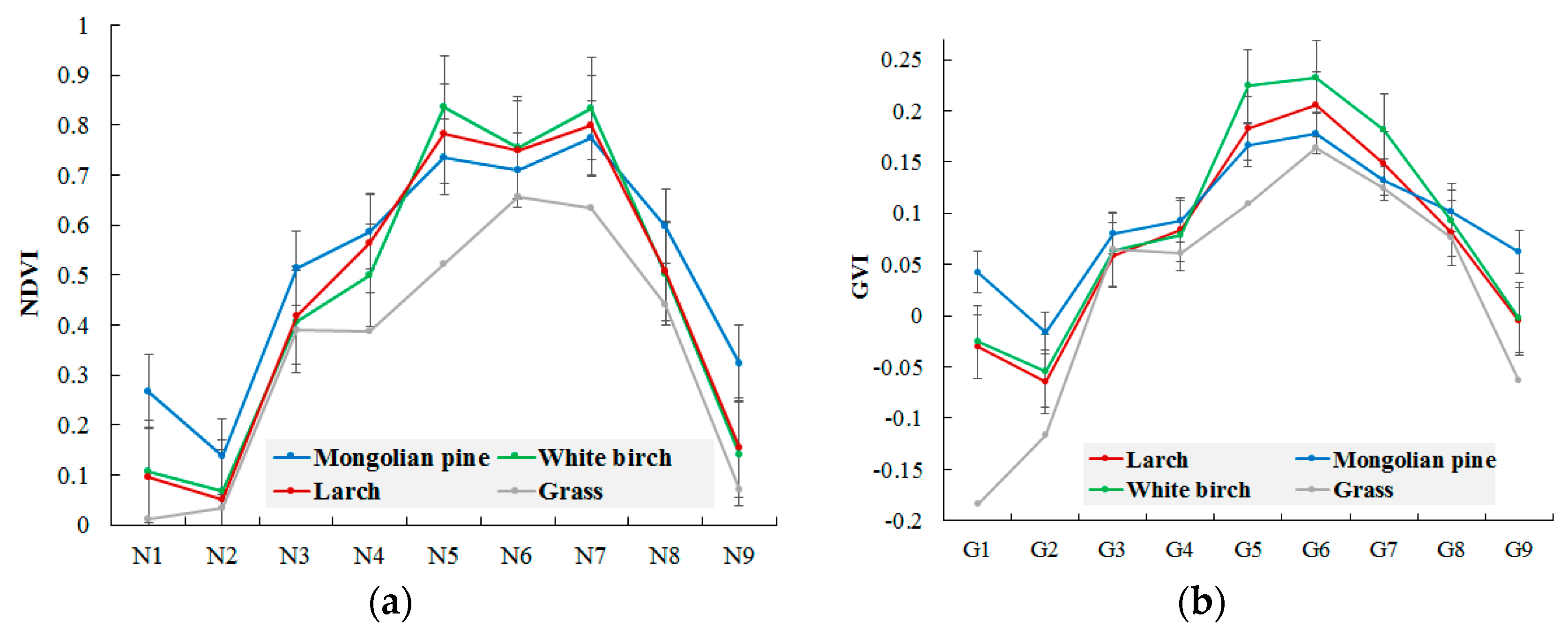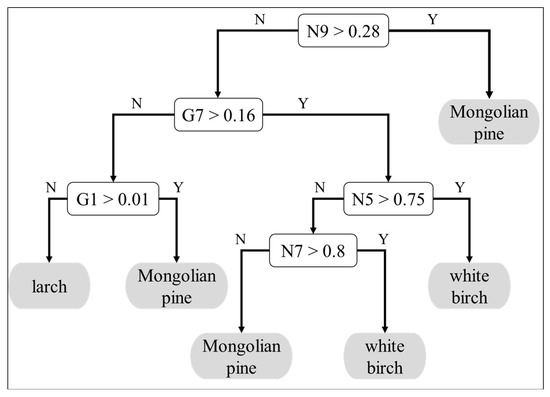 Figure 4. A 5-node CART decision tree for the three tree species. The thresholds are summarized from the CART outputs of the training samples.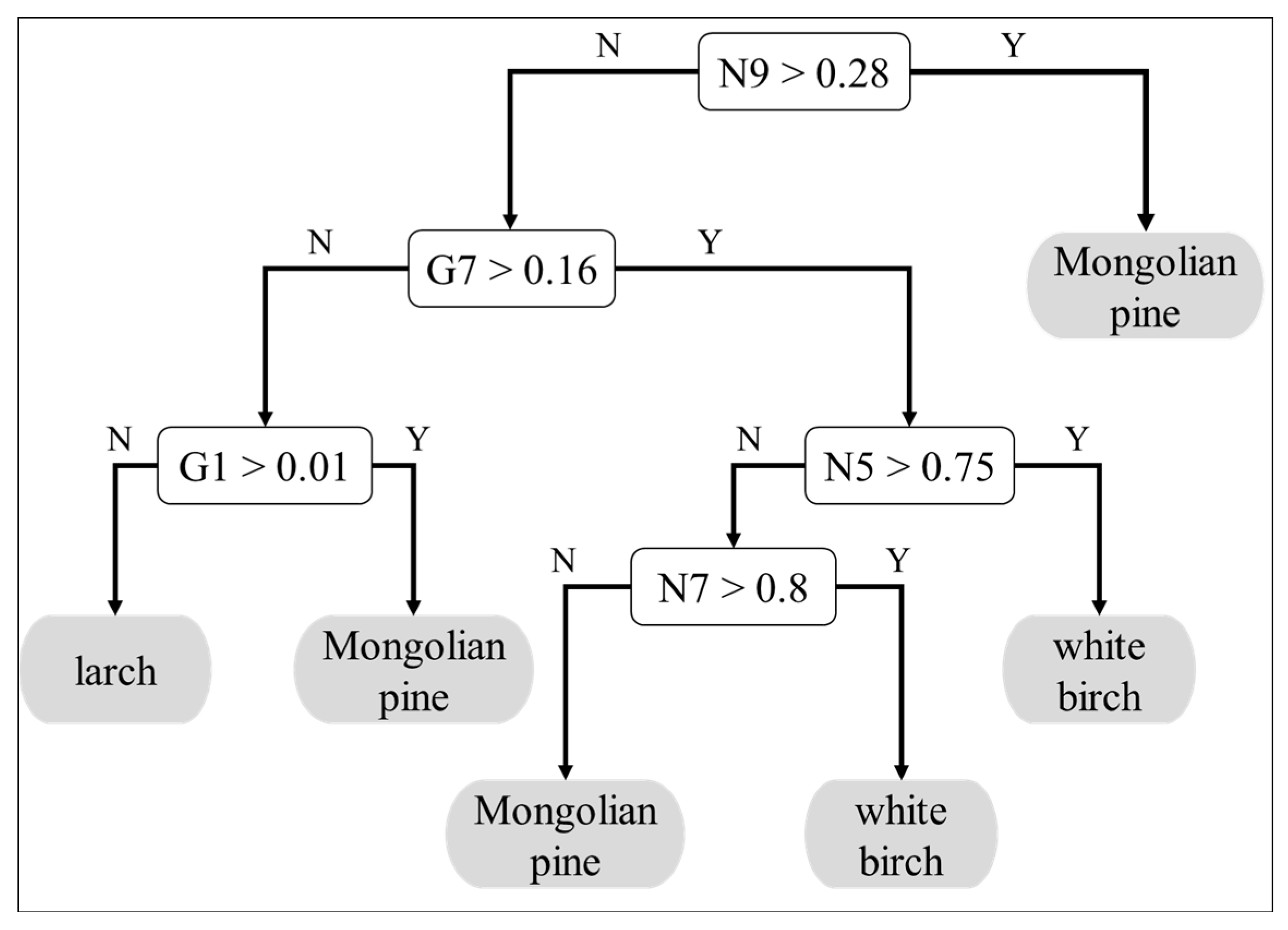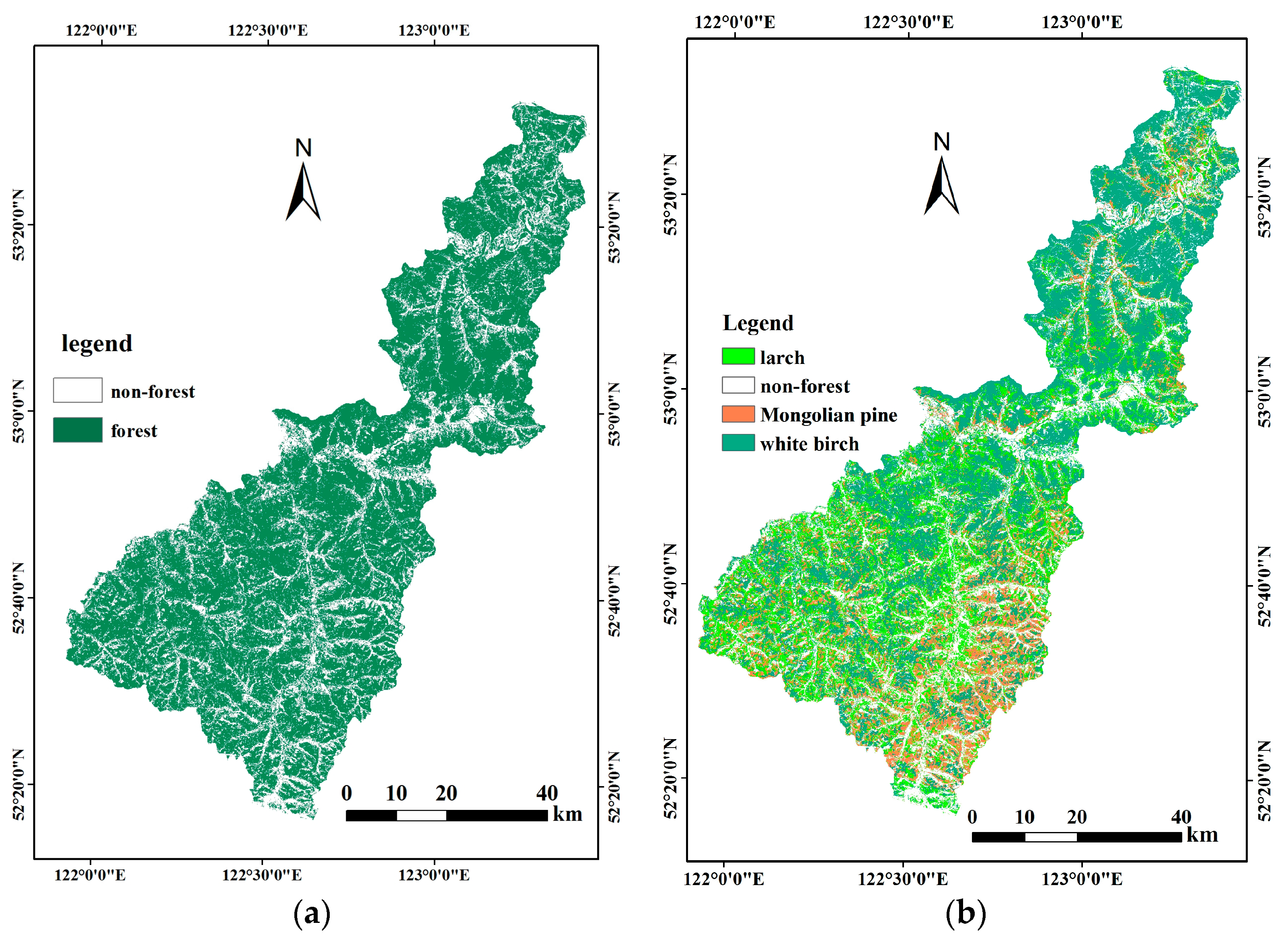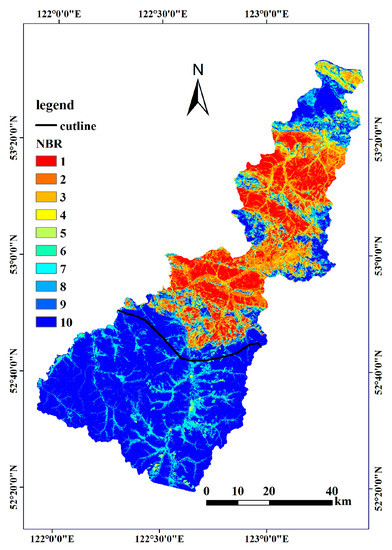 Figure 6. The NBR-extracted fire intensity map. A cutline is manually drawn to generally separate the burned areas in the north and unburned areas in the south of the study area.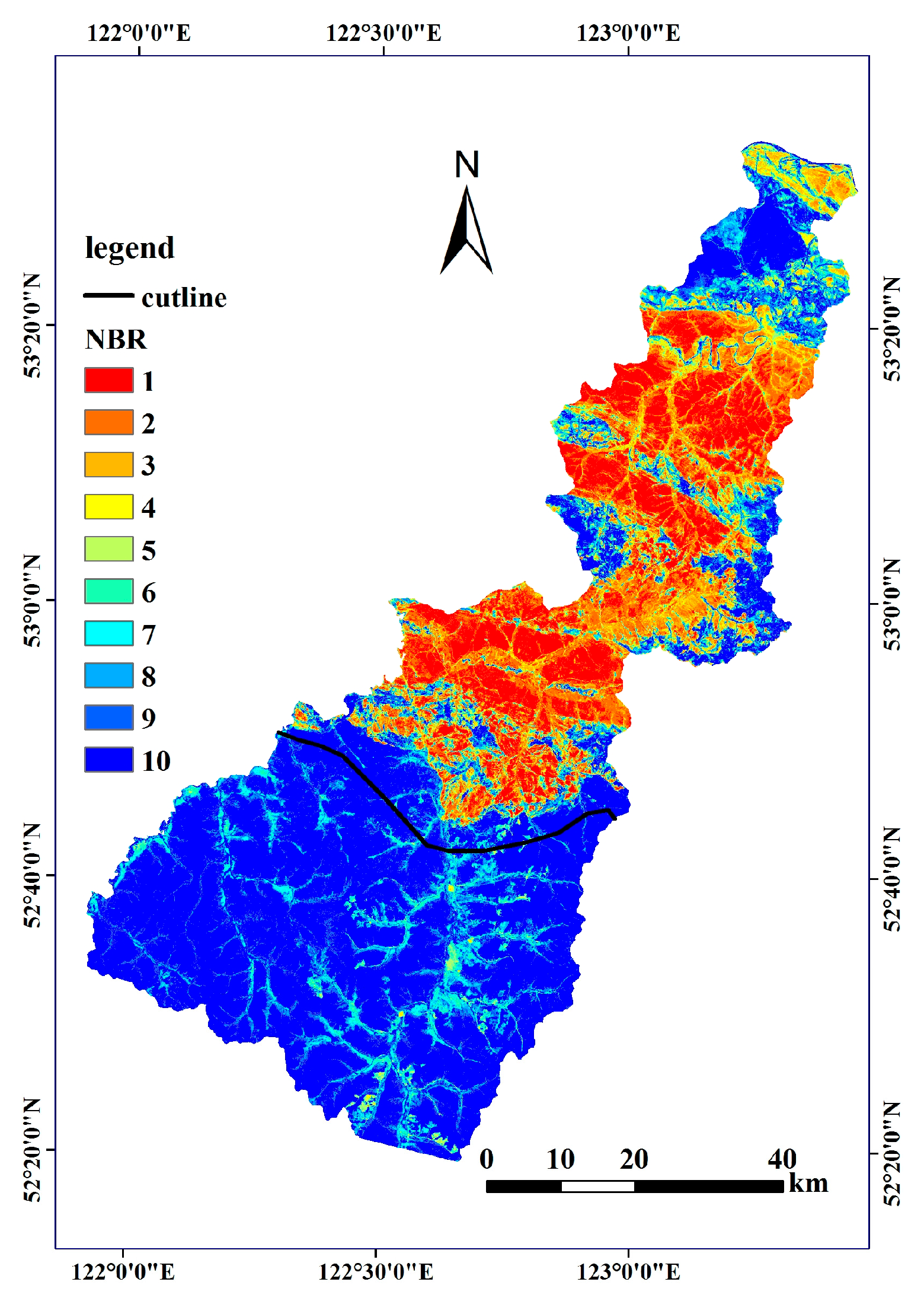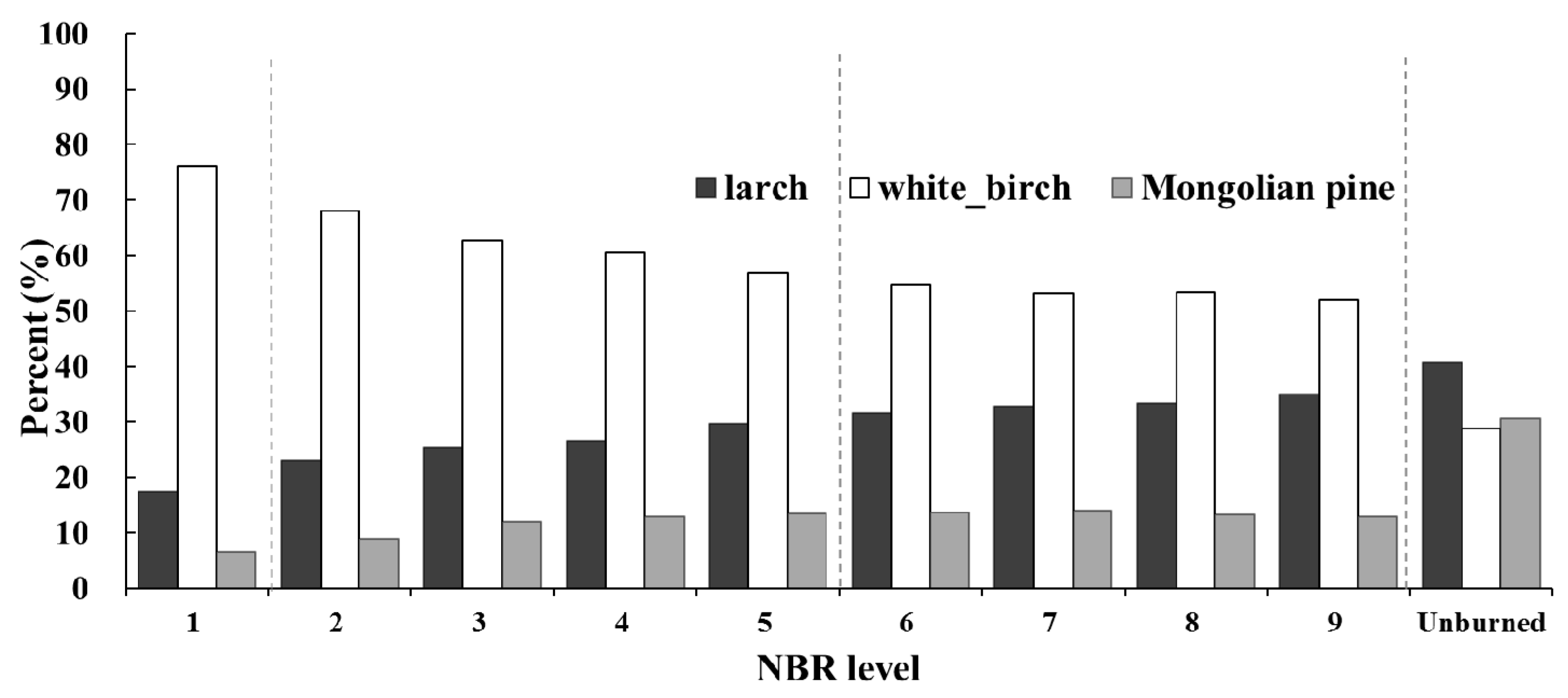 Table 1. Time series of Landsat imagery in the study area. GVI, Green Vegetation Index.

| | Date | Type | NDVI ID | GVI ID |
| --- | --- | --- | --- | --- |
| 1 | 15 June 1987 | Landsat 5 TM | / | / |
| 2 | 20 February 2015 | Landsat 8 OLI | N1 | G1 |
| 3 | 5 March 2014 | Landsat 8 OLI | N2 | G2 |
| 4 | 6 April 2014 | Landsat 8 OLI | N3 | G3 |
| 5 | 11 May 2015 | Landsat 8 OLI | N4 | G4 |
| 6 | 12 June 2015 | Landsat 8 OLI | N5 | G5 |
| 7 | 8 July 2013 | Landsat 8 OLI | N6 | G6 |
| 8 | 31 August 2015 | Landsat 8 OLI | N7 | G7 |
| 9 | 29 September 2014 | Landsat 8 OLI | N8 | G8 |
| 10 | 31 October 2014 | Landsat 8 OLI | N9 | G9 |
Table 2. Confusion matrix of forest classification.
Larch
Mongolian Pine
White Birch
Non-Forest
Samples
User's (%)
larch
24
1
6
4
35
68.57
Mongolian pine
5
16
1
0
22
72.73
white birch
4
0
24
0
28
85.71
non-forest
0
0
1
73
74
98.65
Samples
33
17
32
77
159
Producers (%)
72.73
94.12
75.00
94.81
Overall Accuracy: 86.16%
Kappa Coefficient: 0.80
Table 3. The NBR ranks and the grouped fire intensities.

| | NBR | Area % | Fire Intensity |
| --- | --- | --- | --- |
| 1 | <−300 | 13.97 | High |
| 2 | [−300, −200] | 8.85 | Medium |
| 3 | [−200, −100] | 4.68 | Medium |
| 4 | [−100, 0] | 3.16 | Medium |
| 5 | [0, 100] | 2.38 | Medium |
| 6 | [100, 200] | 2.25 | Low |
| 7 | [200, 300] | 2.44 | Low |
| 8 | [300, 400] | 3.63 | Low |
| 9 | [400, 500] | 5.30 | Low |
| 10 | >500 | 53.15% | Unburned |
© 2017 by the authors. Licensee MDPI, Basel, Switzerland. This article is an open access article distributed under the terms and conditions of the Creative Commons Attribution (CC BY) license ( http://creativecommons.org/licenses/by/4.0/).