Land Surface Temperature Differences within Local Climate Zones, Based on Two Central European Cities
1
Department of Geography, Faculty of Science, Masaryk University Brno, Kotlářská 2, 611 37 Brno, Czech Republic
2
Global Change Research Institute of the Czech Academy of Sciences, Bělidla 986/4a, 603 00 Brno, Czech Republic
3
Department of Geography, Faculty of Science, Palacký University Olomouc, 17. listopadu 12, 771 46 Olomouc, Czech Republic
*
Author to whom correspondence should be addressed.
Academic Editors: Benjamin Bechtel, Iphigenia Keramitsoglou, Simone Kotthaus, James A. Voogt, Klemen Zakšek, Richard Müller and Prasad S. Thenkabail
Received: 20 June 2016 / Revised: 6 September 2016 / Accepted: 19 September 2016 / Published: 22 September 2016
Abstract
The main factors influencing the spatiotemporal variability of urban climate are quite widely recognized, including, for example, the thermal properties of materials used for surfaces and buildings, the mass, height and layout of the buildings themselves and patterns of land use. However, the roles played by particular factors vary from city to city with respect to differences in geographical location, overall size, number of inhabitants and more. In urban climatology, the concept of "local climate zones" (LCZs) has emerged over the past decade to address this heterogeneity. In this contribution, a new GIS-based method is used for LCZ delimitation in Prague and Brno, the two largest cities in the Czech Republic, while land surface temperatures (LSTs) derived from LANDSAT and ASTER satellite data are employed for exploring the extent to which LCZ classes discriminate with respect to LSTs. It has been suggested that correctly-delineated LCZs should demonstrate the features typical of LST variability, and thus, typical surface temperatures should differ significantly among most LCZs. Zones representing heavy industry (LCZ 10), dense low-rise buildings (LCZ 3) and compact mid-rise buildings (LCZ 2) were identified as the warmest in both cities, while bodies of water (LCZ G) and densely-forested areas (LCZ A) made up the coolest zones. ANOVA and subsequent multiple comparison tests demonstrated that significant temperature differences between the various LCZs prevail. The results of testing were similar for both study areas (89.3% and 91.7% significant LST differences for Brno and Prague, respectively). LSTs computed from LANDSAT differentiated better between LCZs, compared with ASTER. LCZ 8 (large low-rise buildings), LCZ 10 (heavy industry) and LCZ D (low plants) are well-differentiated zones in terms of their surface temperatures. In contrast, LCZ 2 (compact mid-rise), LCZ 4 (open high-rise) and LCZ 9 (sparsely built-up) are less distinguishable in both areas analyzed. Factors such as seasonality and thermal anisotropy remain a challenge for future research into LST differences.
View Full-Text
►

▼

Figures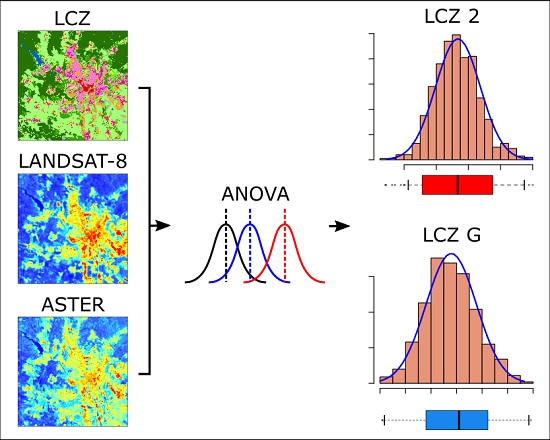 This is an open access article distributed under the
Creative Commons Attribution License
which permits unrestricted use, distribution, and reproduction in any medium, provided the original work is properly cited. (CC BY 4.0).
Share & Cite This Article
MDPI and ACS Style
Geletič, J.; Lehnert, M.; Dobrovolný, P. Land Surface Temperature Differences within Local Climate Zones, Based on Two Central European Cities. Remote Sens. 2016, 8, 788.
Note that from the first issue of 2016, MDPI journals use article numbers instead of page numbers. See further details here.
Related Articles
Comments
[Return to top]