Comparative Assessment of Satellite-Retrieved Surface Net Radiation: An Examination on CERES and SRB Datasets in China
1
Key Laboratory of Watershed Geographic Sciences, Nanjing Institute of Geography and Limnology, Chinese Academy of Sciences, 73 East Beijing Road, Nanjing 210008, China
2
University of Chinese Academy of Sciences, 19 Yuquan Road, Beijing 100049, China
*
Author to whom correspondence should be addressed.
Academic Editors: Richard Müller and Prasad S. Thenkabail
Received: 27 January 2015 / Revised: 11 April 2015 / Accepted: 14 April 2015 / Published: 21 April 2015
Abstract
Surface net radiation plays an important role in land–atmosphere interactions. The net radiation can be retrieved from satellite radiative products, yet its accuracy needs comprehensive assessment. This study evaluates monthly surface net radiation generated from the Clouds and the Earth's Radiant Energy System (CERES) and the Surface Radiation Budget project (SRB) products, respectively, with quality-controlled radiation data from 50 meteorological stations in China for the period from March 2000 to December 2007. Our results show that surface net radiation is generally overestimated for CERES (SRB), with a bias of 26.52 W/m
2
(18.57 W/m
2
) and a root mean square error of 34.58 W/m
2
(29.49 W/m
2
). Spatially, the satellite-retrieved monthly mean of surface net radiation has relatively small errors for both CERES and SRB at inland sites in south China. Substantial errors are found at northeastern sites for two datasets, in addition to coastal sites for CERES. Temporally, multi-year averaged monthly mean errors are large at sites in western China in spring and summer, and in northeastern China in spring and winter. The annual mean error fluctuates for SRB, but decreases for CERES between 2000 and 2007. For CERES, 56% of net radiation errors come from net shortwave (NSW) radiation and 44% from net longwave (NLW) radiation. The errors are attributable to environmental parameters including surface albedo, surface water vapor pressure, land surface temperature, normalized difference vegetation index (NDVI) of land surface proxy, and visibility for CERES. For SRB, 65% of the errors come from NSW and 35% from NLW radiation. The major influencing factors in a descending order are surface water vapor pressure, surface albedo, land surface temperature, NDVI, and visibility. Our findings offer an insight into error patterns in satellite-retrieved surface net radiation and should be valuable to improving retrieval accuracy of surface net radiation. Moreover, our study on radiation data of China provides a case example for worldwide validation.
View Full-Text
►

▼

Figures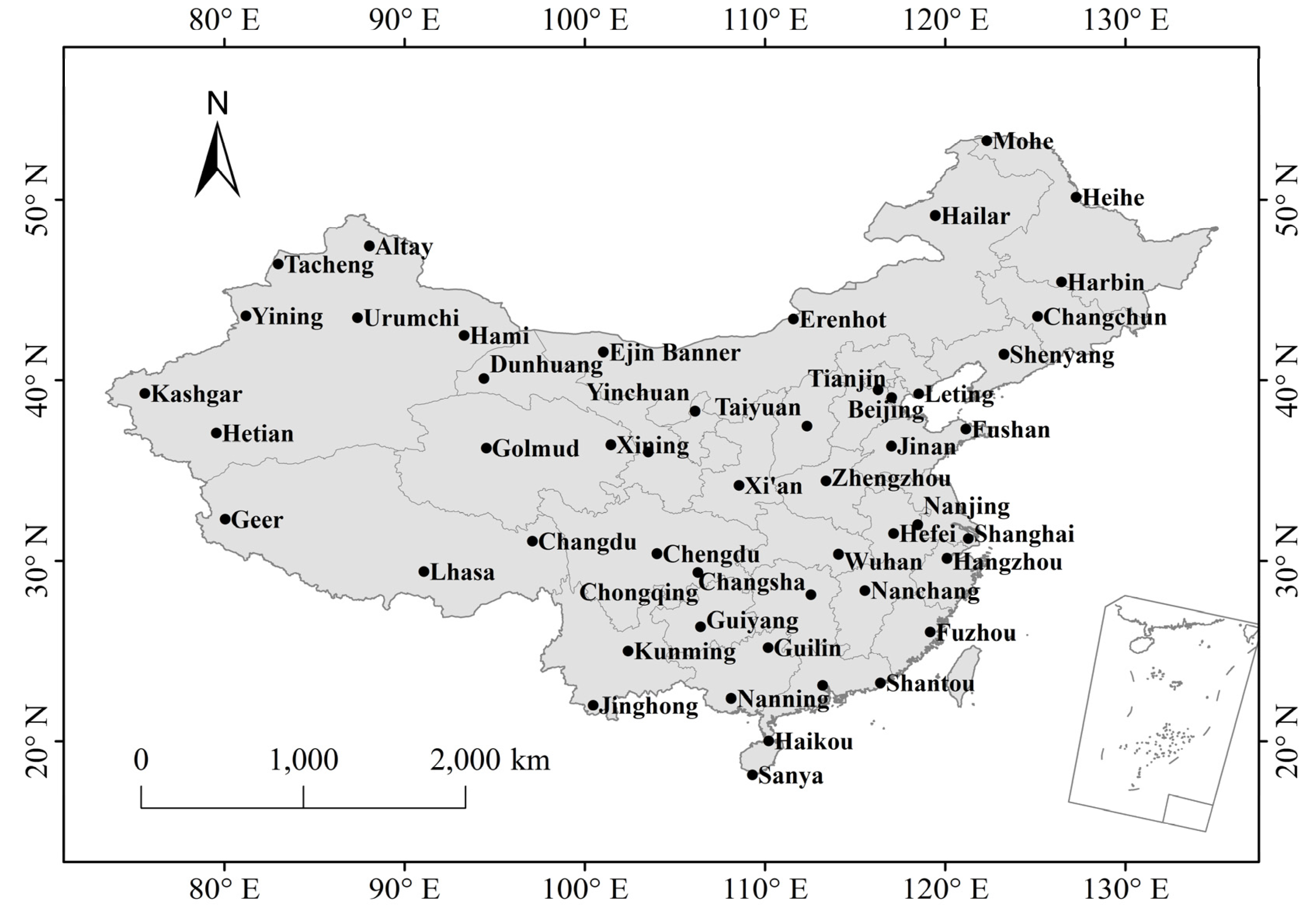 Figure 1
This is an open access article distributed under the
Creative Commons Attribution License
which permits unrestricted use, distribution, and reproduction in any medium, provided the original work is properly cited. (CC BY 4.0).
Share & Cite This Article
MDPI and ACS Style
Pan, X.; Liu, Y.; Fan, X. Comparative Assessment of Satellite-Retrieved Surface Net Radiation: An Examination on CERES and SRB Datasets in China. Remote Sens. 2015, 7, 4899-4918.
Related Articles
Comments
[Return to top]