Open Access This article is
freely available
re-usable
Article
Spatial Association of Shrubs and Their Interrelation to Burrowing Site Preference of Subterranean Rodents on Dune Slope in the Otindag Sandy Land, China
1
Research Institute of Forestry New Technology, Chinese Academy of Forestry, Beijing 100091, China
2
Research Institute of Forest Ecology, Environment and Protection, Chinese Academy of Forestry, Beijing 100091, China
3
College of Desert Control Science and Engineering, Inner Mongolia Agricultural University, Hohhot 010018, China
4
Institute of Desertification Studies, Chinese Academy of Forestry, Beijing 100091, China
Received: 21 August 2017 / Accepted: 20 September 2017 / Published: 26 September 2017
Abstract
:
Rangelands worldwide have more shrubs now, and subterranean rangeland rodents show close interaction to shrubs when choosing a burrowing site. The study was conducted in Otindag Sandy Land in Inner Mongolia, China with the objective of determining the effects of slope position on spatial pattern and interaction of shrubs; how rodents choose their habitat in different slope; and shrubs and rodents influence each other. To accomplish the objective set, we used three physiographic units: Plot 1 (upper slope), Plot 2 (middle slope), and Plot 3 (lower slope), and all individual woody plants and rodent holes in the three plots were mapped. The result of the study showed that: (1) two shrub species show a random distribution trend in all three plots except an aggregated trend only at the smaller scale on the upper slope; (2) the majority of subterranean rodents preferred to select their burrowing sites under the shrub crown, and these selected shrub individuals had generally larger crown length than those unselected individuals. At the same time, the majority of these burrowing sites were located on the lower right direction. (3) The distribution of rodents holes differ across the slopes in the study area. In the three samples, the relative locations of burrowing sites to shrubs are mostly distributed down slope of shrubs. From upper slope to lower slope, this trend gradually enhanced. Our conclusion is that the increase in shrubs represents a pioneer phase in the rehabilitation of degraded sandy land ecosystems, and colonization of subterranean rangeland rodents near the shrubs is a clear indicator of stabilization of sand dunes.
Keywords:
spatial pattern; crown size; habitat preference; nurse–protégéassociation; rehabilitation area
Acknowledgments
We would like to thank Wiegand for his generous provision of spatial analysis software. The research in this paper was funded by the Fundamental Research Funds of CAF (CAFYBB2017ZA006); the National Key Research and Development Program of China (2016YFC0500801, 2016YFC0500804, and 2016YFC0500908), the International Science & Technology Cooperation Program of China (2015DFR31130) and the National Natural Science Foundation of China (31670715, 41471029, and 41401212). In this article, Dr. Xiaohui Yang dedicated his advice very much indeed to the experiment design and paper's organization; we do also appreciated his efforts to the establishment of this paper in the overall process.
Author Contributions
Zhongjie Shi and Xiaohui Yang conceived and designed the experiments. Xiao Wang conducted the field experiment. Xiao Wang, Long Li and Lina Jiang performed the data collection, data analysis. Lina Jiang conducted the article writing and formatting.
Conflicts of Interest
The authors declare no conflict of interest.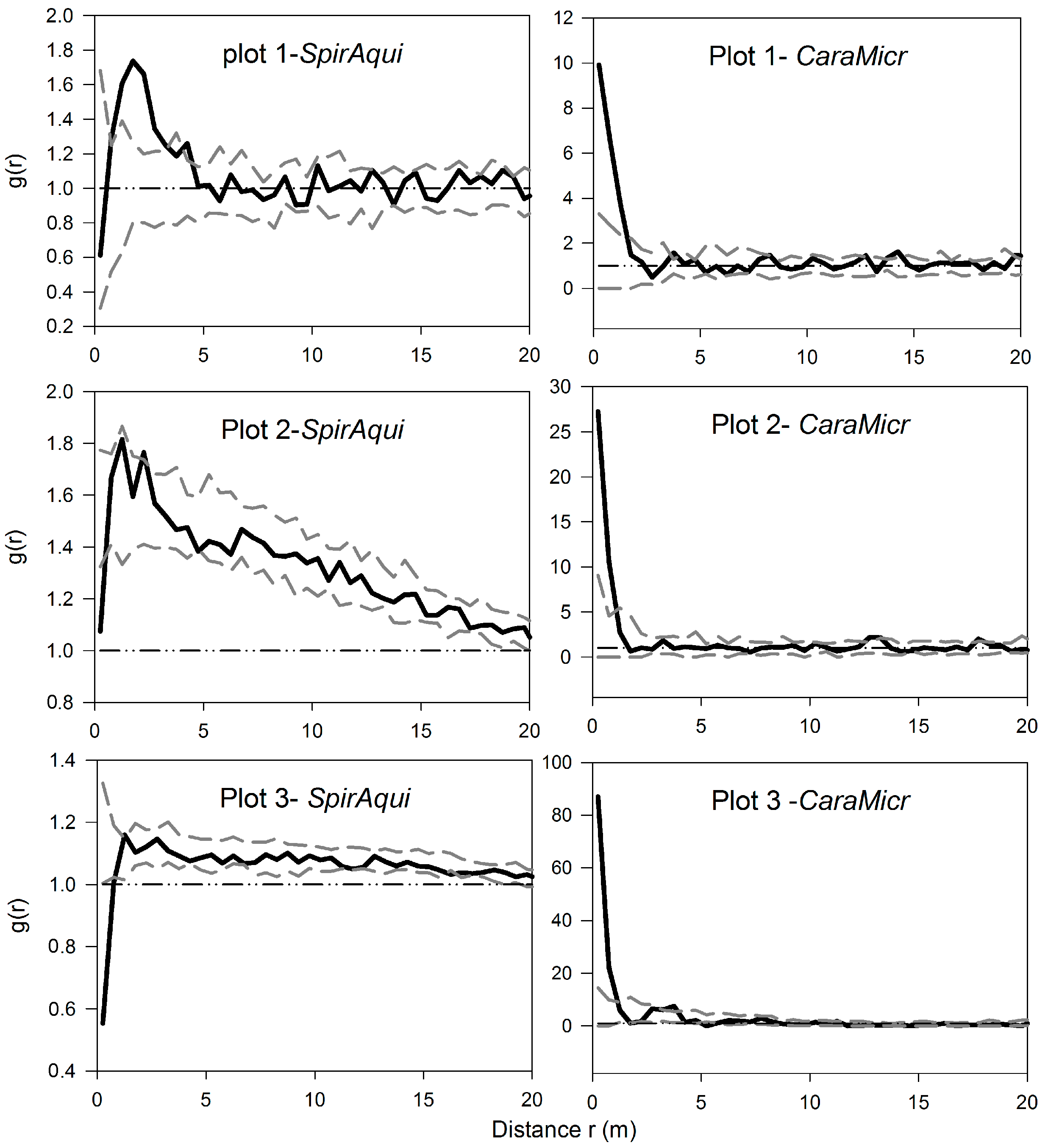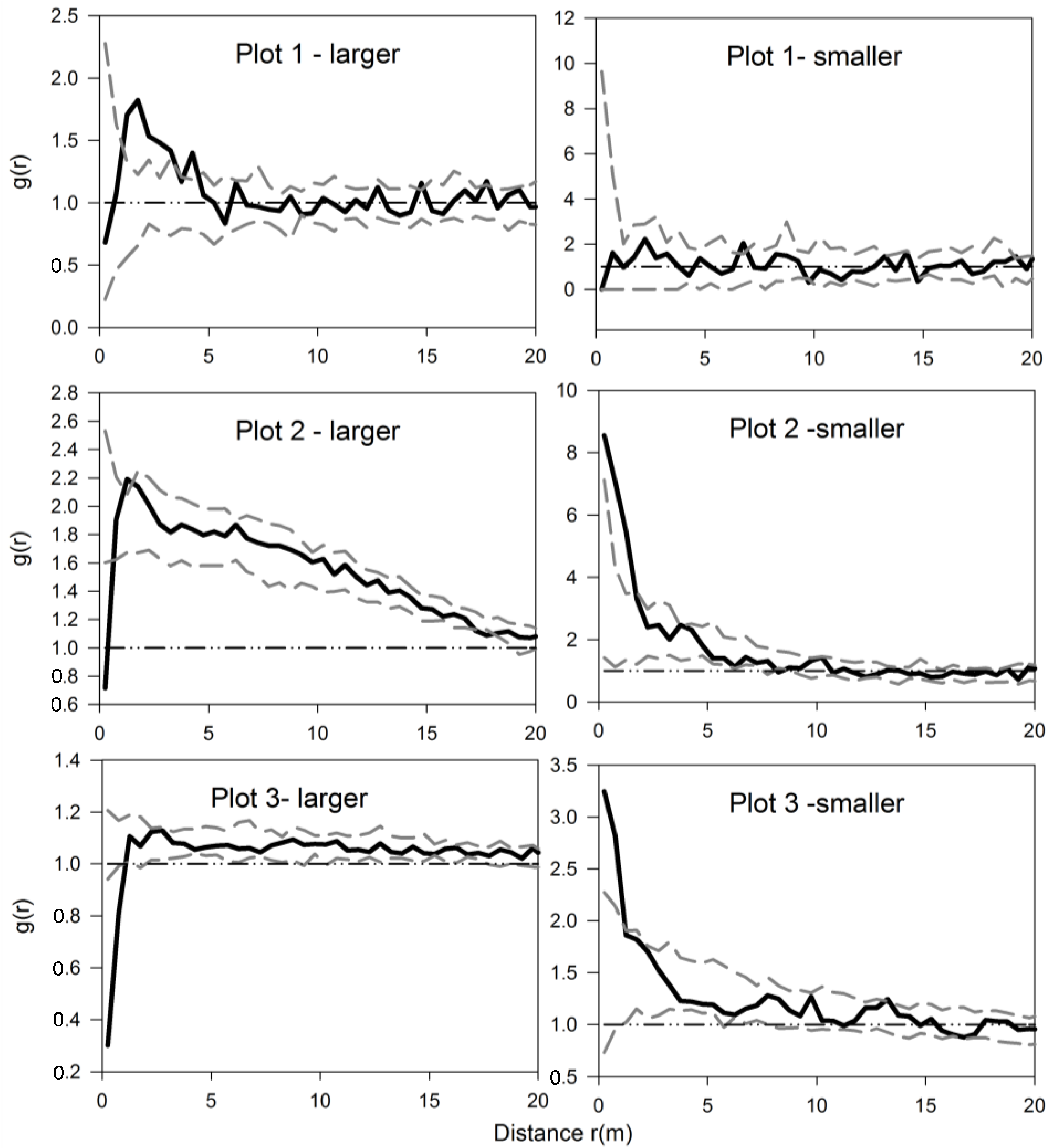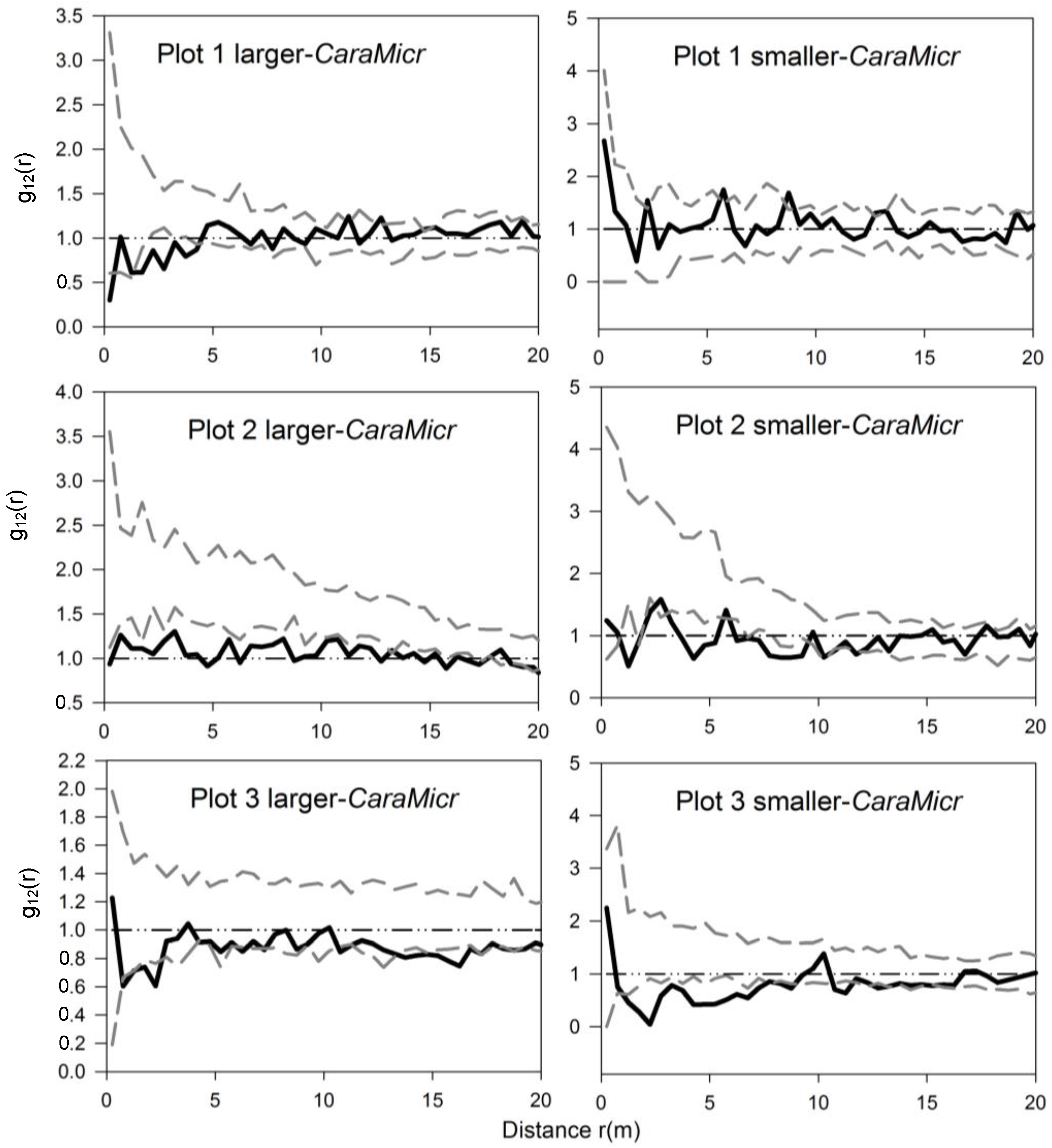 Figure 4.
Bivariate spatial association for intra-specifics.
S. aquilegifolia
shrubs with both the toroidal shift and antecedent condition null models.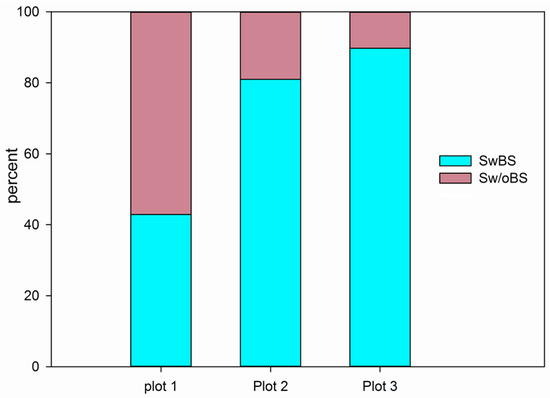 Figure 5. The distribution of burrowing site of subterranean rodents differs across the slopes in the study area.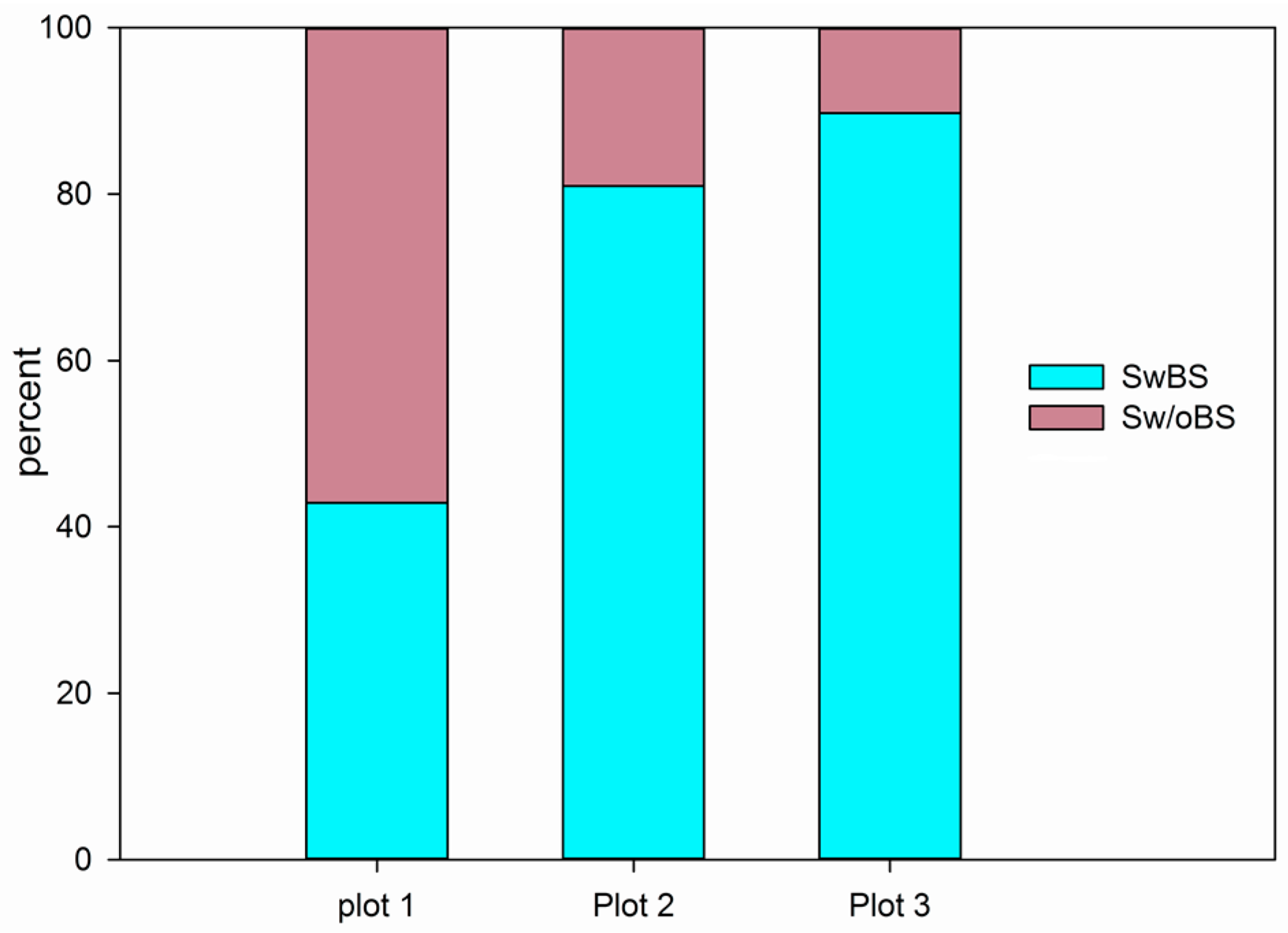 Figure 6. Map of the relative location of burrowing sites to shrubs with a relative origin (0, 0) for each shrub.


Figure 7.
The comparison of growth parameters among NN-Sw/oBS, R-Sw/oBS, and SwBS (the shrubs with burrowing sites (SwBS); the shrubs without burrowing sites (Sw/oBS); for Sw/oBS, shrubs with nearest neighbor distance to burrowing sites (NN-Sw/oBS); the rest of Sw/oBS (R-Sw/oBS)). The same letters within bars in each group (height/H or long crown/LC or short crown/SC) are not significantly different at
p
≤ 0.05.

Table 1. Classification of shrubs and burrowing sites and their basic parameters.
PLOT
Parameters

SpirAqui

CaraMicr

BS
Larger
Smaller
Plot 1
N
150
33
56
14
H
48.8 ± 13.14
29.1 ± 9.06
35.8 ± 12.08
LC
77.6 ± 22.65
37.9 ± 7.22
46.9 ± 22.01
SC
62.6 ± 19.99
28.8 ± 7.05
35.5 ± 14.76
Plot 2
N
348
104
39
21
H
71.3 ± 25.91
29.0 ± 11.74
44.9 ± 17.24
LC
94.7 ± 37.60
29.3 ± 10.16
63.1 ± 36.98
SC
79.5 ± 30.93
24.0 ± 7.72
48.6 ± 28.83
Plot 3
N
747
251
30
39
H
65.2 ± 18.45
28.1 ± 10.88
31.6 ± 9.82
LC
90.1 ± 30.03
26.9 ± 10.75
34.9 ± 14.82
SC
76.3 ± 27.04
22.7 ± 7.63
29.16 ± 11.02
Abbreviations:

SpirAqui

,

S. aquilegifolia

Pall;

CaraMicr

,

C. microphylla

Lam.; N, number; H, height; LC, long crown; SC, short crown; BS, burrow site.
© 2017 by the authors. Licensee MDPI, Basel, Switzerland. This article is an open access article distributed under the terms and conditions of the Creative Commons Attribution (CC BY) license (http://creativecommons.org/licenses/by/4.0/).