Interaction Potential of the Multitargeted Receptor Tyrosine Kinase Inhibitor Dovitinib with Drug Transporters and Drug Metabolising Enzymes Assessed in Vitro
1
Department of Clinical Pharmacology and Pharmacoepidemiology, University of Heidelberg, Im Neuenheimer Feld 410, 69120 Heidelberg, Germany
2
Department of Cell Biology and Genetics, Faculty of Science, Palacky University, Slechitelu 11, 78371 Olmouc, Czech Republic
*
Author to whom correspondence should be addressed.
Received: 2 September 2014 / Revised: 10 November 2014 / Accepted: 4 December 2014 / Published: 16 December 2014
Abstract
Dovitinib (TKI-258) is under development for the treatment of diverse cancer entities. No published information on its pharmacokinetic drug interaction potential is available. Thus, we assessed its interaction with important drug metabolising enzymes and drug transporters and its efficacy in multidrug resistant cells
in vitro
. P-glycoprotein (P-gp,
MDR1
,
ABCB1
) inhibition was evaluated by calcein assay, inhibition of breast cancer resistance protein (BCRP,
ABCG2
) by pheophorbide A efflux, and inhibition of organic anion transporting polypeptides (OATPs) by 8-fluorescein-cAMP uptake. Inhibition of cytochrome P450 3A4, 2C19, and 2D6 was assessed by using commercial kits. Induction of transporters and enzymes was quantified by real-time RT-PCR. Possible aryl hydrocarbon receptor (AhR) activating properties were assessed by a reporter gene assay. Substrate characteristics were evaluated by growth inhibition assays in cells over-expressing P-gp or BCRP
.
Dovitinib weakly inhibited CYP2C19, CYP3A4, P-gp and OATPs. The strongest inhibition was observed for BCRP (IC
50
= 10.3 ± 4.5 μM). Among the genes investigated, dovitinib only induced mRNA expression of
CYP1A1
,
CYP1A2
,
ABCC3
(coding for multidrug resistance-associated protein 3),
and
ABCG2
and suppressed mRNA expression of some transporters and drug metabolising enzymes. AhR reporter gene assay demonstrated that dovitinib is an activator of this nuclear receptor. Dovitinib retained its efficacy in cell lines over-expressing P-gp or BCRP
.
Our analysis indicates that dovitinib will most likely retain its efficacy in tumours over-expressing P-gp or BCRP and gives first evidence that dovitinib might act as a perpetrator drug in pharmacokinetic drug–drug interactions.
View Full-Text
►

▼

Figures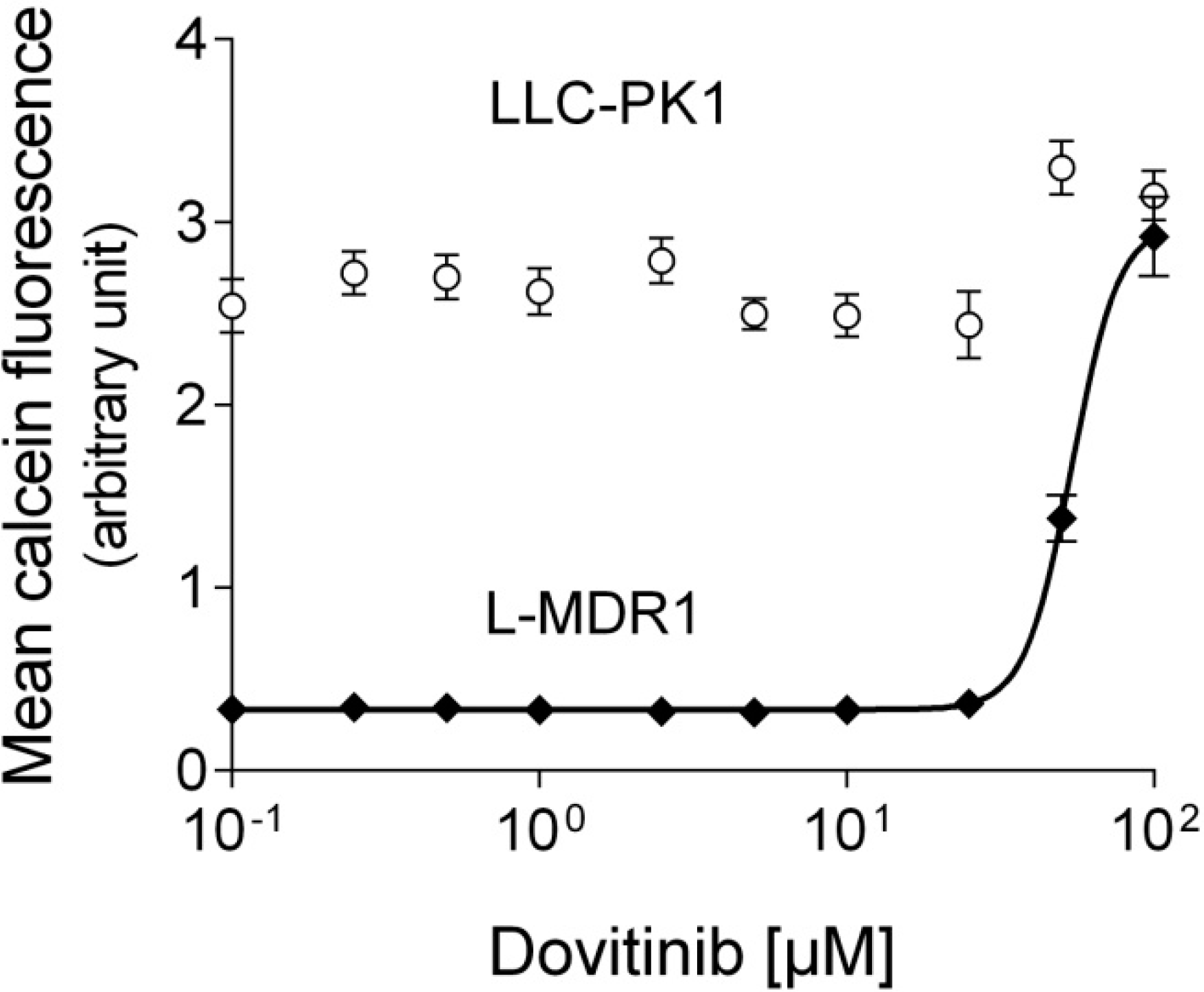 Figure 1
This is an open access article distributed under the
Creative Commons Attribution License
which permits unrestricted use, distribution, and reproduction in any medium, provided the original work is properly cited. (CC BY 4.0).
Share & Cite This Article
MDPI and ACS Style
Weiss, J.; Theile, D.; Dvorak, Z.; Haefeli, W.E. Interaction Potential of the Multitargeted Receptor Tyrosine Kinase Inhibitor Dovitinib with Drug Transporters and Drug Metabolising Enzymes Assessed in Vitro. Pharmaceutics 2014, 6, 632-650.
Related Articles
Comments
[Return to top]