Vicariance and Oceanic Barriers Drive Contemporary Genetic Structure of Widespread Mangrove Species Sonneratia alba J. Sm in the Indo-West Pacific
1
Guangxi Key Laboratory of Forest Ecology and Conservation, College of Forestry, Guangxi University, Daxuedonglu 100, Nanning 530004, China
2
Department of Biological Sciences, National University of Singapore, Singapore 117543, Singapore
3
Iriomote Station, Tropical Biosphere Research Center, University of the Ryukyus, 870 Uehara, Taketomi-cho, Yaeyama-gun, Okinawa 907-1541, Japan
4
Museum of Natural and Environmental History, Shizuoka, 5762 Oya, Suruga-ku, Shizuoka-shi, Shizuoka 422-8017, Japan
5
Department of Biology, Graduate School of Science, Chiba University, 1-33 Yayoi-cho, Inage-ku, Chiba 263-8522, Japan
6
Biotechnology Programme, M.S. Swaminathan Research Foundation, Chennai 600113, India
7
Faculty of Forestry, Universitas Sumatera Utara, Medan 20155, Indonesia
8
Bali Botanical Garden, Indonesian Institute of Sciences, Bali 82191, Indonesia
9
Faculty of Biology, Jenderal Soedirman University, Purwokerto 53122, Indonesia
10
Forest Biology Department, Faculty of Forestry, Kasetsart University, Bangkok 10900, Thailand
11
Institute for Tropical Biology and Conservation, Universiti Malaysia Sabah, Kota Kinabalu 88400, Malaysia
12
Mangrove Ecosystem Research Centre, Hanoi National University of Education, Hanoi 123112, Vietnam
13
Department of Environmental Science, School of Science and Engineering, Ateneo de Manila University, Quezon City 1108, Philippines
14
Biology Department, College of Science and Technology, Adventist University of the Philippines, Silang, Cavite 4118, Philippines
15
Department of Forest Management, Faculty of Forestry, Universiti Putra Malaysia, Serdang 43400, Malaysia
16
Department of Botany, University of Yangon, Yangon 11041, Myanmar
17
Faculty of Education, University of the Ryukyus, Sembaru 903-0129, Japan
18
Sugadaira Research Station, Mountain Science Center, University of Tsukuba, 1278-294 Sugadairakogen, Ueda, Nagano 386-2204, Japan
*
Authors to whom correspondence should be addressed.
Received: 19 October 2017 / Revised: 27 November 2017 / Accepted: 30 November 2017 / Published: 6 December 2017
Abstract
Patterns of genetic structure are essential for a comprehensive understanding of the evolution and biogeography of a species. Here, we investigated the genetic patterns of one of the most widespread and abundant mangrove species in the Indo-West Pacific,
Sonneratia alba
J. Sm., in order to gain insights into the ecological and evolutionary drivers of genetic structure in mangroves. We employed 11 nuclear microsatellite loci and two chloroplast regions to genotyped 25
S. alba
populations. Our objectives were to (1) assess the level of genetic diversity and its geographic distribution; and (2) determine the genetic structure of the populations. Our results revealed significant genetic differentiation among populations. We detected a major genetic break between Indo-Malesia and Australasia, and further population subdivision within each oceanic region in these two major clusters. The phylogeographic patterns indicated a strong influence of vicariance, oceanic barriers and geographic distance on genetic structure. In addition, we found low genetic diversity and high genetic drift at range edge. This study advances the scope of mangrove biogeography by demonstrating a unique scenario whereby a widespread species has limited dispersal and high genetic divergence among populations.
View Full-Text
►

▼

Figures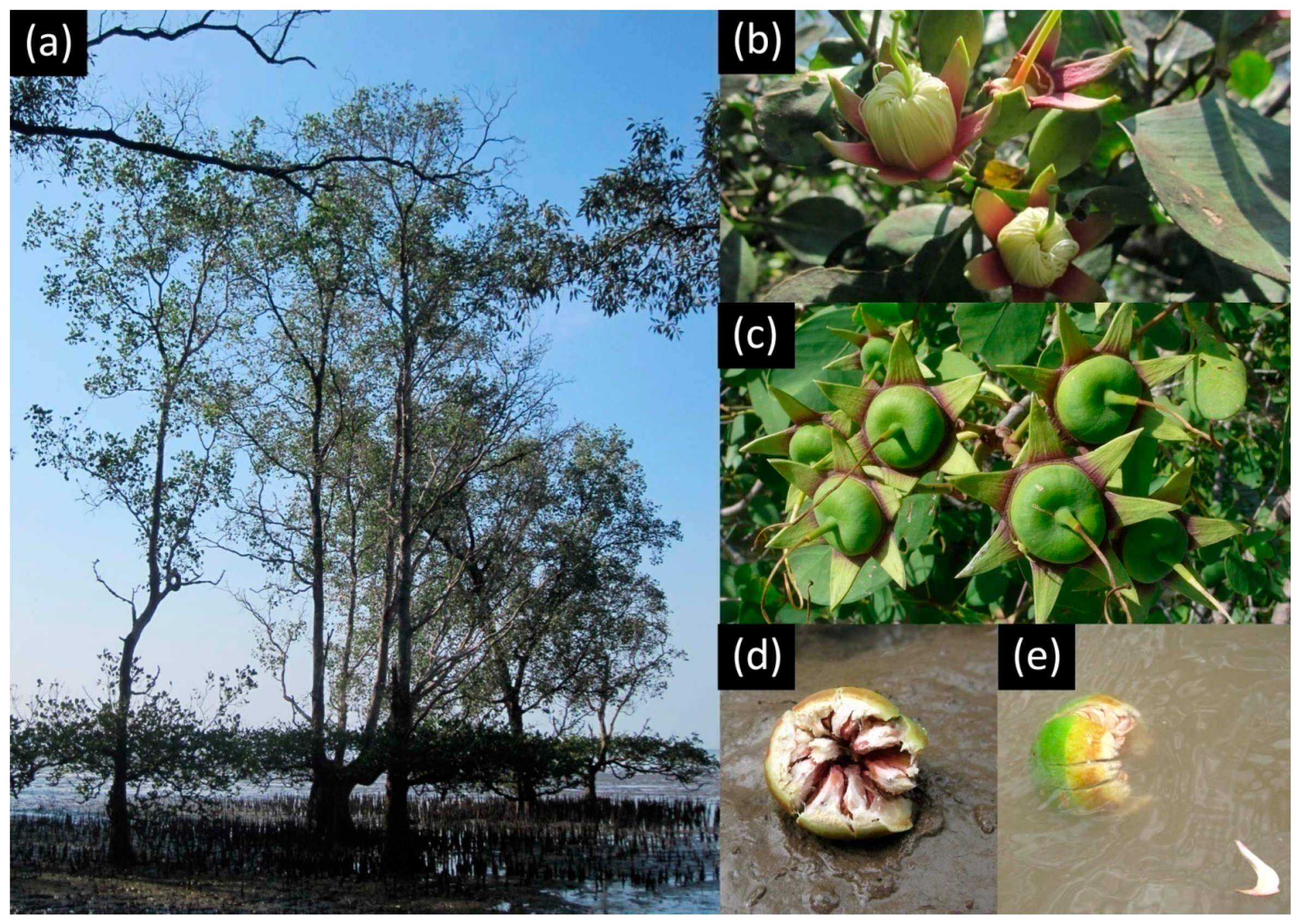 Figure 1
This is an open access article distributed under the
Creative Commons Attribution License
which permits unrestricted use, distribution, and reproduction in any medium, provided the original work is properly cited. (CC BY 4.0).
Share & Cite This Article
MDPI and ACS Style
Wee, A.K.S.; Teo, J.X.H.; Chua, J.L.; Takayama, K.; Asakawa, T.; Meenakshisundaram, S.H.; Onrizal; Adjie, B.; Ardli, E.R.; Sungkaew, S.; Suleiman, M.; Tung, N.X.; Salmo, S.G., III; Yllano, O.B.; Saleh, M.N.; Soe, K.K.; Tateishi, Y.; Watano, Y.; Tsuda, Y.; Kajita, T.; Webb, E.L. Vicariance and Oceanic Barriers Drive Contemporary Genetic Structure of Widespread Mangrove Species Sonneratia alba J. Sm in the Indo-West Pacific. Forests 2017, 8, 483.
Note that from the first issue of 2016, MDPI journals use article numbers instead of page numbers. See further details here.
Related Articles
Comments
[Return to top]