Landscape Biology of Western White Pine: Implications for Conservation of a Widely-Distributed Five-Needle Pine at Its Southern Range Limit
1
Department of Plant Pathology and Tahoe Environmental Research Center, University of California, One Shields Avenue, Davis, CA 95616, USA
2
Department of Biology, Virginia Commonwealth University, Richmond, VA 23284, USA
3
USDA, Forest Service, Pacific Southwest Research Station, Institute of Forest Genetics, 2480 Carson Road, Placerville, CA 95667, USA
4
Department of Plant Sciences, University of California, One Shields Avenue, Davis, CA 95616, USA
*
Authors to whom correspondence should be addressed.
Academic Editors: John MacKay and Timothy A. Martin
Received: 30 January 2016 / Revised: 28 March 2016 / Accepted: 18 April 2016 / Published: 26 April 2016
Abstract
Throughout much of the range of western white pine,
Pinus monticola
Dougl., timber harvesting, fire exclusion and the presence of
Cronartium ribicola
J. C. Fisch., the white pine blister rust (WPBR) pathogen, have led to negative population and genetic consequences. To address these interactions, we examined population dynamics and genetic diversity in 10 populations of western white pine in upper montane forests of the Lake Tahoe Basin. We documented negative population trends for three of the 10 populations. These populations exhibited low estimated growth rates (λ), moderate to high incidences of WPBR and mountain pine beetle (MPB), and high levels of mortality. In contrast, seven populations appear to be stable (λ ≥ 1.0), with low to moderate disease and insect incidence, and evidence for genetic resistance to WPBR. Genetic diversity (
HE
) for a set of 160 single nucleotide polymorphisms was in the range of 0.245–0.272 across populations, and population-specific estimates of
FST
ranged from 0.0062 to 0.0244. Allele frequency of the
Cr2
gene, which confers complete resistance to
C. ribicola
in western white pine, was low, averaging 0.009 for all populations sampled. However, a low frequency of pollen receptors (
i.e.
, susceptible maternal parents pollinated by a local resistant parent) was found in nine of 10 populations. A moderate and negative relationship was found between the frequency of pollen receptors in a population and the incidence of WPBR (
r
2
= 0.32). In the context of an introduced pathogen, climate driven outbreaks of MPB, fire exclusion, and prolonged drought, conservation and management strategies are warranted for this species in the Lake Tahoe Basin and likely other locations in California. These strategies include gene conservation of western white pine, WPBR resistance screening, and forest restoration treatments.
View Full-Text
►

▼

Figures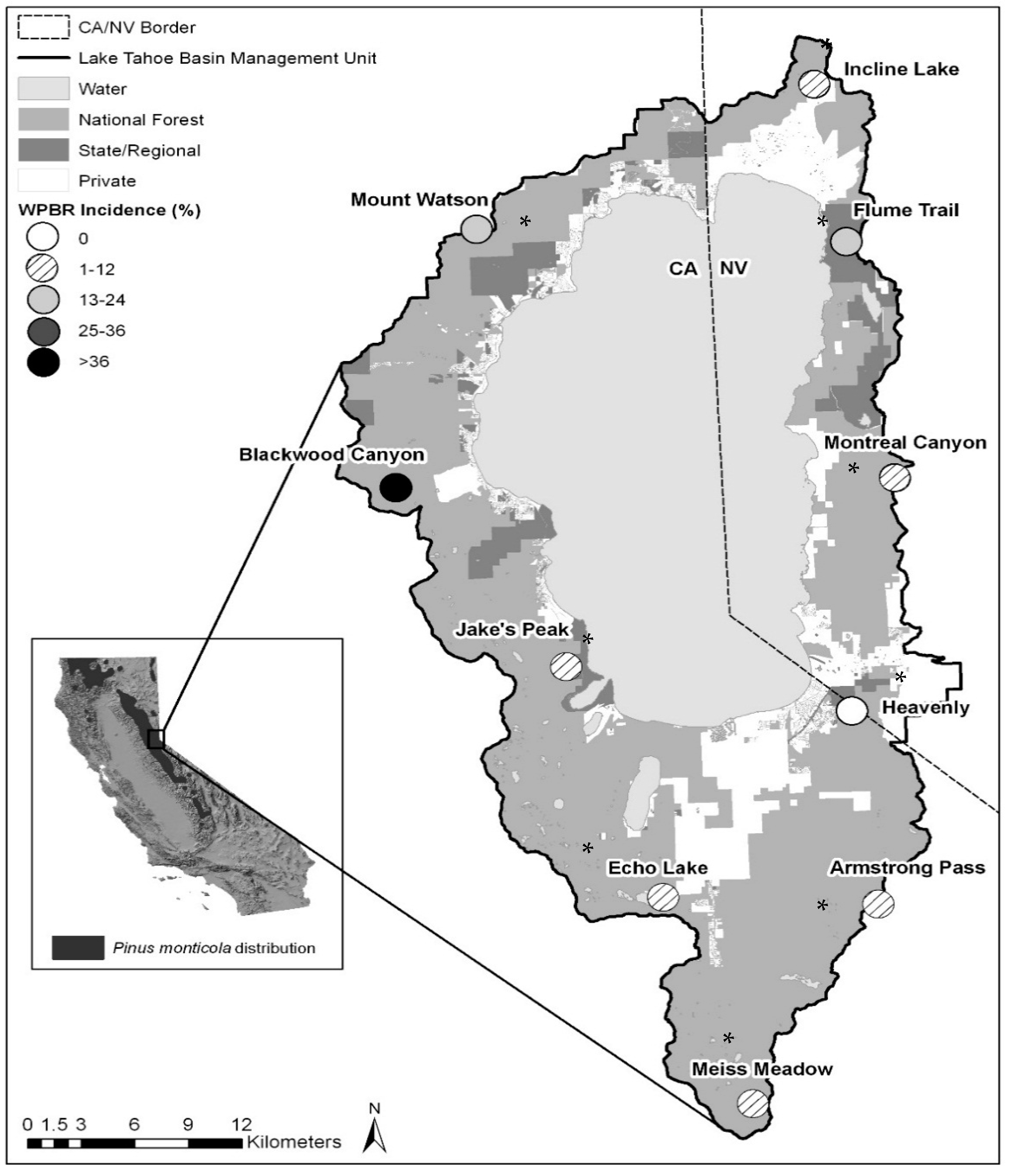 Figure 1
This is an open access article distributed under the
Creative Commons Attribution License
which permits unrestricted use, distribution, and reproduction in any medium, provided the original work is properly cited. (CC BY 4.0).
Share & Cite This Article
MDPI and ACS Style
Maloney, P.E.; Eckert, A.J.; Vogler, D.R.; Jensen, C.E.; Delfino Mix, A.; Neale, D.B. Landscape Biology of Western White Pine: Implications for Conservation of a Widely-Distributed Five-Needle Pine at Its Southern Range Limit. Forests 2016, 7, 93.
Note that from the first issue of 2016, MDPI journals use article numbers instead of page numbers. See further details here.
Related Articles
Comments
[Return to top]