Spatial Simulation Modelling of Future Forest Cover Change Scenarios in Luangprabang Province, Lao PDR
1
Asia Air Survey Co., Ltd, Kawasaki City, Kanagawa, 215-0004, Japan
2
Forest Inventory and Planning Division (FIPD), Ministry of Agriculture and Forestry, Vientiane, Lao P.D.R.
*
Author to whom correspondence should be addressed.
Received: 25 March 2011 / Revised: 12 July 2011 / Accepted: 16 August 2011 / Published: 25 August 2011
Abstract
Taking Luangprabang province in Lao Peoples's Democratic Republic (PDR) as an example, we simulated future forest cover changes under the business-as-usual (BAU), pessimistic and optimistic scenarios based on the Markov-cellular automata (MCA) model. We computed transition probabilities from satellite-derived forest cover maps (1993 and 2000) using the Markov chains, while the "weights of evidence" technique was used to generate transition potential maps. The initial forest cover map (1993), the transition potential maps and the 1993–2000 transition probabilities were used to calibrate the model. Forest cover simulations were then performed from 1993 to 2007 at an annual time-step. The simulated forest cover map for 2007 was compared to the observed (actual) forest cover map for 2007 in order to test the accuracy of the model. Following the successful calibration and validation, future forest cover changes were simulated up to 2014 under different scenarios. The MCA simulations under the BAU and pessimistic scenarios projected that current forest areas would decrease, whereas unstocked forest areas would increase in the future. Conversely, the optimistic scenario projected that current forest areas would increase in the future if strict forestry laws enforcing conservation in protected forest areas are implemented. The three simulation scenarios provide a very good case study for simulating future forest cover changes at the subnational level (Luangprabang province). Thus, the future simulated forest cover changes can possibly be used as a guideline to set reference scenarios as well as undertake REDD/REDD+ preparedness activities within the study area.
View Full-Text
►

▼

Figures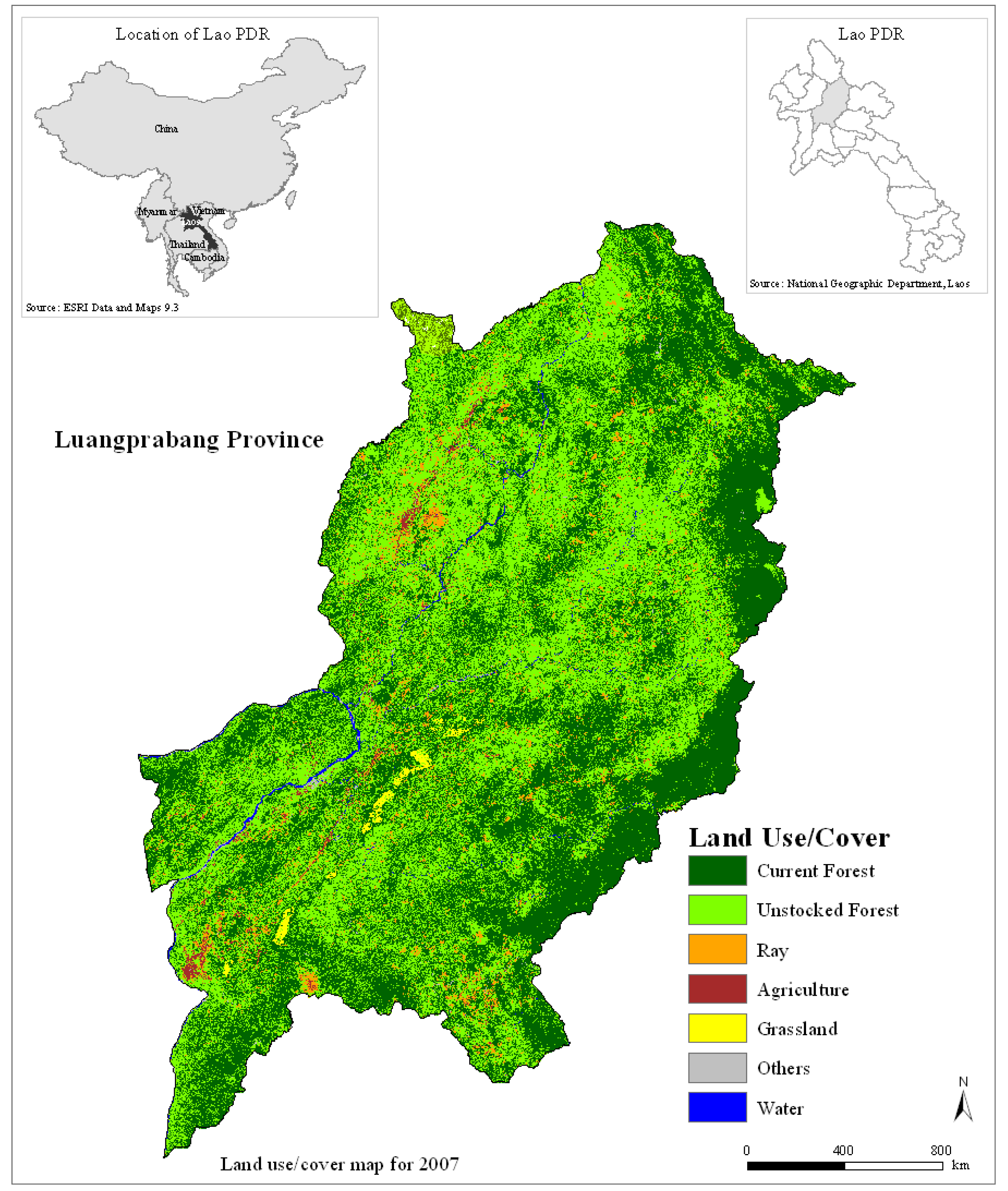 Share & Cite This Article
MDPI and ACS Style
Kamusoko, C.; Oono, K.; Nakazawa, A.; Wada, Y.; Nakada, R.; Hosokawa, T.; Tomimura, S.; Furuya, T.; Iwata, A.; Moriike, H.; Someya, T.; Yamase, T.; Nasu, M.; Gomi, Y.; Sano, T.; Isobe, T.; Homsysavath, K. Spatial Simulation Modelling of Future Forest Cover Change Scenarios in Luangprabang Province, Lao PDR. Forests 2011, 2, 707-729.
Related Articles
Comments
[Return to top]