Preparation of Biodiesel from Soybean Catalyzed by Basic Ionic Liquids [Hnmm]OH
1
School of Pertrochemical Engineering, Changzhou University, Changzhou 213164, China
2
Chinese Academy of Science CAS Key Laboratory of Soft Matter Chemistry, Department of Polymer Science and Engineering, University of Science and Technology of China, Hefei 230026, China
*
Authors to whom correspondence should be addressed.
Received: 30 October 2014 / Revised: 13 November 2014 / Accepted: 2 December 2014 / Published: 11 December 2014
Abstract
A morpholine alkaline basic ionic liquid (IL) 1-butyl-3-methyl morpholine hydroxide ([Hnmm]OH) was synthesized and characterized by
1
H NMR and FT-IR. [Hnmm]OH is highly active in catalyzing the synthesis of biodiesel from the reaction of methanol with soybean oil. The influence of the reaction conditions, including the [Hnmm]OH catalyst amount, the molar ratio of methanol to soybean oil, reaction temperature and time, was investigated. Moreover, the pH and thermal stability of the catalyst was studied. The catalytic activity was affected by its alkalinity. The optimum reaction conditions were found as [Hnmm]OH amount of 4% (mass fraction), the methanol to soybean oil molar ratio of 8, temperature 70 °C and reaction time 1.5 h, the yield of Biodiesel reached 97.0%, and exhibits high stability upon recycling, the yield of Biodiesel is still more than 90% even after being reused for five times. A great advantage of using ILs is that it is very easy to separate the final products. After the reaction, a biphasic system was obtained. The top phase contains biodiesel and a little bit of methanol. Pure biodiesel can be isolated by vacuum evacuating the methanol. The bottom phase contains methanol, glycerol and ILs. Pure glycerol can be obtained simply by distillation. After distillation, pure ILs was obtained, which can be used directly for another reaction. The as prepared biodiesel shows very appealing properties.
View Full-Text
►

▼

Figures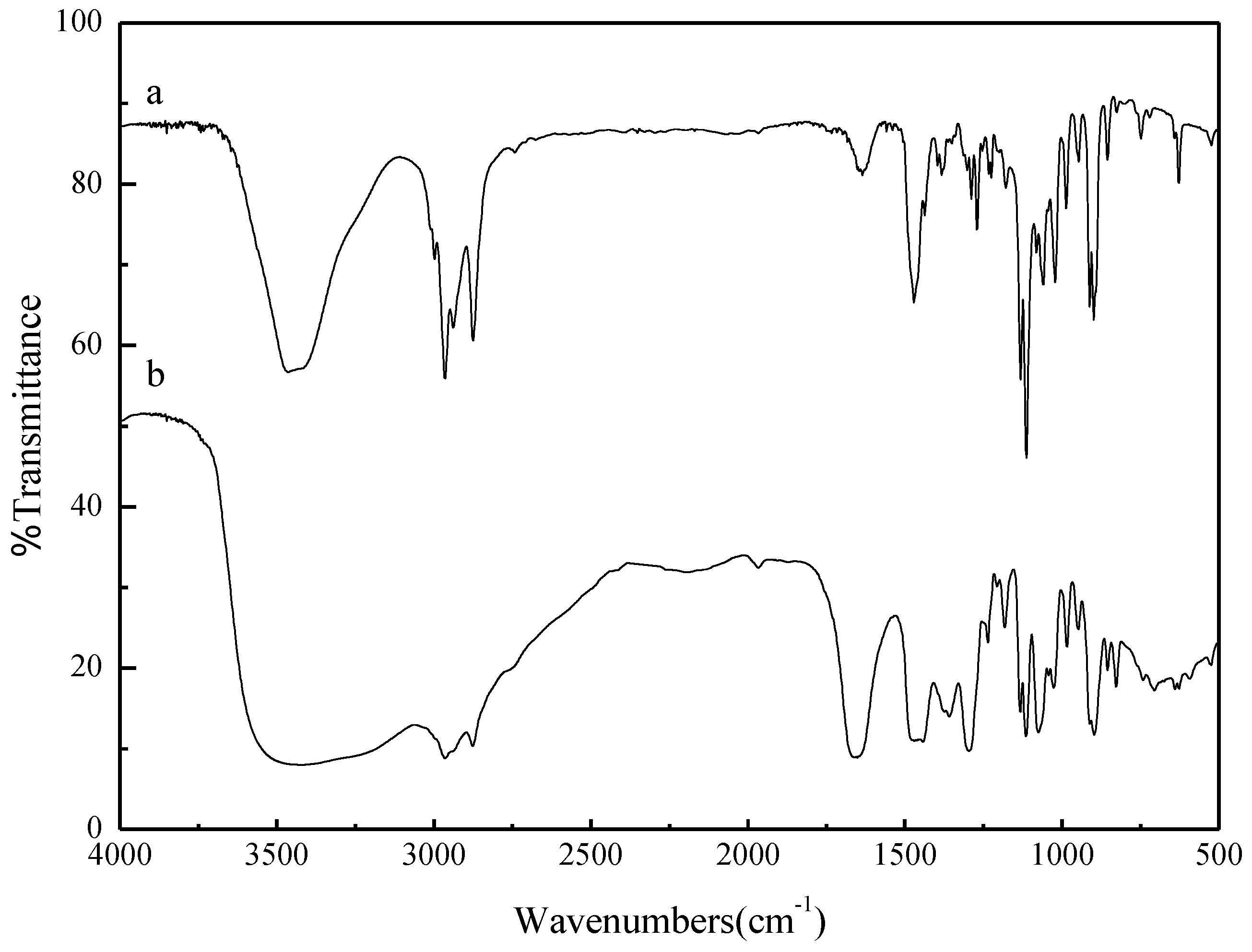 Figure 1
This is an open access article distributed under the
Creative Commons Attribution License
which permits unrestricted use, distribution, and reproduction in any medium, provided the original work is properly cited. (CC BY 4.0).
Share & Cite This Article
MDPI and ACS Style
Ren, Q.; Zuo, T.; Pan, J.; Chen, C.; Li, W. Preparation of Biodiesel from Soybean Catalyzed by Basic Ionic Liquids [Hnmm]OH. Materials 2014, 7, 8012-8023.
Related Articles
Comments
[Return to top]