Graphene versus Multi-Walled Carbon Nanotubes for Electrochemical Glucose Biosensing
1
NUSNNI-NanoCore, National University of Singapore, T-Lab Level 11, 5A Engineering Drive 1, 117580, Singapore
2
Department of Chemistry, National University of Singapore, 3 Science Drive 3, 117543, Singapore
3
Department of Electrical and Computer Engineering, National University of Singapore, Engineering Drive 1, 117576, Singapore
4
NUS Graduate School of Integrative Sciences and Engineering, National University of Singapore, 28 Medical Drive, 117456, Singapore
5
Department of Physics, National University of Singapore, 2 Science Drive 3, 117572, Singapore
6
University Diabetes Center, King Saud University, P. O. Box 18397, Riyadh 11415, Saudi Arabia
7
National Research Council Canada, Montreal, Quebec H4P 2R2, Canada
*
Author to whom correspondence should be addressed.
Received: 16 February 2013 / Revised: 7 March 2013 / Accepted: 8 March 2013 / Published: 14 March 2013
Abstract
:
A simple procedure was developed for the fabrication of electrochemical glucose biosensors using glucose oxidase (GOx), with graphene or multi-walled carbon nanotubes (MWCNTs). Graphene and MWCNTs were dispersed in 0.25% 3-aminopropyltriethoxysilane (APTES) and drop cast on 1% KOH-pre-treated glassy carbon electrodes (GCEs). The EDC (1-ethyl-(3-dimethylaminopropyl) carbodiimide)-activated GOx was then bound covalently on the graphene- or MWCNT-modified GCE. Both the graphene- and MWCNT-based biosensors detected the entire pathophysiological range of blood glucose in humans, 1.4–27.9 mM. However, the direct electron transfer (DET) between GOx and the modified GCE's surface was only observed for the MWCNT-based biosensor. The MWCNT-based glucose biosensor also provided over a four-fold higher current signal than its graphene counterpart. Several interfering substances, including drug metabolites, provoked negligible interference at pathological levels for both the MWCNT- and graphene-based biosensors. However, the former was more prone to interfering substances and drug metabolites at extremely pathological concentrations than its graphene counterpart.
View Full-Text
►

▼

Figures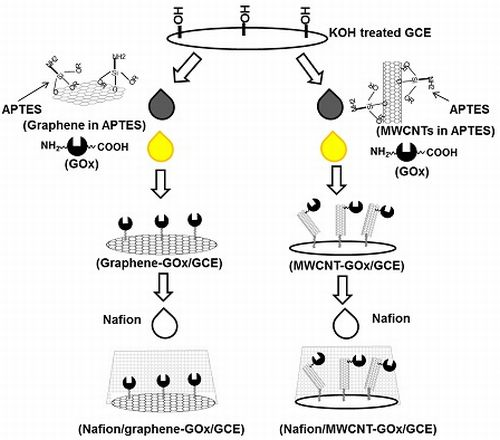 Share & Cite This Article
MDPI and ACS Style
Zheng, D.; Vashist, S.K.; Dykas, M.M.; Saha, S.; Al-Rubeaan, K.; Lam, E.; Luong, J.H.; Sheu, F.-S. Graphene versus Multi-Walled Carbon Nanotubes for Electrochemical Glucose Biosensing. Materials 2013, 6, 1011-1027.
Related Articles
Comments
[Return to top]