Open Access This article is
freely available
re-usable
Article
Microstructural Investigation of Heat-Treated Ultra-High Performance Concrete for Optimum Production
1
Department of Architecture & Architectural Engineering, Seoul National University, 1 Gwanak-ro, Gwanak-gu, Seoul 08826, Korea
2
Department of Civil and Environmental Engineering, National University of Singapore, 1 Engineering Drive 2, Singapore 117576, Singapore
*
Authors to whom correspondence should be addressed.
Received: 26 August 2017 / Accepted: 18 September 2017 / Published: 20 September 2017
Abstract
:
For optimum production of ultra-high performance concrete (UHPC), the material and microstructural properties of UHPC cured under various heat treatment (HT) conditions are studied. The effects of HT temperature and duration on the hydration reaction, microstructure, and mechanical properties of UHPC are investigated. Increasing HT temperature accelerates both cement hydration and pozzolanic reaction, but the latter is more significantly affected. This accelerated pozzolanic reaction in UHPC clearly enhances compressive strength. However, strength after the HT becomes stable as most of the hydration finishes during the HT period. Particularly, it was concluded that the mechanical benefit of the increased temperature and duration on the 28 day-strength is not noticeable when the HT temperature is above 60 °C (with a 48 h duration) or the HT duration is longer than 12 h (with 90 °C temperature). On the other hand, even with a minimal HT condition such as 1 day at 60 °C or 12 h at 90 °C, outstanding compressive strength of 179 MPa and flexural tensile strength of 49 MPa are achieved at 28 days. Microstructural investigation conducted herein suggests that portlandite content can be a good indicator for the mechanical performance of UHPC regardless of its HT curing conditions. These findings can contribute to reducing manufacturing energy consumption, cost, and environmental impact in the production of UHPC and be helpful for practitioners to better understand the effect of HT on UHPC and optimize its production.
Keywords:
ultra-high performance concrete; microstructure; pozzolanic reaction; heat-treatment; portlandite
2. Experimental Method
2.1. Preparation of Ultra-High Performance Concrete with Various Heat-Hreatment Conditions
The mix proportion of UHPC used in this study is presented in
Table 1
. The dry mixtures were prepared by homogenously blending white Portland cement (Union cement, Seoul, Korea), silica fume (Grade 940U, Elkem, Norway), silica powder, and silica sand using a 5-liter Hobart mixer. The mixing water, composed of tap water and superplasticizer (polycarboxylate-ether type), was added to the dry mixture and mixed until it changed to a liquid state. Finally, the steel fibers (Φ0.2 mm × 13 mm, tensile strength > 2500 MPa) were mixed with the liquid-state concrete and homogeneously dispersed in the mixer. A more detailed mixing procedure is described in our previous study [
21
].
Table 2
shows the chemical composition of raw materials measured by X-ray fluorescence analysis using XRF-1700 (Shimadzu, Tokyo, Japan). The particle size distributions of the raw materials are shown in
Figure 1
. The distribution of SF was determined by an image-processing method using a scanning electron microscope (JSM-7800F Prime, JEOL Ltd., Tokyo, Japan), and the others were analyzed by a laser diffraction method (Mastersizer 3000, Malvern Instruments, Malvern, UK) [
22
,
23
].
Figure 1
shows that the maximum aggregate size is limited to about 1 mm and the particle size of the dry materials is evenly distributed, to enhance the homogeneity and compactness of UHPC [
9
].
Each fresh sample of UHPC containing steel fibers was immediately sealed after it was poured into a prepared mold. After 24 h, all the samples were demolded, and then 10 different curing programs, shown in
Figure 2
, were applied in three different curing chambers. Ref_A is a sample directly exposed to dry air (20 °C and RH 60%) after removing the seal. In the sample name, HT60 or HT90 means target HT temperature and applied HT duration in days (d) or hours (h). For instance, HT90_48h is the sample subjected to the standard HT (90 °C and RH 95%) for 48 h.
2.2. Experimental Methods
4. Discussion
4.1. Pozzolanic Reaction of UHPC Subject to Heat Treatment
4.2. Benefits of Heat-Treatment on the Mechanical Properties of UHPC
Figure 10
a shows how the applied HT condition enhances compressive strength and flexural tensile strength of UHPC at 28 days. The compressive strength increased as a function of the temperature and duration. On average, its rate was 0.24 MPa/h for HT at 60 °C, and 0.71 MPa/h for HT at 90 °C. The HT at 90 °C is more effective (about 3 times) than HT at 60 °C. However, the samples with minimal HT conditions, such as HT60_1d or HT90_12h also show excellent compressive strength (179 ± 2 MPa). This observation may raise the question as to why we apply higher temperature or longer duration to further increase the compressive strength of UHPC. Moreover, this demanding HT condition did not make a positive contribution to the increase in flexural tensile strength (
Figure 10
a). Along with compressive strength, the superior flexural or tensile strength is another advantage of UHPC because it provides a minimum reinforcement in the concrete [
1
]. It has been also previously reported that the distribution and orientation of included fibers will have a decisive effect on its performance, rather than applied HT conditions [
40
,
41
,
42
].
The strength ratios of 7 days compared to 28 days are presented in
Figure 10
b. It shows the strength changes up to 28 days after the end of HT. When UHPC was heat-treated for longer than 18 h at 90 °C, the strength tended to decrease between 7 days and 28 days. Two factors can contribute to this reduction. First, due to the accelerated pozzolanic reaction during the HT period, most of water in UHPC is consumed and in turn the microstructure becomes dense. Therefore, the pozzolanic reaction after the HT becomes very weak. Along with this, when the UHPC is exposed to a high temperature such as 90 °C, the strength is thereafter reduced until about the 28th day because of a relaxation phenomenon [
8
]. On the other hand, the strength of samples treated at 60 °C did not decrease after the HT, but rather slightly increased owing to a relatively large amount of available water for the pozzolanic reaction. These samples exhibited at least 90% of the 28 day-strength at 7 days. Although it is less than 100%, such a fast rate of strength development is beneficial considering precast manufacturing conditions which requires rapid strength development for transportation and installation at an early stage.
5. Conclusions
The hydration characteristics and mechanical properties of UHPC with various HT temperatures and durations were investigated. The following conclusions are drawn from the results of this study.
During the HT period, the hydration reaction was accelerated by an increasing curing temperature. Although both the first (cement hydration) and second (pozzolanic reaction) reactions could be promoted by HT, the second reaction was more obviously accelerated than the first reaction. As the HT duration increases, the pozzolanic reaction was also promoted. These increases in temperature and duration made the pore structure of UHPC finer (particularly in the range below 100 nm), which contributed to improving its mechanical performance. Therefore, a linear correlation between remaining portlandite contents and compressive strength could be formulated.
Heat treatment at high temperatures (i.e., 90 °C) ensured outstanding strength after the HT. In this case, however, there was no increase in the strength between 7 days and 28 days, but rather a slight decrease was observed. However, after the HT at low temperatures (i.e., 60 °C), the strength tended to continue to increase until 28 days. Consequently, the HT at 90 °C and 60 °C did not show a noticeable difference in the 28 day-compressive strength. Moreover, the flexural tensile strengths at 28 days of all samples were similar regardless of curing conditions.
Increasing the HT temperature and duration is certainly an effective way to improve the compressive strength of UHPC at the point immediately after HT. However, its efficiency can decrease if performance at later stages is considered. More importantly, the mitigated HT conditions that has been suggested herein, can sufficiently accelerate strength development and ensure outstanding mechanical performance for UHPC. Thus, it can be reasonably used as a more economical and practical way for producing precast UHPC.
Acknowledgments
This research was supported by a grant (13SCIPA02) from SmartCivil Infrastructure Research Program funded by Ministry of Land, Infrastructure and Transport (MOLIT) of Korea government and Korea Agency for Infrastructure Technology Advancement (KAITA). The Institute of Engineering Research in Seoul National University provided research facilities for this work.
Author Contributions
Sung-Hoon Kang conducted experiments, analyzed results, and wrote the manuscript. Ji-Hyung Lee conducted experiments on the mechanical properties. Sung-Gul Hong and Juhyuk Moon designed the experiments and advised on analysis, data interpretation, and manuscript revision.
Conflicts of Interest
The authors declare no conflict of interest.
Figure 1. Particle size distribution of raw materials measured by an image analysis method for silica fume and a laser diffraction method for silica powder, white cement, and silica sand.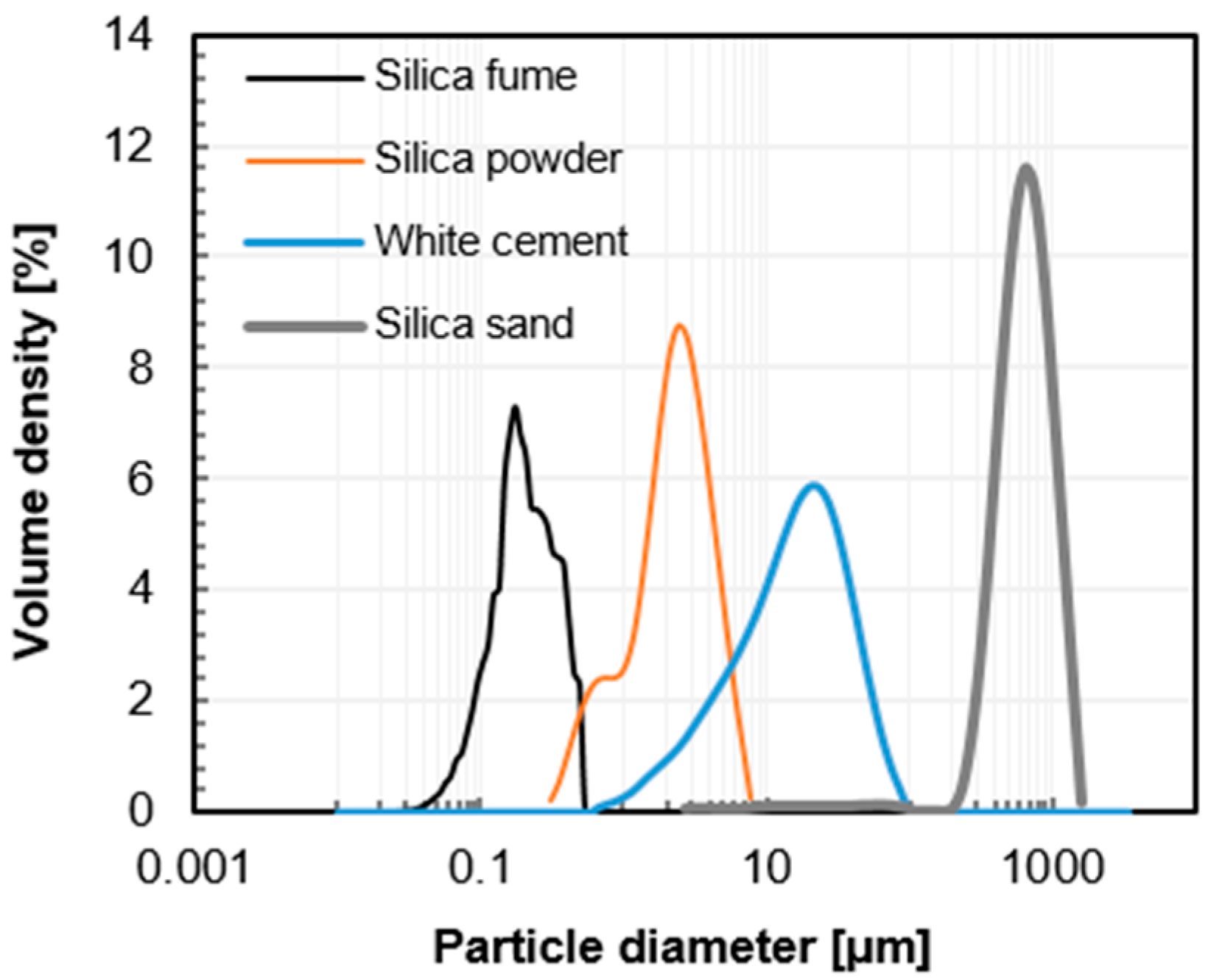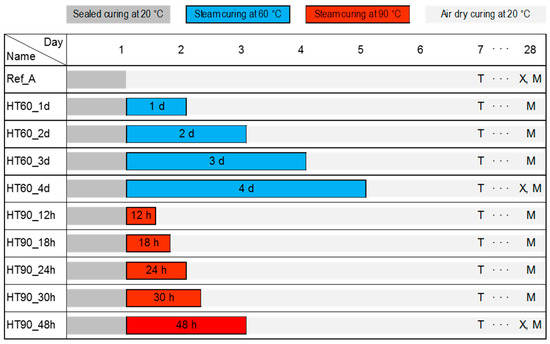 Figure 2. Curing and testing program of UHPC samples (T, X, and M denote the test days for Thermogravimetric Analysis (TGA), X-ray Diffraction (XRD), and mercury intrusion porosimetry (MIP), respectively).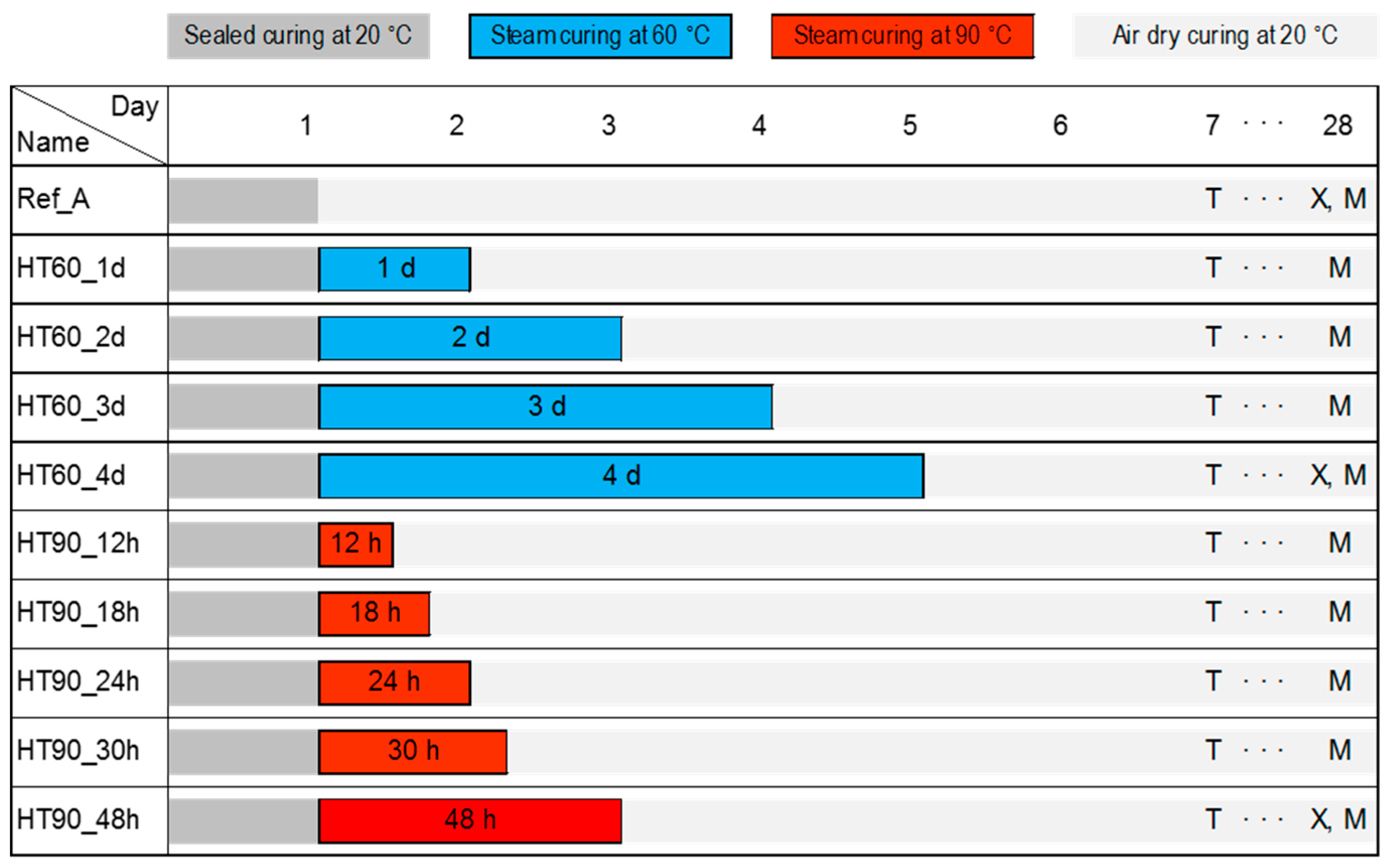 Figure 3. Heat flow (a) and cumulative heat (b) of UHPC cured under 20 °C, 60 °C, and 90 °C (the elevated temperature curing at 60 °C or 90 °C started from 24 h).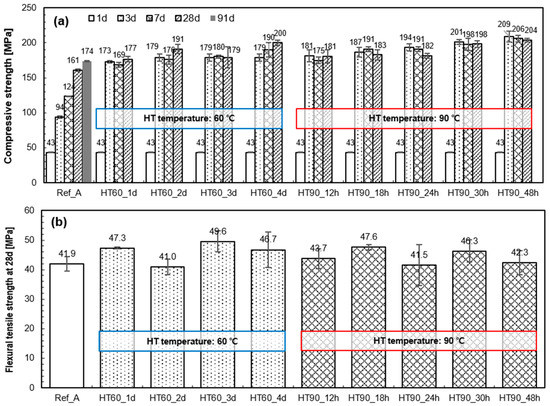 Figure 4. Compressive strength development (a) and flexural tensile strength at 28 days (b) of UHPC with different HT conditions.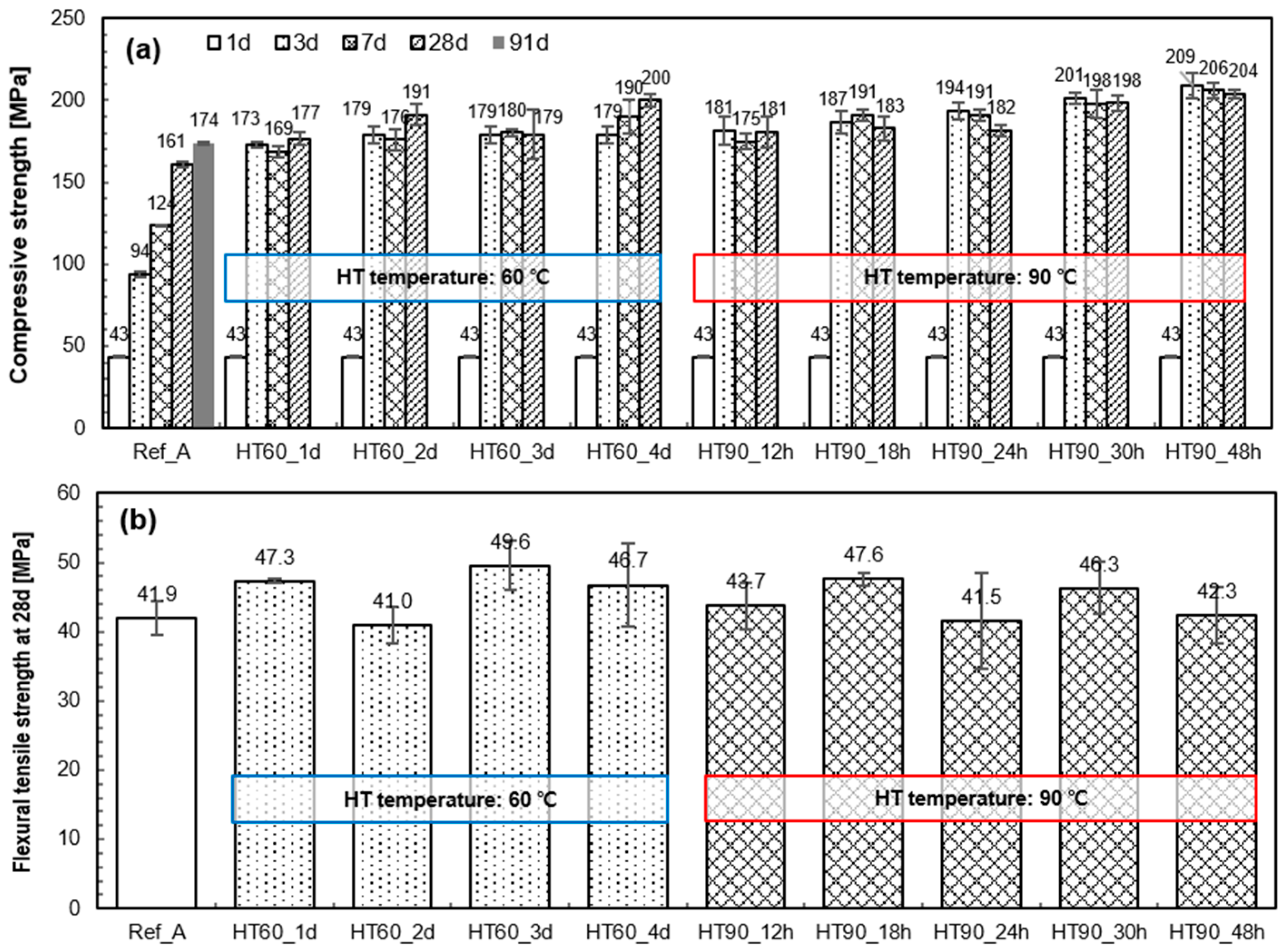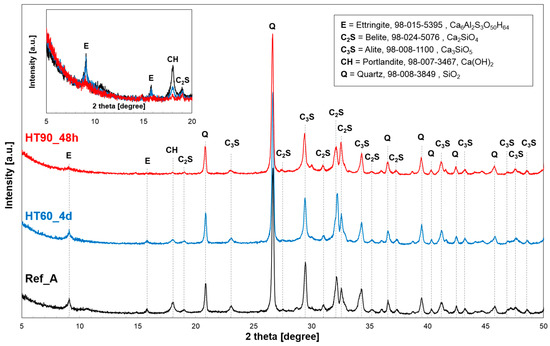 Figure 5. XRD patterns of UHPC at 28 days: E = ettringite, C2S = belite, C3S = alite, CH = portlandite, Q = quartz.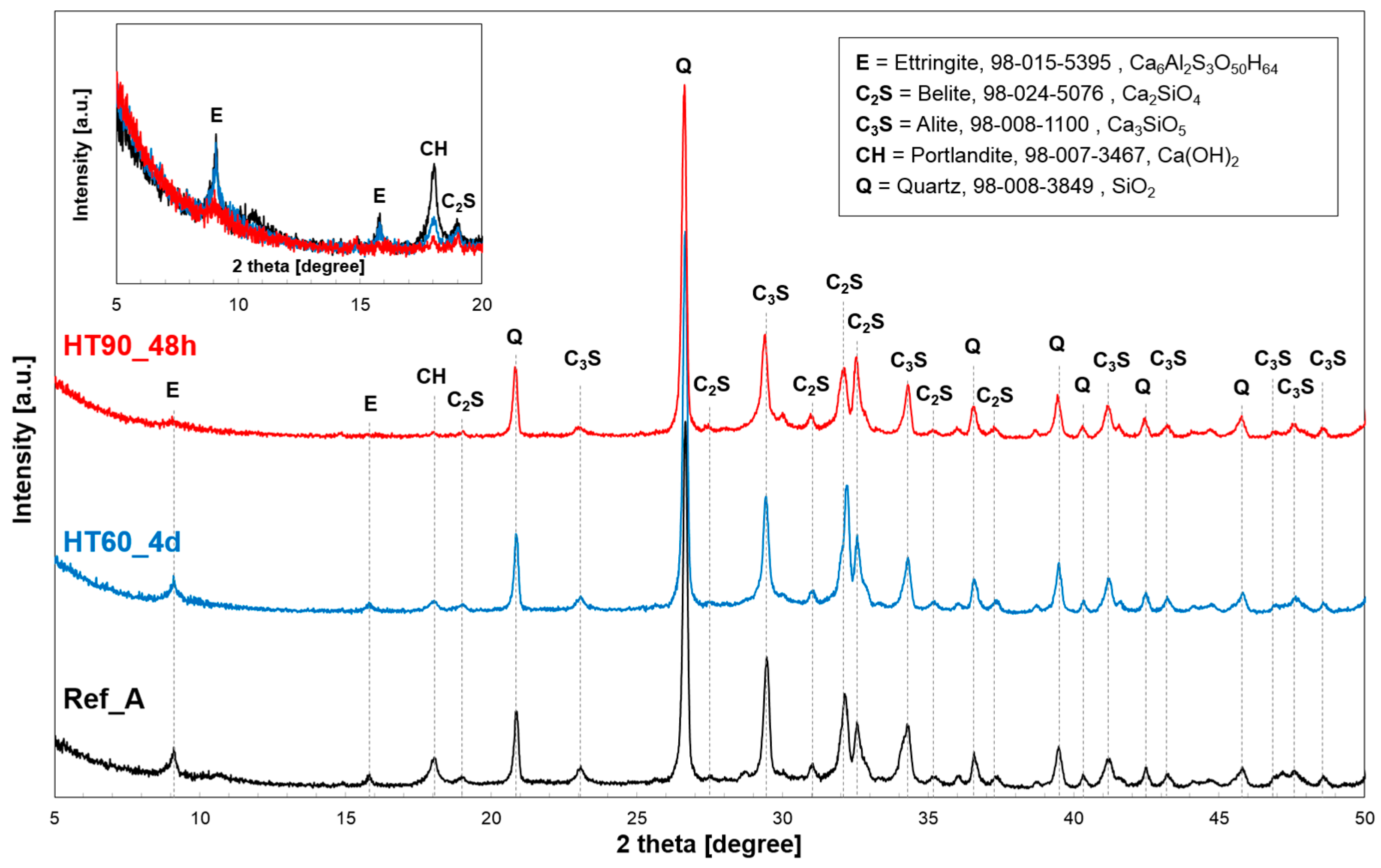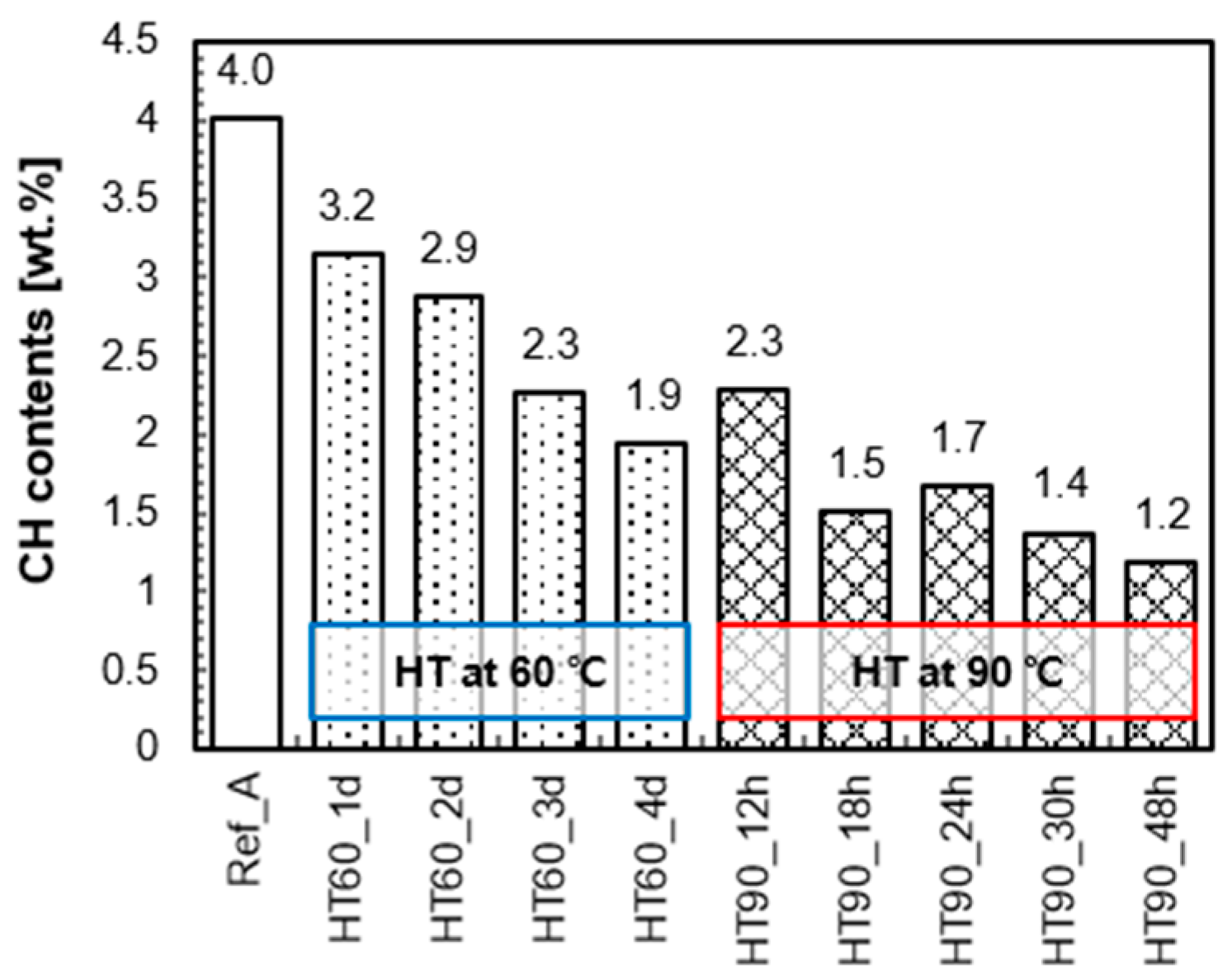 Figure 7. Pore size distribution of UHPC at 28 days: Log differential intrusions (a) and cumulative pore volume (b) of Ref_A and HT_60 series. Log differential intrusions (c) and cumulative pore volume (d) of Ref_A and HT_90 series.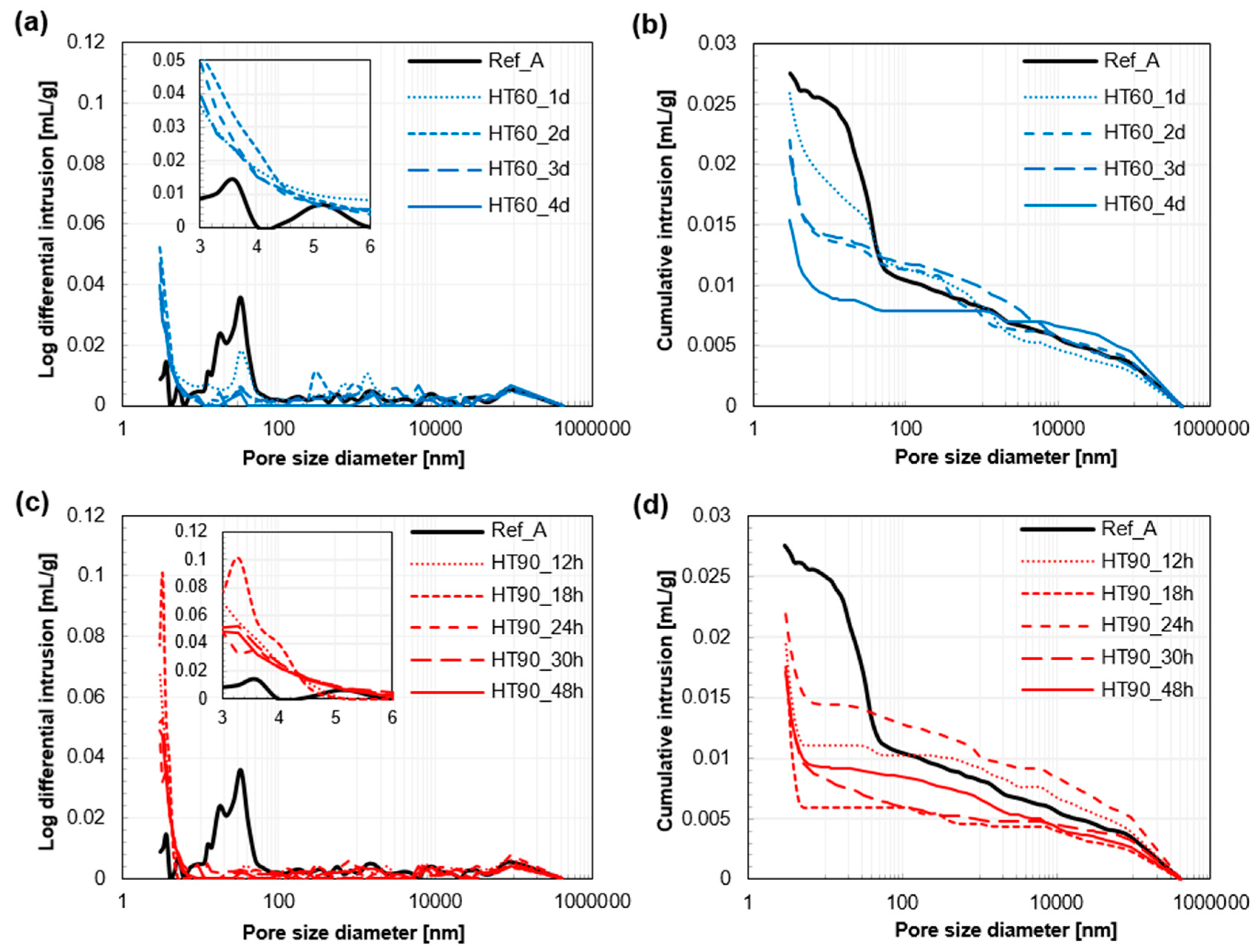 Figure 8. Pore volume distributions of UHPC at 28 days (Red numbers on the bars indicate the total porosity).


Figure 9. Portlandite content (at 7 days) as a function of HT temperature and duration (a); and found relationship between portlandite content and compressive strength at 7 days (b).


Figure 10. 28 day-strength of UHPC as a function of HT temperature and duration (a); and compressive strength ratio of 7 days to 28 days (b).

Table 1. Mix proportion of prepared ultra-high performance concrete (UHPC) (wt % of cement).

| Cement | Silica Fume | Silica Powder | Silica Sand | Water | Superplasticizer 1 | Steel Fiber [vol %] 2 |
| --- | --- | --- | --- | --- | --- | --- |
| 1 | 0.25 | 0.35 | 1.1 | 0.253 | 0.012 | 2 |
1 Solid content; 2 Volume ratio of UHPC.
Table 2. Oxide compositions of raw materials used (wt %).

| Chemical Composition | SiO2 | Al2O3 | Fe2O3 | MgO | CaO | K2O | SO3 | SrO | LOI 1 | Total |
| --- | --- | --- | --- | --- | --- | --- | --- | --- | --- | --- |
| White cement | 21.4 | 4.63 | 0.358 | 1.27 | 65.8 | 0.13 | 2.89 | 0.076 | 3.4 | 99.95 |
| Silica fume | 96.90 | 0.29 | 0.15 | 0.18 | 1.54 | 0.64 | - | - | 0.02 | 99.72 |
| Silica powder | 97.70 | 0.49 | 0.05 | 0.21 | 1.37 | 0.02 | - | - | 0.02 | 99.86 |
© 2017 by the authors. Licensee MDPI, Basel, Switzerland. This article is an open access article distributed under the terms and conditions of the Creative Commons Attribution (CC BY) license (http://creativecommons.org/licenses/by/4.0/).