Open Access This article is
freely available
re-usable
Article
Controlled Shrinkage of Expanded Glass Particles in Metal Syntactic Foams
School of Engineering, the University of Newcastle, Callaghan 2308, Australia
*
Author to whom correspondence should be addressed.
Received: 8 August 2017 / Accepted: 7 September 2017 / Published: 13 September 2017
Abstract
:
Metal matrix syntactic foams have been fabricated via counter-gravity infiltration of a packed bed of recycled expanded glass particles (EG) with A356 aluminum alloy. Particle shrinkage was studied and has been utilized to increase the particles' strength and tailor the mechanical properties of the expanded glass/metal syntactic foam (EG-MSF). The crushing strength of particles could be doubled by shrinking them for 20 min at 700 °C. Owing to the low density of EG (0.20–0.26 g/cm3), the resulting foam exhibits a low density (1.03–1.19 g/cm3) that increases slightly due to particle shrinkage. Chemical and physical analyses of EG particles and the resulting foams were conducted. Furthermore, metal syntactic foam samples were tested in uni-axial compression tests. The stress-strain curves obtained exhibit three distinct regions: elastic deformation followed by a stress plateau and densification commencing at 70–80% macroscopic strain. Particle shrinkage increased the mechanical strength of the foam samples and their average plateau stress increased from 15.5 MPa to 26.7 MPa.
Keywords:
metal syntactic foams; expanded glass particles; A356 aluminum alloy; particle shrinkage; infiltration; mechanical characterization
2. Results and Discussion
2.1. EG Particle Characteristics
2.2. Structural Characteristics of MSF
It is apparent that voids exist in all foam samples. The shrinkage of EG particles decreases the void volume fraction from an average of 8.8% for stable particles to 3.6% for shrunk particles.
2.3. Compressive Properties of EG-MSF
2.4. Deformation Mechanism of EG-MSF
All samples manufactured under the same conditions revealed similar deformation behaviour under quasi-static compression (see
Figure 7
). However, a wider scatter of stress and material properties was found in the case of shrunk EG MSF.
Figure 9
a,b show optical images of stable and ShEG-MSF samples during compression testing. Comparing the undeformed foams, one can see that the concentration of uniformly-dispersed EG particles is higher on the surface of stable EG foam. The cell windows to the surface of ShEG-MSF are smaller both in number and size. One likely explanation is that the shrinkage of the particles results in a gap between the surface particles and the mould wall. This gap is filled with molten metal during infiltration and turns to a solid shell with a small number of cell windows around the sample.
StEG-MSF showed different deformation behaviour than ShEG foams. In
Figure 9
a localized deformation resulted in the early formation of shear bands at 20% macroscopic strain. These shear bands are V shaped at 30–45° [
33
] to the horizontal direction as marked in the figure with white lines. A dead zone with no obvious deformation was detected underneath these bands (shown by a white triangle). Deformation was concentrated in the vicinity of the multiple shear bands. At the same time, the rest of the sample remained largely undeformed. On the other hand, ShEG-MSF showed relatively uniform deformation.
Figure 9
b shows that shrunk EG-MSF samples deformed in a layer by layer collapse mechanism (indicated by white arrows) without the catastrophic formation of macroscopic shear bands; and, thus, no dead zone was observed. Some minor shear bands formed during the final stages of deformation (50%) and caused disintegration of the sample during densification.
3. Methodology
3.1. Characterisation of EG Particles
Expanded glass (EG) particles were supplied by Dennert Poraver GmbH. Mozartweg 1, 96132 Schlüsselfed, Germany [
23
]. A sieving process was used to separate particles with a minimum width equal to the mesh sizes of 2–2.8 mm. The bulk density of EG particles was obtained by measuring the mass and volume of packed particle beds after tapping the container 300 times. The bulk density was calculated by dividing the macroscopic volume ( by the combined particle mass (, i.e., . The particle density ( was obtained using the fine powder technique. To this end, fine flour was poured into a graduated cylinder (27 mm in diameter), tapped 300 times, and its volume was recorded. Next, 6 g of EG particles was mixed with the same flour batch and poured into the graduated glass cylinder. The volume of the mixture was re-measured after 300 taps. The combined particle volume was calculated as the volume difference prior to and after EG particles addition. Particle density was then obtained using . The true density (the density of solid part of particle) was determined based on the chemical composition of the glass.
EG particles exhibit a relatively low glass transition temperature of 570–600 °C because of the low alkali oxide content which limits cross-networking in the glass [
34
]. Heating of particles to their transition temperature triggers particle shrinkage. To study the shrinkage phenomenon of EG at different temperatures, a graphite crucible was filled with EG particles and was placed in a preheated furnace. The packed EG beds were exposed to furnace temperatures between 600 °C and 800 °C with 25 degree increments. The crucible was removed from the furnace after 20 min and the (linear) shrinkage was calculated as where and stand for initial and final height of the EG column, respectively. A similar test was conducted for EG particles at a constant furnace temperature of 700 °C (i.e., the selected casting temperature of Al356) and the exposure time was varied. In these tests, a thermocouple was inserted into the packed particle bed to measure the local temperature, i.e., particle temperature.
The crushing strength of EG particles was examined by confined compression testing. To this end, a steel cylinder (ø30 mm inside) was filled with EG particles to a height of 40 mm and tapped to ensure dense particle packing. Compression tests were conducted for as-received, stable (heated for 6 min at 700 °C) and shrunk (heated for 20 min at 700 °C) EG particles. Three compression tests were conducted for each particle type by pressing a steel plunger into the particle bed until its initial height was decreased by 70%. Tests were conducted on a Shimadzu testing machine with 5 kN load cell at a constant axial cross-head speed of 0.5 mm/min.
3.2. EG-MSF Sample Preparation
A356 aluminium alloy was used as the matrix material for manufacture the metal syntactic foams. According to the supplier material datasheet (Hayes Metals Pty Ltd., Riverstone NSW 2765, Australia), the chemical composition comprises wt% 92.16 Al, 7.2 wt% Si, 0.4 wt% Mg, 0.1 wt% Fe, and 0.12 wt% Ti. Following the mixing rule, the calculated true density of this aluminium alloy is 2.68 g/cm
3
. Thanks to its short solidification time, low shrinkage, hot cracking resistance, and excellent castability, A356 alloy is the most widely used casting alloy in Al foundries. These properties are mainly due to its high silicon content [
35
]. The presence of Mg and Si improves the mechanical properties in both as received and heat-treated conditions [
36
]. Furthermore, the presence of Mg improves the EG wettability of molten A356 [
37
].
The expanded glass—metal matrix syntactic foam (EG-MSF) samples were produced using the counter-gravity pressure infiltration technique described previously [
15
]. EG particles were filled into a graphite mould in five equally-sized batches and tapped eight times after each filling step to obtain a densely packed EG particle bed. One stainless steel mesh was positioned at the bottom of the mould to avoid blockage of the ventilation hole and another one at the top to prevent the displacement of EG particles during melt infiltration. This assembly was preheated in a muffle furnace to 700 °C and held for either 6 min or 20 min. Simultaneously, A356 alloy was melted in a graphite crucible and heated to 700 °C. The EG particle assembly was inverted and pushed into the metallic melt to infiltrate the voids between the particles. Following forced-air cooling, the cylindrical samples were removed from the mould and their upper and lower surfaces were machined to remove the stainless steel meshes. The final height of the samples varied between 36 mm and 40 mm.
3.3. EG-MSF Characterisation
The microstructure of EG-MSF samples was examined using scanning electron microscopy (SEI-Philips XL30 SEM, Eindhoven, Netherlands). EG-MSF samples were first polished with SiC paper, followed by 6 μm and 1 μm water-based diamond suspensions. The samples were then placed in an ultrasonic bath for 20 min and dried in an oven for 24 h. Chemical analysis of the samples was obtained by energy-dispersive X-ray spectroscopy (EDS) within the SEM.
The metal syntactic foam density was calculated by the division of foam mass by its volume, i.e.:
The combined particle mass of the EG particles inside a MSF sample can be estimated using the syntactic foam volume and the particle bulk density :
Next, the volume fraction of matrix , particles , and voids can be calculated using:
where is the particle density that was obtained using the fine powder technique. Voids here refers to the inter-particles volume that is not infiltrated with molten metal. Based on the chemical composition of EG particles [
15
], their true solid density is calculated as 2.81 g/cm
3
.
To determine the mechanical properties of EG-MSF samples, quasi-static compression tests were conducted following the ISO 13314 standard [
38
]. A computer-controlled uni-axial Shimadzu testing machine with a 50 kN capacity load cell compressed samples at a constant crosshead speed of 1 mm/min. Lubrication was applied to the parallel compression platens in order to minimize friction between the sample faces and loading platens. A controlled unloading cycle was used to measure the elastic unloading modulus. To this end, a low density sample was tested first and its plateau stress was measured as the arithmetic mean of stresses between 20% and 40% of macroscopic strain. The rest of the samples were unloaded once 70% of the given plateau stress was reached. The unloading continued to . Following partial unloading, the sample was further compressed until the machine load limit (50 kN) was reached. The measured unloading slope is defined as the elastic unloading modulus. The unloading modulus is considered completely elastic and not affected by localized plasticity and settling effects; therefore, it provides a good approximation of the rigidity of the foam. The 1% offset yield stress was determined to estimate the onset of plastic deformation. The volumetric energy absorption capacity of EG-MSF can be calculated by integrating the stress-strain data up to 50% of compressive strain according to:
where and are the compressive stress and strain, respectively. Another important material parameter is the energy absorption efficiency . It is defined as the ratio of actual and ideal energy absorption. An ideal absorber immediately reaches its plateau stress, which remains constant up to densification. Thus, is defined as:
where is the foam's maximum stress up to 50% strain.
4. Conclusions
The present work addressed the structural and mechanical characterisation of expanded-glass metal syntactic foam (EG-MSF). EG particle shrinkage was utilized as a design parameter to modify the mechanical properties of the resulting syntactic foam. It was found that particle shrinkage is widely prevented by limiting the exposure time at high furnace temperatures (>600 °C). However, controlled particle shrinkage allowed the increase of all material properties considered, most importantly the 1% offset yield stress (28.8% increase) and plateau stress (41.8% increase). Lightweight applications require high specific material properties and a similar trend was observed, i.e., a 21.2% increase of the specific 1% offset yield stress and a 35.5% increase of the specific plateau stress for shrunk EG-MSF. This demonstrates that the foam density increase caused by particle shrinkage is outweighed by the improvement of mechanical performance. Likely explanations for the significantly improved material strength are the increased shrunk particle crushing strength and a decreased void volume fraction. It can be concluded that EG particle shrinkage is an efficient strategy to improve the mechanical performance of EG-MSF.
Future research could address the effect of EG particle size and its chemical composition on the syntactic foam properties. Furthermore, the usage of different metallic matrix materials and heat treatment can be probed to tailor the mechanical properties of the material to specific engineering applications.
Acknowledgments
We acknowledge the assistance Jeremy Kissock, the Business Development Manager of Gfethers Company for supplying expanded glass particles and providing valuable technical information.
Author Contributions
Kadhim Al-Sahlani and Thomas Fiedler conceived and designed the experiments; Kadhim Al-Sahlani and Mehdi Taherishargh performed the experiments and analysed the data; Erich Kisi contributed analysis tools; and Kadhim Al-Sahlani and Thomas Fiedler wrote the paper.
Conflicts of Interest
The authors declare no conflict of interest.

Figure 1. Scanning electron images of EG particle: (a) EG particle shell; (b) EG cross-section; and (c) pore wall.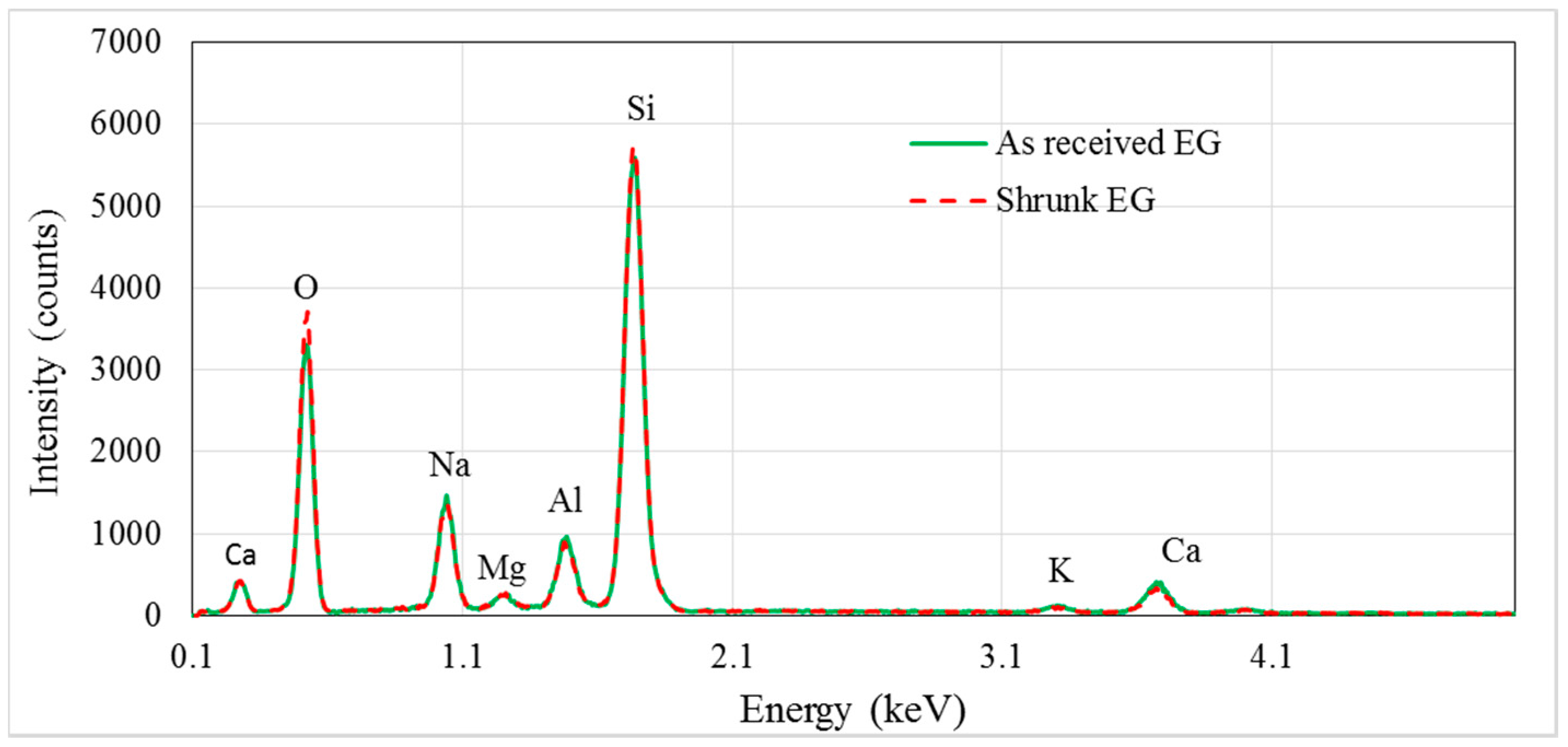 Figure 3. (a) Shrinkage ratio of EG particles for 20 min heating time at different furnace temperatures; and (b) the core temperature of the EG particle bed during heating.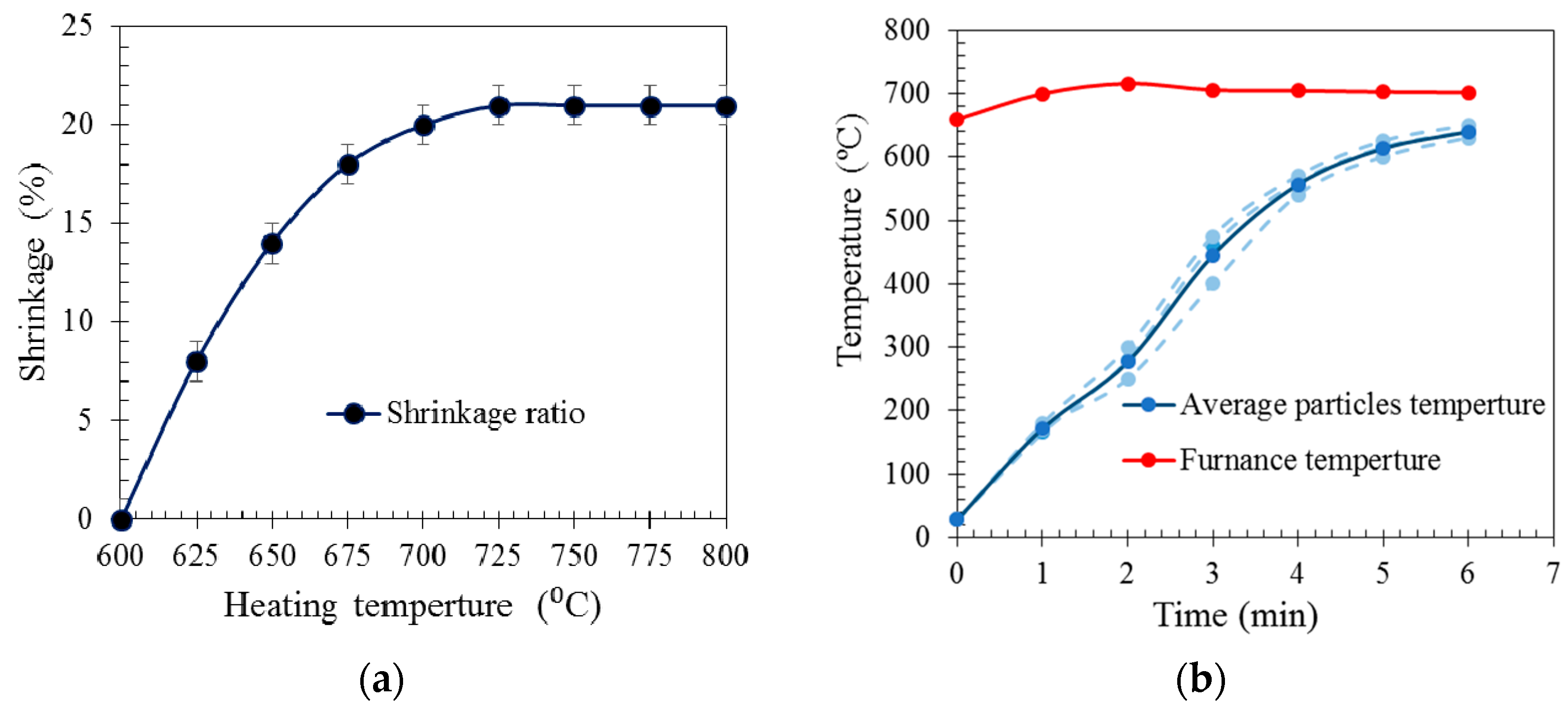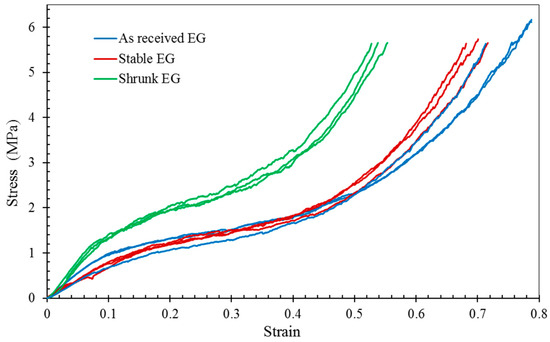 Figure 4. Crushing strength of as-received, stable (held for 6 min at 700 °C) and shrunk EG (held for 20 min at 700 °C).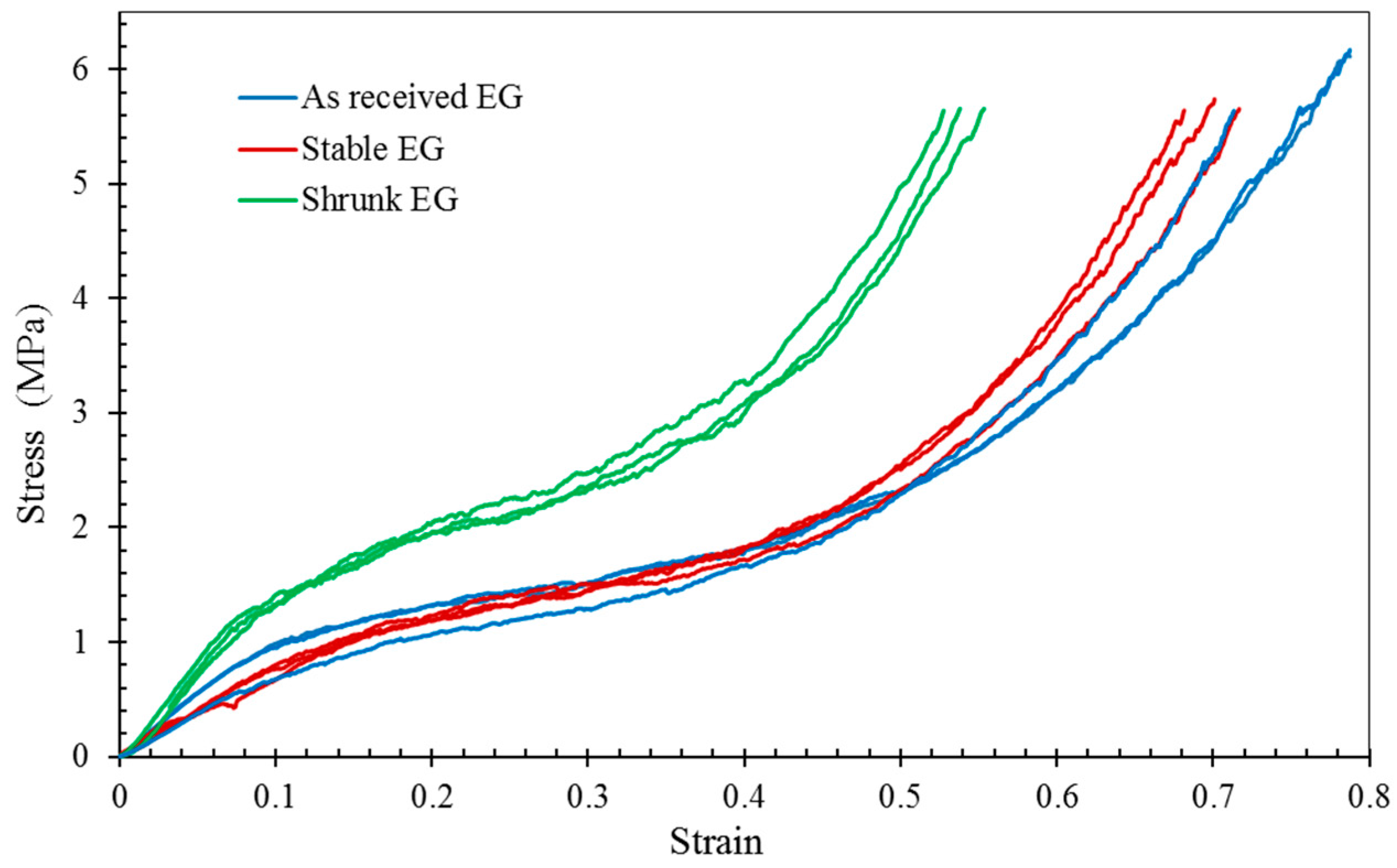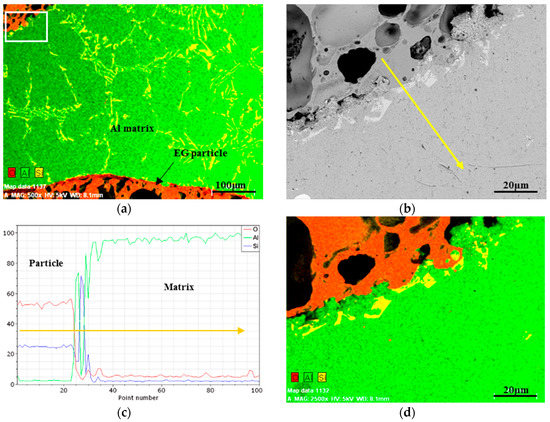 Figure 6. (a) BSE image of base metal; (b) BSE image of the interface; (c) EDS line-scan profiles of the EG-A356 syntactic foam; and (d) elemental analysis image X-ray map of the interface area.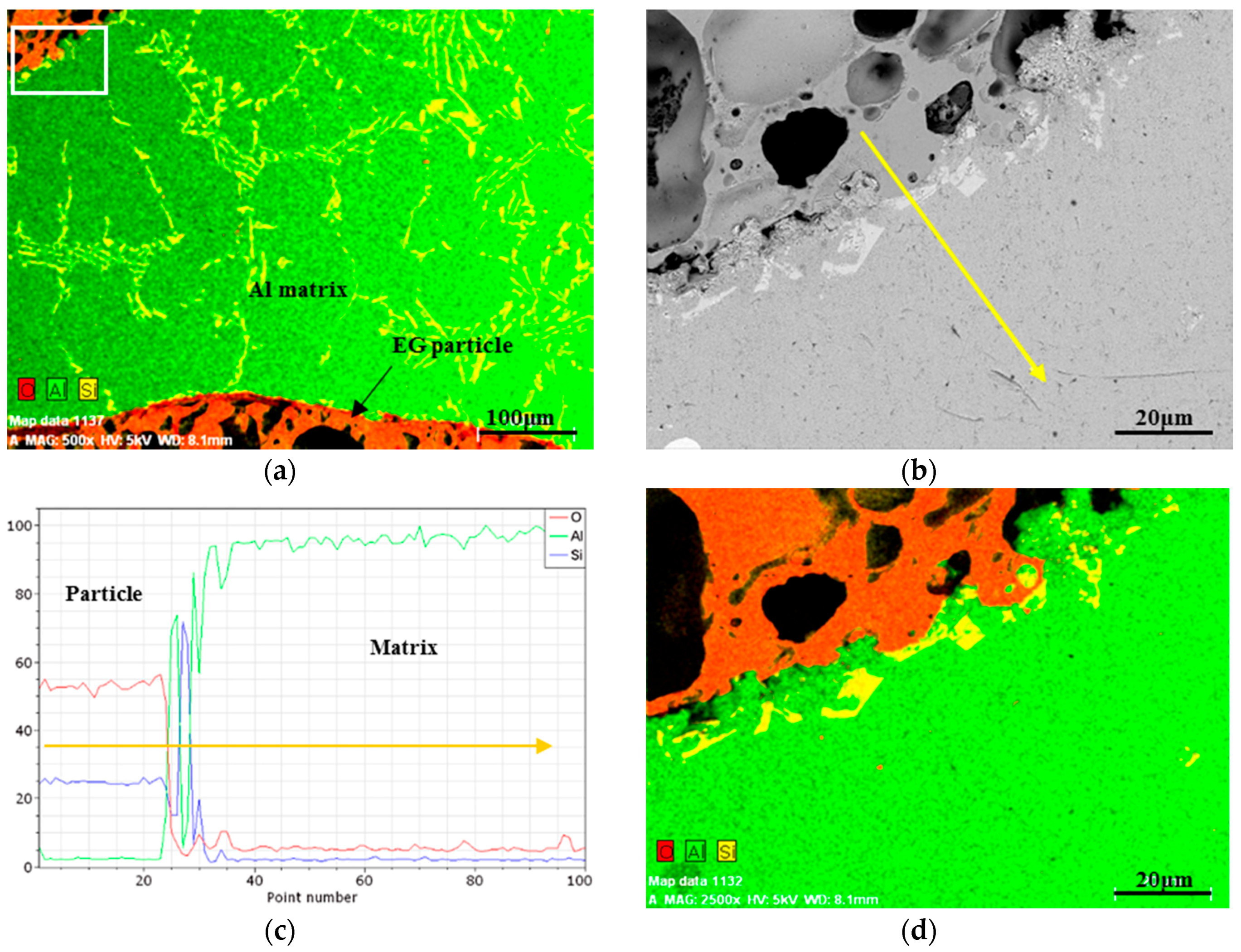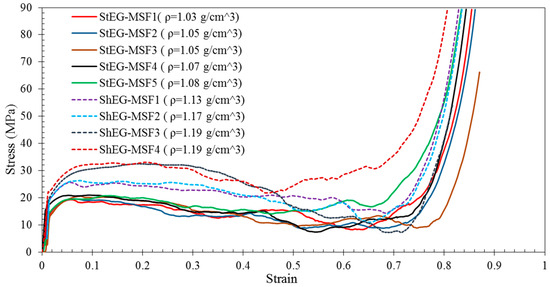 Figure 7. Compressive stress-strain curves for stable (solid lines) and shrunk (dashed lines) EG-MSF.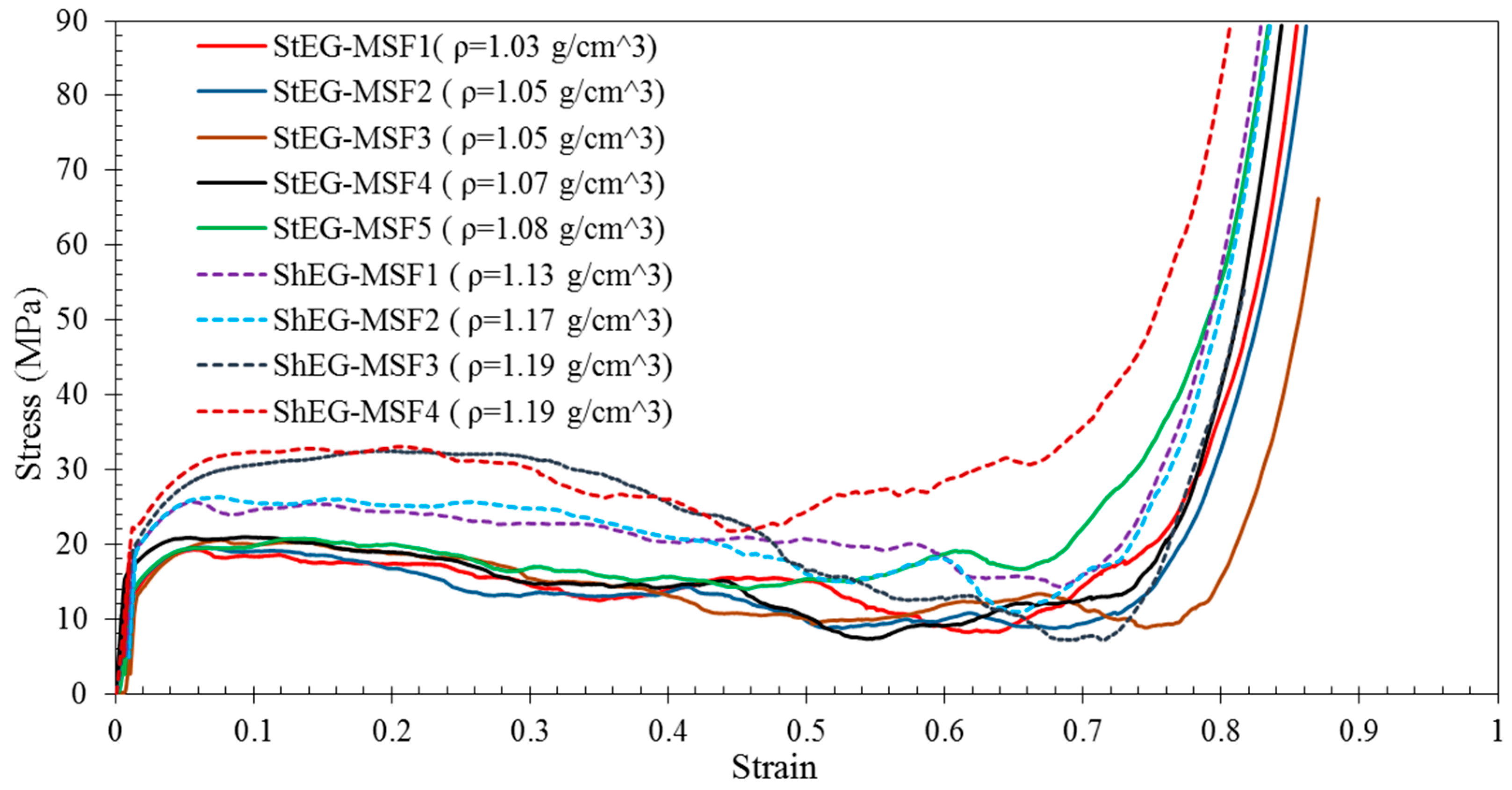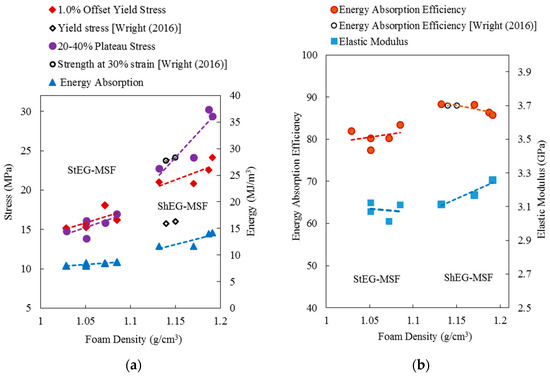 Figure 8.
Mechanical properties of EG-MSF versus with the foam density: (
a
) plateau stress and energy absorption; and (
b
) elastic modulus and energy absorption efficiency. Additional data points received from Wright et al. [
28
].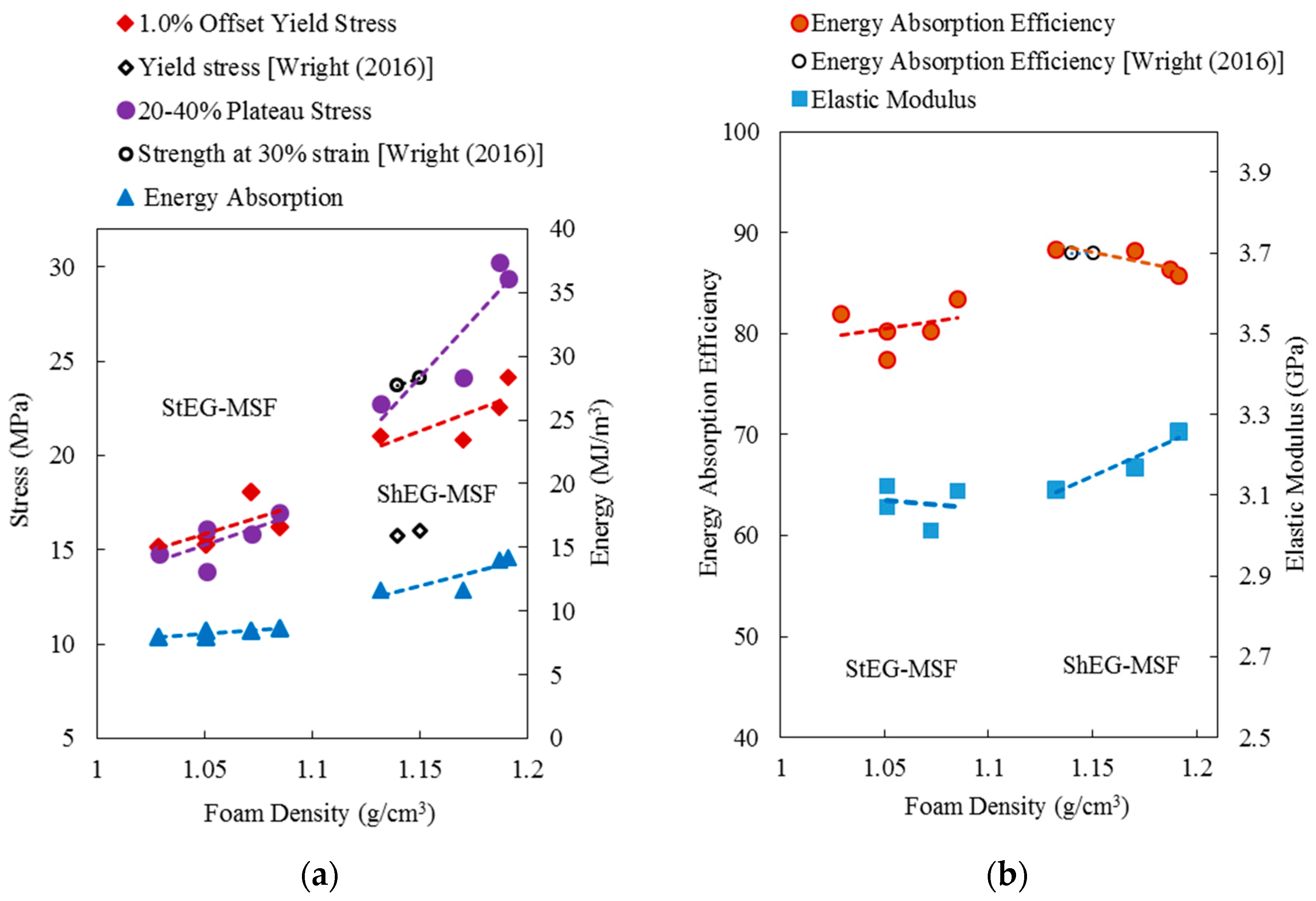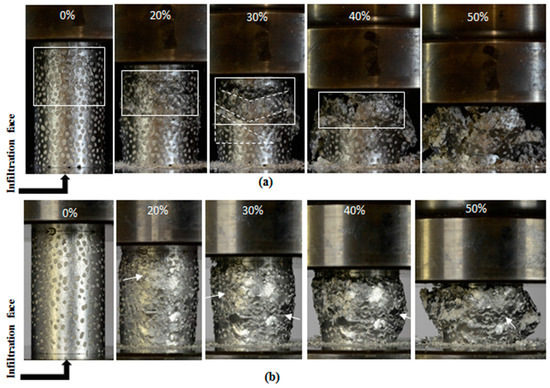 Figure 9. Compressive deformation mechanism of EG/A356 syntactic foam: (a) StEG-MSF4; and (b) ShEG-MSF3.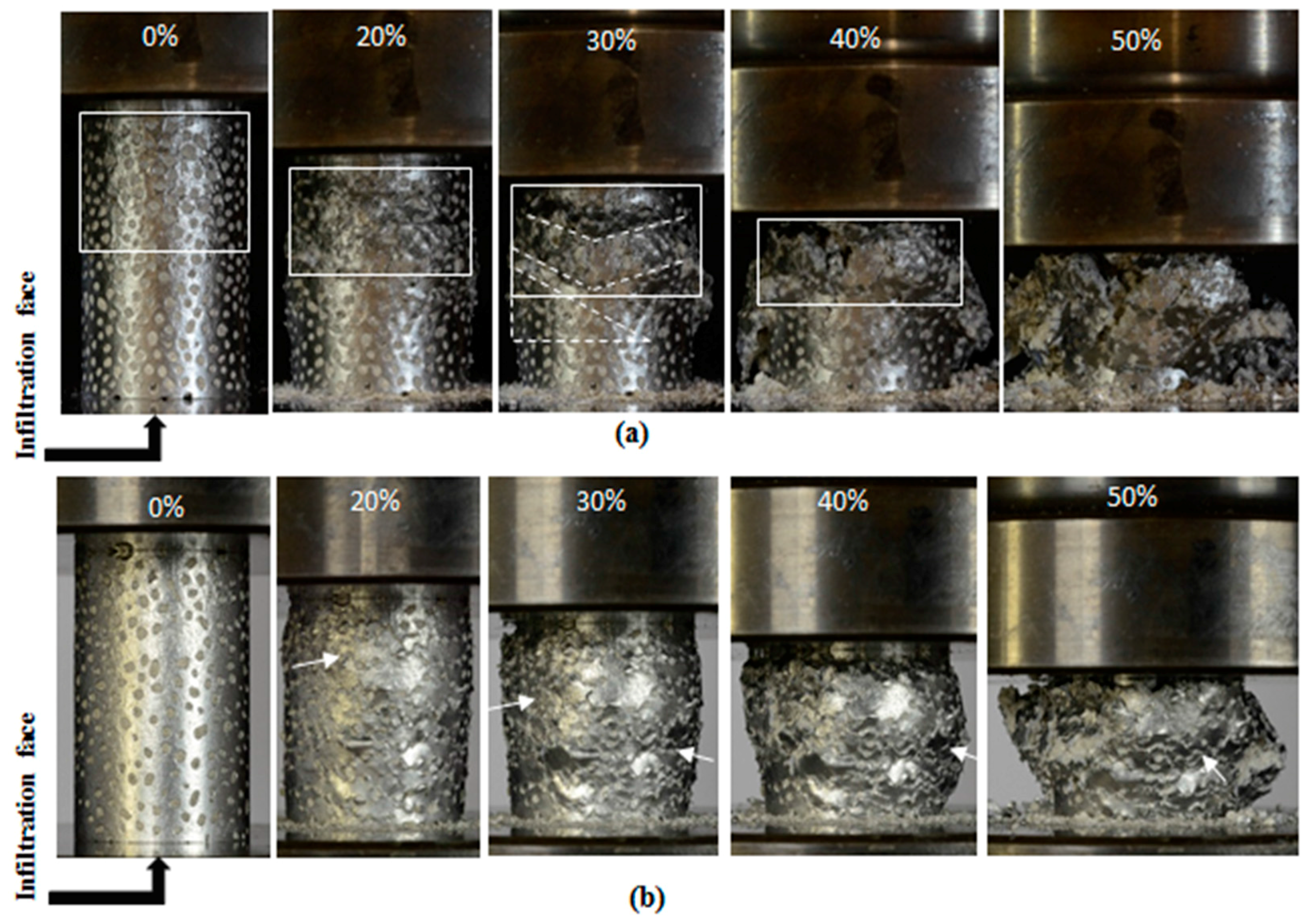 Table 1. EG particles densities.

| Particles Group | Bulk Density g/cm3 | Particle Density g/cm3 | Packing Density ( | True Density g/cm3 |
| --- | --- | --- | --- | --- |
| As-received EG | 0.19 | 0.33 | 0.58 | 2.81 |
| Stable EG | 0.20 | 0.34 | 0.59 | 2.81 |
| Shrunk EG | 0.27 | 0.43 | 0.63 | 2.81 |
Table 2. Physical properties of EG-MSF samples (St and Sh mean stable and shrunk EG, respectively).

| Sample | Foam Weight (g) | Foam Volume (cm3) | Foam Density (g/cm3) | Matrix Volume Fraction (%) | EG Volume Fraction (%) | Void Volume Fraction (%) |
| --- | --- | --- | --- | --- | --- | --- |
| StEG-MSF1 | 22.30 | 21.65 | 1.03 | 30.97 | 60.61 | 8.42 |
| StEG-MSF2 | 23.86 | 22.69 | 1.05 | 31.77 | 58.82 | 9.41 |
| StEG-MSF3 | 23.98 | 22.79 | 1.05 | 31.80 | 58.82 | 9.38 |
| StEG-MSF4 | 24.33 | 22.68 | 1.07 | 32.57 | 58.82 | 8.61 |
| StEG-MSF5 | 24.65 | 22.68 | 1.08 | 33.09 | 58.82 | 8.09 |
| ShEG-MSF1 | 22.48 | 19.85 | 1.13 | 32.17 | 62.79 | 5.04 |
| ShEG-MSF2 | 24.71 | 22.11 | 1.17 | 33.60 | 62.79 | 3.61 |
| ShEG-MSF3 | 25.06 | 21.11 | 1.19 | 34.22 | 62.79 | 2.99 |
| ShEG-MSF4 | 23.40 | 21.10 | 1.19 | 34.38 | 62.79 | 2.83 |
© 2017 by the authors. Licensee MDPI, Basel, Switzerland. This article is an open access article distributed under the terms and conditions of the Creative Commons Attribution (CC BY) license (http://creativecommons.org/licenses/by/4.0/).