Open Access This article is
freely available
re-usable
Article
Level of Theory and Solvent Effects on DASA Absorption Properties Prediction: Comparing TD-DFT, CASPT2 and NEVPT2
1
Laboratoire Modélisation et Simulation Multi Echelle, Université Paris-Est, MSME, UMR 8208 CNRS, UPEM, 5 bd Descartes, 77454 Marne-la-Vallée, France
2
Théorie-Modélisation-Simulation, Université de Lorraine—Nancy, SRSMC Boulevard des Aiguillettes, 54506 Vandoeuvre-lès-Nancy, France
3
Théorie-Modélisation-Simulation, CNRS, SRSMC Boulevard des Aiguillettes, 54506 Vandoeuvre-lès-Nancy, France
*
Authors to whom correspondence should be addressed.
Received: 29 July 2017 / Accepted: 1 September 2017 / Published: 3 September 2017
Abstract
:
Donor–acceptor Stenhouse adducts (DASAs) are a very recent class of organic photoswitches that combine excellent properties, such as color and polarity change, a large structural modification, and excellent fatigue resistance. Despite their potential applications in different fields, very few studies have focused on rationalizing their electronic structure properties. Here, by means of different state-of-the-art theoretical methods, including solvent and vibrational effects, we show that while time dependent-density functional theory (TD-DFT) can qualitatively describe DASAs' excited states, multiconfigurational quantum chemistry methods along with dynamic electron correlation (CASPT2, NEVPT2) are required for a quantitative agreement with the experiment. This finding is reasoned based on the different charge transfer characteristics observed. Moreover, the TD-DFT computed two-photon absorption properties are reported and suggested to red-shift the absorption band, as required for biological applications.
Keywords:
organic photoswitch; photochromic molecule; electronic absorption; two-photon absorption; molecular dynamics; density functional theory; multiconfiguration quantum chemistry methods
1. Introduction
Hence, a clear lack on the theoretical description of DASA derivatives is preventing the prediction of accurate properties. To possibly fill in this gap, the present computational work was performed with the following aims: (i) compute the excitation energies at different levels of theory including time-dependent density functional theory (TD-DFT) and more sophisticated multiconfigurational methods; (ii) study the effect of both implicit and explicit solvent on the excitation energy, and (iii) analyze DASA properties such as charge transfer character and TPA. This way, a protocol for the quantitative description of DASAs' absorption properties is given, which moreover proposes TPA as a possible alternative solution to chemical modification, in order to consistently red-shift the absorption energy.
2. Results
Results are divided as follows: first, the effect of the level of theory on the vertical excitation energy and the nature of the electronic transition will be described. The TD-DFT, Complete Active Space 2nd Order Perturbation Theory (CASPT2) and N-Electron Valence state 2nd order Perturbation Theory (NEVPT2) methods will be compared, based on the gas phase optimized structure. In the following section, the solvent effect, both implicit and explicit, is introduced. The dynamics and vibrational effects will also be given, in order to obtain not only an estimated excitation energy corresponding to the absorption maximum, but also a spectral shape that can be better compared in the experiment. Moreover, solvent–chromophore interactions will be elucidated. To rationalize all findings, an accurate analysis of the electronic charges is then presented. Finally, the TPA intensity value is given, opening a discussion with respect to known TPA properties of existing photoswitches.
3. Discussion
A static and dynamic study of a prototypical DASA derivative was performed in gas phase, including various solvents and using different methodologies and levels of theory. We have shown that TD-DFT describes the absorption spectrum only qualitatively, since blue-shifted vertical transition energies are found, as also mentioned in previous studies [
39
]. On the other hand, perturbative multiconfigurational methods (such as CASPT2 and NEVPT2) do reproduce the DASA absorption properties almost quantitatively. While NEVPT2 can substantially reduce the blue-shift, the CASPT2 method matches well with the experiment, but only when properly selecting the Ionization Potential Electron Affinity (IPEA) shift (see
Supplementary Materials
). If we follow the suggestion of Zobel et al.—i.e., discard the IPEA shift to calculate CASPT2 excited states of organic chromophores [
43
]—a red-shift is found when compared with the experiment, which agrees with previous perturbative configuration interaction calculations [
39
].
The inclusion of solvent—by both implicit and, for the first time in DASA studies, explicit models—does not explain the quantitative disagreement found between TD-DFT and experimental values. Nevertheless, both TD-DFT and CASPT2 methods result in the same solvent-induced red-shift (0.1 to 0.2 eV), when compared with the respective excitation energy calculated in the gas phase. We can hence conclude that solvent effects are equally treated at both levels of theory.
In order to explain the discrepancy between TD-DFT and multiconfigurational methods, a charge analysis was conducted which elucidated that a partial charge transfer character from the ground to the first excited state can be observed only if at least the CASSCF level is used. On the other hand, the inclusion of the dynamic electron correlation by the CASPT2 method does not modify the type and extent of charge transfer.
Concerning the absorption band shape, we found that the MD proposed approach to sample the electronic ground state results in a fine description of the spectrum toward lower energies (i.e., longer wavelengths), while the tail experimentally recorded toward higher energies (i.e., shorter wavelengths) cannot be properly reproduced with a PCM-coupled Wigner distribution approach. We should therefore rely on a higher-level vibronic description, as previously shown [
39
], if we are interested in modeling the overall absorption spectrum shape.
Nonetheless, the interest in the application of DASA derivatives is usually devoted to the absorption in the red and possibly infrared energy window. With this aim, TPA properties were calculated in gas phase, and an encouraging absorption intensity of ca. 3 GM was found. When compared with other commonly used photoswitches, the value found for this DASA derivative is larger (0.9 GM for azobenzene [
44
]) or of the same order of magnitude (8 GM for stilbene [
45
]). Moreover, it has been shown that for both azobenzene and stilbene, the TPA absorption intensity can be easily enhanced by modification of the electronic structure (e.g., introducing novel donor and/or acceptor groups, or increasing the conjugation extent) [
44
,
46
]. Indeed, we envisage in the near future the design of novel DASA derivatives with enhanced TPA intensity by applying the strategy proposed here. Moreover, it should be pointed out that the TPA band experimentally measured for azobenzene and stilbene is located at wavelengths shorter than 500 nm, and hence out of the visible spectral window required for biological applications. In comparison, the two-photon excitation of DASA derivatives could be performed with red or even infrared light, which opens a wide variety of biological applications. We should note that DASA derivatives are not the only open–closed photoswitch family proposed to be activated by one- and two-photon absorption. Diarylethenes were also found to be highly efficient, moreover offering high TPA cross-sections, although only when chemically modified to the degree of 40 to 70 GM for opened structures [
47
,
48
] and several hundred GM for closed structures [
48
]. Nevertheless, the change in the end-to-end distance offered by diarylethenes is very limited compared with DASAs.
4. Materials and Methods
The TPA cross-section was hence calculated at the B3LYP/6-31+G(d) level for the structure optimized on the ground state in vacuum by applying the quadratic response of the single residue formalism.
Supplementary Materials
The following are available online at
www.mdpi.com/1996-1944/10/9/1025/s1
: computational details, effect of different functionals and basis sets for TD-DFT calculations, theoretical spectra convergence, hydrogen bonds analysis, charge analysis and Cartesian coordinates.
Acknowledgments
Cristina García-Iriepa is grateful to the French Agence Nationale de la Recherche (grant ANR-BIOLUM) for a postdoctoral contract. Marco Marazzi is thankful to the French and Austrian National Research Agencies (ANR and FWF, respectively) for a grant under the "DeNeTheor" project.
Author Contributions
C.G.-I. and M.M. planned the work, conducted the simulations and calculations, wrote and reviewed the manuscript.
Conflicts of Interest
The authors declare no conflict of interest. The founding sponsors had no role in the design of the study; in the collection, analyses, or interpretation of data; in the writing of the manuscript, and in the decision to publish the results.

Figure 1. Switching mechanism of the donor–acceptor Stenhouse adducts (DASA) derivative under study. The opened state (left) is irradiated to form the closed state (right). Thermally, the closed state reverts to the opened state.


Figure 2. The occupied and virtual orbitals describing the electronic transition to the first excited state.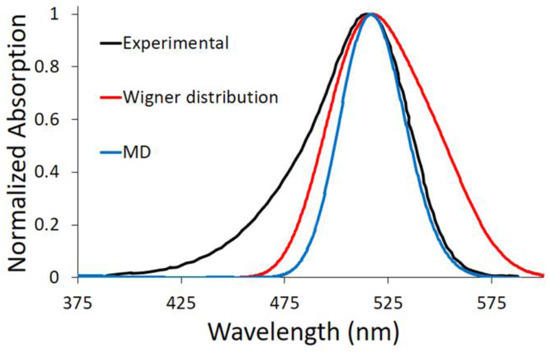 Figure 3.
Comparison between simulated—by Wigner distribution and molecular dynamics (MD)—and experimental spectra (Adapted with permission from Helmy, S.; Oh, S.; Leibfarth, F.A.; Hawker, C.J.; Read de Alaniz, J.
J. Org. Chem.
2014
,
79
, 11316–11329. Copyright 2017 American Chemical Society). Since time dependent-density functional theory (TD-DFT) is used, a red shift of 0.31 (0.48) eV is applied to the simulated spectra by Wigner distribution in order to better compare their shape with the experiment.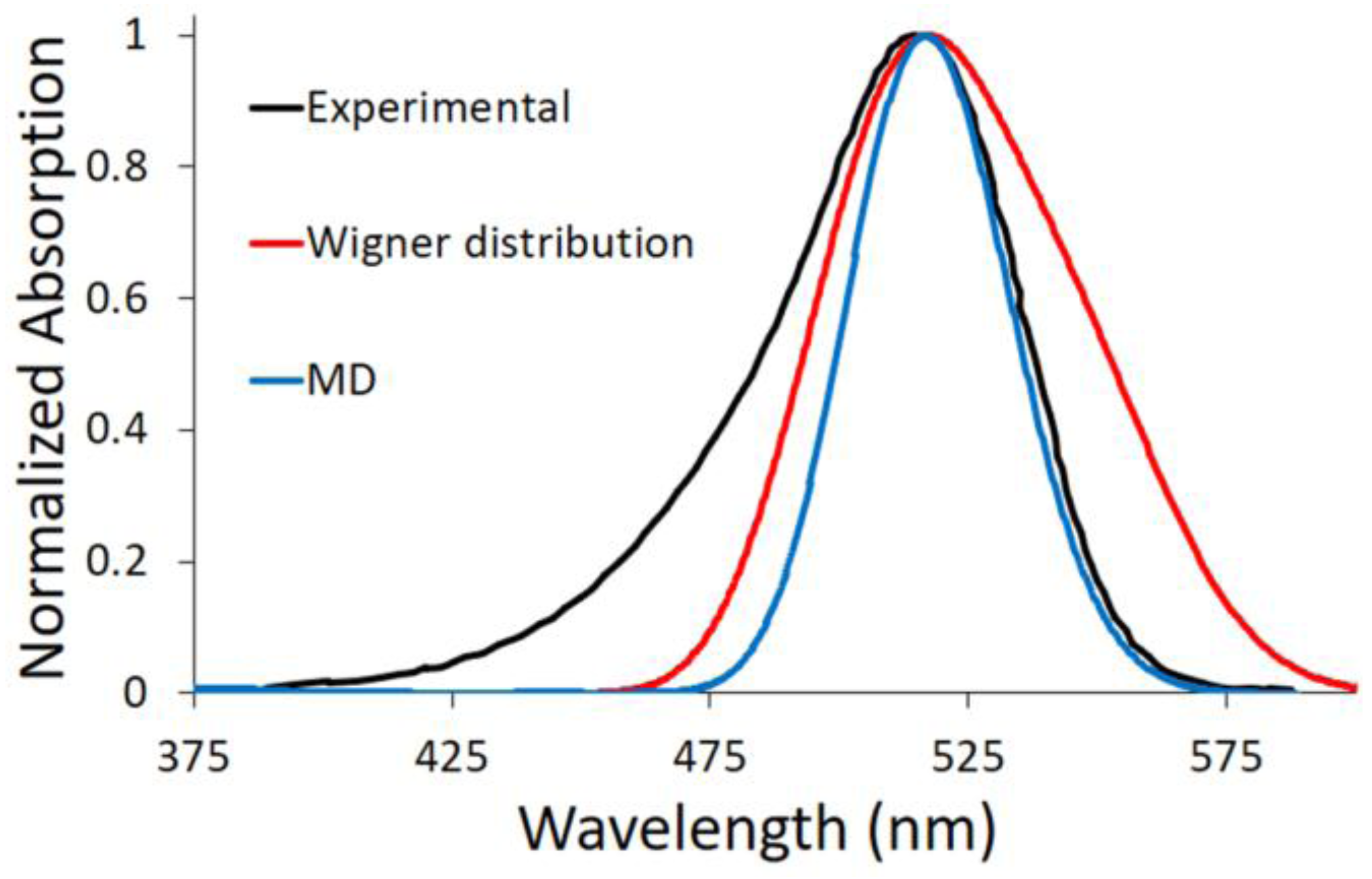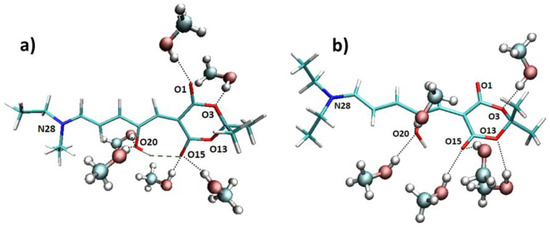 Figure 4. Two representative snapshots from the MD trajectory, depicting the two main hydrogen bonding patterns, which are characterized by (a) the formation and (b) the release of the intramolecular O20–H···O15 hydrogen bond.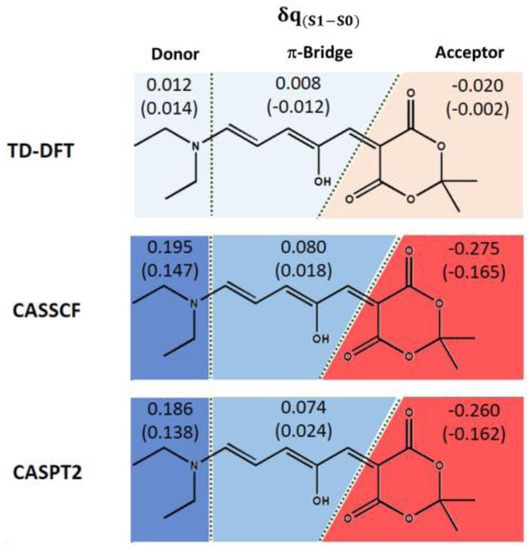 Figure 5. Mulliken charge analysis at TD-DFT (B3LYP and CAM-B3LYP), CASSCF, and CASPT2 levels of theory. The photoswitch is divided into three groups of atoms: donor, π-bridge, and acceptor. For each group, the charge difference between ground and the lowest singlet excited state, δq(S1–S0), is given in vacuum, and in brackets when including methanol as solvent by the polarizable continuum model (PCM). The background color intensity is proportional to the charge value (blue: positive charge; red: negative charge).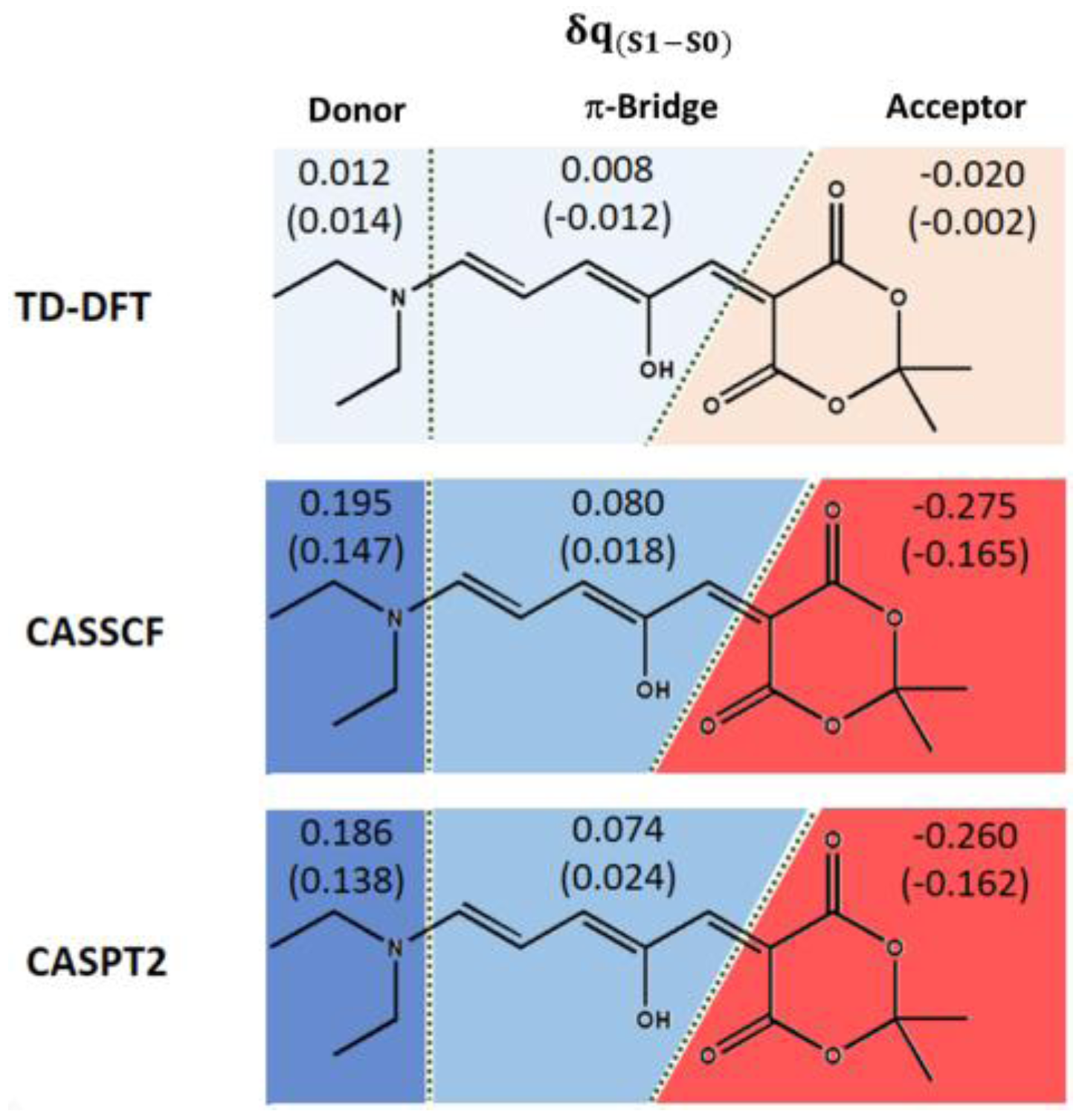 Table 1.
Vertical excitation energies (
E
S0→S1
) and oscillator strengths (
f
) at different levels of theory and basis sets, including data from the literature.
Table 1. Vertical excitation energies (

E

S0→S1) and oscillator strengths (

f

) at different levels of theory and basis sets, including data from the literature.

| Level of Theory | ES0→S1 eV (nm) | f |
| --- | --- | --- |
| B3LYP/6-31+G(d) | 2.85 (435) | 1.21 |
| B3LYP/cc-pVDZ | 2.88 (431) | 1.20 |
| NEVPT2/cc-pVDZ | 2.56 (485) | 1.02 |
| CASPT2/cc-pVDZ | 2.47 (502) | 1.48 |
| SOS-CIS(D)/SBS 1 | 2.21 (561) | |
1 Data taken from reference [39].
Table 2.
Vertical excitation energies (
E
S0→S1
) for different solvents. All simulated values are calculated by the polarizable continuum model (PCM). All values are given in eV (nm).
Table 2. Vertical excitation energies (

E

S0→S1) for different solvents. All simulated values are calculated by the polarizable continuum model (PCM). All values are given in eV (nm).
Solvent
Experiment

E

S0→S1 TD-DFT

E

S0→S1 CASPT2
Methanol
2.41 (515) 1
2.72 (455)
0.14 (20)
2.38 (522)
0.09 (20)
Acetonitrile
2.36 (525) 1
2.72 (456)
0.13 (21)
2.37 (523)
0.10 (21)
Toluene
2.27 (545) 1
2.64 (469)
0.21 (34)
2.34 (530)
0.13 (28)
1 Data taken from reference [14].
© 2017 by the authors. Licensee MDPI, Basel, Switzerland. This article is an open access article distributed under the terms and conditions of the Creative Commons Attribution (CC BY) license (http://creativecommons.org/licenses/by/4.0/).