Calcined Chitosan-Supported Layered Double Hydroxides: An Efficient and Recyclable Adsorbent for the Removal of Fluoride from an Aqueous Solution
1
Faculty of Materials Science and Chemistry, China University of Geosciences, Wuhan 430074, China
2
School of Chemistry and Environmental Engineering, Wuhan Institute of Technology, Wuhan 430074, China
3
State Key Laboratory of Environmental Aquatic Chemistry, Research Center for Eco-Environmental Sciences, Chinese Academy of Sciences, Beijing 100085, China
4
School of Environmental Studies, China University of Geosciences, Wuhan 430074, China
*
Authors to whom correspondence should be addressed.
Received: 21 September 2017 / Revised: 2 November 2017 / Accepted: 4 November 2017 / Published: 17 November 2017
Abstract
In this work, calcined chitosan-supported layered double hydroxides (CSLDO) were synthesized through a co-precipitation method that restrained the particles' aggregation of LDHs and exhibited huge specific surface areas, which can enhance the fluoride adsorption capacity. CSLDOs were characterized by physical and chemical methods and used for fluoride adsorption in an aqueous solution. The results indicated that the nanoparticles were constructed first and then assembled to form a porous and layered structure, and chitosan-supported layered double hydroxides (CSLDHs) calcined at 400 °C (CSLDO400) showed the highest specific surface area of 116.98 m
2
·g
−1
and the largest pore volume of 0.411 cm
3
·g
−1
. CSLDO400 exhibited excellent adsorption performance at a wide pH range from 5 to 9 for fluoride. The adsorption kinetics indicated that the adsorption reached equilibrium after 120 min, and followed a pseudo-first-order model. It agreed well with the Langmuir isotherm with maximum adsorption amounts of 27.56 mg·g
−1
. The adsorption of fluoride ions was spontaneous and endothermic. Furthermore, CSLDO400 showed a high stability for fluoride removal; it could still achieve 68% removal for fluoride after repeating five times of adsorption–desorption cycles. This study demonstrated that CSLDO400 is a promising functional material to remove fluoride from surface/ground water.
View Full-Text
►

▼

Figures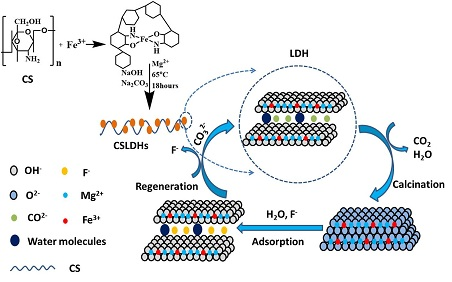 This is an open access article distributed under the
Creative Commons Attribution License
which permits unrestricted use, distribution, and reproduction in any medium, provided the original work is properly cited. (CC BY 4.0).
Share & Cite This Article
MDPI and ACS Style
Wu, H.; Zhang, H.; Yang, Q.; Wang, D.; Zhang, W.; Yang, X. Calcined Chitosan-Supported Layered Double Hydroxides: An Efficient and Recyclable Adsorbent for the Removal of Fluoride from an Aqueous Solution. Materials 2017, 10, 1320.
Note that from the first issue of 2016, MDPI journals use article numbers instead of page numbers. See further details here.
Related Articles
Comments
[Return to top]