Chemically Modified Polyvinyl Chloride for Removal of Thionine Dye (Lauth's Violet)
1
Institute of Chemistry, Federal University of Uberlândia, IQUFU, Av. João Naves de Ávila, 2121, Santa Mônica 38400-902, Uberlândia, MG, Brazil
2
Chemistry Department, Federal Institute of Education, Science and Technology of the Triângulo Mineiro, IFTM, Rua João Batista Ribeiro, 4000, D.I. II, Uberaba 38064-790, MG, Brazil
3
Institute of Exact, Natural and Educational Sciences, ICENE, Federal University of Triângulo Mineiro, UFTM-Unit 2, Av. Randolfo Borges Júnior, 1250, Univerdecidade, Uberaba 38064-200, MG, Brazil
4
Faculty of Integrated Sciences of Pontal, FACIP of Federal University of Uberlândia, UFU, R. Vinte, 1600, Tupã Ituiutaba 38304-402, MG, Brazil
*
Author to whom correspondence should be addressed.
Received: 18 September 2017 / Revised: 16 October 2017 / Accepted: 26 October 2017 / Published: 12 November 2017
Abstract
The chemical modification of hydrophobic polymer matrices is an alternative way to elchange their surface properties. The introduction of sulfonic groups in the polymer changes the surface properties such as adhesion, wettability, catalytic ability, and adsorption capacity. This work describes the production and application of chemically modified polyvinyl chloride (PVC) as adsorbent for dyes removal. Chemical modification of PVC was evaluated by infrared spectroscopy and elemental analysis, which indicated the presence of sulfonic groups on PVC. The chemically modified PVC (PVCDS) showed an ion exchange capacity of 1.03 mmol
−1
, and efficiently removed the thionine dye (Lauth's violet) from aqueous solutions, reaching equilibrium in 30 min. The adsorption kinetics was better adjusted for a pseudo second order model. This result indicates that the adsorption of thionine onto PVCDS occurs by chemisorption. Among the models for the state of equilibrium, SIPS and Langmuir exhibited the best fit to the experimental results and PVCDS showed high adsorption capacities (370 mg
−1
). Thus, it is assumed that the system presents homogeneous characteristics to the distribution of active sites. The modification promoted the formation of surface characteristics favorable to the dye adsorption by the polymer.
View Full-Text
►

▼

Figures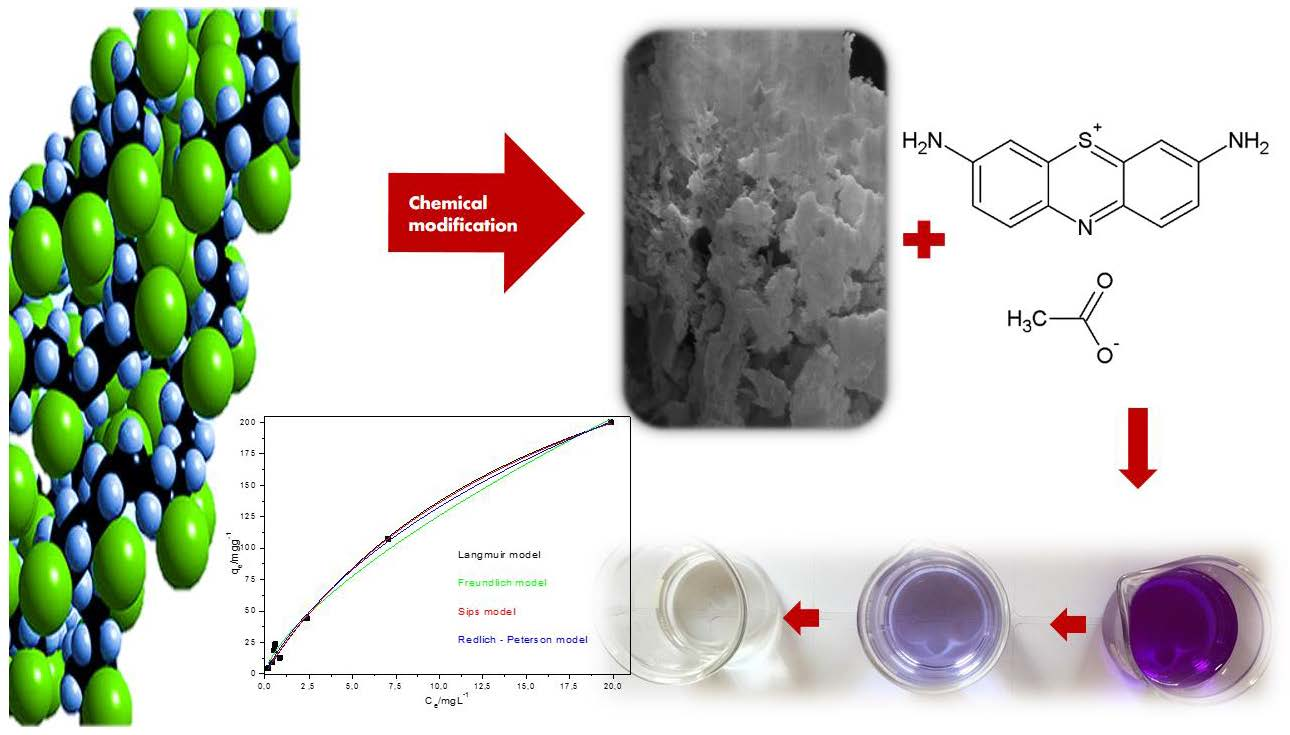 This is an open access article distributed under the
Creative Commons Attribution License
which permits unrestricted use, distribution, and reproduction in any medium, provided the original work is properly cited. (CC BY 4.0).
Share & Cite This Article
MDPI and ACS Style
Ali, H.M.A.M.M.S.; Silva, C.V.; Royer, B.; Rodrigues Filho, G.; Cerqueira, D.A.; Assunção, R.M.N. Chemically Modified Polyvinyl Chloride for Removal of Thionine Dye (Lauth's Violet). Materials 2017, 10, 1298.
Note that from the first issue of 2016, MDPI journals use article numbers instead of page numbers. See further details here.
Related Articles
Comments
[Return to top]