Surface Modification of Li(Ni0.6Co0.2Mn0.2)O2 Cathode Materials by Nano-Al2O3 to Improve Electrochemical Performance in Lithium-Ion Batteries
1
Department of Materials Science and Engineering, University of Seoul, 163, Seoulsiripdae-ro, Dongdaemun-gu, Seoul 02504, Korea
2
Center for Energy Convergence Research, Korea Institute of Science and Technology, 5, Hwarang-ro 14-gil, Seongbuk-gu, Seoul 02792, Korea
3
G-Materials Co., Ltd., 649, Ori-ro, Gwangmyeong-si, Gyeonggi-do 14303, Korea
†
These authors contributed equally to this work.
*
Authors to whom correspondence should be addressed.
Received: 28 September 2017 / Revised: 1 November 2017 / Accepted: 1 November 2017 / Published: 6 November 2017
Abstract
Al
2
O
3
-coated Li(Ni
0.6
Co
0.2
Mn
0.2
)O
2
cathode materials were prepared by simple surface modification in water media through a sol-gel process with a dispersant. The crystallinity and surface morphology of the samples were characterized through X-ray diffraction analysis and scanning electron microscopy observation. The Li(Ni
0.6
Co
0.2
Mn
0.2
)O
2
cathode material was of a polycrystalline hexagonal structure and agglomerated with particles of approximately 0.3 to 0.8 μm in diameter. The nanosized Al
2
O
3
particles of low concentration (0.06–0.12 wt %) were uniformly coated on the surface of Li(Ni
0.6
Co
0.2
Mn
0.2
)O
2
. Measurement of electrochemical properties showed that Li(Ni
0.6
Co
0.2
Mn
0.2
)O
2
coated with Al
2
O
3
of 0.08 wt % had a high initial discharge capacity of 206.9 mAh/g at a rate of 0.05 C over 3.0–4.5 V and high capacity retention of 94.5% at 0.5 C after 30 cycles (cf. uncoated sample: 206.1 mAh/g and 90.8%, respectively). The rate capability of this material was also improved, i.e., it showed a high discharge capacity of 166.3 mAh/g after 5 cycles at a rate of 2 C, whereas the uncoated sample showed 155.8 mAh/g under the same experimental conditions.
View Full-Text
►

▼

Figures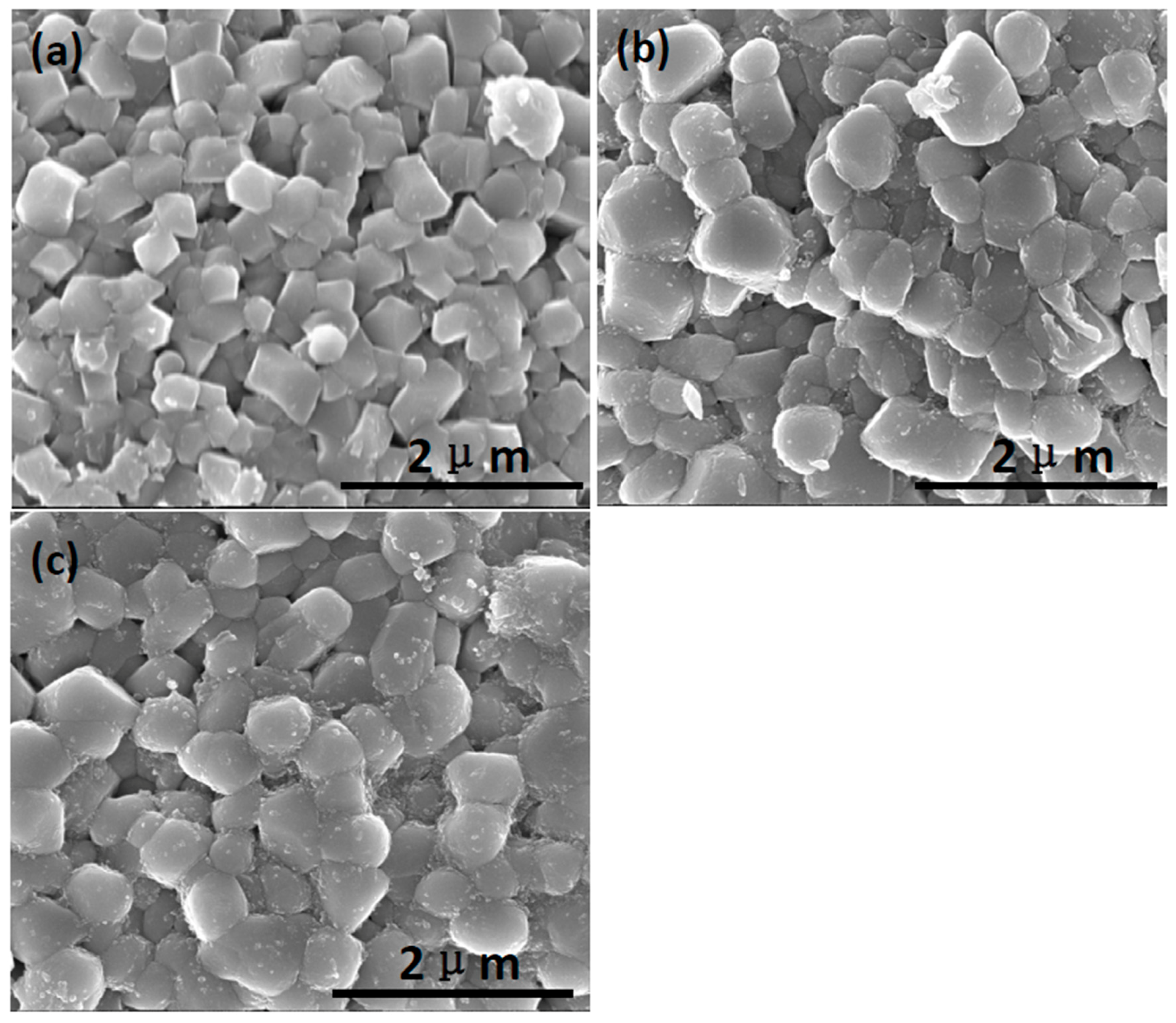 Figure 1
This is an open access article distributed under the
Creative Commons Attribution License
which permits unrestricted use, distribution, and reproduction in any medium, provided the original work is properly cited. (CC BY 4.0).
Share & Cite This Article
MDPI and ACS Style
Yoo, K.S.; Kang, Y.H.; Im, K.R.; Kim, C.-S. Surface Modification of Li(Ni0.6Co0.2Mn0.2)O2 Cathode Materials by Nano-Al2O3 to Improve Electrochemical Performance in Lithium-Ion Batteries. Materials 2017, 10, 1273.
Note that from the first issue of 2016, MDPI journals use article numbers instead of page numbers. See further details here.
Related Articles
Comments
[Return to top]