Environmental Surveillance. An Additional/Alternative Approach for Virological Surveillance in Greece?
1
Environmental Microbiology Unit, Department of Public Health, Medical School, University of Patras, Patras, GR 26504, Greece
2
Department of Molecular Biology and Genetics, Democritus University of Thrace, Alexandroupolis, GR 68100, Greece
*
Author to whom correspondence should be addressed.
Received: 18 April 2011 / Revised: 18 May 2011 / Accepted: 28 May 2011 / Published: 1 June 2011
Abstract
The detection of viruses in the sewage of an urban city by nucleic acid amplification techniques allows the identification of the viral strains that are circulating in the community. The aim of the study was the application of such detection which gives useful data on the distribution, spread, and frequency of these viruses, supporting epidemiological studies of the related viral infections. A two year (2007–2009) survey was conducted in order to evaluate the presence of human adenoviruses (hAdV), hepatitis A viruses (HAV), hepatitis E viruses (HEV), noroviruses (NoV), and human polyomaviruses (hPyV) in sewage samples collected from the inlet of a municipal biological wastewater treatment plant located in southwestern Greece. PCR methods were used for this survey. In total, viruses have been detected in 87.5% (42/48) of the analyzed sewage samples. Analytically, DNA viruses, hAdVs and hPyVs have been detected in 45.8% (22/48) and 68.8% (33/48) of the samples, respectively. As it concerns RNA viruses, HAV was detected in 8.3% (4/48), NoVs in 6.3% (3/48), while HEV has not been detected at all. After sequencing, AdVs were typed as Ad8, Ad40 and Ad41, while both JC and BK hPyVs have been recognized. All NoVs have been identified as GII4, while HAV was typed as genotype IA. Similar long-term studies could be undertaken in countries such as Greece in order to offer a valuable and complementary tool to current problematic epidemiological surveillance systems. This study demonstrates the advantages of environmental surveillance as a tool to determine the epidemiology of viruses circulating in a given community. To our knowledge this was the first of its kind study performed in Greece in order to establish this new way of surveillance.
View Full-Text
►

▼

Figures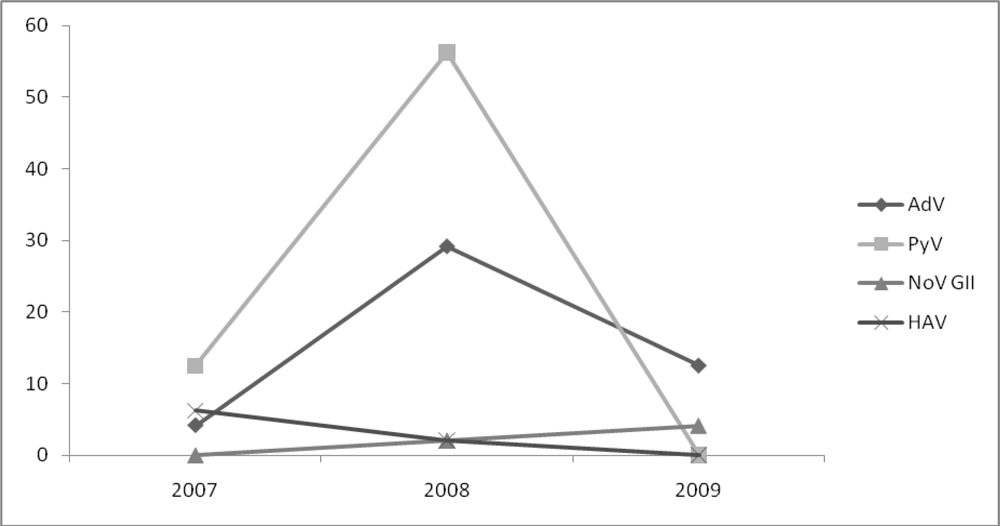 Share & Cite This Article
MDPI and ACS Style
Kokkinos, P.; Ziros, P.; Meri, D.; Filippidou, S.; Kolla, S.; Galanis, A.; Vantarakis, A. Environmental Surveillance. An Additional/Alternative Approach for Virological Surveillance in Greece? Int. J. Environ. Res. Public Health 2011, 8, 1914-1922.
Related Articles
Comments
[Return to top]