Activation of RAF1 (c-RAF) by the Marine Alkaloid Lasonolide A Induces Rapid Premature Chromosome Condensation
1
Developmental Therapeutics Branch and Laboratory of Molecular Pharmacology, Center for Cancer Research, National Cancer Institute (CCR-NCI), NIH, Bethesda, MD 20892-9760, USA
2
Laboratory of Cancer Biology and Genetics, Center for Cancer Research, National Cancer Institute (CCR-NCI), NIH, Bethesda, MD 20892-9760, USA
3
Departments of Chemistry and Medicinal Chemistry, Purdue University; West Lafayette, IN 47907, USA
†
Present address: Lombardi Comprehensive Cancer Center, Georgetown University, Washington, DC 20057, USA.
*
Authors to whom correspondence should be addressed.
Academic Editor: Angela Capper
Received: 25 March 2015 / Revised: 18 May 2015 / Accepted: 26 May 2015 / Published: 5 June 2015
Abstract
Lasonolide A (LSA), a potent antitumor polyketide from the marine sponge,
Forcepia
sp., induces rapid and reversible protein hyperphosphorylation and premature chromosome condensation (PCC) at nanomolar concentrations independent of cyclin-dependent kinases. To identify cellular targets of LSA, we screened 2951 shRNAs targeting a pool of human kinases and phosphatases (1140 RefSeqs) to identify genes that modulate PCC in response to LSA. This led to the identification of RAF1 (C-RAF) as a mediator of LSA-induced PCC, as shRNAs against RAF1 conferred resistance to LSA. We found that LSA induced RAF1 phosphorylation on Serine 338 within minutes in human colorectal carcinoma HCT-116, ovarian carcinoma OVCAR-8, and Burkitt's lymphoma CA46 cell lines. RAF1 depletion by siRNAs attenuated LSA-induced PCC in HCT-116 and OVCAR-8 cells. Furthermore, mouse embryonic fibroblasts (MEF) with homozygous deletion in
Raf1
, but not deletion in the related kinase
Braf
,
were resistant to LSA-induced PCC. Complementation of
Raf1
−/−
MEFs with wild-type human RAF1, but not with kinase-dead RAF1 mutant, restored LSA-induced PCC. Finally, the Raf inhibitor sorafenib, but not the MEK inhibitor AZD6244, effectively suppressed LSA-induced PCC. Our findings implicate a previously unknown, MAPK-independent role of RAF1 in chromatin condensation and potent activation of this pathway by LSA.
View Full-Text
►

▼

Figures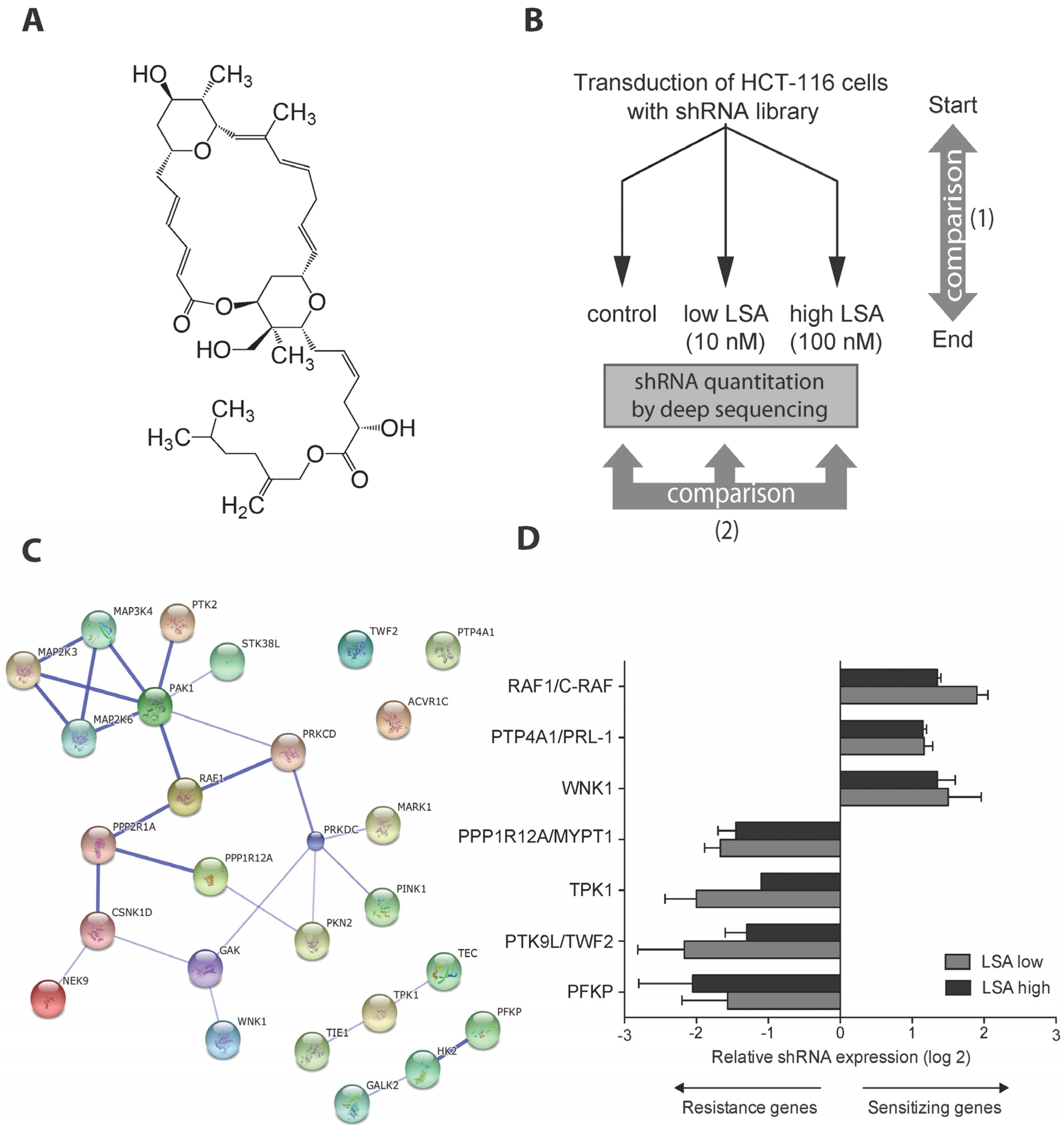 Figure 1
This is an open access article distributed under the
Creative Commons Attribution License
which permits unrestricted use, distribution, and reproduction in any medium, provided the original work is properly cited. (CC BY 4.0).
Share & Cite This Article
MDPI and ACS Style
Jossé, R.; Zhang, Y.-W.; Giroux, V.; Ghosh, A.K.; Luo, J.; Pommier, Y. Activation of RAF1 (c-RAF) by the Marine Alkaloid Lasonolide A Induces Rapid Premature Chromosome Condensation. Mar. Drugs 2015, 13, 3625-3639.
Related Articles
Comments
[Return to top]