Diversity and Spatial Distribution of Extant Freshwater Ostracodes (Crustacea) in Ancient Lake Ohrid (Macedonia/Albania)
1
Institut für Geosysteme und Bioindikation, Technische Universität Braunschweig, Langer Kamp 19 c, Braunschweig 38106, Germany
2
Instituto de Geología, Universidad Nacional Autónoma de México, Ciudad Universitaria, Distrito Federal 04510, Mexico
3
Department of Geological Sciences & Land Use and Environmental Change Institute, University of Florida, Gainesville, FL 32611, USA
*
Author to whom correspondence should be addressed.
Received: 2 October 2013 / Revised: 23 June 2014 / Accepted: 25 June 2014 / Published: 17 July 2014
Abstract
We carried out an intensive sampling survey in ancient Lake Ohrid (Macedonia/Albania), covering all seasons, to determine total species number, relative species abundances and spatial distribution of Ostracoda. We identified 32 living species that belong to seven families (Candonidae, Ilyocyprididae, Cyprididae, Leptocytheridae, Limnocytheridae, Cytherideidae, and Darwinulidae) and 15 genera (
Candona
,
Fabaeformiscandona
,
Candonopsis
,
Cypria
,
Cyclocypris
,
Ilyocypris
,
Eucypris
,
Prionocypris
,
Bradleystrandesia
,
Herpetocypris
,
Dolerocypris
,
Amnicythere
,
Paralimnocythere
,
Cytherissa
, and
Darwinula
). Six additional species were identified from empty carapaces and valves. Dominant families in Lake Ohrid were Candonidae and Limnocytheridae, representing 53% and 16% of all species, respectively. Prevalence of species flocks in these two families confirms the "young" ancient status of the lake.
Amnicythere
displays a preference for oligo-haline to meso-haline waters, but some species are found in saline environments, which suggests Lake Ohrid has a marine history. Recent studies, however, indicate fluvial/glaciofluvial deposition at the onset of Lake Ohrid sedimentation.
Candona
is the most diverse genus in Lake Ohrid, represented by 12 living species.
Paralimnocythere
is represented by five living species and all other genera are represented by one or two species. Reports of
Candona
bimucronata
,
Ilyocypris bradyi, Eucypris virens
,
Eucypris
sp.,
Prionocypris zenkeri
,
Bradleystrandesia reticulate
,
Herpetocypris
sp. 2, and
Dolerocypris sinensis
are firsts for this lake. Living ostracodes were collected at the maximum water depth (280 m) in the lake (
Candona hadzistei
,
C. marginatoides
,
C. media
,
C. ovalis
,
C. vidua
,
Fabaeformiscandona krstici
,
Cypria lacustris
,
C. obliqua
and
Amnicythere karamani
).
Cypria
lacustris
was overall the most abundant species and
Cypria
obliqua
displayed the highest abundance at 280 m water depth. Principal environmental variables that influence ostracode distributions in Lake Ohrid are water depth and conductivity. In general, species richness, diversity and evenness were greater in waters <60 m deep, with highest values often found in the littoral zone, at depths <30 m. Candonids, however, displayed highest diversity in the sublittoral (30–50 m) and profundal (50–280 m) zones. The most frequent species encountered are taxa endemic to the lake (14 living species), which have a wide depth range (≤280 m), and display higher abundance with greater water depth. Non-endemic species were rare, limited to water depths <50 m, and were found mainly in the north part of the lake where anthropogenic pressure is high. Several cosmopolitan species were encountered for the first time, which suggests that these widespread species are new arrivals that may replace endemics as human impacts increase.
View Full-Text
►

▼

Figures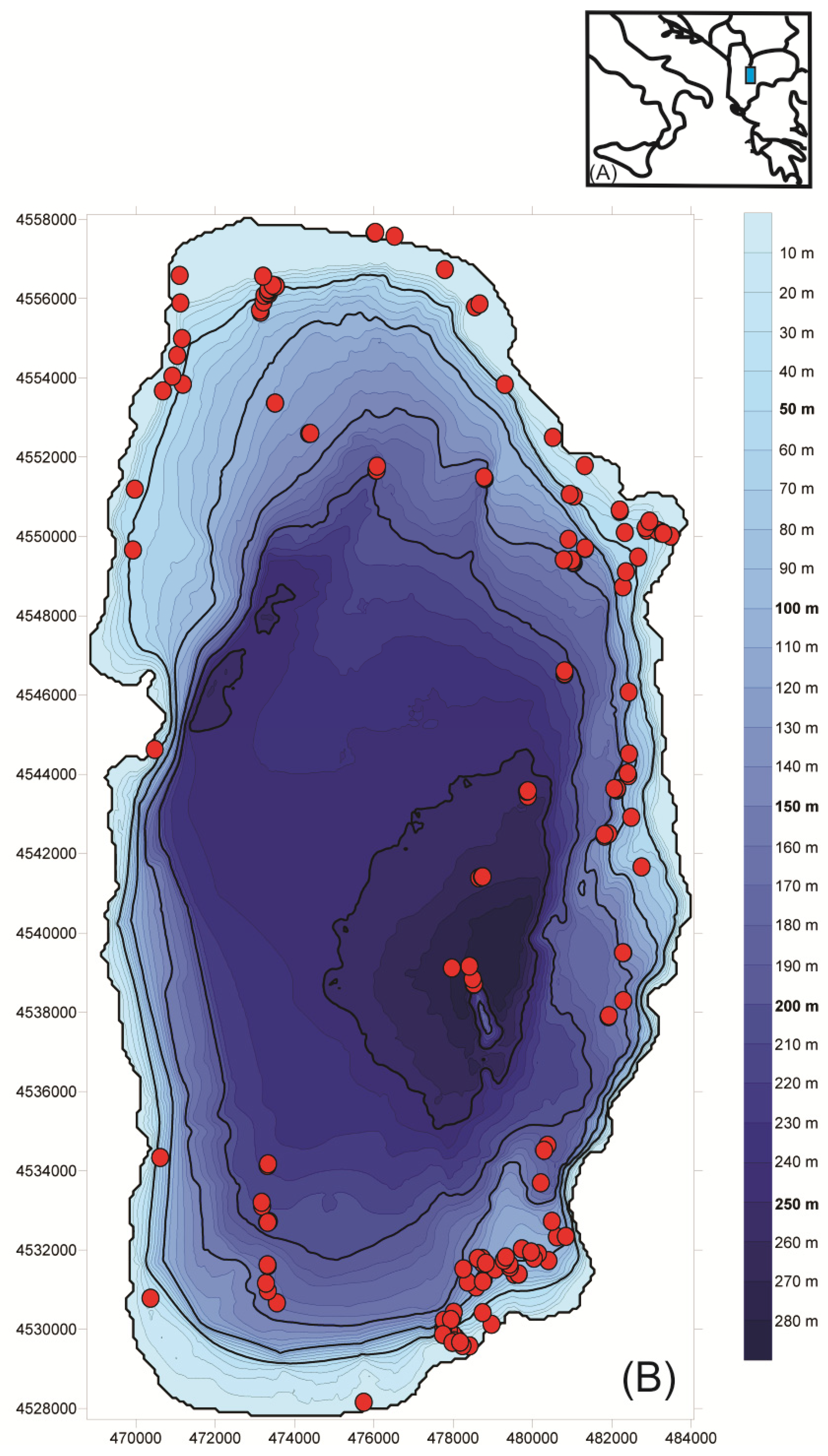 Figure 1
Scifeed alert for new publications
Never miss any articles
matching your research
from any publisher
Get alerts for new papers matching your research
Find out the new papers from selected authors
Updated daily for 49'000+ journals and 6000+ publishers
Share & Cite This Article
MDPI and ACS Style
Lorenschat, J.; Pérez, L.; Correa-Metrio, A.; Brenner, M.; von Bramann, U.; Schwalb, A. Diversity and Spatial Distribution of Extant Freshwater Ostracodes (Crustacea) in Ancient Lake Ohrid (Macedonia/Albania). Diversity 2014, 6, 524-550.
Comments
[Return to top]