Soil Rhizosphere Microbial Communities and Enzyme Activities under Organic Farming in Alabama
1
USDA-ARS, Cropping Systems Research Laboratory, Wind Erosion and Water Conservation Unit, 3810 4th street, Lubbock, TX 79415, USA
2
Department of Natural Resources and Environmental Sciences, Alabama A&M University, Normal, AL 35762, USA
3
Research and Testing Laboratory and Medical Biofilm Research Institute, 4321 Marsha Sharp Freeway, Lubbock, TX 79407, USA
*
Author to whom correspondence should be addressed.
Received: 22 April 2011 / Revised: 20 June 2011 / Accepted: 27 June 2011 / Published: 19 July 2011
Abstract
Evaluation of the soil rhizosphere has been limited by the lack of robust assessments that can explore the vast complex structure and diversity of soil microbial communities. Our objective was to combine fatty acid methyl ester (FAME) and pyrosequencing techniques to evaluate soil microbial community structure and diversity. In addition, we evaluated biogeochemical functionality of the microbial communities via enzymatic activities of nutrient cycling. Samples were taken from a silt loam at 0–10 and 10–20 cm in an organic farm under lettuce (
Lactuca sativa
), potato (
Solanum tuberosum
), onion (
Allium cepa
L
), broccoli (
Brassica oleracea var. botrytis
) and Tall fescue pasture grass (
Festuca arundinacea
). Several FAMEs (
a
15:0,
i
15:0,
i
15:1,
i
16:0,
a
17:0,
i
17:0,
10Me17:0,
cy
17:0, 16:1ω5c and 18:1ω9c) varied among the crop rhizospheres. FAME profiles of the soil microbial community under pasture showed a higher fungal:bacterial ratio compared to the soil under lettuce, potato, onion, and broccoli. Soil under potato showed higher sum of fungal FAME indicators compared to broccoli, onion and lettuce. Microbial biomass C and enzyme activities associated with pasture and potato were higher than the other rhizospheres. The lowest soil microbial biomass C and enzyme activities were found under onion. Pyrosequencing revealed significant differences regarding the maximum operational taxonomic units (OTU) at 3% dissimilarity level (roughly corresponding to the bacterial species level) at 0–10 cm (581.7–770.0) compared to 10–20 cm (563.3–727.7) soil depths. The lowest OTUs detected at 0–10 cm were under broccoli (581.7); whereas the lowest OTUs found at 10–20 cm were under potato (563.3). The predominant phyla (85%) in this soil at both depths were
Bacteroidetes (i.e.
,
Flavobacteria
,
Sphingobacteria
), and
Proteobacteria
.
Flavobacteriaceae
and
Xanthomonadaceae
were predominant under broccoli.
Rhizobiaceae
,
Hyphomicrobiaceae
, and
Acidobacteriaceae
were more abundant under pasture compared to the cultivated soils under broccoli, potato, onion and lettuce. This study found significant differences in microbial community structure and diversity, and enzyme activities of nutrient cycling in this organic farming system under different rhizospheres, which can have implications in soil health and metabolic functioning, and the yield and nutritional value of each crop.
View Full-Text
►

▼

Figures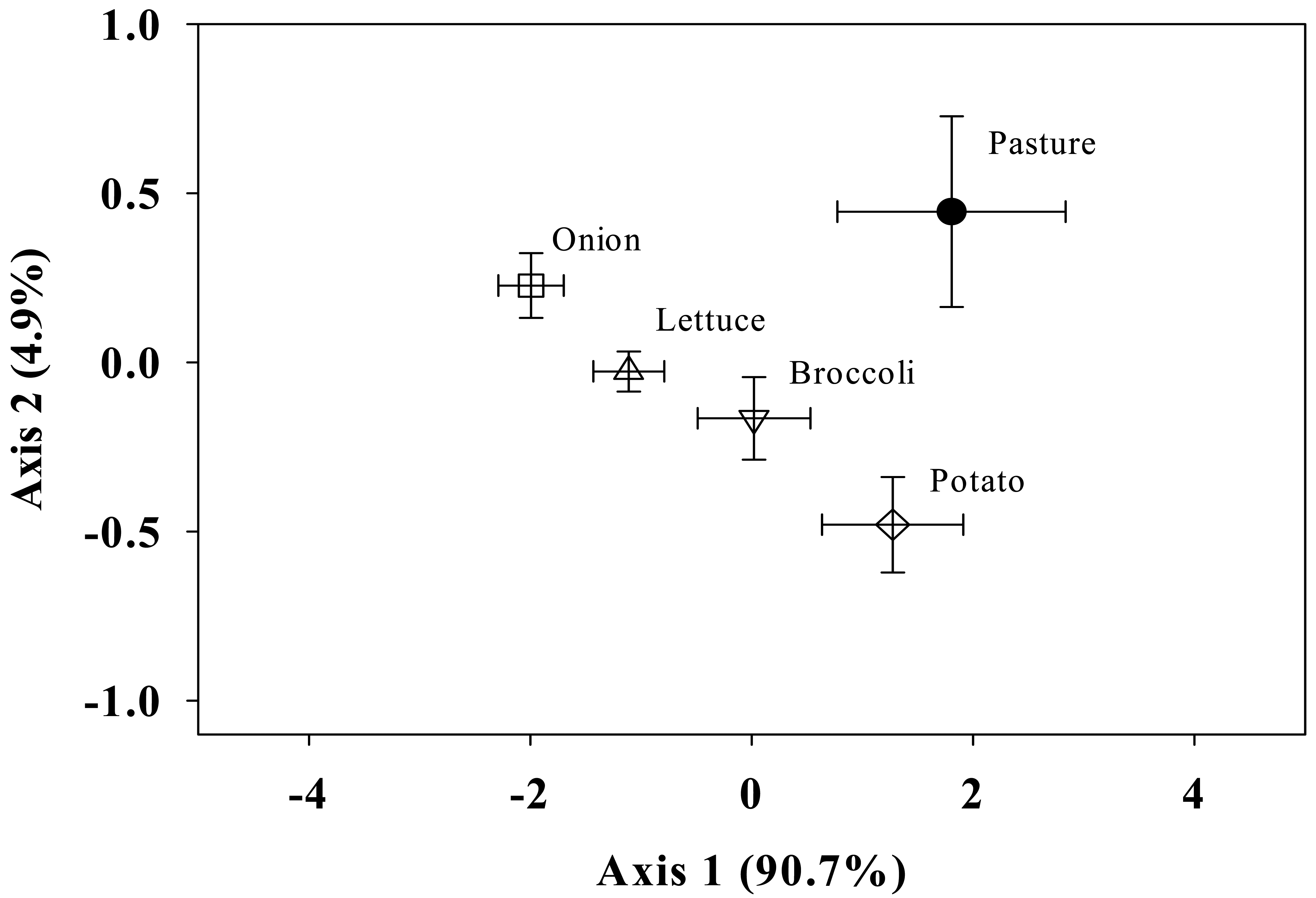 Share & Cite This Article
MDPI and ACS Style
Gardner, T.; Acosta-Martinez, V.; Senwo, Z.; Dowd, S.E. Soil Rhizosphere Microbial Communities and Enzyme Activities under Organic Farming in Alabama. Diversity 2011, 3, 308-328.
Comments
[Return to top]