The CC-Bio Project: Studying the Effects of Climate Change on Quebec Biodiversity
1
Canada Research Chair in Conservation of Northern Ecosystems and Centre of Nordic Studies, Quebec University at Rimouski, 300 allée des Ursulines, Rimouski, QC, G5L 3A1, Canada
2
Department of Plant Science and McGill School of Environment, Macdonald Campus, McGill University, 21111 Lakeshore Road, Ste-Anne-de-Bellevue, QC, H9X 3V9, Canada
3
Mathematics and Statistics Department, Montreal University, Montréal, QC, H3T 1J4, Canada
4
The Nature Conservancy Canada, Montréal, QC, H2T 2S6, Canada
5
Ducks Unlimited Canada and Laval University, 710 rue Bouvier, bur. 260, Québec, QC, G2J 1C2, Canada
6
Canadian Wildlife Service, Environment Canada, Sainte-Foy, QC, G1V 3W5, Canada
7
Department of Natural Resource Sciences, Macdonald Campus, McGill University, 21111 Lakeshore Road, Ste-Anne-de-Bellevue, QC, H9X 3V9, Canada
8
University of Maine, School of Biology and Ecology, Orono, ME 04469, USA
9
Regroupement QuébecOiseaux, Montréal, QC, H1V 3R2, Canada
10
Ouranos, Montréal, QC, H3A 1B9, Canada
11
Parks Canada, Gatineau, QC, K1A 0M5, Canada
12
Forest Research Branch, Ministry of Natural Resources and Wildlife, Québec, QC, G1P 3W8, Canada
13
Ecological Heritage Branch and Parks, Ministry of Sustainable Development, Environment and Parks, Québec, QC, G1R 5V7, Canada
14
St. Lawrence Valley Natural History Society, Ste-Anne-de-Bellevue, QC, H9X 3Y7, Canada
15
Laboratory of Alpine Ecology, UMR CNRS 5553, Université Joseph Fourier, 38041, Grenoble, France
16
Council for Science and Technology, Montréal, QC, H3A 2S9, Canada
*
Author to whom correspondence should be addressed.
Received: 25 September 2010 / Accepted: 9 November 2010 / Published: 19 November 2010
Abstract
Anticipating the effects of climate change on biodiversity is now critical for managing wild species and ecosystems. Climate change is a global driver and thus affects biodiversity globally. However, land-use planners and natural resource managers need regional or even local predictions. This provides scientists with formidable challenges given the poor documentation of biodiversity and its complex relationships with climate. We are approaching this problem in Quebec, Canada, through the CC-Bio Project (http://cc‑bio.uqar.ca/), using a boundary organization as a catalyst for team work involving climate modelers, biologists, naturalists, and biodiversity managers. In this paper we present the CC-Bio Project and its general approach, some preliminary results, the emerging hypothesis of the northern biodiversity paradox (a potential increase of biodiversity in northern ecosystems due to climate change), and an early assessment of the conservation implications generated by our team work.
View Full-Text
►

▼

Figures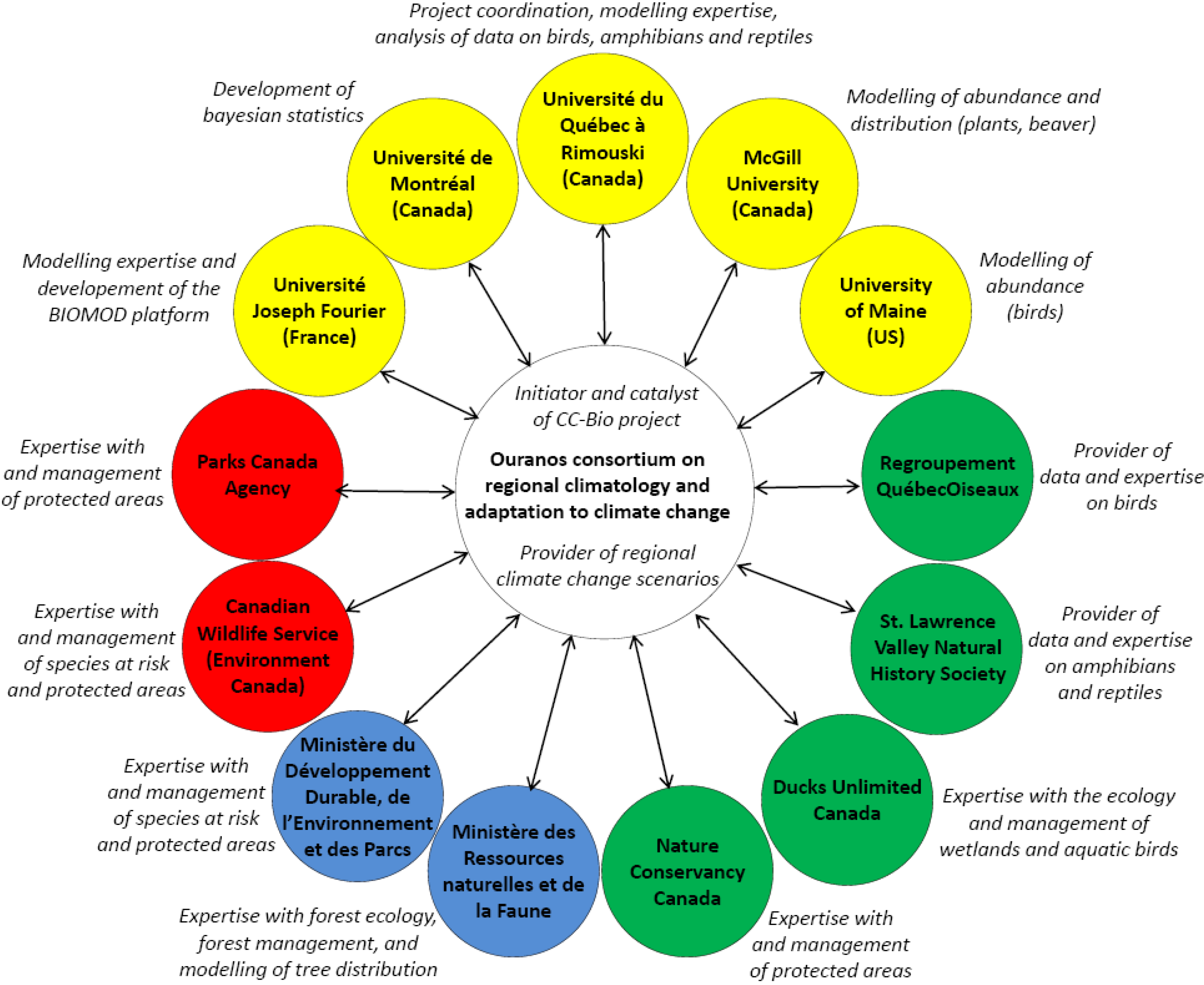 Figure 1
Share & Cite This Article
MDPI and ACS Style
Berteaux, D.; Blois, S.; Angers, J.-F.; Bonin, J.; Casajus, N.; Darveau, M.; Fournier, F.; Humphries, M.M.; McGill, B.; Larivée, J.; Logan, T.; Nantel, P.; Périé, C.; Poisson, F.; Rodrigue, D.; Rouleau, S.; Siron, R.; Thuiller, W.; Vescovi, L. The CC-Bio Project: Studying the Effects of Climate Change on Quebec Biodiversity. Diversity 2010, 2, 1181-1204.
Comments
[Return to top]