Signals of Systemic Immunity in Plants: Progress and Open Questions
1
Plant Protection Institute, Centre for Agricultural Research, Hungarian Academy of Sciences, 15 Herman Ottó út, H-1022 Budapest, Hungary
2
Phytophthora Research Centre, Department of Forest Protection and Wildlife Management, Faculty of Forestry and Wood Technology, Mendel University in Brno, Zemědělská 3, 613 00 Brno, Czech Republic
*
Author to whom correspondence should be addressed.
Received: 15 February 2018 / Revised: 28 March 2018 / Accepted: 31 March 2018 / Published: 10 April 2018
Abstract
Systemic acquired resistance (SAR) is a defence mechanism that induces protection against a wide range of pathogens in distant, pathogen-free parts of plants after a primary inoculation. Multiple mobile compounds were identified as putative SAR signals or important factors for influencing movement of SAR signalling elements in
Arabidopsis
and tobacco. These include compounds with very different chemical structures like lipid transfer protein DIR1 (DEFECTIVE IN INDUCED RESISTANCE1), methyl salicylate (MeSA), dehydroabietinal (DA), azelaic acid (AzA), glycerol-3-phosphate dependent factor (G3P) and the lysine catabolite pipecolic acid (Pip). Genetic studies with different SAR-deficient mutants and silenced lines support the idea that some of these compounds (MeSA, DIR1 and G3P) are activated only when SAR is induced in darkness. In addition, although AzA doubled in phloem exudate of
tobacco mosaic virus
(TMV) infected tobacco leaves, external AzA treatment could not induce resistance neither to viral nor bacterial pathogens, independent of light conditions. Besides light intensity and timing of light exposition after primary inoculation, spectral distribution of light could also influence the SAR induction capacity. Recent data indicated that TMV and CMV (
cucumber mosaic virus
) infection in tobacco, like bacteria in
Arabidopsis,
caused massive accumulation of Pip. Treatment of tobacco leaves with Pip in the light, caused a drastic and significant local and systemic decrease in lesion size of TMV infection. Moreover, two very recent papers, added in proof, demonstrated the role of FMO1 (FLAVIN-DEPENDENT-MONOOXYGENASE1) in conversion of Pip to
N
-hydroxypipecolic acid (NHP). NHP systemically accumulates after microbial attack and acts as a potent inducer of plant immunity to bacterial and oomycete pathogens in
Arabidopsis
. These results argue for the pivotal role of Pip and NHP as an important signal compound of SAR response in different plants against different pathogens.
View Full-Text
►

▼

Figures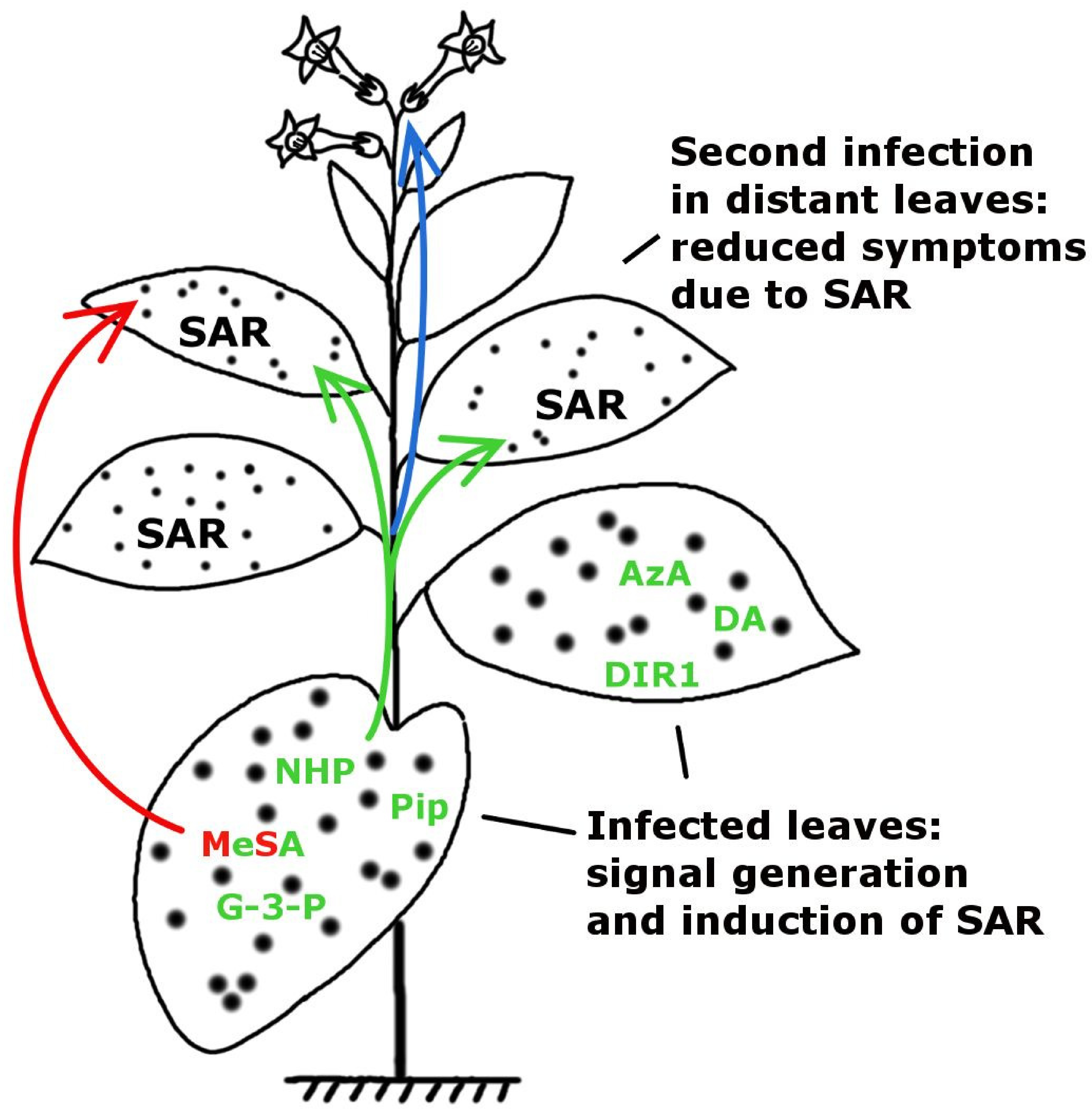 This is an open access article distributed under the
Creative Commons Attribution License
which permits unrestricted use, distribution, and reproduction in any medium, provided the original work is properly cited. (CC BY 4.0).
Share & Cite This Article
MDPI and ACS Style
Ádám, A.L.; Nagy, Z.Á.; Kátay, G.; Mergenthaler, E.; Viczián, O. Signals of Systemic Immunity in Plants: Progress and Open Questions. Int. J. Mol. Sci. 2018, 19, 1146.
Note that from the first issue of 2016, MDPI journals use article numbers instead of page numbers. See further details here.
Related Articles
Comments
[Return to top]