Discovery of Cryoprotective Activity in Human Genome-Derived Intrinsically Disordered Proteins
1
Laboratory of Structural Molecular Pharmacology, Graduate School of Pharmaceutical Sciences, Nagoya University, Furo-cho, Chikusa-ku, Nagoya, Aichi 464-8601, Japan
2
Department of Computer Science and Communications Engineering, Waseda University, Okubo, Shinjuku-ku, Tokyo 169-8555, Japan
3
Faculty of Engineering, Maebashi Institute of Technology, Maebashi 371-0816, Japan
4
Graduate School of Informatics, Nagoya University, Furo-cho, Chikusa-ku, Nagoya, Aichi 464-8601, Japan
5
The Structural Biology Research Center and Division of Biological Science, Graduate School of Science, Nagoya University, Furo-cho, Chikusa-ku, Nagoya, Aichi 464-8601, Japan
*
Author to whom correspondence should be addressed.
Received: 20 December 2017 / Revised: 17 January 2018 / Accepted: 22 January 2018 / Published: 30 January 2018
Abstract
Intrinsically disordered proteins (IDPs) are an emerging phenomenon. They may have a high degree of flexibility in their polypeptide chains, which lack a stable 3D structure. Although several biological functions of IDPs have been proposed, their general function is not known. The only finding related to their function is the genetically conserved YSK
2
motif present in plant dehydrins. These proteins were shown to be IDPs with the YSK
2
motif serving as a core region for the dehydrins' cryoprotective activity. Here we examined the cryoprotective activity of randomly selected IDPs toward the model enzyme lactate dehydrogenase (LDH). All five IDPs that were examined were in the range of 35–45 amino acid residues in length and were equally potent at a concentration of 50 μg/mL, whereas folded proteins, the PSD-95/Dlg/ZO-1 (PDZ) domain, and lysozymes had no potency. We further examined their cryoprotective activity toward glutathione
S
-transferase as an example of the other enzyme, and toward enhanced green fluorescent protein as a non-enzyme protein example. We further examined the lyophilization protective activity of the peptides toward LDH, which revealed that some IDPs showed a higher activity than that of bovine serum albumin (BSA). Based on these observations, we propose that cryoprotection is a general feature of IDPs. Our findings may become a clue to various industrial applications of IDPs in the future.
View Full-Text
►

▼

Figures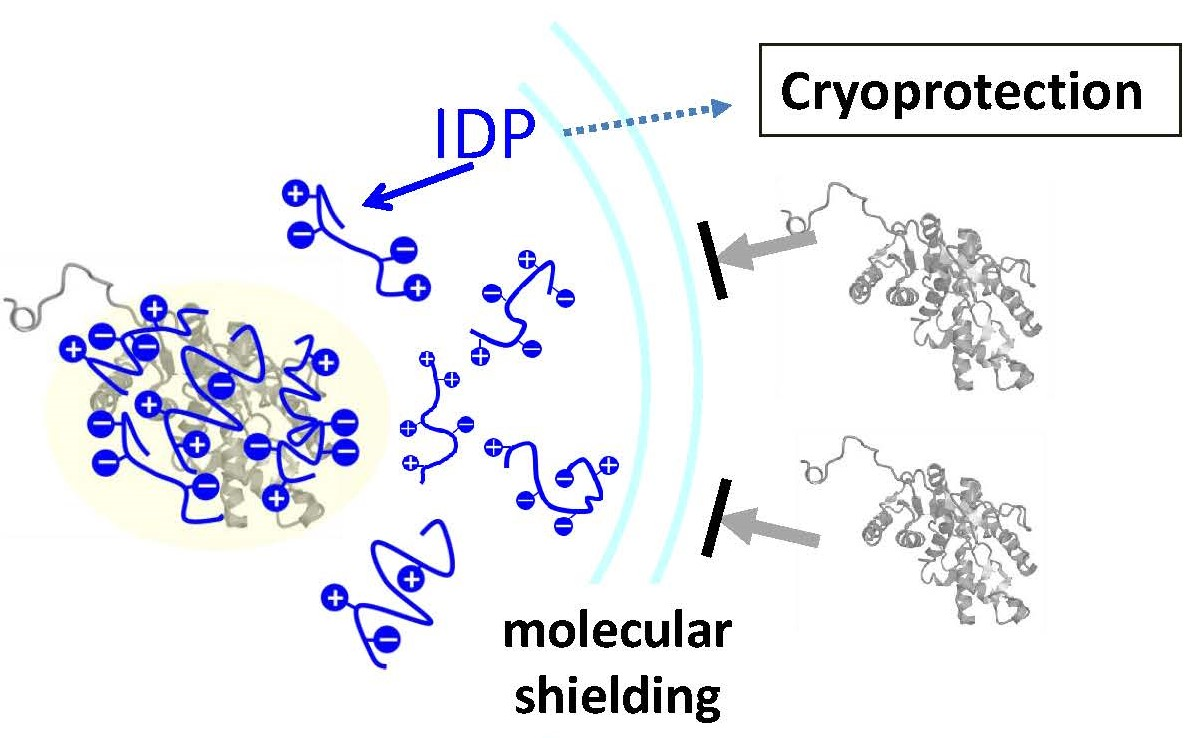 This is an open access article distributed under the
Creative Commons Attribution License
which permits unrestricted use, distribution, and reproduction in any medium, provided the original work is properly cited. (CC BY 4.0).
Share & Cite This Article
MDPI and ACS Style
Matsuo, N.; Goda, N.; Shimizu, K.; Fukuchi, S.; Ota, M.; Hiroaki, H. Discovery of Cryoprotective Activity in Human Genome-Derived Intrinsically Disordered Proteins. Int. J. Mol. Sci. 2018, 19, 401.
Note that from the first issue of 2016, MDPI journals use article numbers instead of page numbers. See further details here.
Related Articles
Comments
[Return to top]