Exhaled Breath Metabolomics for the Diagnosis of Pneumonia in Intubated and Mechanically-Ventilated Intensive Care Unit (ICU)-Patients
1
Department of Intensive Care, Academic Medical Centre, Meibergdreef 9, 1105 AZ Amsterdam, The Netherlands
2
Philips Research, 5656 AE Eindhoven, The Netherlands
†
These authors contributed equally to this work.
‡
Complete list of members of the Molecular Diagnosis and Risk Stratification of Sepsis (MARS) consortium: Peter Klein Klouwenberg, Jos Frencken, Roosmarijn van Hooijdonk, Michaela Huson, Laura Schouten, M. Straat, Lonneke van Vught, Maryse Wiewel, Esther Witteveen, Gerie Glas, Friso de Beer, Janneke Horn, Marc Bonten, David Ong, Tom van der Poll, Olaf Cremer and Luuk Wieske.
*
Author to whom correspondence should be addressed.
Academic Editor: Francesco B. Blasi
Received: 27 December 2016 / Revised: 3 February 2017 / Accepted: 15 February 2017 / Published: 19 February 2017
Abstract
The diagnosis of hospital-acquired pneumonia remains challenging. We hypothesized that analysis of volatile organic compounds (VOCs) in exhaled breath could be used to diagnose pneumonia or the presence of pathogens in the respiratory tract in intubated and mechanically-ventilated intensive care unit patients. In this prospective, single-centre, cross-sectional cohort study breath from mechanically ventilated patients was analysed using gas chromatography-mass spectrometry. Potentially relevant VOCs were selected with a
p
-value < 0.05 and an area under the receiver operating characteristics curve (AUROC) above 0.7. These VOCs were used for principal component analysis and partial least square discriminant analysis (PLS-DA). AUROC was used as a measure of accuracy. Ninety-three patients were included in the study. Twelve of 145 identified VOCs were significantly altered in patients with pneumonia compared to controls. In colonized patients, 52 VOCs were significantly different. Partial least square discriminant analysis classified patients with modest accuracy (AUROC: 0.73 (95% confidence interval (CI): 0.57–0.88) after leave-one-out cross-validation). For determining the colonization status of patients, the model had an AUROC of 0.69 (95% CI: 0.57–0.82) after leave-one-out cross-validation. To conclude, exhaled breath analysis can be used to discriminate pneumonia from controls with a modest to good accuracy. Furthermore breath profiling could be used to predict the presence and absence of pathogens in the respiratory tract. These findings need to be validated externally.
View Full-Text
►

▼

Figures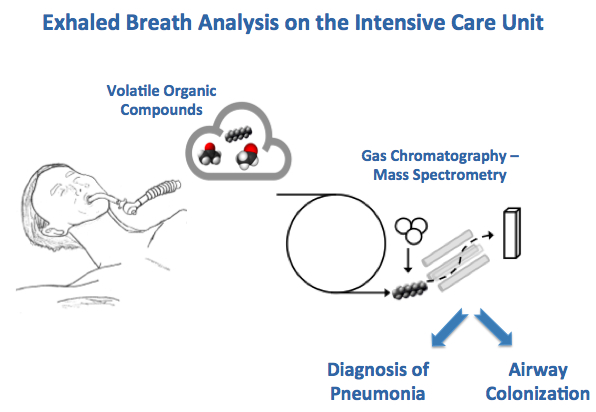 This is an open access article distributed under the
Creative Commons Attribution License
which permits unrestricted use, distribution, and reproduction in any medium, provided the original work is properly cited. (CC BY 4.0).
Share & Cite This Article
MDPI and ACS Style
van Oort, P.M.P.; de Bruin, S.; Weda, H.; Knobel, H.H.; Schultz, M.J.; Bos, L.D.; On Behalf of the MARS Consortium. Exhaled Breath Metabolomics for the Diagnosis of Pneumonia in Intubated and Mechanically-Ventilated Intensive Care Unit (ICU)-Patients. Int. J. Mol. Sci. 2017, 18, 449.
Note that from the first issue of 2016, MDPI journals use article numbers instead of page numbers. See further details here.
Related Articles
Comments
[Return to top]