Determination of VEGFR-2 (KDR) 604A>G Polymorphism in Pancreatic Disorders
1
Department of Internal Medicine, University of Medicine and Pharmacy of Craiova, 2 Petru Rares Street, 200349 Craiova, Romania
2
Department of Immunology, University of Medicine and Pharmacy of Craiova, 2 Petru Rares Street, 200349 Craiova, Romania
3
Medico Science SRL—Stem Cell Bank Unit, 1B Brazda lui Novac Street, 200690 Craiova, Romania
4
Human Genomics Laboratory, University of Medicine and Pharmacy of Craiova, 2 Petru Rares Street, 200349 Craiova, Romania
5
Maria Bogdan, Department of Pharmacology, University of Medicine and Pharmacy of Craiova, 2 Petru Rares Street, 200349 Craiova, Romania
6
Department of Anatomy, University of Medicine and Pharmacy of Craiova, 2 Petru Rares Street, 200349 Craiova, Romania
7
Department of Medico-Surgical Emergencies, University of Medicine and Pharmacy of Craiova, 2 Petru Rares Street, 200349 Craiova, Romania
8
Faculty of Nursing and Midwifery, University of Medicine and Pharmacy of Craiova, 2 Petru Rares Street, 200349 Craiova, Romania
9
Department of Medical Informatics and Biostatistics, University of Medicine and Pharmacy of Craiova, 2 Petru Rares Street, 200349 Craiova, Romania
10
Department of Surgery, University of Medicine and Pharmacy of Craiova, 2 Petru Rares Street, 200349 Craiova, Romania
11
Department of Pediatrics, University of Medicine and Pharmacy of Craiova, 2 Petru Rares Street, 200349 Craiova, Romania
12
Department of Plastic Surgery, University of Medicine and Pharmacy of Craiova, 2 Petru Rares Street, 200349 Craiova, Romania
13
Research Center of Gastroenterology and Hepatology Craiova, University of Medicine and Pharmacy of Craiova, 2 Petru Rares Street, 200349 Craiova, Romania
14
Visiting Clinical Professor, Gastrointestinal Unit, Copenhagen University Hospital Herlev, 2730 Herlev, Denmark
*
Author to whom correspondence should be addressed.
Academic Editor: Jaya Padmanabhan
Received: 15 December 2016 / Accepted: 3 February 2017 / Published: 17 February 2017
Abstract
Pancreatic disorders have a high prevalence worldwide. Despite the fact that screening methods became more effective and the knowledge we have nowadays about pancreatic diseases has enhanced, their incidence remains high. Our purpose was to determine whether single nucleotide polymorphism (SNP) of VEGFR-2/KDR (vascular endothelial growth factor receptor 2/kinase insert domain receptor) influences susceptibility to develop pancreatic pathology. Genomic DNA was extracted from blood samples collected from patients diagnosed with acute pancreatitis (
n
= 110), chronic pancreatitis (
n
= 25), pancreatic cancer (
n
= 82) and healthy controls (
n
= 232). VEGFR-2 (KDR) 604A>G (rs2071559) polymorphism frequency was determined with TaqMan allelic discrimination assays. Statistical assessment was performed by associating genetic polymorphism with clinical and pathological data. In both pancreatic disorders and healthy control groups the polymorphism we studied was in Hardy-Weinberg equilibrium. Association between increased risk for pancreatic disorders and studied polymorphism was statistically significant. KDR 604AG and AG + GG genotypes were more prevalent in acute pancreatitis and pancreatic cancer patients than in controls. These genotypes influence disease development in a low rate. No association was found between chronic pancreatitis and KDR 604AG and AG + GG genotypes. In Romanian cohort, we found an association between the KDR 604A→
G
polymorphism and acute pancreatitis and pancreatic cancer. Carriers of the -604G variant allele were more frequent among acute pancreatitis and pancreatic cancer than among controls, suggesting that KDR 604G allele may confer an increased risk for these diseases. In the future, more extensive studies on larger groups are necessary, in order to clarify the role of VEGFR2 polymorphisms in pancreatic pathology.
View Full-Text
►

▼

Figures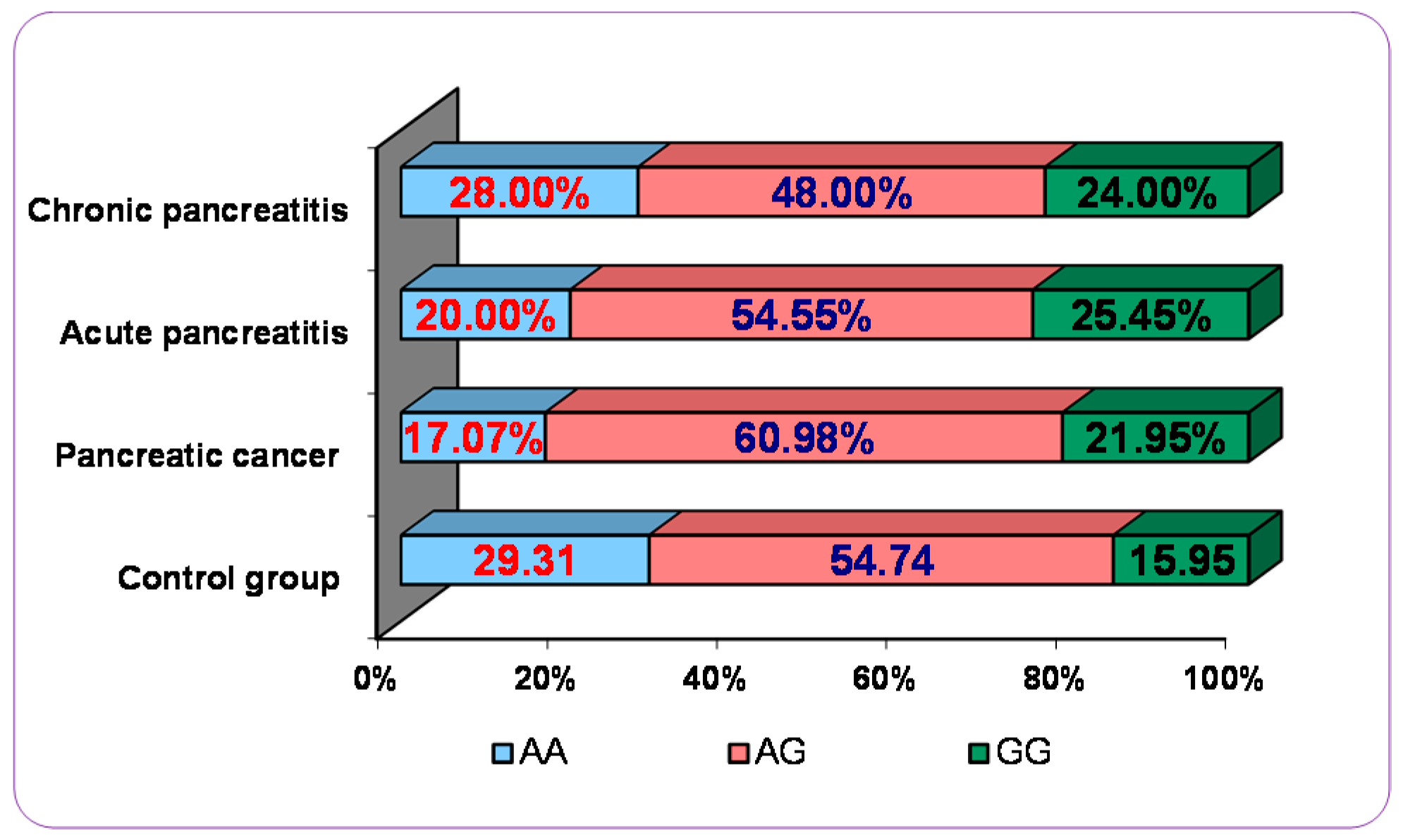 Figure 1
This is an open access article distributed under the
Creative Commons Attribution License
which permits unrestricted use, distribution, and reproduction in any medium, provided the original work is properly cited. (CC BY 4.0).
Share & Cite This Article
MDPI and ACS Style
Pădureanu, V.; Boldeanu, M.V.; Streaţă, I.; Cucu, M.G.; Siloşi, I.; Boldeanu, L.; Bogdan, M.; Enescu, A.Ş.; Forţofoiu, M.; Enescu, A.; Dumitrescu, E.M.; Alexandru, D.; Şurlin, V.M.; Forţofoiu, M.C.; Petrescu, I.O.; Petrescu, F.; Ioana, M.; Ciurea, M.E.; Săftoiu, A. Determination of VEGFR-2 (KDR) 604A>G Polymorphism in Pancreatic Disorders. Int. J. Mol. Sci. 2017, 18, 439.
Note that from the first issue of 2016, MDPI journals use article numbers instead of page numbers. See further details here.
Related Articles
Comments
[Return to top]