Property Characterization and Photocatalytic Activity Evaluation of BiGdO3 Nanoparticles under Visible Light Irradiation
State Key Laboratory of Pollution Control and Resource Reuse, School of the Environment, Nanjing University, Nanjing 210093, China
*
Author to whom correspondence should be addressed.
Academic Editor: Kevin D. Belfield
Received: 13 July 2016 / Revised: 13 July 2016 / Accepted: 23 August 2016 / Published: 8 September 2016
Abstract
BiGdO
3
nanoparticles were prepared by a solid-state reaction method and applied in photocatalytic degradation of dyes in this study. BiGdO
3
was characterized by X-ray powder diffraction, X-ray photoelectron spectroscopy, scanning electron microscopy, Brunauer-Emmett-Teller, UV-Vis diffuse reflectance spectroscopy and transmission electron microscopy. The results showed that BiGdO
3
crystallized well with the fluorite-type structure, a face-centered cubic crystal system and a space group
Fm3m 225
. The lattice parameter of BiGdO
3
was 5.465 angstrom. The band gap of BiGdO
3
was estimated to be 2.25 eV. BiGdO
3
showed a strong optical absorption during the visible light region. Moreover, the photocatalytic activity of BiGdO
3
was evaluated by photocatalytic degradation of direct dyes in aqueous solution under visible light irradiation. BiGdO
3
demonstrated excellent photocatalytic activity in degrading Direct Orange 26 (DO-26) or Direct Red 23 (DR-23) under visible light irradiation. The photocatalytic degradation of DO-26 or DR-23 followed the first-order reaction kinetics, and the first-order rate constant was 0.0046 or 0.0023 min
−1
with BiGdO
3
as catalyst. The degradation intermediates of DO-26 were observed and the possible photocatalytic degradation pathway of DO-26 under visible light irradiation was provided. The effect of various operational parameters on the photocatalytic activity and the stability of BiGdO
3
particles were also discussed in detail. BiGdO
3
/(visible light) photocatalysis system was confirmed to be suitable for textile industry wastewater treatment.
View Full-Text
►

▼

Figures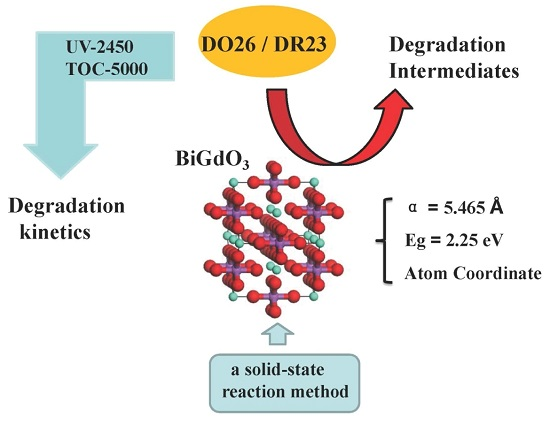 This is an open access article distributed under the
Creative Commons Attribution License
which permits unrestricted use, distribution, and reproduction in any medium, provided the original work is properly cited. (CC BY 4.0).
Share & Cite This Article
MDPI and ACS Style
Luan, J.; Shen, Y.; Zhang, L.; Guo, N. Property Characterization and Photocatalytic Activity Evaluation of BiGdO3 Nanoparticles under Visible Light Irradiation. Int. J. Mol. Sci. 2016, 17, 1441.
Note that from the first issue of 2016, MDPI journals use article numbers instead of page numbers. See further details here.
Related Articles
Comments
[Return to top]