Towards Effective Photothermal/Photodynamic Treatment Using Plasmonic Gold Nanoparticles
1
Research Institute for Fundamental and Clinical Uronephrology, Saratov State Medical University, n.a. V.I. Razumovsky, 410012 Saratov, Russia
2
Research-Education Institute of Optics and Biophotonics, Saratov National Research State University, 410012 Saratov, Russia
3
Institute of Precision Mechanics and Control, RAS, 410028 Saratov, Russia
4
Artphotonics GmbH, 12489 Berlin, Germany
5
Optoelectronics and Measurement Techniques Laboratory, University of Oulu, 90014 Oulu, Finland
6
Institute of Analytical and Bioanalytical Chemistry, Ulm University, 89081 Ulm, Germany
7
Department of Biology, Saratov National Research State University, 410012 Saratov, Russia
8
Institute of Biochemistry and Physiology of Plants and Microorganisms, RAS, 410049 Saratov, Russia
9
Department of Nano- and Biomedical Technologies, Saratov National Research State University, 410012 Saratov, Russia
10
Interdisciplinary Laboratory of Biophotonics, National Research Tomsk State University, 634050 Tomsk, Russia
*
Author to whom correspondence should be addressed.
Academic Editor: Vladimir Sivakov
Received: 13 June 2016 / Revised: 22 July 2016 / Accepted: 29 July 2016 / Published: 9 August 2016
Abstract
Gold nanoparticles (AuNPs) of different size and shape are widely used as photosensitizers for cancer diagnostics and plasmonic photothermal (PPT)/photodynamic (PDT) therapy, as nanocarriers for drug delivery and laser-mediated pathogen killing, even the underlying mechanisms of treatment effects remain poorly understood. There is a need in analyzing and improving the ways to increase accumulation of AuNP in tumors and other crucial steps in interaction of AuNPs with laser light and tissues. In this review, we summarize our recent theoretical, experimental, and pre-clinical results on light activated interaction of AuNPs with tissues and cells. Specifically, we discuss a combined PPT/PDT treatment of tumors and killing of pathogen bacteria with gold-based nanocomposites and atomic clusters, cell optoporation, and theoretical simulations of nanoparticle-mediated laser heating of tissues and cells.
View Full-Text
►

▼

Figures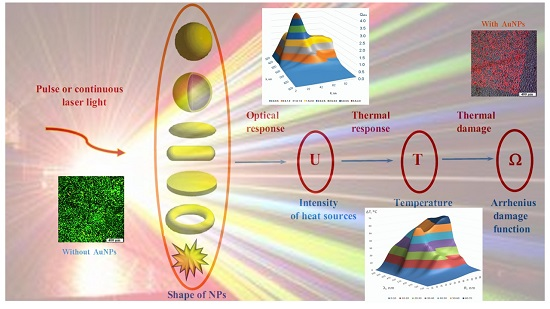 This is an open access article distributed under the
Creative Commons Attribution License
which permits unrestricted use, distribution, and reproduction in any medium, provided the original work is properly cited. (CC BY 4.0).
Share & Cite This Article
MDPI and ACS Style
Bucharskaya, A.; Maslyakova, G.; Terentyuk, G.; Yakunin, A.; Avetisyan, Y.; Bibikova, O.; Tuchina, E.; Khlebtsov, B.; Khlebtsov, N.; Tuchin, V. Towards Effective Photothermal/Photodynamic Treatment Using Plasmonic Gold Nanoparticles. Int. J. Mol. Sci. 2016, 17, 1295.
Note that from the first issue of 2016, MDPI journals use article numbers instead of page numbers. See further details here.
Related Articles
Comments
[Return to top]