Profilings of MicroRNAs in the Liver of Common Carp (Cyprinus carpio) Infected with Flavobacterium columnare
1
Shandong Freshwater Fisheries Research Institute, Jinan 250013, China
2
Shandong Provincial Key Laboratory of Freshwater Genetics and Breeding, Jinan 250013, China
3
Shandong Provincial Freshwater Aquatic Products Quality Inspection Center, Jinan 250013, China
4
Key Lab of Freshwater Animal Breeding, Ministry of Agriculture, Huazhong Agricultural University, Wuhan 430070, China
5
Department of Aquatic Animal Medicine, College of Fisheries, Huazhong Agricultural University, Wuhan 430070, China
*
Authors to whom correspondence should be addressed.
Academic Editor: Jun Li
Received: 14 January 2016 / Revised: 20 March 2016 / Accepted: 8 April 2016 / Published: 15 April 2016
Abstract
MicroRNAs (miRNAs) play important roles in regulation of many biological processes in eukaryotes, including pathogen infection and host interactions.
Flavobacterium columnare
(FC) infection can cause great economic loss of common carp (
Cyprinus carpio
) which is one of the most important cultured fish in the world. However, miRNAs in response to FC infection in common carp has not been characterized. To identify specific miRNAs involved in common carp infected with FC, we performed microRNA sequencing using livers of common carp infected with and without FC. A total of 698 miRNAs were identified, including 142 which were identified and deposited in the miRbase database (Available online:
http://www.mirbase.org/
) and 556 had only predicted miRNAs. Among the deposited miRNAs, eight miRNAs were first identified in common carp. Thirty of the 698 miRNAs were differentially expressed miRNAs (DIE-miRNAs) between the FC infected and control samples. From the DIE-miRNAs, seven were selected randomly and their expression profiles were confirmed to be consistent with the microRNA sequencing results using RT-PCR and qRT-PCR. In addition, a total of 27,363 target genes of the 30 DIE-miRNAs were predicted. The target genes were enriched in five Kyoto Encyclopedia of Genes and Genomes (KEGG) pathways, including focal adhesion, extracellular matrix (ECM)-receptor interaction, erythroblastic leukemia viral oncogene homolog (ErbB) signaling pathway, regulation of actin cytoskeleton, and adherent junction. The miRNA expression profile of the liver of common carp infected with FC will pave the way for the development of effective strategies to fight against FC infection.
View Full-Text
►

▼

Figures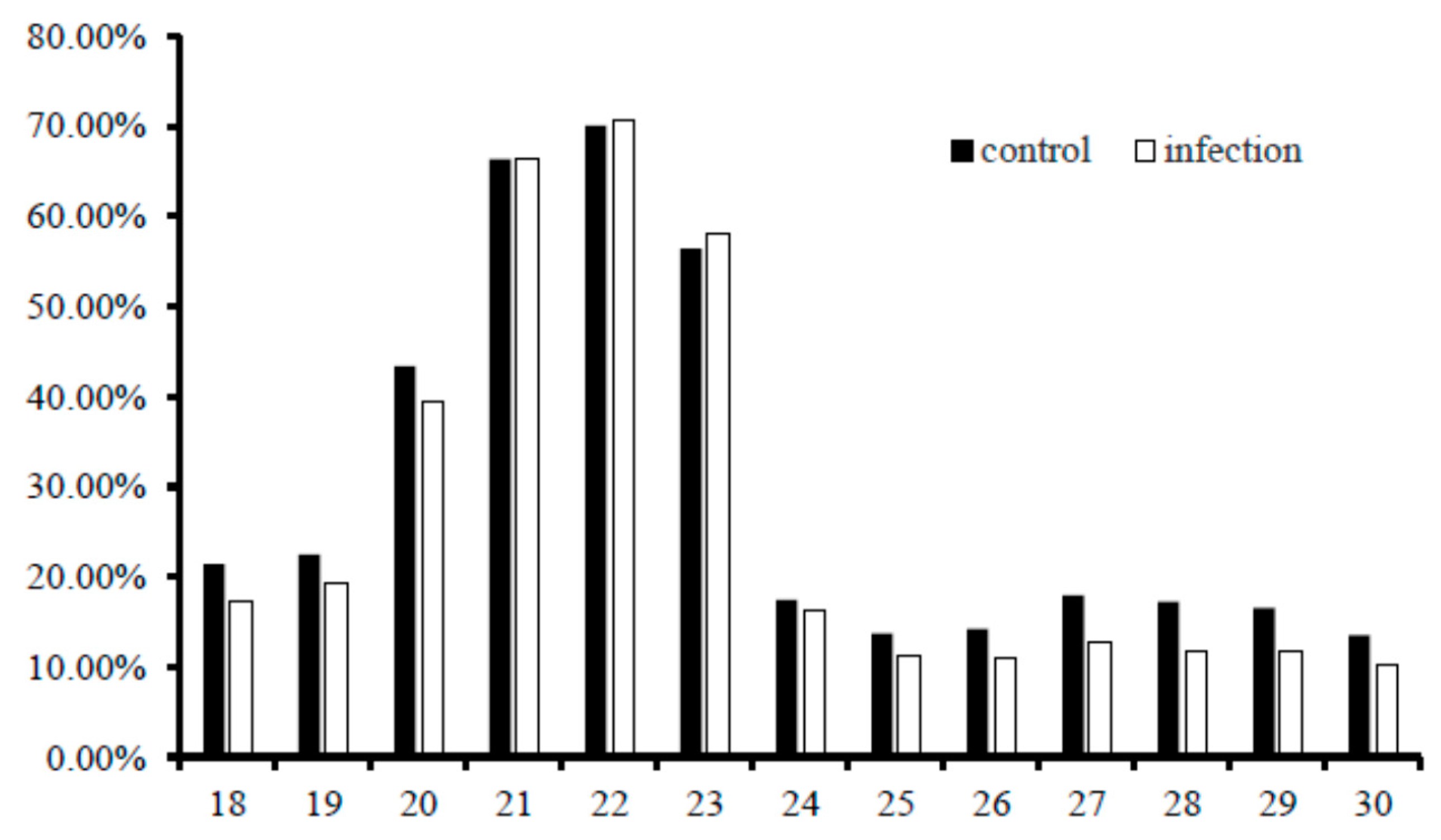 Figure 1
This is an open access article distributed under the
Creative Commons Attribution License
which permits unrestricted use, distribution, and reproduction in any medium, provided the original work is properly cited. (CC BY 4.0).
Share & Cite This Article
MDPI and ACS Style
Zhao, L.; Lu, H.; Meng, Q.; Wang, J.; Wang, W.; Yang, L.; Lin, L. Profilings of MicroRNAs in the Liver of Common Carp (Cyprinus carpio) Infected with Flavobacterium columnare. Int. J. Mol. Sci. 2016, 17, 566.
Note that from the first issue of 2016, MDPI journals use article numbers instead of page numbers. See further details here.
Related Articles
Comments
[Return to top]