Identification, Functional Study, and Promoter Analysis of HbMFT1, a Homolog of MFT from Rubber Tree (Hevea brasiliensis)
1
College of Agronomy, Hainan University, Haikou 570228, China
2
Key Laboratory of Rubber Biology of the Ministry of Agriculture, Rubber Research Institute, Chinese Academy of Tropical Agricultural Sciences, Danzhou 571737, China
3
College of Environment and Plant Protection, Hainan University, Haikou 570228, China
*
Authors to whom correspondence should be addressed.
Academic Editor: Gian-Pietro Di Sansebastiano
Received: 1 January 2016 / Revised: 2 February 2016 / Accepted: 2 February 2016 / Published: 2 March 2016
Abstract
A homolog of
MOTHER OF FT AND TFL1
(
MFT
) was isolated from
Hevea
brasiliensis
and its biological function was investigated. Protein multiple sequence alignment and phylogenetic analysis revealed that
HbMFT1
conserved critical amino acid residues to distinguish MFT, FLOWERING LOCUS T (FT) and TERMINAL FLOWER1 (TFL1)-like proteins and showed a closer genetic relationship to the
MFT
-like group. The accumulation of
HbMFT1
was generally detected in various tissues except pericarps, with the highest expression in embryos and relatively higher expression in roots and stems of seedlings, flowering inflorescences, and male and female flowers.
HbMFT1
putative promoter analysis showed that tissue-specific, environmental change responsive and hormone-signaling responsive elements were generally present.
HbMFT1
was strongly induced under a short-day condition at 28 °C, with the highest expression after the onset of a day. Overexpression of
HbMFT1
inhibited seed germination, seedling growth, and flowering in transgenic
Arabidopsis
. The qRT-PCR further confirmed that
APETALA1
(
AP1
) and
FRUITFULL
(
FUL
) were drastically down-regulated in 35S::
HbMFT1
plants. A histochemical β-glucuronidase (GUS) assay showed that HbMFT1::GUS activity was mainly detected in stamens and mature seeds coinciding with its original expression and notably induced in rosette leaves and seedlings of transgenic
Arabidopsis
by exogenous abscisic acid (ABA) due to the presence of ABA
cis
-elements in
HbMFT1
promoter. These results suggested that
HbMFT1
was mainly involved in maintenance of seed maturation and stamen development, but negatively controlled germination, growth and development of seedlings and flowering. In addition, the
HbMFT1
promoter can be utilized in controlling transgene expression in stamens and seeds of rubber tree or other plant species.
View Full-Text
►

▼

Figures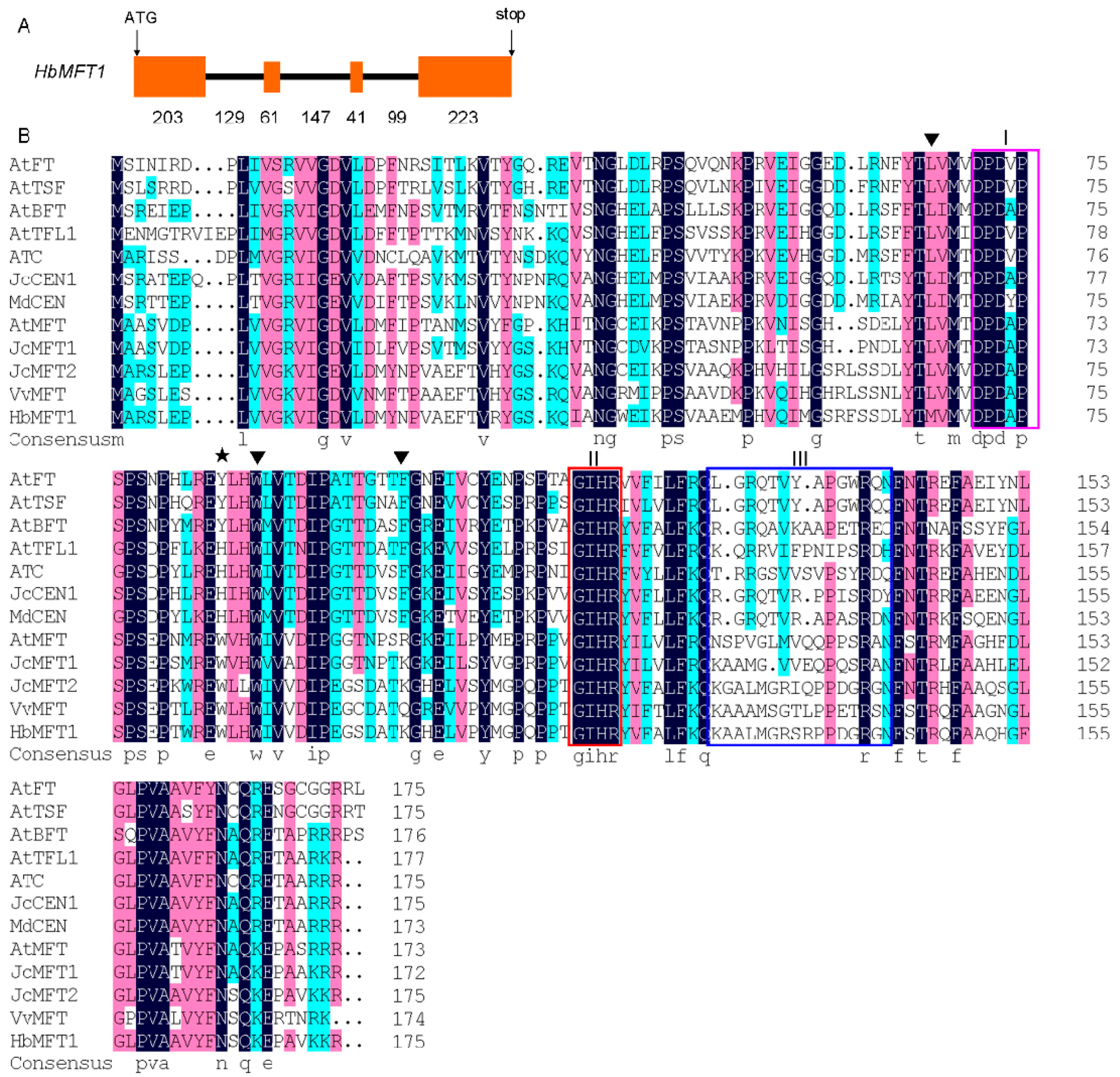 Figure 1
This is an open access article distributed under the
Creative Commons Attribution License
which permits unrestricted use, distribution, and reproduction in any medium, provided the original work is properly cited. (CC BY 4.0).
Share & Cite This Article
MDPI and ACS Style
Bi, Z.; Li, X.; Huang, H.; Hua, Y. Identification, Functional Study, and Promoter Analysis of HbMFT1, a Homolog of MFT from Rubber Tree (Hevea brasiliensis). Int. J. Mol. Sci. 2016, 17, 247.
Note that from the first issue of 2016, MDPI journals use article numbers instead of page numbers. See further details here.
Related Articles
Comments
[Return to top]