Focal Adhesion Kinase-Dependent Role of the Soluble Form of Neurotensin Receptor-3/Sortilin in Colorectal Cancer Cell Dissociation
Centre National de la Recherche Scientifique, Institut de Pharmacologie Moléculaire et Cellulaire, UMR 7275, Université Côte d'Azur, 660 route des Lucioles, 06560 Valbonne, France
*
Author to whom correspondence should be addressed.
Academic Editor: Atsushi Matsuzawa
Received: 3 October 2016 / Revised: 28 October 2016 / Accepted: 4 November 2016 / Published: 8 November 2016
Abstract
The aim of the present review is to unravel the mechanisms of action of the soluble form of the neurotensin (NT) receptor-3 (NTSR3), also called Sortilin, in numerous physiopathological processes including cancer development, cardiovascular diseases and depression. Sortilin/NTSR3 is a transmembrane protein thought to exert multiple functions both intracellularly and at the level of the plasma membrane. The Sortilin/NTSR3 extracellular domain is released by shedding from all the cells expressing the protein. Although the existence of the soluble form of Sortilin/NTSR3 (sSortilin/NTSR3) has been evidenced for more than 10 years, the studies focusing on the role of this soluble protein at the mechanistic level remain rare. Numerous cancer cells, including colonic cancer cells, express the receptor family of neurotensin (NT), and particularly Sortilin/NTSR3. This review aims to summarize the functional role of sSortilin/NTSR3 characterized in the colonic cancer cell line HT29. This includes mechanisms involving signaling cascades through focal adhesion kinase (FAK), a key pathway leading to the weakening of cell–cell and cell–extracellular matrix adhesions, a series of events which could be responsible for cancer metastasis. Finally, some future approaches targeting the release of sNTSR3 through the inhibition of matrix metalloproteases (MMPs) are suggested.
View Full-Text
►

▼

Figures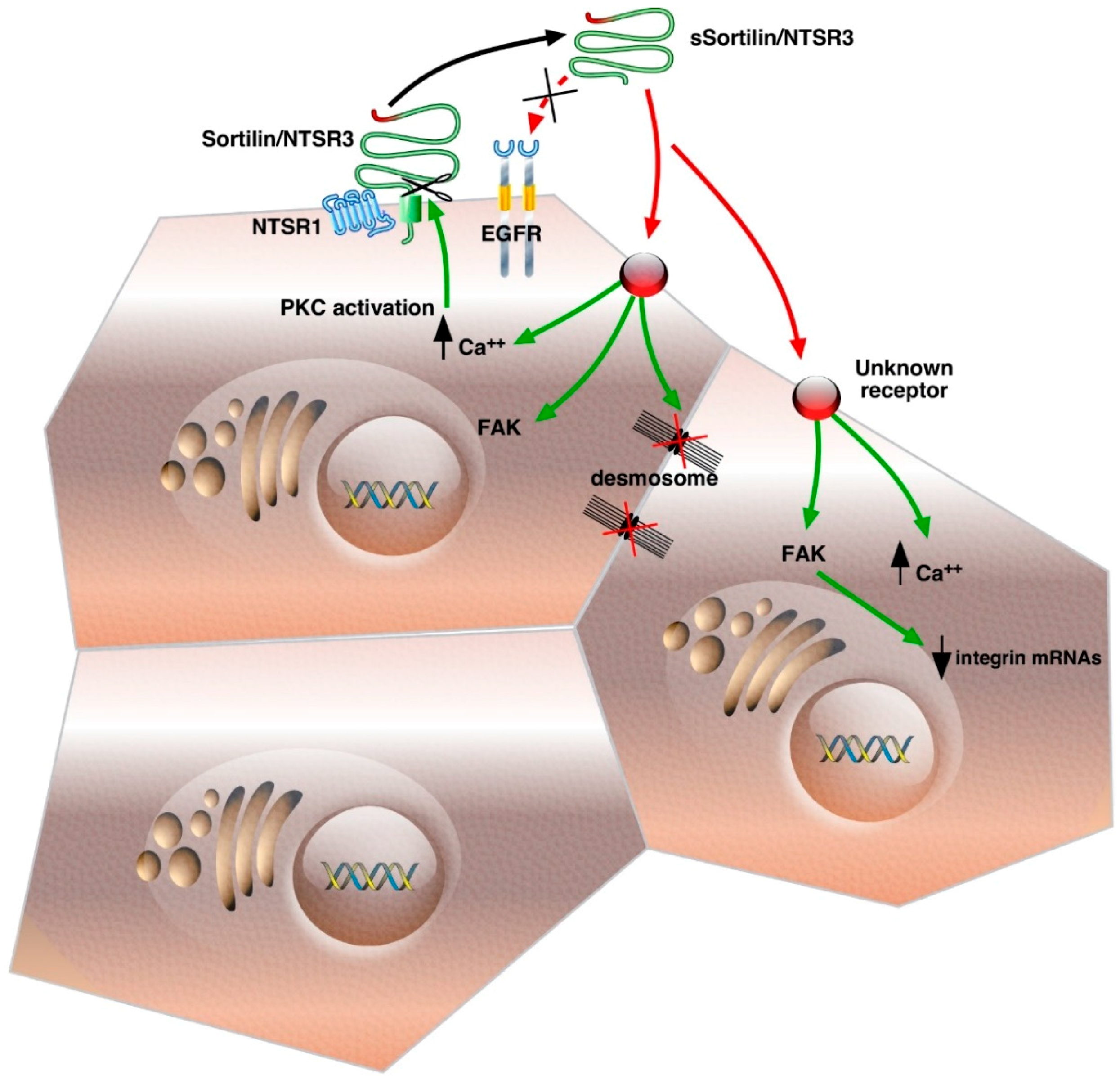 Figure 1
This is an open access article distributed under the
Creative Commons Attribution License
which permits unrestricted use, distribution, and reproduction in any medium, provided the original work is properly cited. (CC BY 4.0).
Share & Cite This Article
MDPI and ACS Style
Béraud-Dufour, S.; Devader, C.; Massa, F.; Roulot, M.; Coppola, T.; Mazella, J. Focal Adhesion Kinase-Dependent Role of the Soluble Form of Neurotensin Receptor-3/Sortilin in Colorectal Cancer Cell Dissociation. Int. J. Mol. Sci. 2016, 17, 1860.
Note that from the first issue of 2016, MDPI journals use article numbers instead of page numbers. See further details here.
Related Articles
Comments
[Return to top]