Fumaric Acid Esters Do Not Reduce Inflammatory NF-κB/p65 Nuclear Translocation, ICAM-1 Expression and T-Cell Adhesiveness of Human Brain Microvascular Endothelial Cells
Department of Neurology, University of Würzburg, Josef-Schneider-Str. 11, Würzburg 97080, Germany
*
Author to whom correspondence should be addressed.
Academic Editor: Sven Meuth
Received: 1 June 2015 / Revised: 31 July 2015 / Accepted: 10 August 2015 / Published: 13 August 2015
Abstract
Dimethyl fumarate (DMF) is approved for disease-modifying treatment of patients with relapsing-remitting multiple sclerosis. Animal experiments suggested that part of its therapeutic effect is due to a reduction of T-cell infiltration of the central nervous system (CNS) by uncertain mechanisms. Here we evaluated whether DMF and its primary metabolite monomethyl fumarate (MMF) modulate pro-inflammatory intracellular signaling and T-cell adhesiveness of nonimmortalized single donor human brain microvascular endothelial cells at low passages. Neither DMF nor MMF at concentrations of 10 or 50 µM blocked the IL-1β-induced nuclear translocation of NF-κB/p65, whereas the higher concentration of DMF inhibited the nuclear entry of p65 in human umbilical vein endothelium cultured in parallel. DMF and MMF also did not alter the IL-1β-stimulated activation of p38 MAPK in brain endothelium. Furthermore, neither DMF nor MMF reduced the basal or IL-1β-inducible expression of ICAM-1. In accordance, both fumaric acid esters did not reduce the adhesion of activated Jurkat T cells to brain endothelium under basal or inflammatory conditions. Therefore, brain endothelial cells probably do not directly mediate a potential blocking effect of fumaric acid esters on the inflammatory infiltration of the CNS by T cells.
View Full-Text
►

▼

Figures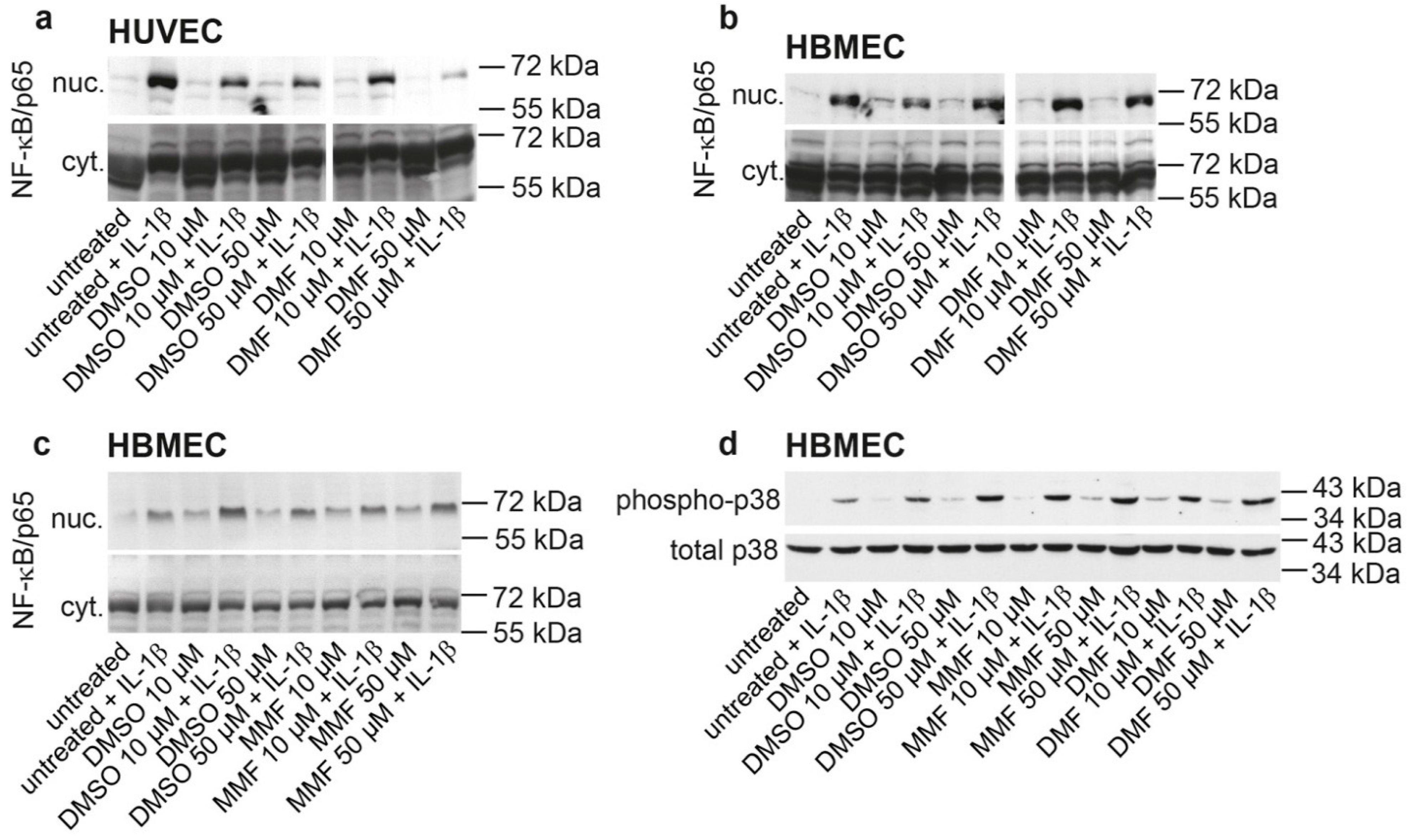 Figure 1
This is an open access article distributed under the
Creative Commons Attribution License
which permits unrestricted use, distribution, and reproduction in any medium, provided the original work is properly cited. (CC BY 4.0).
Share & Cite This Article
MDPI and ACS Style
Haarmann, A.; Nehen, M.; Deiß, A.; Buttmann, M. Fumaric Acid Esters Do Not Reduce Inflammatory NF-κB/p65 Nuclear Translocation, ICAM-1 Expression and T-Cell Adhesiveness of Human Brain Microvascular Endothelial Cells. Int. J. Mol. Sci. 2015, 16, 19086-19095.
Related Articles
Comments
[Return to top]