MicroRNA-214 and MicroRNA-126 Are Potential Biomarkers for Malignant Endothelial Proliferative Diseases
1
Department of Veterinary Clinical Oncology, Faculty of Applied Biological Sciences, Gifu University, Gifu 501-1193, Japan
2
United Graduate School of Veterinary Sciences, Gifu University, Gifu 501-1193, Japan
3
Laboratory of Veterinary Pathology, Department of Veterinary Medicine, Faculty of Applied Biological Sciences, Gifu University, Gifu 501-1193, Japan
4
United Graduate School of Drug Discovery and Medical Information Sciences, Gifu 501-1193, Japan
5
Laboratory of Veterinary Surgery, Graduate School of Agricultural and Life Sciences, The University of Tokyo, Bunkyo-ku, Tokyo 113-8657, Japan
6
Cooperative Department of Veterinary Medicine, Faculty of Agriculture, Iwate University, Morioka, Iwate 020-8550, Japan
7
Department of Molecular Diagnostics, School of Allied Health Sciences, Kitasato University, Sagamihara, Kanagawa 252-0373, Japan
†
These authors contributed equally to this work.
*
Author to whom correspondence should be addressed.
Academic Editors: Nalini Santanam and William Chi-shing Cho
Received: 20 September 2015 / Revised: 12 October 2015 / Accepted: 20 October 2015 / Published: 23 October 2015
Abstract
Malignant endothelial proliferative diseases including human angiosarcoma (AS) and canine hemangiosarcoma (HSA) are serious diseases with a grave prognosis. Establishing liquid biopsy-based biomarkers for screening has definite clinical utility; however, plasma miRNAs up- or down-regulated in these sarcomas have been unclear. For identifying possible diagnostic plasma miRNAs for these sarcomas, we investigated whether plasma miR-214 and miR-126, which miRNAs play important roles in angiogenesis and tumorigenesis, were elevated in malignant endothelial proliferative diseases. For this investigation, human angiosarcoma and canine hemangiosarcoma cell lines and clinical plasma samples of canine hemangiosarcoma were examined by performing miRNA qRT-PCR. We report here that human angiosarcoma and canine hemangiosarcoma cell lines over-secreted miR-214 and miR-126 via microvesicles; in addition, their levels in the plasma samples from canines with hemangiosarcoma were increased. Moreover, the surgical resection of primary tumors decreased the levels of plasma miR-214 and miR-126. Our findings suggest that these malignant endothelial proliferative diseases over-secreted miR-214 and miR-126, thus suggesting that these miRNAs have potential as diagnostic biomarkers for malignant endothelial proliferative diseases in canine and possible in human angiosarcoma.
View Full-Text
►

▼

Figures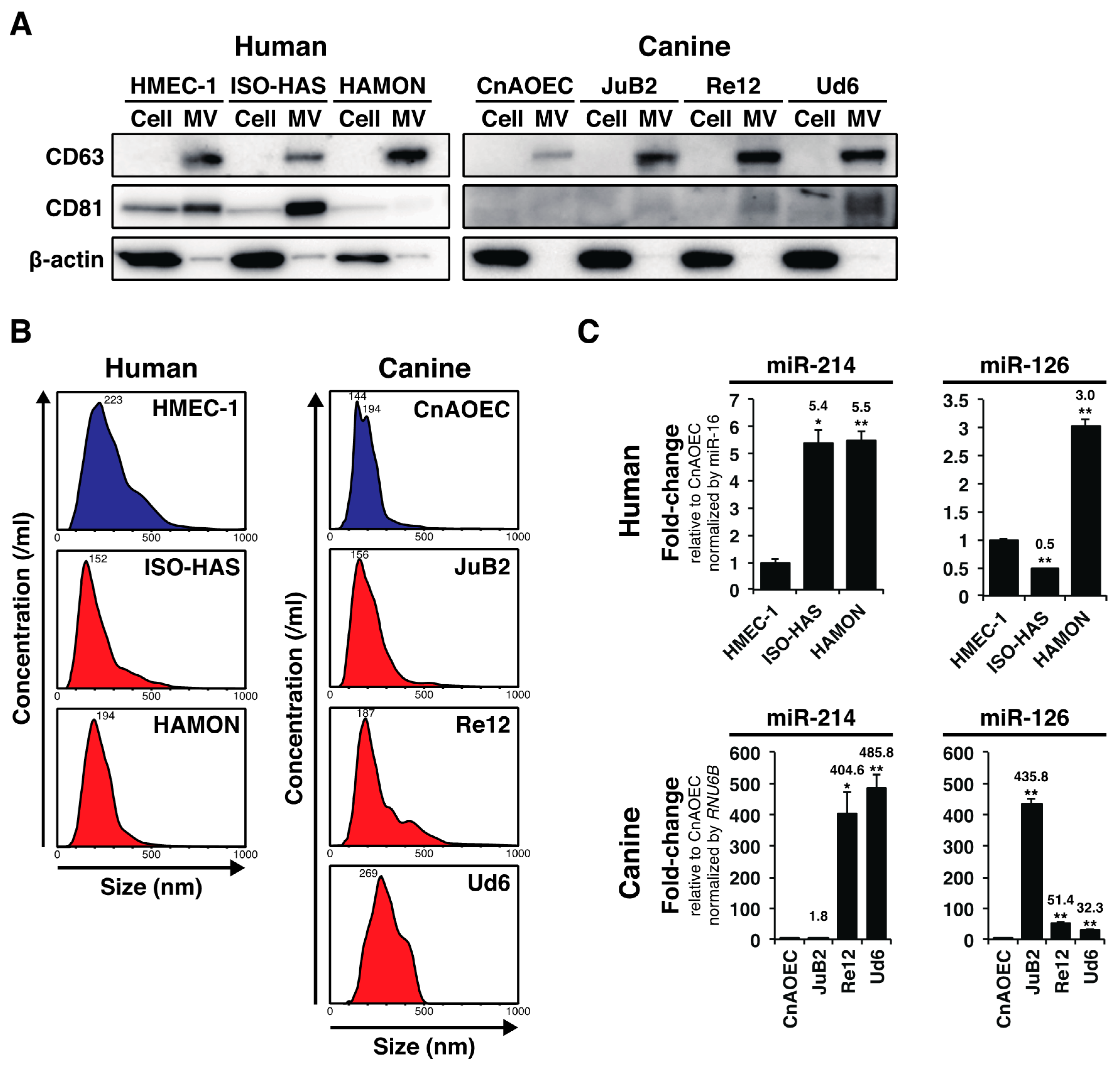 Figure 1
This is an open access article distributed under the
Creative Commons Attribution License
which permits unrestricted use, distribution, and reproduction in any medium, provided the original work is properly cited. (CC BY 4.0).
Share & Cite This Article
MDPI and ACS Style
Heishima, K.; Mori, T.; Ichikawa, Y.; Sakai, H.; Kuranaga, Y.; Nakagawa, T.; Tanaka, Y.; Okamura, Y.; Masuzawa, M.; Sugito, N.; Murakami, M.; Yamada, N.; Akao, Y.; Maruo, K. MicroRNA-214 and MicroRNA-126 Are Potential Biomarkers for Malignant Endothelial Proliferative Diseases. Int. J. Mol. Sci. 2015, 16, 25377-25391.
Related Articles
Comments
[Return to top]