Syk/JNK/AP-1 Signaling Pathway Mediates Interleukin-6-Promoted Cell Migration in Oral Squamous Cell Carcinoma
1
Department of Medical Laboratory Science and Biotechnology, China Medical University, Taichung 402, Taiwan
2
Department of Biotechnology, College of Health Science, Asia University, Taichung 402, Taiwan
3
Department of Pathology, China Medical University Hospital, Taichung 402, Taiwan
4
Department of Otolaryngology, China Medical University Hospital, Taichung 402, Taiwan
5
Graduate Institute of Basic Medical Science, China Medical University, Taichung 402, Taiwan
6
Department of Pharmacology, School of Medicine, China Medical University, Taichung 402, Taiwan
†
These authors equally contributed to this work.
*
Author to whom correspondence should be addressed.
Received: 5 November 2013 / Revised: 20 December 2013 / Accepted: 23 December 2013 / Published: 6 January 2014
Abstract
Oral squamous cell carcinoma (OSCC) typically migrates and metastasizes. Interleukin-6 (IL-6) is a multifunctional cytokine associated with disease status and cancer outcomes. The effect of IL-6 on human OSCC cells, however, is unknown. Here, we showed that IL-6 increased cell migration and Intercellular adhesion molecule-1 (ICAM-1) expression in OSCC cells. Pretreatment of OSCC cells with IL-6R monoclonal antibody (mAb) significantly abolished IL-6-induced cell migration and ICAM-1 expression. By contrast, IL-6-mediated cell motility and ICAM-1 upregulation were attenuated by the Syk and c-Jun
N
-terminal kinase (JNK) inhibitors. Stimulation of OSCC cells with IL-6 promoted Syk and JNK phosphorylation. Furthermore, IL-6 enhanced AP-1 activity, and the IL-6R mAb, Syk inhibitor, or JNK inhibitor all reduced IL-6-mediated c-Jun phosphorylation, c-Jun binding to the ICAM-1 promoter, and c-Jun translocation into the nucleus. Our results indicate that IL-6 enhances the migration of OSCC cells by increasing ICAM-1 expression through the IL-6R receptor and the Syk, JNK, and AP-1 signal transduction pathways.
View Full-Text
►

▼

Figures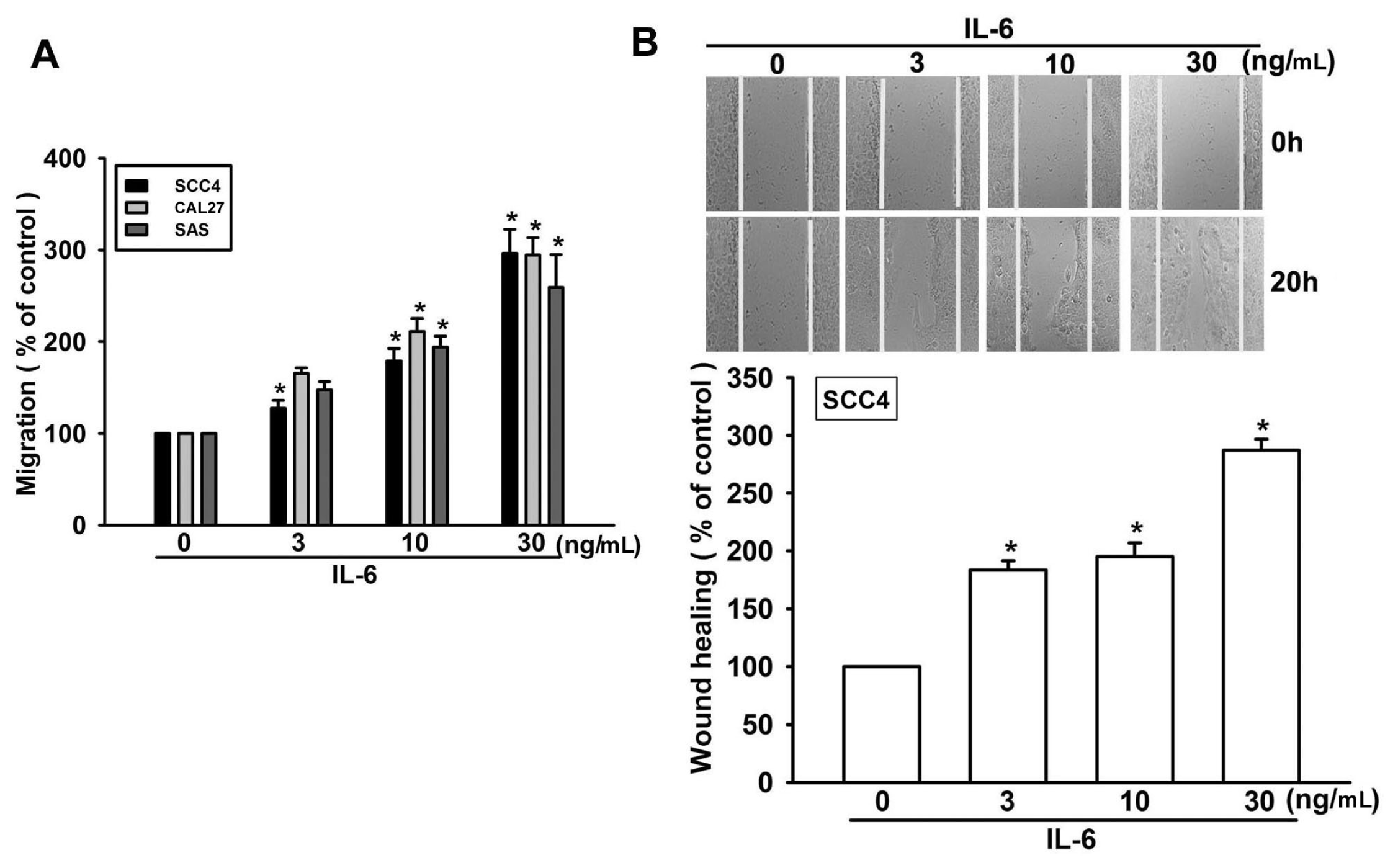 Share & Cite This Article
MDPI and ACS Style
Chuang, J.-Y.; Huang, Y.-L.; Yen, W.-L.; Chiang, I.-P.; Tsai, M.-H.; Tang, C.-H. Syk/JNK/AP-1 Signaling Pathway Mediates Interleukin-6-Promoted Cell Migration in Oral Squamous Cell Carcinoma. Int. J. Mol. Sci. 2014, 15, 545-559.
Related Articles
Comments
[Return to top]