Amplification Target ADRM1: Role as an Oncogene and Therapeutic Target for Ovarian Cancer
1
Division of Hematology-Oncology, Department of Medicine, Jonsson Comprehensive Cancer Center, University of California at Los Angeles, Los Angeles, CA 90095, USA
2
Department of Biological Chemistry, David Geffen School of Medicine, University of California Los Angeles, Los Angeles, CA 90095, USA
*
Author to whom correspondence should be addressed.
Received: 16 January 2013 / Revised: 25 January 2013 / Accepted: 28 January 2013 / Published: 1 February 2013
Abstract
Approximately 25,000 ovarian cancers are diagnosed in the U.S. annually, and 75% are in the advanced stage and largely incurable. There is critical need for early detection tools and novel treatments. Proteasomal ubiquitin receptor
ADRM1
is a protein that is encoded by the
ADRM1
gene. Recently, we showed that among 20q13-amplified genes in ovarian cancer,
ADRM1
overexpression was the most highly correlated with amplification and was significantly upregulated with respect to stage, recurrence, and metastasis. Its overexpression correlated significantly with shorter time to recurrence and overall survival. Array-CGH and microarray expression of ovarian cancer cell lines provided evidence consistent with primary tumor data that
ADRM1
is a 20q13 amplification target. Herein, we confirm the
ADRM1
amplicon in a second ovarian cancer cohort and define a minimally amplified region of 262 KB encompassing seven genes. Additionally, using RNAi knock-down of
ADRM1
in naturally amplified cell line OAW42 and overexpression of
ADRM1
via transfection in ES2, we show that (1)
ADRM1
overexpression increases proliferation, migration, and growth in soft agar, and (2) knock-down of
ADRM1
results in apoptosis. Proteomic analysis of cells with
ADRM1
knock-down reveals dysregulation of proteins including CDK-activating kinase assembly factor
MAT1
. Taken together, the results indicate that amplified
ADRM1
is involved in cell proliferation, migration and survival in ovarian cancer cells, supporting a role as an oncogene and novel therapeutic target for ovarian cancer.
View Full-Text
►

▼

Figures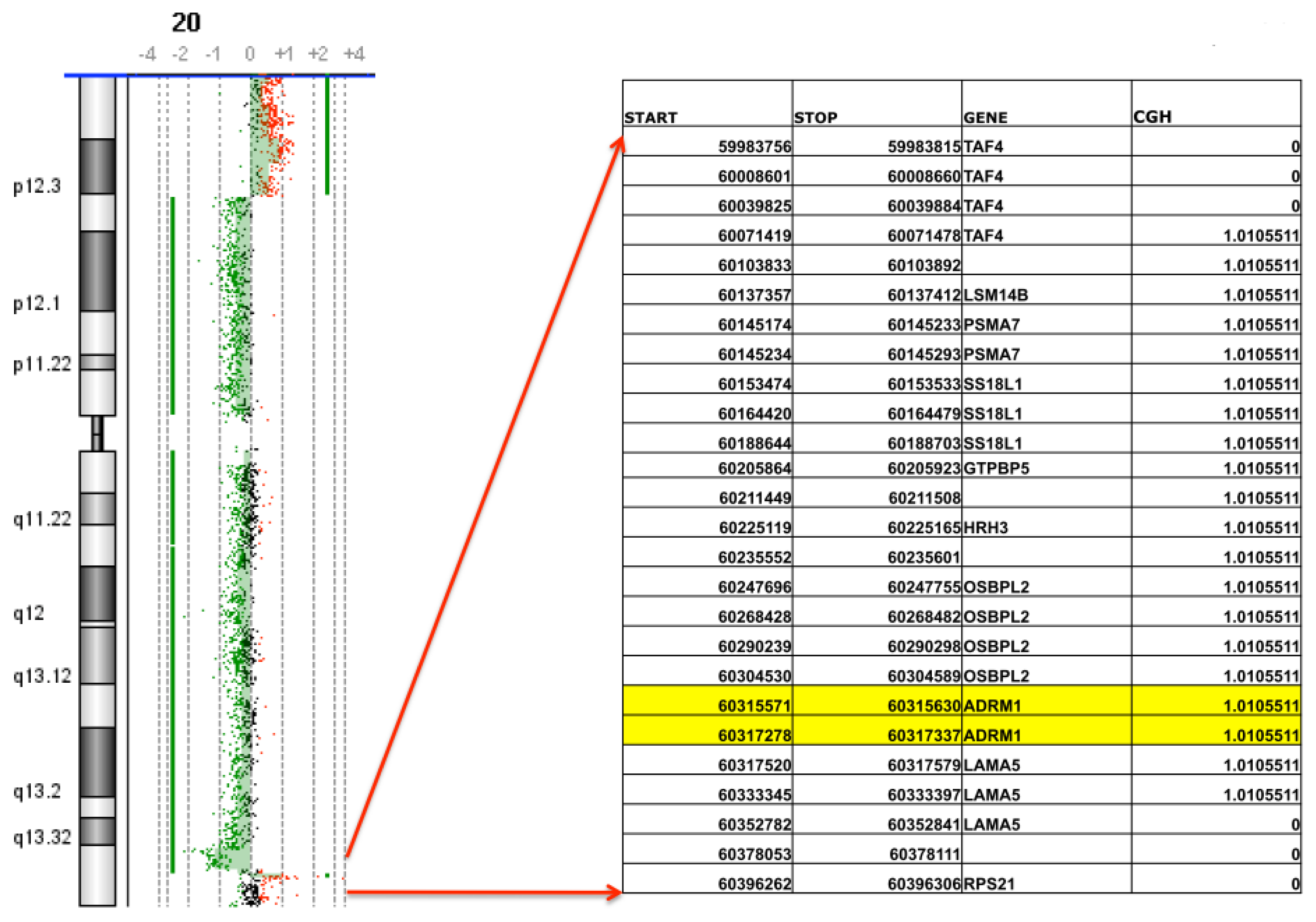 Share & Cite This Article
MDPI and ACS Style
Fejzo, M.S.; Anderson, L.; von Euw, E.M.; Kalous, O.; Avliyakulov, N.K.; Haykinson, M.J.; Konecny, G.E.; Finn, R.S.; Slamon, D.J. Amplification Target ADRM1: Role as an Oncogene and Therapeutic Target for Ovarian Cancer. Int. J. Mol. Sci. 2013, 14, 3094-3109.
Related Articles
Comments
[Return to top]