Mitochondrial Adaptations to Oxidative Stress Confer Resistance to Apoptosis in Lymphoma Cells
Department of Pathology, University of Arizona, Tucson, AZ 85724-5043, USA
*
Author to whom correspondence should be addressed.
Received: 12 June 2012 / Revised: 7 August 2012 / Accepted: 14 August 2012 / Published: 16 August 2012
Abstract
Acquired resistance to drugs commonly used for lymphoma treatment poses a significant barrier to improving lymphoma patient survival. Previous work with a lymphoma tissue culture model indicates that selection for resistance to oxidative stress confers resistance to chemotherapy-induced apoptosis. This suggests that adaptation to chronic oxidative stress can contribute to chemoresistance seen in lymphoma patients. Oxidative stress-resistant WEHI7.2 cell variants in a lymphoma tissue culture model exhibit a range of apoptosis sensitivities. We exploited this phenotype to test for mitochondrial changes affecting sensitivity to apoptosis in cells made resistant to oxidative stress. We identified impaired release of cytochrome
c
, and the intermembrane proteins adenylate kinase 2 and Smac/DIABLO, indicating inhibition of the pathway leading to permeabilization of the outer mitochondrial membrane. Blunting of a glucocorticoid-induced signal and intrinsic mitochondrial resistance to cytochrome
c
release contributed to both points of resistance. The level of Bcl-2 family members or a difference in Bim induction were not contributing factors. The extent of cardiolipin oxidation following dexamethasone treatment, however, did correlate with apoptosis resistance. The differences found in the variants were all proportionate to the degree of resistance to glucocorticoid treatment. We conclude that tolerance to oxidative stress leads to mitochondrial changes that confer resistance to apoptosis.
View Full-Text
►

▼

Figures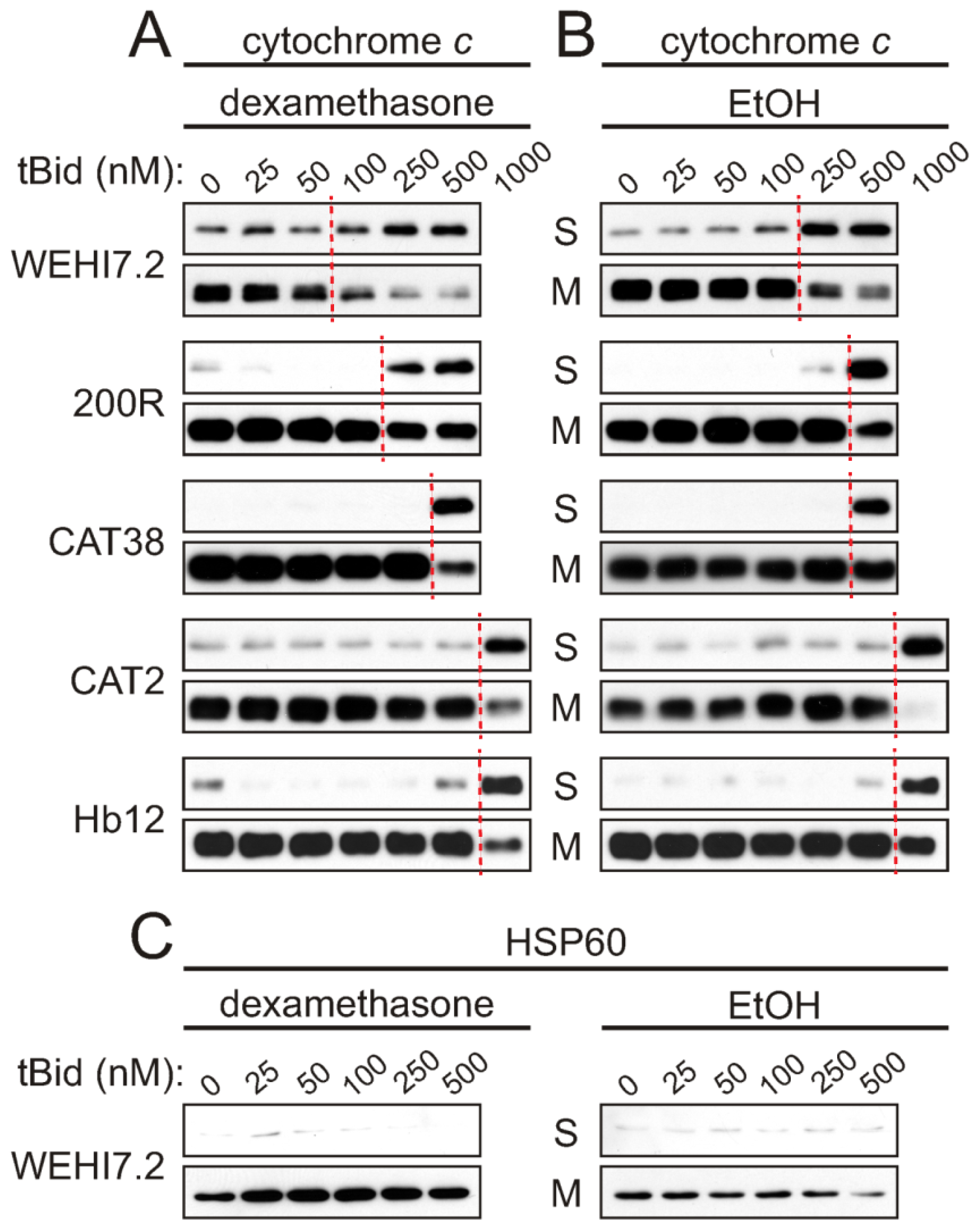 Share & Cite This Article
MDPI and ACS Style
Wilkinson, S.T.; Tome, M.E.; Briehl, M.M. Mitochondrial Adaptations to Oxidative Stress Confer Resistance to Apoptosis in Lymphoma Cells. Int. J. Mol. Sci. 2012, 13, 10212-10228.
Related Articles
Comments
[Return to top]