Supercritical Fluid Extraction of Eucalyptus globulus Bark—A Promising Approach for Triterpenoid Production
1
CICECO, Department of Chemistry, University of Aveiro, Aveiro, 3810-193, Portugal
2
REQUIMTE, Department of Chemistry, Faculty of Science and Technology, New University of Lisbon, Caparica, 2829-516, Portugal
*
Author to whom correspondence should be addressed.
Received: 10 May 2012 / Revised: 30 May 2012 / Accepted: 8 June 2012 / Published: 21 June 2012
Abstract
Eucalyptus bark contains significant amounts of triterpenoids with demonstrated bioactivity, namely triterpenic acids and their acetyl derivatives (ursolic, betulinic, oleanolic, betulonic, 3-acetylursolic, and 3-acetyloleanolic acids). In this work, the supercritical fluid extraction (SFE) of
Eucalyptus
globulus
deciduous bark was carried out with pure and modified carbon dioxide to recover this fraction, and the results were compared with those obtained by Soxhlet extraction with dichloromethane. The effects of pressure (100–200 bar), co-solvent (ethanol) content (0, 5 and 8% wt), and multistep operation were studied in order to evaluate the applicability of SFE for their selective and efficient production. The individual extraction curves of the main families of compounds were measured, and the extracts analyzed by GC-MS. Results pointed out the influence of pressure and the important role played by the co-solvent. Ethanol can be used with advantage, since its effect is more important than increasing pressure by
several tens of bar. At 160 bar and 40 °C, the introduction of 8% (wt) of ethanol greatly improves the yield of triterpenoids more than threefold.
View Full-Text
►

▼

Figures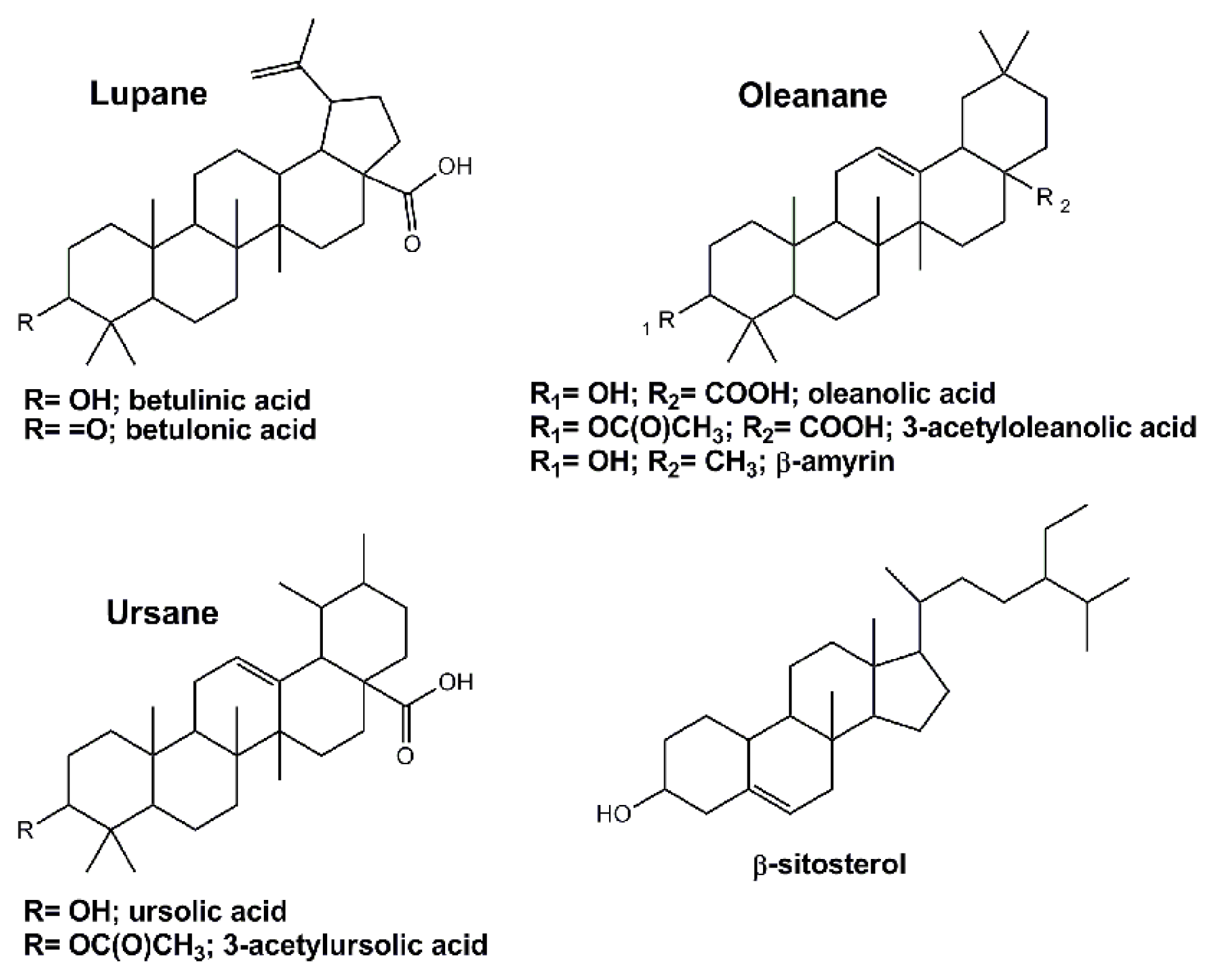 Share & Cite This Article
MDPI and ACS Style
Domingues, R.M.A.; Oliveira, E.L.G.; Freire, C.S.R.; Couto, R.M.; Simões, P.C.; Neto, C.P.; Silvestre, A.J.D.; Silva, C.M. Supercritical Fluid Extraction of Eucalyptus globulus Bark—A Promising Approach for Triterpenoid Production. Int. J. Mol. Sci. 2012, 13, 7648-7662.
Related Articles
Comments
[Return to top]