A Comparative Study on the Mechanical, Thermal and Morphological Characterization of Poly(lactic acid)/Epoxidized Palm Oil Blend
1
Department of Chemistry, Faculty of Science, University Putra Malaysia, UPM Serdang, Selangor 43400, Malaysia
2
Chemistry Department, Center for Defence Foundation Studies, National Defence University of Malaysia, Kuala Lumpur 57000, Malaysia
3
Advanced Oleochemical Technology Division, Malaysian Palm Oil Board, Bandar Baru Bangi 43650, Malaysia
*
Authors to whom correspondence should be addressed.
Received: 29 March 2012 / Revised: 24 April 2012 / Accepted: 8 May 2012 / Published: 16 May 2012
Abstract
In this work, poly(lactic acid) (PLA) a fully biodegradable thermoplastic polymer matrix was melt blended with three different epoxidized palm oil (EPO). The aim of this research was to enhance the flexibility, mechanical and thermal properties of PLA. The blends were prepared at various EPO contents of 1, 2, 3, 4 and 5 wt% and characterized. The SEM analysis evidenced successful modification on the neat PLA brittle morphology. Tensile tests indicate that the addition of 1 wt% EPO is sufficient to improve the strength and flexibility compared to neat PLA. Additionally, the flexural and impact properties were also enhanced. Further, DSC analysis showed that the addition of EPO results in a decrease in T
g
, which implies an increase in the PLA chain mobility. In the presence of 1 wt% EPO, TGA results revealed significant increase in the thermal stability by 27%. Among the three EPOs used, EPO(3) showed the best mechanical and thermal properties compared to the other EPO's, with an optimum loading of 1 wt%. Conclusively, EPO showed a promising outcome to overcome the brittleness and improve the overall properties of neat PLA, thus can be considered as a potential plasticizer.
View Full-Text
►

▼

Figures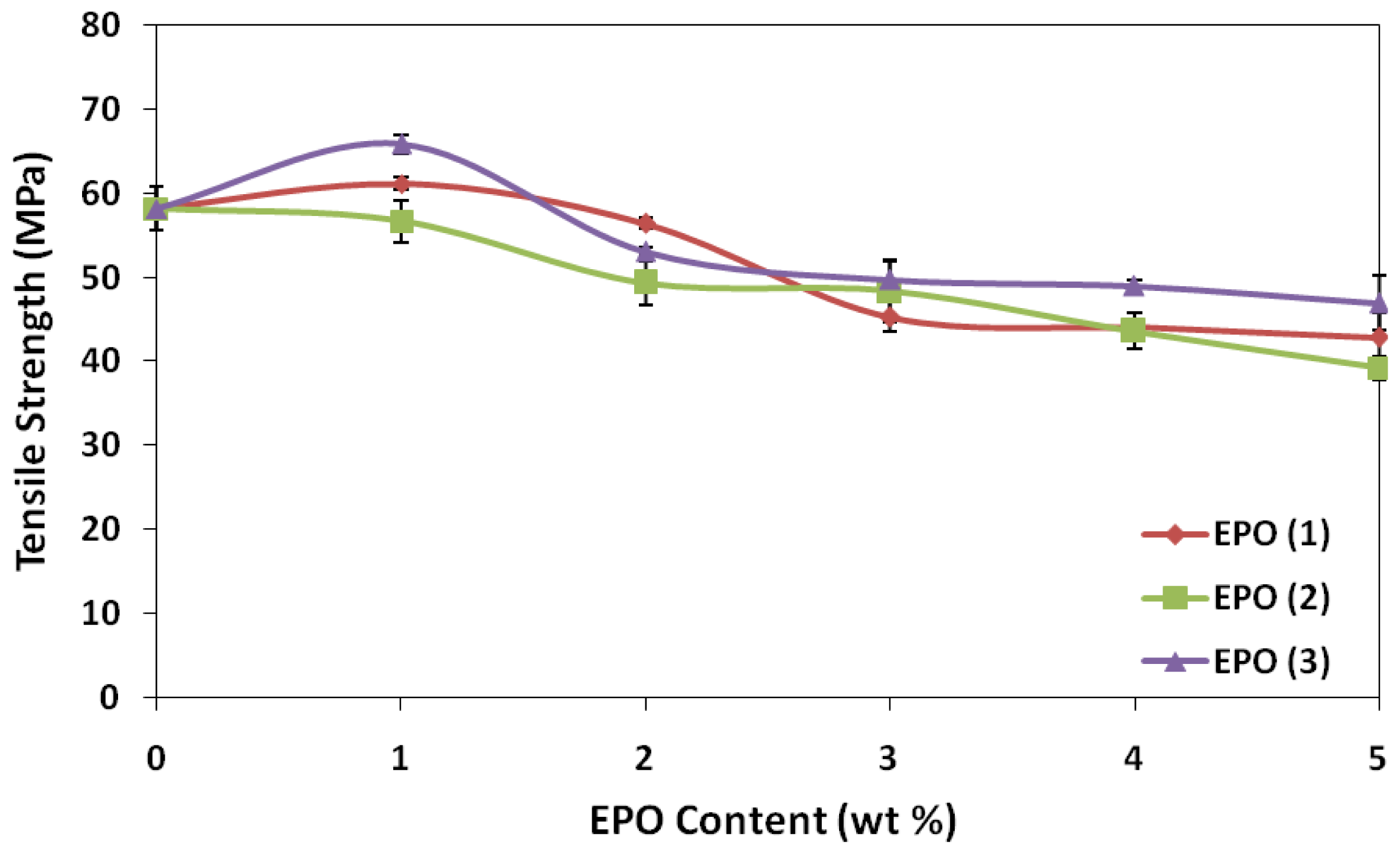 Share & Cite This Article
MDPI and ACS Style
Silverajah, V.S.G.; Ibrahim, N.A.; Yunus, W.M.Z.W.; Hassan, H.A.; Woei, C.B. A Comparative Study on the Mechanical, Thermal and Morphological Characterization of Poly(lactic acid)/Epoxidized Palm Oil Blend. Int. J. Mol. Sci. 2012, 13, 5878-5898.
Related Articles
Comments
[Return to top]