Cell Adhesion and Its Endocytic Regulation in Cell Migration during Neural Development and Cancer Metastasis
1
Precursory Research for Embryonic Science and Technology (PRESTO), Japan Science and Technology Agency (JST), Saitama 332-0012, Japan
2
Department of Anatomy, Keio University School of Medicine, 35 Shinanomachi, Shinjuku-ku, Tokyo 160-8582, Japan
Received: 7 February 2012 / Revised: 23 March 2012 / Accepted: 26 March 2012 / Published: 11 April 2012
Abstract
Cell migration is a crucial event for tissue organization during development, and its dysregulation leads to several diseases, including cancer. Cells exhibit various types of migration, such as single mesenchymal or amoeboid migration, collective migration and scaffold cell-dependent migration. The migration properties are partly dictated by cell adhesion and its endocytic regulation. While an epithelial-mesenchymal transition (EMT)-mediated mesenchymal cell migration requires the endocytic recycling of integrin-mediated adhesions after the disruption of cell-cell adhesions, an amoeboid migration is not dependent on any adhesions to extracellular matrix (ECM) or neighboring cells. In contrast, a collective migration is mediated by both cell-cell and cell-ECM adhesions, and a scaffold cell-dependent migration is regulated by the endocytosis and recycling of cell-cell adhesion molecules. Although some invasive carcinoma cells exhibit an EMT-mediated mesenchymal or amoeboid migration, other cancer cells are known to maintain cadherin-based cell-cell adhesions and epithelial morphology during metastasis. On the other hand, a scaffold cell-dependent migration is mainly utilized by migrating neurons in normal developing brains. This review will summarize the structures of cell adhesions, including adherens junctions and focal adhesions, and discuss the regulatory mechanisms for the dynamic behavior of cell adhesions by endocytic pathways in cell migration in physiological and pathological conditions, focusing particularly on neural development and cancer metastasis.
View Full-Text
►

▼

Figures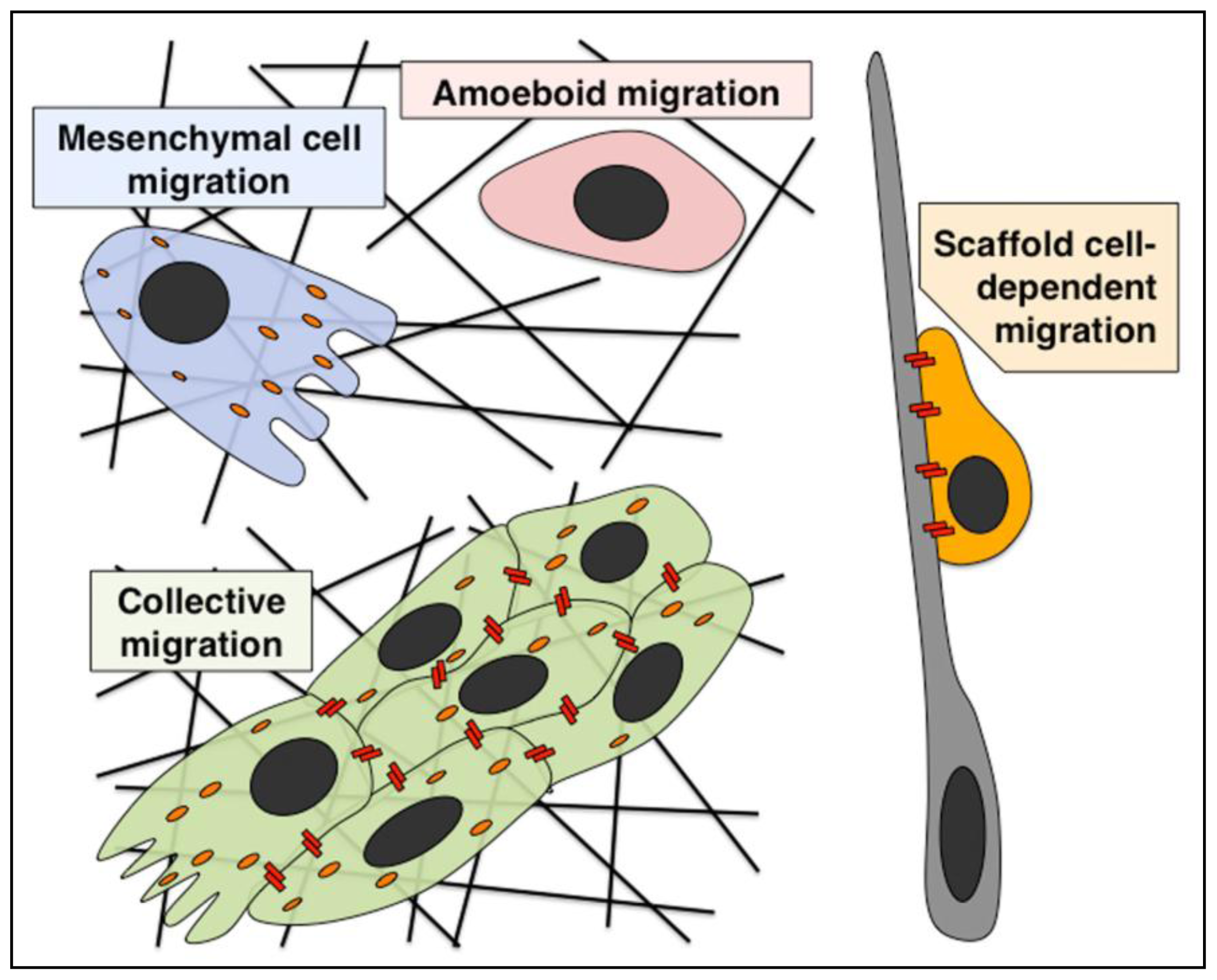 Share & Cite This Article
MDPI and ACS Style
Kawauchi, T. Cell Adhesion and Its Endocytic Regulation in Cell Migration during Neural Development and Cancer Metastasis. Int. J. Mol. Sci. 2012, 13, 4564-4590.
Related Articles
Comments
[Return to top]