Isolation and Characterization of Activators of ERK/MAPK from Citrus Plants
1
Department of Pharmaceutical Pharmacology, College of Pharmaceutical Sciences, Matsuyama University, 4-2 Bunkyo-cho, Matsuyama, Ehime 790-8578, Japan
2
Department of Pharmacognosy, College of Pharmaceutical Sciences, Matsuyama University, 4-2 Bunkyo-cho, Matsuyama, Ehime 790-8578, Japan
*
Author to whom correspondence should be addressed.
Received: 5 January 2012 / Revised: 24 January 2012 / Accepted: 31 January 2012 / Published: 9 February 2012
Abstract
Extracellular signal-regulated kinases 1/2 (ERK1/2), components of the mitogen-activated protein kinase (MAPK) signaling cascade, have been recently shown to be involved in synaptic plasticity and in the development of long-term memory in the central nervous system (CNS). We therefore examined the ability of
Citrus
compounds to activate ERK1/2 in cultured rat cortical neurons, whose activation might have a protective effect against neurodegenerative neurological disorders. Among the samples tested, extracts prepared from the peels of
Citrus grandis
(Kawachi bankan) were found to have the greatest ability to activate ERK1/2. The active substances were isolated by chromatographic separation, and one of them was identified to be 3,5,6,7,8,3′,4′-heptamethoxyflavone (HMF). HMF significantly induced the phosphorylation of cAMP response element-binding protein (CREB), a downstream target of activated ERK1/2, which appears to be a critical step in the signaling cascade for the structural changes underlying the development of long-term potentiation (LTP). In addition, the administration of HMF into mice treated with NMDA receptor antagonist MK-801 restored the MK-801-induced deterioration of spatial learning performance in the Morris mater-maze task. Taken together, these results suggest that HMF is a neurotrophic agent for treating patients with memory disorders.
View Full-Text
►

▼

Figures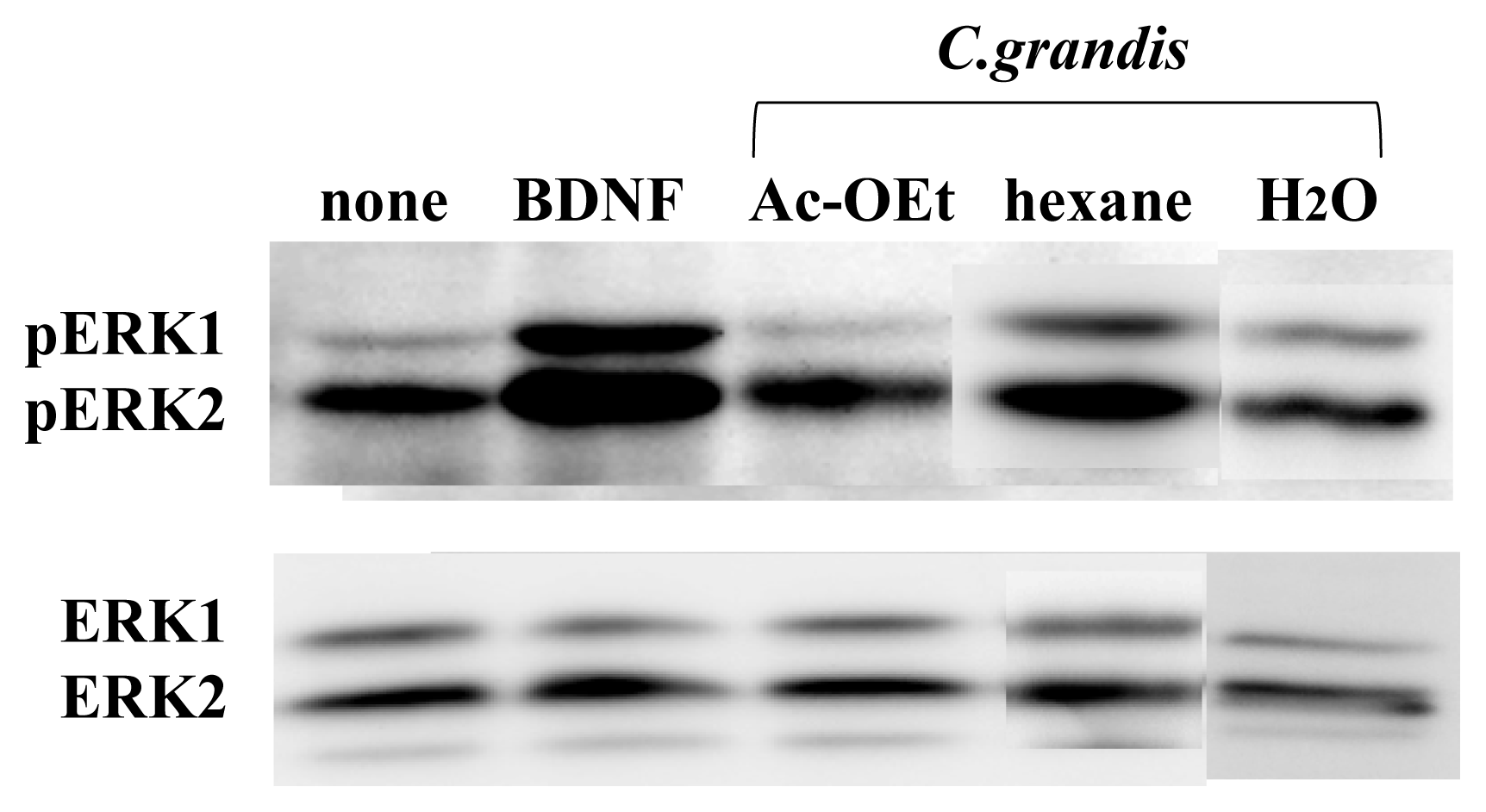 Share & Cite This Article
MDPI and ACS Style
Furukawa, Y.; Okuyama, S.; Amakura, Y.; Watanabe, S.; Fukata, T.; Nakajima, M.; Yoshimura, M.; Yoshida, T. Isolation and Characterization of Activators of ERK/MAPK from Citrus Plants. Int. J. Mol. Sci. 2012, 13, 1832-1845.
Related Articles
Comments
[Return to top]