Inhibition of Enzyme Activity of Rhipicephalus (Boophilus) microplus Triosephosphate Isomerase and BME26 Cell Growth by Monoclonal Antibodies
2
Center of Biotechnology, Federal University of Rio Grande do Sul, Avenida Bento Gonçalves, 9500, Prédio 43421, Porto Alegre, RS, CEP 91501-970, Brazil
3
Laboratory of Chemistry and Function of Proteins and Peptides, Animal Experimentation Unit, CBB–UENF, Avenida Alberto Lamego, 2000, Horto, Campos dos Goytacazes, RJ, CEP 28015-620, Brazil
4
Department of Molecular Biology and Biotechnology, Federal University of Rio Grande do Sul, Porto Alegre, RS, CEP 91501-970, Brazil
5
Faculty of Veterinary Sciences, Federal University of Rio Grande do Sul, Porto Alegre, RS, CEP 91501-970, Brazil
6
Department of Physiology, Federal University of Rio Grande do Sul, Porto Alegre, RS, CEP 91501-970, Brazil
1
Laboratory of Biochemistry Hatisaburo Masuda, Institute of Medical Biochemistry, Federal University of Rio de Janeiro, NUPEM - UFRJ/Macaé, Av. São José do Barreto 764, São José do Barreto, Macaé, RJ, CEP 27971-550, Brazil
*
Author to whom correspondence should be addressed.
Received: 5 July 2012 / Revised: 1 October 2012 / Accepted: 6 October 2012 / Published: 12 October 2012
Abstract
In the present work, we produced two monoclonal antibodies (BrBm37 and BrBm38) and tested their action against the triosephosphate isomerase of
Rhipicephalus
(
Boophilus
)
microplus
(RmTIM). These antibodies recognize epitopes on both the native and recombinant forms of the protein. rRmTIM inhibition by BrBm37 was up to 85% whereas that of BrBrm38 was 98%, depending on the antibody-enzyme ratio. RmTIM activity was lower in ovarian, gut, and fat body tissue extracts treated with BrBm37 or BrBm38 mAbs. The proliferation of the embryonic tick cell line (BME26) was inhibited by BrBm37 and BrBm38 mAbs. In summary, the results reveal that it is possible to interfere with the RmTIM function using antibodies, even in intact cells.
View Full-Text
►

▼

Figures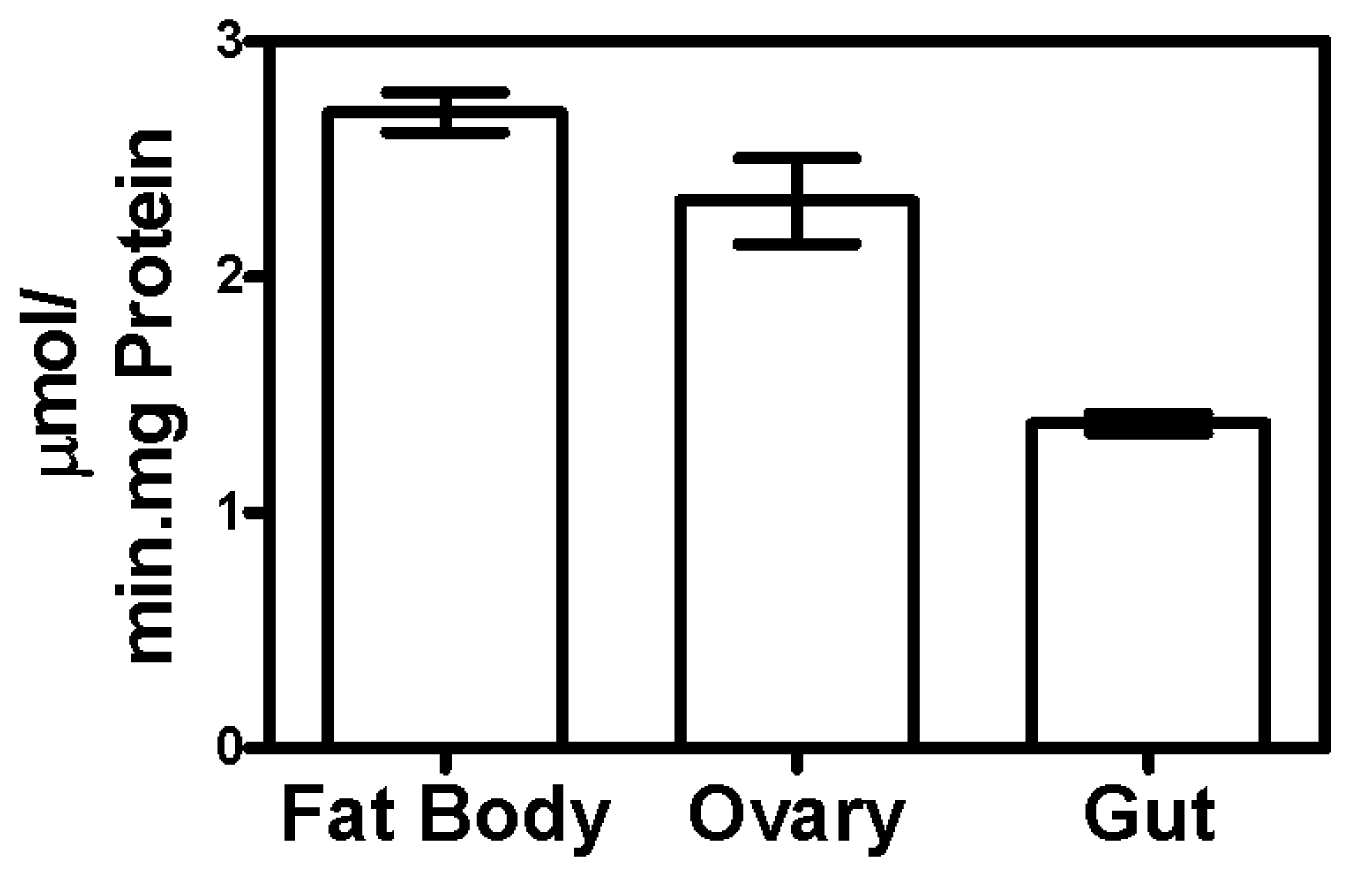 Share & Cite This Article
MDPI and ACS Style
Saramago, L.; Franceschi, M.; Logullo, C.; Masuda, A.; Vaz, I.S., Jr.; Farias, S.E.; Moraes, J. Inhibition of Enzyme Activity of Rhipicephalus (Boophilus) microplus Triosephosphate Isomerase and BME26 Cell Growth by Monoclonal Antibodies. Int. J. Mol. Sci. 2012, 13, 13118-13133.
Related Articles
Comments
[Return to top]