Visible Light-Induced Degradation of Methylene Blue in the Presence of Photocatalytic ZnS and CdS Nanoparticles
1
Department of Physics, Faculty of Science, University Putra Malaysia, 43400UPM Serdang, Selangor, Malaysia
2
Department of Chemistry, Faculty of Science, University Putra Malaysia, 43400UPM Serdang, Selangor, Malaysia
3
Department of Medical Physics and Biomedical Engineering, Shahid Beheshti University of Medical Sciences, Iran
*
Authors to whom correspondence should be addressed.
Received: 4 July 2012 / Revised: 27 August 2012 / Accepted: 4 September 2012 / Published: 25 September 2012
Abstract
ZnS and CdS nanoparticles were prepared by a simple microwave irradiation method under mild conditions. The obtained nanoparticles were characterized by XRD, TEM and EDX. The results indicated that high purity of nanosized ZnS and CdS was successfully obtained with cubic and hexagonal crystalline structures, respectively. The band gap energies of ZnS and CdS nanoparticles were estimated using UV-visible absorption spectra to be about 4.22 and 2.64 eV, respectively. Photocatalytic degradation of methylene blue
was carried out using physical mixtures of ZnS and CdS nanoparticles under a 500-W halogen lamp of visible light irradiation. The residual concentration of methylene blue
solution
was monitored using UV-visible absorption spectrometry. From the study of the variation in composition of ZnS:CdS, a composition of 1:4 (by weight) was found to be very efficient for degradation of methylene blue. In this case the degradation efficiency of the photocatalyst nanoparticles after 6 h irradiation time was about 73% with a reaction rate of 3.61 × 10
−
3
min
−1
. Higher degradation efficiency and reaction rate were achieved by increasing the amount of photocatalyst and initial pH of the solution.
View Full-Text
►

▼

Figures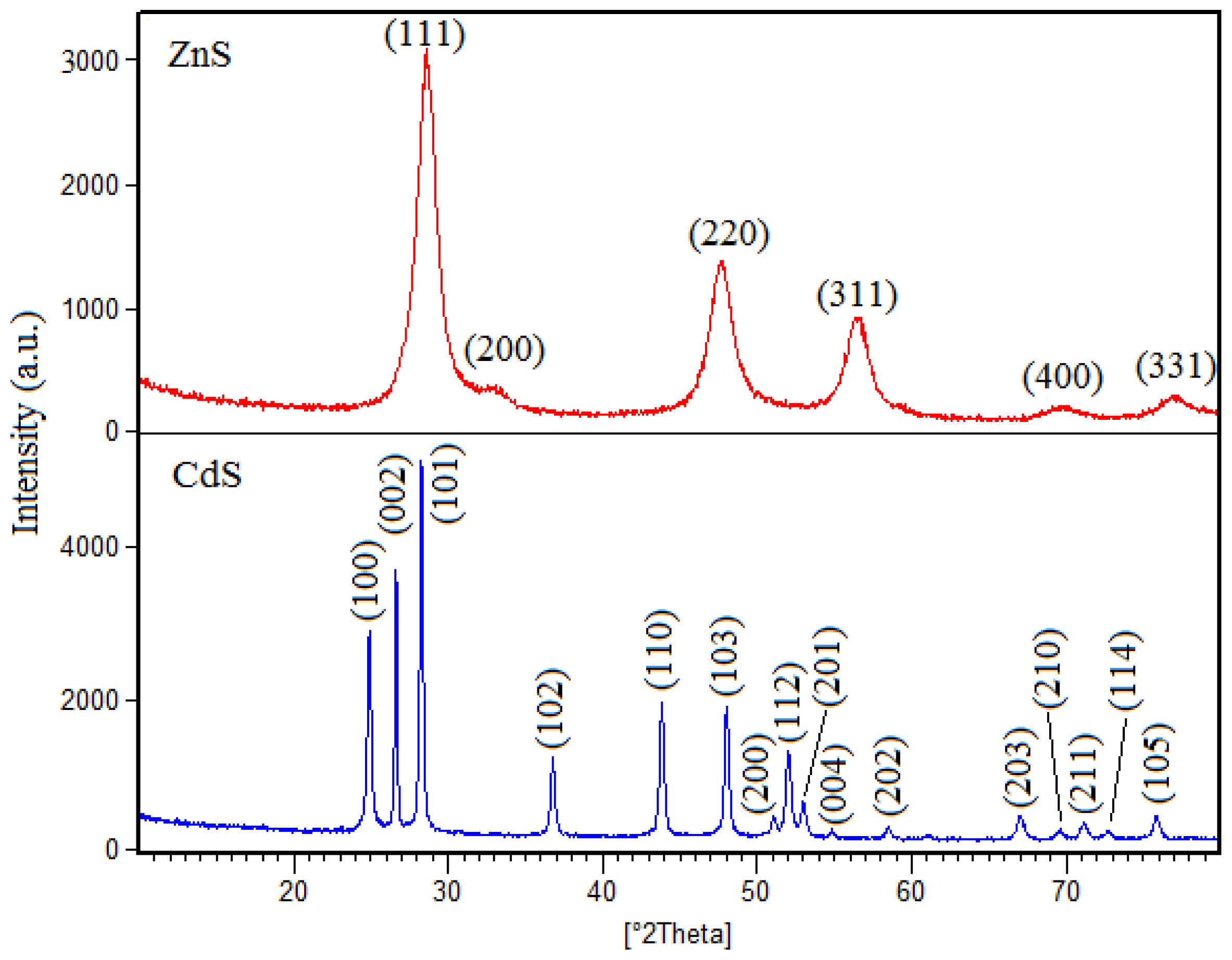 Share & Cite This Article
MDPI and ACS Style
Soltani, N.; Saion, E.; Hussein, M.Z.; Erfani, M.; Abedini, A.; Bahmanrokh, G.; Navasery, M.; Vaziri, P. Visible Light-Induced Degradation of Methylene Blue in the Presence of Photocatalytic ZnS and CdS Nanoparticles. Int. J. Mol. Sci. 2012, 13, 12242-12258.
Related Articles
Comments
[Return to top]