Fabrication of Porous Scaffolds with a Controllable Microstructure and Mechanical Properties by Porogen Fusion Technique
1
Institute of Nano- and Bio-Polymeric Materials, School of Materials Science and Engineering, Tongji University, 1239 Siping Road, Shanghai 200092, China
2
Key Laboratory Advanced Civil Engineering Materials, Ministry of Education, School of Materials Science and Engineering, Tongji University, 1239 Siping Road, Shanghai 200092, China
3
Department of General Surgery, Xinhua Hospital, School of Medicine, Shanghai Jiaotong University, 1665 Kongjiang Road, Shanghai 200092, China
*
Author to whom correspondence should be addressed.
Received: 2 November 2010 / Revised: 4 January 2011 / Accepted: 24 January 2011 / Published: 25 January 2011
Abstract
Macroporous scaffolds with controllable pore structure and mechanical properties were fabricated by a porogen fusion technique. Biodegradable material poly (D, L-lactide) (PDLLA) was used as the scaffold matrix. The effects of porogen size, PDLLA concentration and hydroxyapatite (HA) content on the scaffold morphology, porosity and mechanical properties were investigated. High porosity (90% and above) and highly interconnected structures were easily obtained and the pore size could be adjusted by varying the porogen size. With the increasing porogen size and PDLLA concentration, the porosity of scaffolds decreases, while its mechanical properties increase. The introduction of HA greatly increases the impact on pore structure, mechanical properties and water absorption ability of scaffolds, while it has comparatively little influence on its porosity under low HA contents. These results show that by adjusting processing parameters, scaffolds could afford a controllable pore size, exhibit suitable pore structure and high porosity, as well as good mechanical properties, and may serve as an excellent substrate for bone tissue engineering.
View Full-Text
►

▼

Figures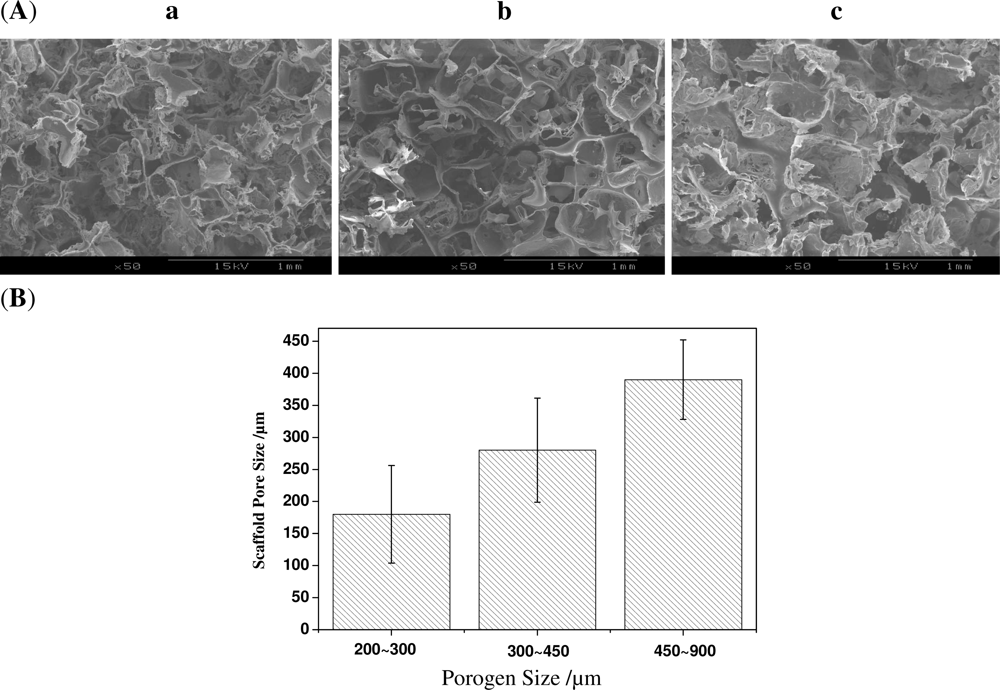 Share & Cite This Article
MDPI and ACS Style
Tan, Q.; Li, S.; Ren, J.; Chen, C. Fabrication of Porous Scaffolds with a Controllable Microstructure and Mechanical Properties by Porogen Fusion Technique. Int. J. Mol. Sci. 2011, 12, 890-904.
Related Articles
Comments
[Return to top]