Dynamic Rheological Studies of Poly(p-phenyleneterephthalamide) and Carbon Nanotube Blends in Sulfuric Acid
1
State Key Laboratory for Modification of Chemical Fibers and Polymer Materials, Donghua University, Shanghai 201620, China
2
National Renewable Energy Laboratory, Golden, CO 80401, USA
*
Authors to whom correspondence should be addressed.
Received: 11 February 2010 / Revised: 17 March 2010 / Accepted: 18 March 2010 / Published: 31 March 2010
Abstract
We have studied the dynamic scanning of liquid-crystalline(LC) poly(
p
-phenyleneterephthalamide) sulfuric acid (PPTA-H
2
SO
4
) solution, and its blend with single-walled carbon nanotubes (SWNTs), by using a flat plate rotational rheometer. The effects of weight concentration and molecular weight of PPTA, as well as operating temperature, on dynamic viscoelasticity of the PPTA-H
2
SO
4
LCsolution system are discussed. The transition from a biphasic system to a single-phase LC occurs in the weight concentration range of SWNTs from 0.1% to 0.2%, in which complex viscosity reaches the maximum at 0.2 wt% and the minimum at 0.1 wt%, respectively, of SWNTs. With increasing SWNT weight concentration, the endothermic peak temperature increases from 73.6 to 79.9 °C. The PPTA/SWNT/H
2
SO
4
solution is in its plateau zone and storage modulus (
G´
) is a dominant factor within the frequency (
ω
) range of 0.1–10 rad/s. As
w
increases, the
G´
rises slightly, in direct proportion to the
w
. The loss modulus (
G´´
) does not rise as a function of
ω
when
ω
< 1 s
−1
, then when
ω
> 1 s
−1
G´´ increases faster than
G´
, yet not in any proportion to the
ω
.
View Full-Text
►

▼

Figures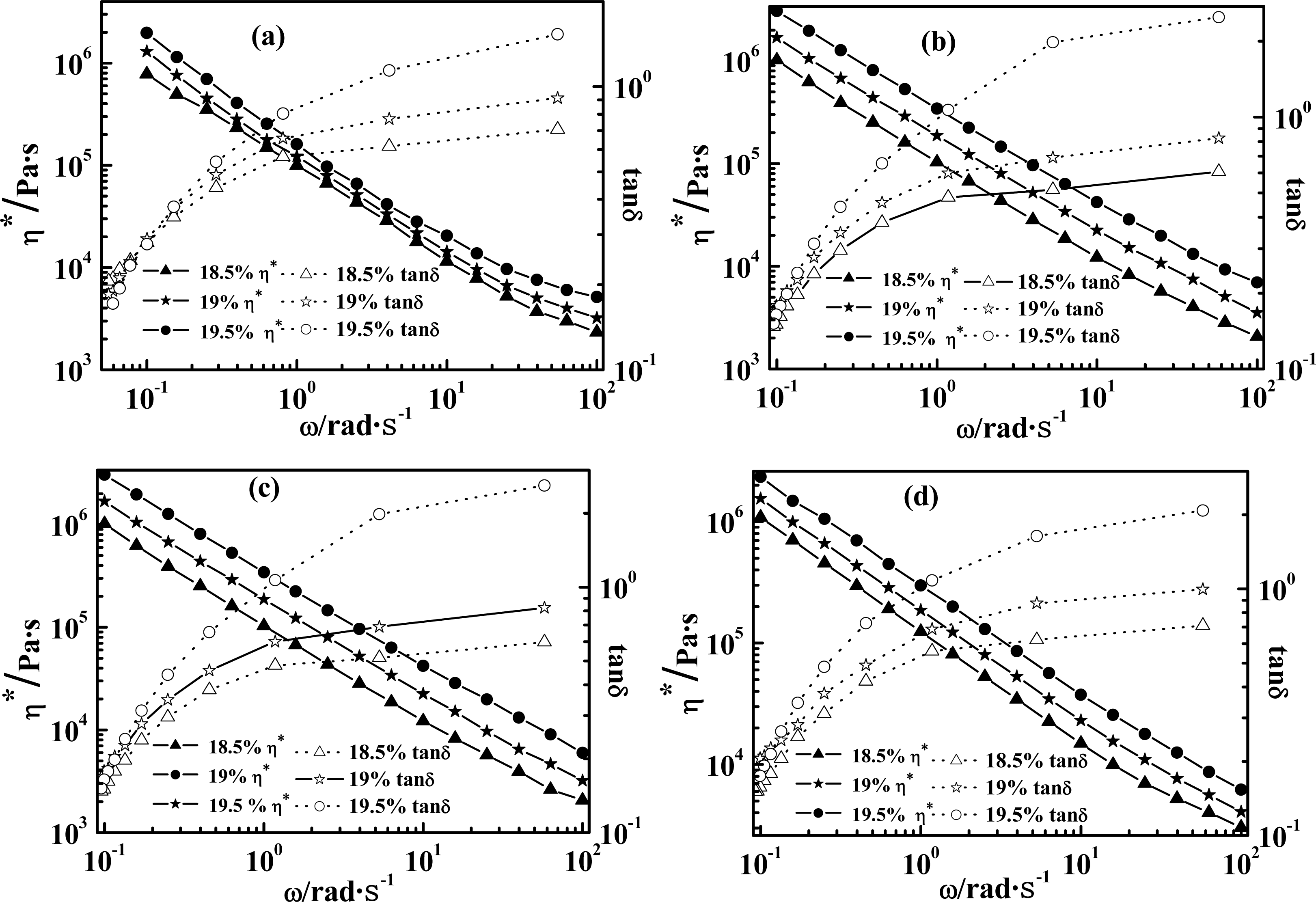 Share & Cite This Article
MDPI and ACS Style
Cao, Y.; Liu, Z.; Gao, X.; Yu, J.; Hu, Z.; Liang, Z. Dynamic Rheological Studies of Poly(p-phenyleneterephthalamide) and Carbon Nanotube Blends in Sulfuric Acid. Int. J. Mol. Sci. 2010, 11, 1352-1364.
Related Articles
Comments
[Return to top]