Proteomic Profiles of Mesenchymal Stem Cells Induced by a Liver Differentiation Protocol
1
Department of Surgery, Rajavithi Hospital, Rajathevi, Bangkok, 10400, Thailand
2
Department of Surgery, Faculty of Medicine, Rangsit University, Bangkok, 10400, Thailand
3
Department of Pharmacology, Faculty of Medicine, Siriraj Hospital, Mahidol University, Bangkok, 10400, Thailand
4
Department of Internal Medicine, Faculty of Medicine, Ramathibodi Hospital, Mahidol University, Bangkok, 10400, Thailand
5
Department of Pediatrics, Faculty of Medicine, Ramathibodi Hospital, Mahidol University, Bangkok, 10400, Thailand
*
Author to whom correspondence should be addressed.
Received: 11 October 2010 / Revised: 31 October 2010 / Accepted: 11 November 2010 / Published: 30 November 2010
Abstract
The replacement of disease hepatocytes and the stimulation of endogenous or exogenous regeneration by human mesenchymal stem cells (MSCs) are promising candidates for liver-directed cell therapy. In this study, we isolated MSCs from adult bone marrow by plastic adhesion and induced differentiation with a liver differentiation protocol. Western blot analyses were used to assess the expression of liver-specific markers. Next, MSC-specific proteins were analyzed with two-dimensional (2D) gel electrophoresis and peptide mass fingerprinting matrix-assisted laser desorption/ionization (MALDI)-time of flight (TOF)-mass spectrometry (MS). To confirm the results from the proteomic study, semi-quantitative reverse transcription-polymerase chain reaction (RT-PCR) analyses
were performed. We demonstrated that MSCs treated with the liver differentiation protocol expressed significantly more albumin, CK19 and CK20, than did undifferentiated cells. In addition the results of proteomic study demonstrated increases expression of FEM1B, PSMC2 and disulfide-isomerase A3 in MSCs treated with the liver differentiation protocol. These results from proteomic profiling will not only provide insight into the global responses of MSCs to hepatocyte differentiation, but will also lead to in-depth studies on the mechanisms of proteomic changes in MSCs.
View Full-Text
►

▼

Figures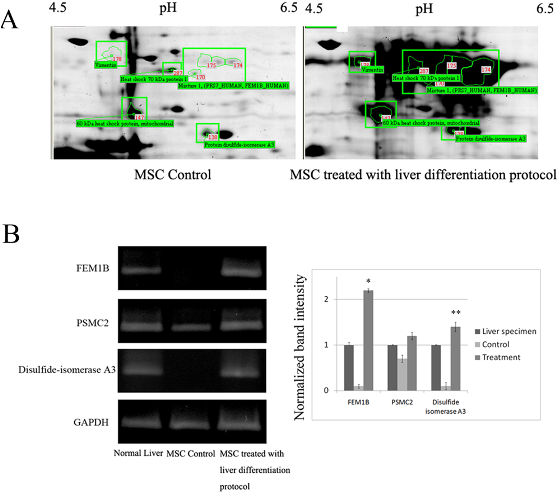 Share & Cite This Article
MDPI and ACS Style
Leelawat, K.; Narong, S.; Chaijan, S.; Sa-ngiamsuntorn, K.; Disthabanchong, S.; Wongkajornsilp, A.; Hongeng, S. Proteomic Profiles of Mesenchymal Stem Cells Induced by a Liver Differentiation Protocol. Int. J. Mol. Sci. 2010, 11, 4905-4915.
Related Articles
Comments
[Return to top]