Isolation and Characterization of Novel Microsatellite Markers for Yellow Perch (Perca flavescens)
1
Aquaculture Genetics and Breeding Laboratory, Ohio State University Aquaculture Research and Development Integration Program, 1864 Shyville Road, Piketon, Ohio 45661, USA
2
Department of Chemical & Biomolecular Engineering, Ohio State University, 140 West 19th Ave., Columbus, Ohio 43210, USA
3
Ecological Genetics Laboratory, Virginia Commonwealth University, Richmond, Virginia 23284, USA
*
Author to whom correspondence should be addressed.
Received: 27 November 2008 / Revised: 15 December 2008 / Accepted: 18 December 2008 / Published: 27 December 2008
Abstract
To perform whole genome scanning for complex trait analysis, we isolated and characterized a total of 21 novel genomic-SSRs and EST-SSRs for yellow perch (
Perca flavescens
), using the methods of construction of SSR-enrichment libraries and EST database mining of a related species
P. fluviatilis
. Of 16 genomic-SSR primer pairs examined, eight successfully amplified scorable products. The number of alleles at these informative loci varied from 3 - 14 with an average of 8.5 alleles per locus. When tested on wild perch from a population in Pennsylvania, observed and expected heterozygosities ranged from 0.07 - 0.81 and from 0.37 - 0.95, respectively. Of 2,226 EST sequences examined, only 110 (4.93%) contained microsatellites and for those, 13 markers were tested, 12 of which exhibited polymorphism. Compared with genomic-SSRs, EST-SSRs exhibited a lower level of genetic variability with the number of alleles of averaging only 2.6 alleles per locus. Cross-species utility indicated that three of the genomic-SSRs and eight of the EST-SSRs successfully cross-amplified in a related species, the walleye (
Sander vitreus
).
View Full-Text
►

▼

Figures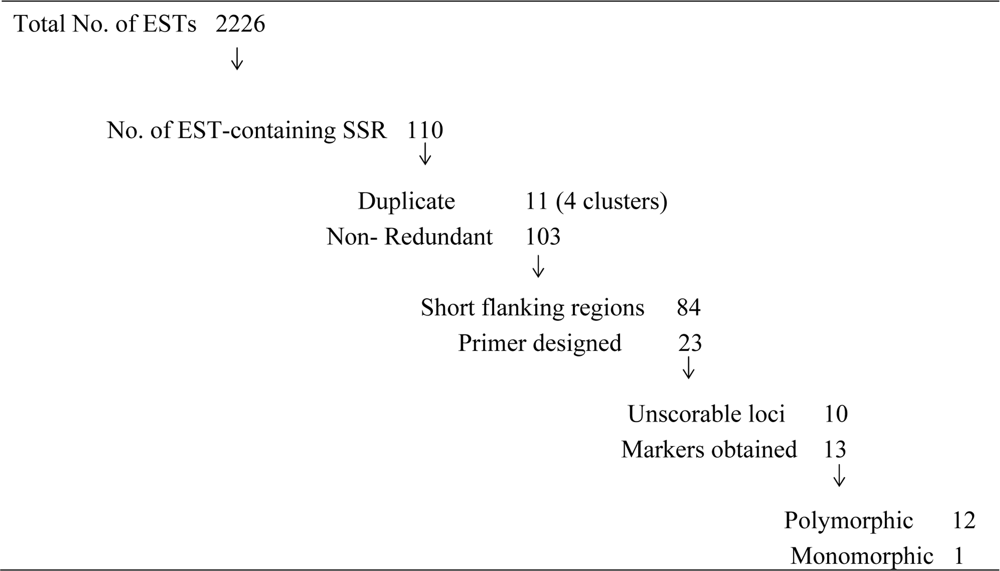 Share & Cite This Article
MDPI and ACS Style
Zhan, A.; Wang, Y.; Brown, B.; Wang, H.-P. Isolation and Characterization of Novel Microsatellite Markers for Yellow Perch (Perca flavescens). Int. J. Mol. Sci. 2009, 10, 18-27.
Related Articles
Comments
[Return to top]