Multi-Omics Revealed Molecular Mechanisms Underlying Guard Cell Systemic Acquired Resistance
Abstract
Systemic Acquired Resistance (SAR) improves immunity of plant systemic tissue after local exposure to a pathogen. Guard cells that form stomatal pores on leaf surfaces recognize bacterial pathogens via pattern recognition receptors, such as Flagellin Sensitive 2 (FLS2). However, how SAR affects stomatal
[...] Read more.
Systemic Acquired Resistance (SAR) improves immunity of plant systemic tissue after local exposure to a pathogen. Guard cells that form stomatal pores on leaf surfaces recognize bacterial pathogens via pattern recognition receptors, such as Flagellin Sensitive 2 (FLS2). However, how SAR affects stomatal immunity is not known. In this study, we aim to reveal molecular mechanisms underlying the guard cell response to SAR using multi-omics of proteins, metabolites and lipids.
Arabidopsis
plants previously exposed to pathogenic bacteria
Pseudomonas syringae pv
. tomato DC3000 (
Pst
) exhibit an altered stomatal response compared to control plants when they are later exposed to the bacteria. Reduced stomatal apertures of SAR primed plants lead to decreased number of bacteria in leaves. Multi-omics has revealed molecular components of SAR response specific to guard cells functions, including potential roles of reactive oxygen species (ROS) and fatty acid signaling. Our results show an increase in palmitic acid and its derivative in the primed guard cells. Palmitic acid may play a role as an activator of FLS2, which initiates stomatal immune response. Improved understanding of how SAR signals affect stomatal immunity can aid biotechnology and marker-based breeding of crops for enhanced disease resistance.
Full article
►

▼

Show Figures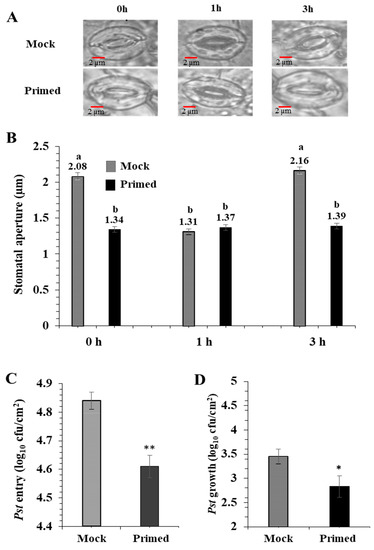 Figure 1