Conferences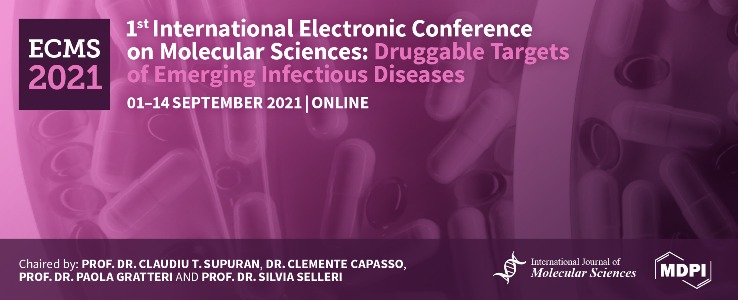 We are pleased to announce that the 1st International Electronic Conference on Molecular Sciences: Druggable Targets of Emerging Infectious Diseases (ECMS2021), chaired by Prof. Dr. Claudiu T. Supuran, Dr. Clemente Capasso, Prof. Dr. Paola Gratteri, and Prof. Dr. Silvia Selleri, will be held on https://sciforum.net/conference/ECMS2021 from 1 to 14 September 2021.
The new and re-emerging infectious diseases caused by viruses and resistant bacteria represent a growing global health risk across public health concerns. The characterization of pathogen biology, pathogenesis, and host response genomic pathways across multiple infectious agents offers the possibility to find new targets of interventions (e.g., crucial enzymes), which could serve as broad-spectrum drug targets.
We proudly invite the global community of scholars to join ECMS 2021 to present their latest research on infectious diseases, including biological, pathological, clinical aspects and pharmacological targets, and so on. Thanks to the flexibility of our innovative electronic platform, you are welcome to upload and present your work and to attend the conference completely free of charge. We are also considering creating a Special Issue for selected conference papers in our journal International Journal of Molecular Sciences (ISSN 1422-0067, IF 4.556, https://www.mdpi.com/journal/ijms/special_issues/ECIJMS2021). Papers published in the Special Issue, if one does get created, would receive a 20% discount on the Article Processing Charge.
We hope you will be able to join this exciting event. For more details, please click